Reviews
5.0 out of 5 rating
Quality of service

5 out of 5 rating

Average response time

5 out of 5 rating

Professionalism

5 out of 5 rating

Value

5 out of 5 rating

Flexibility

5 out of 5 rating
100%
Recommended by couples
39 User photos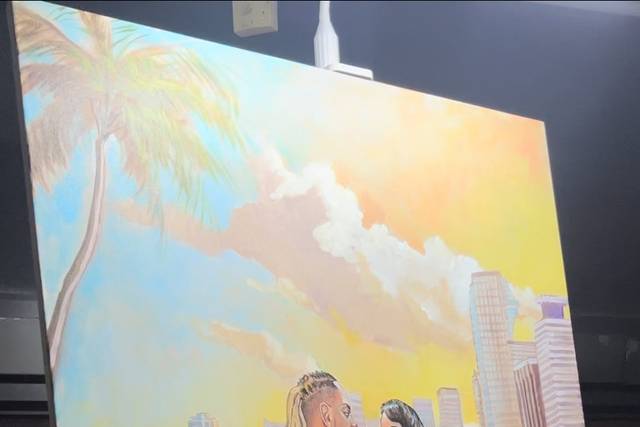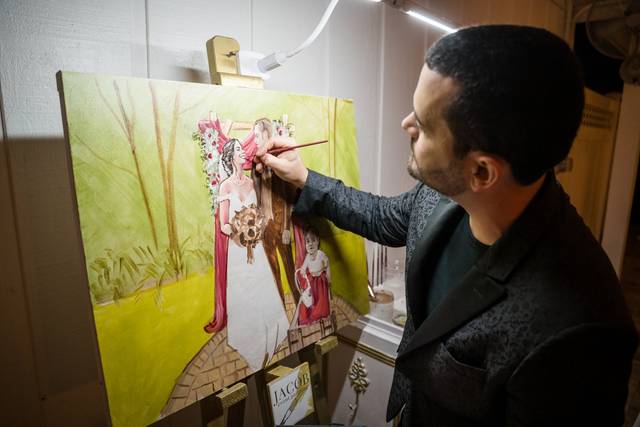 + 35

photos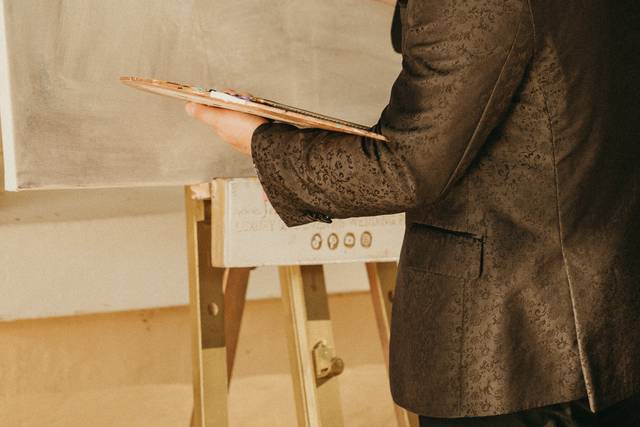 Brittany

Married on 02/11/2023

Jacob is amazing!!!!

Jacob did an amazing job on our painting for the wedding! My husband and I can't believe it only took 5 hours for Jacob to complete the portrait of us.

All the guests were so amazed by the live painting. This was one of the highlights of the night. We highly recommend booking Jacob to paint live at your wedding!

Jacob Event Painting's reply:

Brittany, THANK YOU SO MUCH for your kind words! Your painting came out wonderfully and I am so blessed that you chose me to paint for you both! You guys are such amazing people. God bless you.

Ashley B.

Married on 02/04/2023

Jacob is the best!

All we can say is WOW! Jacob is such an amazing artist and I was completely blown away at how he painted us so beautifully!! His passion for what he does is so evident in his work and leading up to the wedding day! Jacob really wanted to understand what we were looking for and he delivered that! I wanted something unique for our wedding and I could not have been happier with asking Jacob to be an addition to our wedding day. All of our guests were so impressed with his talents as they had never seen a live painter at a wedding before and what a great first impression he gave!!! Jacob is such a kind person and if anyone is looking for a live painter who has amazing painting skills and great communication throughout the process, Jacob Event Painting is who you want! I can not emphasize enough how in awe I am of his work. Thank you so much, Jacob! -Best, Mr. and Mrs. Navarrete

Jacob Event Painting's reply:

Ashley, your words mean the world to me, thank you for taking the time to write about your experience with me. I am so thankful for you + Andy and having me be a part of your special day! Thank you for trusting me with serving you and your guests with excellence and for bringing your dream painting to life. Congratulations again on your marriage and love that you both share and the painting you now get to enjoy for years to come! - Jacob.

Alyssa J.

Married on 11/11/2022

The best gift I have ever received

Jacob did a PHENOMENAL job! Every guest loved watching his progress while the wedding was going on, it was like a bonus show! I bought the largest canvas available on his website, and booked him for 4 hours. He captured me, my husband, and our daughter who was the flower girl. I recommend Jacob to absolutely everyone! I will cherish this forever.

Jacob Event Painting's reply:

WOW, Alyssa!!! Your review made record time between when the wedding ended and when it was written / posted... thank you SO much for having me be a part of your special day and allowing me to paint you and your beautiful little family. Thank you for taking the time to write these kind words. God bless you both.

Are you interested?

Send a message

Monika R.

Married on 09/25/2022

Amazing Artist!

Jacob is an absolutely delightful and skilled artist! I was already impressed with his body of work prior to hiring him but it still did not prepare me for receiving the beautiful work of art he created for us on our wedding day! I lament that I did not get to see him work during the wedding because my guests could not stop gushing about how cool it was to see him turn a blank canvas into our amazing wedding portrait. I could not be happier with how our portrait came out and it is absolutely one of my favorite keepsakes from our big day. Thank you so much Jacob!

Jacob Event Painting's reply:

Monika! Thank you so much for taking the time to share your experience with me. Your painting turned out absolutely gorgeous and am so filled with joy that you trusted me to be a part of your special day! Congratulations again!

Erin B.

Married on 06/25/2022

A Treasure!

Jacob did ad absolutely stunning job painting us at our wedding reception! We got married in a large, converted church that is nearly 200 years old, and he captured the lighting and the grandeur of the space perfectly. The likeness of my husband and I was spooky good, and everyone loved watching the painting progress as the night went on. He was a good communicator, polite, and produced a beautiful piece of art that now hands proudly in our home. Book him, book him, book him! Ditch the photo booth and go for a live painter!

Jacob Event Painting's reply:

Oh my gosh, Erin, thank you so much for going out of your way to write such kind words about your experience with me! I'm so glad you love your painting! You both were so great. Congratulations again!

Jenna L.

Married on 10/23/2021

An absolute joy to have as our wedding painter

If you are thinking of doing a live painter for your wedding DO IT AND HIRE JACOB! I am so glad we booked him for our wedding. Not only was it a really fun conversation pieces but I have this gorgeous painting of my new husband and I that we will cherish for the rest of our lives! Jacob was so wonderful, answered all mine and my mum in laws questions. He was prompt and professional when arrived at the ceremony and he walked up through the whole process. I cannot describe the feeling of seeing his work finished. It was this perfect moment forever captured as a beautiful piece of art. If you looking for a talent, professional artist for your wedding I highly recommend Jacob. He is worth every penny and I would book him again in a heartbeat.

Jacob Event Painting's reply:

JENNA!!! Thank you SO much! I really appreciate you! You were amazing to paint for! Thank you for taking the time to write this review about your experience with me. Congratulations again!!!

Jessica L.

Married on 10/17/2021

Perfect addition to our wedding

Jacob was amazing to work with. He has such a fun personality and is extremely accommodating. He was reliable and responsive to all communication. Our wedding guests were mesmerized by his painting and the canvas hangs in our entry to our home. The art is beautiful and the perfect reminder of our beautiful wedding. We are so grateful to Jacob for making our special day even more amazing. If you're wondering whether or not it's worth it to get a wedding painter, absolutely do it! So glad we did. We have a keepsake that we can keep forever and our guests thoroughly enjoyed watching the painting come to life. Thank you Jacob!

Jacob Event Painting's reply:

Hi Jessica! Thank you so much for taking the time to write a review about your experience with me! You were a delight to paint for. I LOVE the photo you shared of the painting in your entryway - how cool! Congratulations again!!

Tara P.

Married on 09/18/2021

Jacob and the amazing technicolor wedding painting.

First off, Jacob is just an amazing person.
I can't believe we found him. After calling about a dozen wedding painters in NY and getting nowhere promising, I widened my search to the entire eastern US and found Jacob, called him, and booked him within the hour. We could tell that he was just on our wavelength and we were so lucky to have him be a part of our beautiful day.

And beautiful it was. Jacob was there and captured such a perfect moment for us by Greenwood Lake and the live painting was such a hit throughout the night. So many people at our wedding told us it was the first time they saw a live wedding painter.

If you can, please book Jacob. He will come in from Florida with a big smile on his face and canvas in his arms. Thank you again Jacob and can't wait to see you again!

+ 4

photos

Jacob Event Painting's reply:

Tara, you & Jake are also amazing people. Thank you so much for taking the time to write this review and your kind words. I am so thankful that you found me and trusted me to come & paint your special day! Your painting turned out to be one of my favorites too. Congratulations again!!

Christina B.

Married on 06/26/2021

Jacob is extremely talented!

We had never been to a wedding where there was a live painter but figured it was fun entertainment for our guests and we thought having a painting someone made for specifically for us to hang in our apartment would be cool! The live painter was a surprise to our guests at the wedding and he loved interacting with them throughout the night. Jacob painted our first dance and it came out perfect! We can't stop staring at it! Jacob completely exceeded all our expectations and was such a pleasure to work with. Highly recommend Jacob!

Katherine H.

Married on 10/10/2020

Unique Wedding Experience

My in-laws surprised us with a live painter at our wedding and it was the cherry on top of the perfect day. Jacob did an amazing job of capturing our wedding and it was such a fun, unique experience for us and our guests.

+ 2

photos

Jacob Event Painting's reply:

Thank you so very much, Katherine! You & Cory are so cool, and I am very glad I was able to be such a great surprise and paint your special moment. Congratulations again!

Ashley

Married on 02/01/2020

Amazing Artist and Awesome Vendor

So back when I first started planning our wedding my mom mentioned this new "experience" taking place at weddings- Live Painters. I had never heard nor seen this, but googled it and hey that looks pretty cool. Fast forward, I had kind of forgotten about the "live painter," but my mom had been doing all the research to make it a surprise wedding gift....and man am I glad she did! Seriously, what neat keepsake to have from our wedding day! From what my mom told me, a lot of live painters were only going to show up for about an hour of the reception and finish their painting at home. Jacob stayed for majority of the time which allowed guests to see the progress of the painting and it was an absolute HIT! People were obsessed and after the wedding, that's probably the most pictures I received from friends, just the progress of the painting- they thought it was SO DANG COOL. I even talked to some friends who said they were watching Jacob and would make recommendations to make the painting look just a little more like either myself or my groom- and he'd take their recs right on the spot. He more or less finished painting the two of us while at the reception and then added in our parents and grandparents later! (He'll add in whoever you want up to 12 specific people) It was so fun to open the package when we got back from our honeymoon! Seriously, I love the painting, it's going to get hung above our bed and I already made copies for our thank you notes which I think everyone will love to get to see the final product! 10/10 would recommend Jacob, not just for the final painting but for the over all experience!

Jacob Event Painting's reply:

Ashley, your words mean THE WORLD to me! Thank you so much for taking the time to write this all out... painting for you & Billy was a dream come true!

Lindsey A.

Married on 07/06/2019

Incredible!

Jacob is an incredibly talented artist! He came to our wedding, painted two photos of the ceremony & the reception & he was sure to include our wedding party & immediate families. (made it so special) His set up was so classy & neat looking! I cannot even express the amount of positive feedback we got from "how amazing was their love painter" to "wow we have never seen this at a wedding before!" Comments. Jacob is very professional and kind! Can't thank you enough Jacob, these pieces you made for us are SO special and they are being hung in our house to forever cherish the memory! Highly recommended Jacob!

Alexandra B.

Married on 06/07/2019

A Dream Addition to a Perfect Day

Jacob was a total dream to work with! Our painting turned out more beautiful than I could have imagined and he took the time to get to know our families to add the small details that would have otherwise go unnoticed. We had so many compliments of what an elegant touch his painting added to our ceremony. Finally, his warm personality makes him so easy to work with and makes your special day that much more memorable. Thank you, Jacob!

Shanna

Married on 06/22/2018

Jacob is a great addition to a wedding or corporate event. His art is beautiful and comes highly recommended by the Highland Manor and Historic Dubsdread! It's unique and a great memory to bring home as a reminder of your very special day.

Toni

Married on 06/02/2018

Jocob is a very talented painter. My daughter has been married three years now. It is the painted picture that will be the family air loom not the photographs. The guests were is awe of watching the painting process. It became part of what made Tina's wedding different and special.

Kerri

Married on 05/27/2018

As a fellow vendor, I had the pleasure of working with Jacob on a wedding we were both vending for at Selby Gardens in Sarasota. He was responsive, kind and his work is amazing. The bride, groom and family were thrilled with their decision to hire Jacob to paint their ceremony.

Mary A.

Married on 05/27/2018

Our daughter recently got married at the Selby Botanical Gardens in Sarasota, Fla. It was a destination wedding which has it's challenges, in finding the perfect venues and vendors, which is why we feel so fortunate to have found Jacob. From my first email to our final phone conversation which was just a few hours before the wedding I had nothing but Jacob's extreme caring , professionalism and a feeling of complete trust in his artistic talents. I knew I could trust that he would provide us with a wonderful addition of his Live Event Painting at the ceremony along with a beautiful keepsake for our daughter and her new husband. The guest absolutely loved seeing the Painting in progress as the ceremony began and also being able to see the finished art!

Needless to say the bride and groom love their first piece of art for their new home to remind them of a beautiful day!
Thank you Jacob for making a special occasion even more special!

Mary Ann Habig

Megan

Married on 03/03/2018

Jacob was absolutely great to work with. He was very kind and helpful when initially inquiring about the painting and throughout the wedding itself. We are very happy we chose him to be a part of our day and we now have a painting to treasure forever.

Emily

Married on 12/02/2017

Jacob is a super talented painter!! He did a live painting at my destination wedding in Miami, FL. He is very responsive, professional, and friendly. Working with him was so easy. The painting turned out AMAZING!!!!! We have it hanging in our house and it's a wonderful memory and we have received multiple compliments. I highly recommend Jacob!!

Mick

Married on 12/02/2017

Jacob did a wonderful job. We love our painting. It will be something we will treasure for years to come.

Priscilla

Married on 10/07/2017

Perfect Live Painter For Any Event!

My family and I hired Jacob as a surprise for my brother and sister in law's wedding. Can I just say, that was the best decision we could have ever made. When I initially reached out to Jacob (and every conversation after that) he was always quick to respond. He quietly came in and snapped a few photos of my brother and his new wife while they did their first look. He worked it out with the photographer and she told my brother that Jacob was her "behind the scenes" assistant so they might see him snapping a few photos with his iPad. My brother and sister in law didnt even think twice about it. Jacob added such a nice touch to their wedding. I will be sure to continue recommending him to all of my clients. Do not think twice about it, hire him and keep his painting for the rest of your life where you will get to look back on and think of how this brush strokes were done in the very moment you said you I do, had your first dance and maybe celebrated a special someones birthday.

Mary

Married on 05/28/2017

Very happy with our painting! Jacob is so talented. I love seeing our painting on the wall every day!

Alissa

Married on 04/08/2017

Jacob was phenomenal! Everything from coordination, his presence on site, and his finished product was perfect. My guests really enjoyed watching Jacob, and it is so fun to be able to pick specific guests out in his painting. He caught tons of detail that I would not have thought possible in such a short amount of time from clothing details to hair, and even dance moves. We had seen him previously at a friend's wedding, and we knew immediately that we really wanted to hire him for our own. His painting of our first dance with additions of others on the dance floor hangs in our living room and is such a fun piece. I highly recommend him!

Nancy B.

Married on 01/14/2017

He did a beautiful job and was an integral part of our reception. The guests enjoyed watching him. When I saw him at a friends daughter 's wedding, we knew we wanted him at our daughter's wedding!

Stacy

Married on 12/31/2016

Jacob arrived early, stationed his easel. And focused on our celebration with his creative style just to my liking!
Thank you for our beautiful memory!
Are you interested?
Send a message