23 Reviews
Recommended by 93% of couples
Quality of service

4.6 out of 5 rating

Average response time

4.6 out of 5 rating

Professionalism

4.7 out of 5 rating

Value

4.6 out of 5 rating

Flexibility

4.7 out of 5 rating
Awards
4 User photos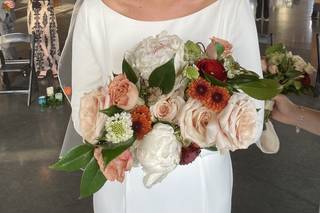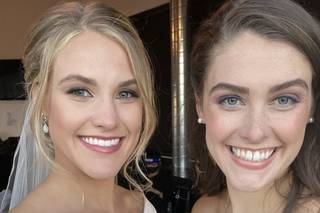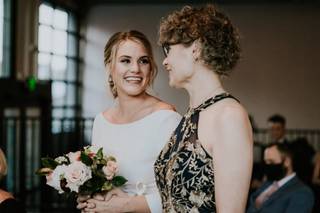 Rachel G.

Married on 11/13/2020

Covid bride

They were such a great investment! I cant imagine a better team to take care of my girls, COIVD or not. Not only were they extremely professional, they made me feel safe and pampered. They took every precaution but still spared no expense to make our wedding day looks come alive. They went above and beyond with their generosity and I will be back to her for all my skin needs in the future. They are not only educated in makeup, but skin health as well. I can not recommend them more. A dream team to make our dream wedding come true. You will not be disappointed.

Jenny

Married on 11/11/2017

I hired Event Cosmetics because I have been going to Katherine for years for my skin care, facials, and make-up. Her lines of skin care and make up are my absolute favorite. When it came to my wedding day, I knew she was the one I had to hire for the day.

Prior to my wedding day, I had three facials, getting my skin ready for the wedding day. I felt 10 years younger. My skin shined. The wedding day came and Katherine and her crew were amazing. They came to our hotel and set up shop in the living room of our suite. Every one of our attendants loved their make-up. Some chose a more natural look and couple of others chose a more dramatic look. Everyone looked stunning. I was so grateful for the Katherine and her team. They not only are very skilled, but they care about each person, It's like it's their sister's wedding and that felt so good.

Katherine also recommended someone to do our hair and J. Marie was also amazing. I highly recommend this team. 100%.


Mary

Married on 02/14/2015

Katherine and her team are simply the best. As a bride, you are their focus, and she will do everything she can to make you look and feel your best. After getting me and my girls ready, she even came to the venue to make sure I got into my dress and gave us touch ups. She is passionate about what she does, and she is exceptionally talented. Would recommend without hesitation.

Are you interested?

Send a message

Chelsea

Married on 01/24/2015

Katherine and her team are amazing! Myself and all my bridesmaids makeup for my wedding was beyond gorgeous! Thank you Event Cosmetics! You will not go wrong hiring them for your makeup needs!

Jessica

Married on 08/02/2014

Katherine was an absolute dream to work with! She made the whole experience fun and carefree, and was by my side right until I walked down the aisle to make sure everything was perfect. Her team was equally wonderful and I highly recommend Event Cosmetics.

Kat

Married on 06/28/2014

Kathy Sealy and her team at Event Cosmetics were one of my favorite parts of the wedding process. I was egregiously late for my trial and Kathy welcomes me with open arms and not so much of a mention of my tardiness. She then proceeded to spend the next two hours with me tossing around ideas, giving me beauty tips and making me up to look absolutely effing fantastic. I am so not a makeup girl but she left me not only feeling beautiful but confident and inspired to embrace makeup in my everyday life. Kathy has a knack for finding your best assets and highlighting them - making not only other people notice them but also helping you to see them in a new light (e.g. I have always thought my large lips were too big to draw attention to them with gloss or bright lip colors but Kathy changed my mind in one sitting!).

On the wedding day, I was stressed and frazzled. As soon as I sat in her chair I could feel myself relaxing. There is something about being in the presence of someone who has completely mastered their craft that is very assuring. Kathy and her team are not only masters but are consummate professionals. When one of my bridesmaids was unhappy with her eyeshadow they redid it until she was. We all left looking like ourselves but better, and we have the photos to prove it.

Last, and this must be mentioned, when I was a complete mess before the ceremony and crying ader my first look and seeing my dad, Kathy rushed over at my wedding planner's request to fix my concealer. She not only rushed over immediately after a long day to fix it, but stayed through photographs to make sure I looked my best for the camera. She even entertained my three year old (with makeup brushes and lipgloss - maybe I have a budding makeup artist of my own) while I took some shots with my husband.

In short, Kathy was wonderful to work with. You are in amazing hands if you choose Event Cosmetics (and you most definitely should).

Alina

Married on 06/21/2014

Hi couldn't be happier that I worked with Katherine and team for my wedding. She was an incredible resource throughout our wedding year. Day off, along with doing beautiful makeup for all the ladies, she saved my flowers with preservation tips.

She is a warm and caring person, who happens to also be a talented makeup artist. I couldn't be happier with her work.

Thank you!

Sandy

Married on 06/07/2014

Katherine and her team did an AMAZING job at my wedding.
I loved the way katherine did my make up and booked her immediately. Not only is Katherine an amazing make up artist, she is also SUPER nice a genuinely nice and caring person. Katherine and her team are also really organized and gave fair quotes for the wedding day.. A month later, I also hired Katherine to do my engagement photoshoot make up. Once again, she made me look sooooo pretty!

Katherine is really organized and thoughtful about her work. She prints out pictures of your dress (for make up inspiration), takes notes of the make up she used and will use on you, takes photos of you to see how the make up will photograph and it helps her decide if she needs to make any make up changes. If you are changing dresses at the wedding, she will also help you change up the look for the other dress(s)! :)

On the wedding day, Katherine and her team made my diverse bridal party all look AMAZING! This is the diversity Katherine and her team had to work with:

Asian Bride
Asian Bride's sister
Older Asian Mom (one who never wears make up or even moisturizes her skin)
Older White Mom
4 White Women
3 White Flower Girls
1 Black Flower Girl

And they made ALL of us look AMAZING!!! I have never seen any of us look better. My friends all gushed at how beautiful I looked all day. We just got our photos back yesterday and even more people gushed at how great I looked! :D

I didn't have any bridesmaids but Katherine stepped in and helped me with my dress, and she even helped walk me (and held my dress) to meet my groom for our "first look" photos. Katherine really went above and beyond. I am truly grateful for her. :)

Marci

Married on 11/23/2013

Event Cosmetics was recommended to me from my wedding planner, Emee Pumarega at EJP Events.
Choosing Event Cosmetics, specifically Katherine for my makeup was one of the best decisions I made for the wedding day. I met with her for a trial run and although what she did was beautiful, it was a bit too much for me (I normally do not wear anything other than mascara, brow color and tinted moisturizer), but she adjusted her application and products based on my feedback and the wedding day makeup was picture perfect.
Katherine is a joy to be around and a calming influence on such a hectic day. She felt more like best friend than a vendor. I highly recommend her for your special day.

Elizabeth

Married on 09/13/2013

Where do I even begin!! Katherine and Nikki are so incredibly amazing! Any bride that has been dreaming of her big day and has envisioned themselves looking beautiful, needs to choose Event Cosmetics. My husband said that I literally took his breath away. I have never felt more stunning and exquisite, while at the same time, still feeling natural and looking like myself.

Katherine and Nikki were with me and the bridal party starting early in the morning up until the very last minute, right before each of us walked up the aisle, touching up our lipstick. They are the most sincere, composed, and genuinely kind and patient people that you can meet, and having people like that around you on your big day, makes it very special and memorable. They center everything around you and making you beautiful. It is so obviously clear that their main goal is to make your day perfect.

I could go on and on about why I recommend Event Cosmetics, but simply put, they were the best decision in our large handful of vendors. This is because looking back, our day was made with them there. It was the most relaxed, joyful, and wonderful day in preparation to the biggest evening of my life, and no words can describe how much it means to walk away with those kinds of memories. Trust me, you will be a happy happy bride if you choose Event Cosmetics.

Thank you Katherine and Nikki!

Sarah

Married on 08/15/2013

Katherine and Jeannette provided makeup for 6 members of my daughter's bridal party and they were fabulous. On time, prepared, with a sense of humor on a tense day as the rain threatened to come down on our beautiful event. They really tied the makeup into the entire look of the wedding.. As the MOB I was told I looked 10 years younger so you know I was pleased. They were a pleasure to work with!

Robyn

Married on 07/06/2013

I cannot say enough about Kathy at Event Cosmetics! She is an amazing professional make-up artist - she made me look gorgeous on my wedding day! But beyond that, she is a lovely lady! Such a pleasure to be around, I love her. She's so great that one of my bridesmaids almost immediately after my wedding booked Kathy for hers as well! Call early, her schedule fills up!

I cannot say enough how happy I am that I chose to go with Event Cosmetics. I am someone that goes by word of mouth so I wanted to make sure that for those ladies that choose to do research they read this post and chose to try her. Katheryne is an absolute angel and made me feel like a superstar throughout the whole process. I have never felt so beautiful in my life than I did after she was done with me. She was so meticulous about everything she did with me (even though I changed the whole look the day of the wedding). She is truly talented at what she does and is so professional about her business. I got so many compliments on the big day about my makeup. I am so lucky to have heard about her.

Michele

Married on 07/07/2012

Katherine S. at Event Cosmetics was AWESOME! She was professional, funny, and most importantly -- great at creating my perfect bridal look! Despite my hair appointment running way over, Katherine calmly got all my make up done and even drove me and the whole bridal party to our hotel. I also booked Katherine through the whole ceremony, which was worth every penny - Katherine and her assistant took every free moment to quickly and unobtrusively touch up my make up, give me cold water, and settle my nerves prior to the ceremony. I felt like a celeb being fussed over! :)

During the ceremony and other important moments, I was able to focus on my day without worrying about anything, savoring these moments and knowing that I looked aMAZing! Thank you, Event Cosmetics!

Melissa

Married on 07/17/2010

My only regret is not going to Event Cosmetics sooner! I spent so much money on make up before my wedding. I didn't wear make up a lot and had a lot to learn! I bought at least half dozen eyeliners and none go on smoothly like Event Cosmetic's gel eyeliner. It doesn't smear; smudge or flake and I wore it for over 24 hours (don't forget to buy and pack their awesome make up remover, works well and isn't harsh!). Their Goldie Lux lip-gloss was perfect over my lipstick and looks great in my wedding photos. I also should have taken advantage of their free make up lesson Fridays. I would have spent less money, and found the right (and best) make up sooner, and gotten a clue without so much frustration! The make up artists working for Event Cosmetics are friendly, knowledgeable, and offer service that is as good as their products, which are excellent and made by Event Cosmetics.

Darcy

Married on 06/21/2009

Katherine is AMAZING! She was the most down to earth, relaxing person to be around at theh beginning of my wedding day and my make-up looked so FABULOUS! She was so helpful and wonderful, she cannot be beat. LOVE HER!

Teila

Married on 05/30/2008

Katherine is the sweetest person ever! She loves what she does and she knows what she's doing! She even asked me for my photographer and videographers information so she could see what type of lighting they would be using etc so that she knew what type of makeup would look best in the pictures and video. Needless to say she did a fabulous job no photoshop needed in any of my pictures! She totally put me at ease on my big day! My mom and I both got our makeup done by her and went ahead and did the airbrushing foundation and full sets of eyelashes! AMAZING!

Megan

Married on 04/24/2014

I'm a make up connoisseur! I spend a ton of time & money on cosmetics. I'm educated and picky about what I put on my face & who I let do it! I interviewed multiple artist and chose Event Cosmetics. Katherine was fabulous! She not only made me look fabulous but she taught me HOW to perform some of her tricks & techniques. She was so kind, calling & checking in as my big day got closer. She called me two days before to give me some pre-wedding day tips to make me feel & look my best. The day of my wedding she made me feel extra special & pampered. She and her assistant Jeanette made sure my maid of honor and two daughters were as beautiful as they could be! We loved our time with Katherine & Jeanette and will be back for make up lessons & the latest trends. They were fabulous!

The ladies at Event Cosmetics did a wonderful job. They are a great team to work with.

I have had a great experience with Event Cosmetics. They could sometimes be a bit slow to respond to emails but it was never a huge deal. I worked really had to surround myself with calm people the day of my wedding and I could not have made a better choice. I would definitely recommend them to anyone.

I loved my test run and final run with EC. I loved my makeup and how long it lasted!! I felt beautiful all day!

Samantha

Married on 07/20/2013

My wedding day was about 3 months ago and I went through Event Cosmetics for my makeup. The girls are amazing, but I was not happy with my makeup on the day of my wedding. I had concerns about my first trial, so Kathrine did my second trial and did an amazing job. She was able to create the look that I wanted. But on my wedding day, I recieved another artist who did not recreate the look that Kathrine did. I was not happy with my make up at all. To be more specific, I did not like the eyeshadow. I mentioned during my trial that I absolutely dislike it when they make my crease higher then it really is. And that's exactly what they did on the day of my wedding. I just got my wedding pictures back so I will be addressing my concerns directly to them.

Event Cosmetics's reply:

Samantha,

Thanks for e-mailing us directly and clarifying your concerns. We appreciate the feedback regarding your experience as we are always trying to provide our clients with the best service and strive to improve our practices whenever we can.

We had followed up with your makeup artist after the wedding and, outside relaying your requests for some minor adjustment to warm the look, she felt you were happy with the makeup. We also reviewed some of the sneak peeks on your photographer's website shortly after the event and thought you looked beautiful. We are disappointed that the makeup did not match your vision for the day.

As you are aware, your situation was not typical - your initial inquiry was less than a month before your wedding date, Katherine had already been booked for several months, and you requested a different makeup artist after your first trial. We had hoped that having Katherine meet with you for your second consultation, design and document your desired look, and then pair you with another available artist would achieve the results you hoped for. We apologize that was not the case.

We will apprise our entire team of your concerns and discuss strategies to ensure our execution is better aligned with future client's expectations in similar situations.

Jessica

Married on 06/18/2013

2 aesteticians came to the boudoir photography studio where we were having my bachelorette party. They were 20 minutes late due to traffic. They ran out of time and only straightened my hair; they didn't give me a pin-up hairstyle as I requested. When doing makeup for 2 of my friends, they didn't change out the mascara brushes. When my friend asked "Isn't that the same one you just used?" the aesthetician said, "Well, we're in a hurry, so we try not to think about that." In short, they don't adhere to the required hygiene standards. She also thoroughly scolded my friend for having argon oil in her hair, when any hairstylist should know you can melt it out with a flat iron. I found this to be very unprofessional.

Event Cosmetics's reply:

Jessica,
We're very sorry you were unhappy with service you received from Event Cosmetics. We did not know that you were displeased with your boudoir makeup and light hair in May, as this is the first we are hearing about it. Although we understand from your photographer that you were happy with your photos, we have not seen them. If there are specific issues you have with the makeup application that you would like to discuss, please forward your pictures to beauty@eventcosmetics.com so that we can reference them when responding.
As regards to your non-makeup related issues:
1) Yes, we were about 20 minutes late. We called while stuck in traffic and apologized when we arrived. We apologize again.
2) You did ask for a "pin-up" look and both your makeup and hair were executed to fulfill that request. We're sure your pictures reflect this. We're not sure why you did not get the "pin-up hairstyle" you requested as you were not very specific about the hair nor did you bring any pictures representative of the exact look you wanted. As there are many hair styles that might fall within the category of "pin-up," it may be that our artist simply had a different style in mind than you did. We were not contracted for full hair service, so elaborate up-do's (victory rolls, etc) would fall out of the scope of service that was ordered. As our services were arranged through your photographer, there may have been some miscommunication about what, exactly, "makeup and light hair" involve. That suspicion is reinforced by –
3) Your friend with argon oil in her hair thought that we would be washing her hair. This was outside of the scope of your order and not possible since there was no sink available to do so at the photography studio.
4) It may have been possible that we ran out of lash applicators. It is our policy to always use disposables. However, all our artists know to sanitize the applicator with Dual Action Eye-Makeup Remover/Cleanser should this occur. We cannot say for certainty whether or not the quoted comment is accurate but we do know that our artists take sanitation very seriously and would not jeopardize our client's health.
We would also add that we stayed much longer than normal on your photo shoot. A typical boudoir assignment lasts roughly an hour and half. We remained on-site for nearly three hours. We did so, first, because we had to spend additional time on your friend's hair. We, in fact, refused to release her to the shoot (even when the photographer was calling for her) because we did not want to send her out with her hair half done. Second, we spent additional time helping with styling (outside the normal parameters of our engagement) in an effort to provide good customer service.
Again, we apologize that you feel like you did not receive quality service from our company. We strive to make sure every customer has a good experience with Event Cosmetics and is satisfied. However, it is difficult to appease customer concerns when clients do not seek to address them directly with us; we're sorry you didn't feel that you could do so.

Are you interested?
Send a message