51 Reviews
Recommended by 100% of couples
Quality of service

5 out of 5 rating

Average response time

5 out of 5 rating

Professionalism

5 out of 5 rating

Value

5 out of 5 rating

Flexibility

5 out of 5 rating
44 User photos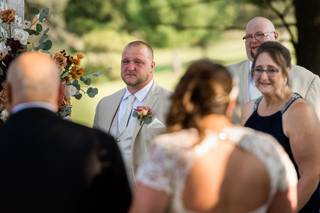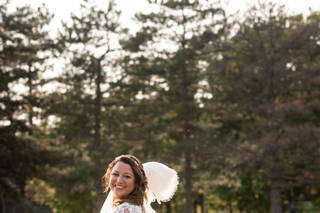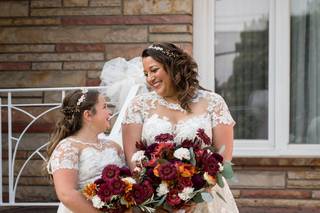 + 40

photos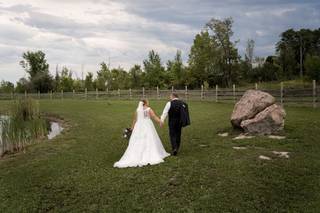 Valentina R.

Married on 09/17/2022

Every gal needs an Erin on their Wedding Day!

I only chose 5 stars, because I couldn't choose 5 thousand! I was absolutely blown away by how amazingly kind, professional and efficient Erin was at our wedding. She wasn't just a photographer. She helped me feel comfortable all day long, she coordinated, she got every photo we asked for and more, she made things happen!! Erin made me feel like a movie star (which is no easy feat!)! I am sort of shy when it comes to being the center of attention and taking photos and I just felt so comfortable and so at ease all day long. I would choose Erin again and again!

The photos are absolutely beautiful. And they were ready for us by the time we got back from our honeymoon! Just 2 weeks after our day! They aren't just routine, staged photos. Erin paints an actual story with her work. When I went through the pictures, I felt as if I was there all over again, reliving our wedding day. The photos brought literal tears to my eyes. She captured every special moment, some that I didn't even know were happening at the time. And with the craziness of any wedding day, that gift is absolutely priceless. You can't have your wedding without Erin, she is the best of the best!!!

Jordan B.

Married on 08/20/2022

Amazing! Our BEST investment!

Erin was the best investment of our wedding day! As soon as she arrived, she grabbed all of our details items and got to work! She was extremely time efficient and energetic throughout the entire day. She made my husband and I feel so comfortable and confident. I think my favorite part about Erin's services is that she stayed until the end of our reception capturing some of our favorite moments. We are now able to look at our photos forever and see how much love and joy was felt during our entire wedding day. Erin sent us four of her favorite photos the morning after our wedding to hold us over. We were SO impressed and grateful that she returned our entire album to us in just TWO WEEKS! We will always recommend Erin to anybody in need of a photographer!

+ 2

photos

Molly G.

Married on 07/22/2022

Best Wedding Photographer Ever

Erin Covey photographed my older cousins' wedding several years ago and ever since I have been obsessed with her work. Erin is kind, organized, easy going and knows what she is doing. She made my husband and I feel comfortable and confident in front of a camera. The formal, posed pictures were beautiful and the unposed pictures captured all of the joy and love ourselves and our guests experienced throughout the day. I am incredibly grateful to have a collection of photos to remember our special day forever. Erin is simply the best photographer ever.

Are you interested?

Send a message

Daniella Y.

Married on 07/02/2022

Favorite Vendor from our Wedding

Erin and Peter truly are nothing short of perfection. They are so amazing to work with and honestly just amazing people to be around. They capture MOMENTS not poses. And the photos are genuine, beautiful, authentic, and meaningful. They go above and beyond to deliver exactly what you ask for and will stay until the last moment before you walk out the door to capture those creative and fun unique shots. I will use Erin and Peter FOREVER in the future for all of our photography needs. Can not stress enough how amazing they are!

+ 3

photos

Raquel P.

Married on 10/02/2021

Best photographer ever!

I don't even know where to start to write about my experience with Erin and her colleague Peter. They are amazing!! From the beginning when we did our engagement photos with the both of them they made us feel super comfortable and natural. They made getting photos taken fun! My husband hates photos and he actually enjoyed himself everytime they did photos for us. During the shoots they had us play games to make it more relaxing and to capture candid photos. They believe in capturing the pure moments and candid photos over posed which I truly loved about them. On our big day both Erin and Peter captured every amazing moment and more. I am so happy I found the both of them and plan to continue to use them in the future! I could go on and on about them, just book them you won't regret it! Love you both.
-Raquel & Jeremy

Kayla P.

Married on 09/17/2021

Cannot say enough how amazing they are !!

I won't be able to put into words how amazing Erin and Peter are. I had a friend recommend Erin Covey to us and i am so thankful she did. They have a candid over poses approach with their style- i am a huge fan of candids as it is - but let me tell you.. their pictures honestly play back the whole day and make you feel all the feels of the day all over again. Their pictures are so beautiful and they are so talented. Another plus for me was that she has an unlimited package so she was with us all day long and was there to capture every single moment. You also get all your pictures which was so important to me to see ALL Of them (even the "bad" ones). we met with Erin and Peter prior to the wedding and they pretty much created our whole timeline thankfully because I had no idea timing on anything ! they told us exactly where we would have to be around which times to get everything that we needed to get. I am so thankful for the two of them and the beautiful pictures i have to look back on for the rest of my life. Their talent, professionalism and kindness is beyond amazing. I highly recommend them and again cannot say enough. THANK YOU!

Kyra

Married on 09/04/2021

5 stars isn't enough

Erin and Peter were absolutely amazing from the minute I contacted them until even after my event. Erin was very flexible and amazing with working to change our wedding date from 2020, as well. The stunning work, high quality of photos, and genuinely awesome personality made myself and my entire bridal party have a great time and feel relaxed during all of the photos. We received our images less than 2 weeks after our date! I will definitely be hiring Erin for future events in my life!

Lacey L.

Married on 06/05/2021

Amazing and Fun!

It is with absolute pleasure that I write this review for Erin and Peter of Erin Covey Creative. These two folks are not only amazing professionals to work with, they are absolutely some of the best people you will ever meet in your lifetime. Erin's passion for her work as a photographer is evident in the final product she delivers to you. Her shots are timeless as well as artistically beautiful. We were blown away, with everything she gave us from engagement photos, to rehearsal dinner, the wedding day, and an adventure shoot the day after the wedding. She was everywhere, all the time, capturing moments big and small. They were with us late into the evenings and made us feel so comfortable during a time that has a lot of emotions and nerves. Erin captured genuine moments and the photos really tell the story of our big day and 100% capture the spirit of our most important friends and family. I feel emotional every time I look at these photos, and I'm simply so grateful for their effort in making us feel beautiful and loved on our wedding day.

75C450C3F963Befb912Ee79F0B63E563652780F0

Married on 05/22/2021

Absolutely Amazing

I don't even know how to begin to express how amazing Erin and Peter are, but here we go. So we booked Erin nearly two years ago (pre pandemic) and from multiple date changes and location changes, Erin stayed with us all the way, even ending up traveling to Buffalo in the end. From the very first conversation we knew that she was the only person we wanted shooting our wedding.

Between the shooting style and just making the Bride and Groom feel comfortable the entire time, it was such an enjoyable experience.

If you are looking for a wedding photographer, this is the only vendor you need to talk to!!!

Erin D.

Married on 10/03/2020

Best Photographer Ever!

From the get go Erin was beyond amazing! We fell in love with her photos and her style fit exactly what we were looking for. We had absolutely no doubt that all the perfect moments of our day would be captured. To top it all off, Erin and Peter are such wonderful people and fun to be around! We can't thank you both enough for everything you have done to make our day so special!

Lisa S.

Married on 02/02/2020

Amazing x 100

Erin Covey Creative was my most important wedding item to book. I'm a former wedding photographer, so this was high on my list, and Erin and Peter were WORTH IT 100%. Erin helped me develop a schedule and keep it. She was calm the entire day and never rushed me. She made us feel comfortable throughout the process and, at every point, went out of her way to make guests and my family happy. I can't say enough about what a great choice we made to have her come down with her second shooter from New York. I am so happy that forever we will have her pictures to look back and remember our day.



Alyssa

Married on 12/28/2019

Absolutely amazing!

Erin is amazing. I cannot wait to have her shoot our wedding. She made our engagement picture session fun and and easy. My fiance and I were so worried about being in front of a camera, and she made us feel comfortable and relaxed. Our pictures came out amazing and are posted all throughout our house!

Kayla H.

Married on 08/03/2019

8/3/19 Wedding

Not only is her work beyond amazing, but she is also an amazing person. So you get the total package working with Erin and Peter. She makes you feel comfortable the second you meet them, and you can tell instantly her work is her passion; and she loves what she does! Our engagement photos blew us away and we never thought she would top those. But she proved us wrong after we received our wedding shots. We relived the entire day through her pictures. There were so many pure moments, we cried, and laughed all over again. She is so thorough and always makes sure that you are happy, and will do whatever she can to meet your requests. We do not regret one thing about choosing them to shoot such an important day! #momentsoverposes

Elaine

Married on 08/02/2019

The BEST photographer!!

I can't say enough good things about Erin and Peter. From the start, Erin was friendly, helpful with all my wedding related Qs, responsive, and accommodating. She did a PHENOMENAL job with our engagement pics and made my partner feel so comfortable! The day of the wedding, she made all our wedding party feel at ease and didn't interfere at all with any part of the night. She was seamlessly capturing all of the moments, from us getting ready before the ceremony to being on the dance floor at the reception. She is unbelievably talented and has a clear passion for what she does. I can't recommend her enough! Professional through and through!!

Ashlee

Married on 07/27/2019

Breath taking

Oh my where do I start with erin. From the very time I sat down with her to discuss her photographing my wedding. Erin was extremely nice! When doing a photo shoot you honestly dont even notice the camera because she makes the experience so fun! Her photos are breathtaking and priceless! And she is all around the best photographer

Alicia S.

Married on 07/20/2019

Best photographer ever!

I met Erin in 2018 when my then fiancé and I scheduled a meeting to see if we wanted to hire her to shoot our wedding…it was an instant connection! I loved her motto of "moments over poses" and her willingness to do whatever it takes to get the perfect shot, no matter the location or weather. She'll even lay in a puddle in the pouring rain if necessary!! Since that meeting, my husband and I have had the pleasure of working with Erin and Peter on at least 7 different occasions, including our engagement, wedding, after wedding (which was Erin's idea and an amazing experience I've never seen other photographer offer) winter and autumn mini sessions, our maternity pictures and even an intimate at home session that to this day are some of my favorite photos. Erin is always up to shoot anywhere and willing to drive a great distance to find the perfect backdrop and as an added bonus, she doesn't hesitate to let us bring our dog to our sessions. Her patience is top notch, as our dog doesn't always cooperate for the camera, but she works so hard to achieve the perfect picture no matter how many tries it takes. I can't say enough good things about Erin's work as a photographer, but also just as a kind human. She is so professional, she provides all photos in color and black and white, her response time to questions/ emails is insanely fast and turn around time on photos after a session is faster than anyone else I'm aware of. She is more than our photographer, she has grown to be a beautiful friend and we are so grateful that she continues to be willing to photograph the memories of our life and look forward to working with her for years to come! Check out her work, you won't be disappointed and I bet you'll fall in love with everything about her and her work just like we did! Thank you Erin (and Peter)!!
-Alicia & Ty Schermer

+ 8

photos

Becky H.

Married on 04/06/2019

Encapsulates your vision

Covey and team turn your dream into beautiful art. Best decision we ever made to use them. You can not find a better artist.

Jennifer

Married on 10/07/2018

I have been following Erin and her work since the day I met her about eight years ago. When you choose a photographer, don't just choose someone because you like their work- choose someone that you feel comfortable with, that makes you laugh, and that is willing to go the extra mile. Erin, who is currently based out of upstate New York, first met my husband and I at a coffee shop in New Haven, CT. For our engagement shoot, her and her partner, Peter, trekked to Arlington VT. A few months later, wanting to get in some winter shots, and see where the wedding would be held, they came to my family home in Torrington, CT.

On the day of my wedding, Erin got to work at 8 AM and met me at the salon, and kept working after the guests left at 10:30 PM so we could get one last night shot. My guests remarked that Erin blended in with the crowd, seemingly being no where but EVERYWHERE at the same time. She valued my opinion in what I wanted for shots, but also demonstrated expertise and professionalism, guiding my husband and I, as well as our party and family through amazing shots.

Erin is prompt in picture turn-around time (the two week range!!) and even got us a few teaser shots within 24 hours. She is quick to respond to phone calls, text messages, and emails, whether it has to do with a photography-related issue or wedding related angst. We could not be more thrilled with our photos, and with Erin Covey Creative as our photographer choice.

Amanda

Married on 09/01/2018

Hands down- THE BEST!!

Erin was our photographer for our wedding in early September and if wedding wire would let me give 10 stars out of 5 I would!! She was an absolute dream from start to finish with our wedding journey. She was extremely professional and captured the entirety of our special day. She was extremely flexible and responsive to my millions of questions! We received so many compliments for our photos already--- Erin is an extremely gifted photographer who is able to take the best AUTHENTIC and REAL photos while at the same time being like a fly on the wall! We were so thrilled with Erin and Peter! We can't thank them enough for everything!!!!!

Andrea I.

Married on 08/04/2018

Erin is hands down the BEST in the field!

Erin is the absolute BEST in the field -- words can't describe how thankful we are to have found such an incredible photographer for our wedding. She brings so much passion and energy to her work, working tirelessly to make sure every moment of our wedding weekend was captured in her beautiful photographic style.

Erin & Peter know no limits in their determination to get the perfect shot: they joined us for a trail run, waded upstream to capture a wedding tubing adventure, and managed to turn an unexpected downpour into some of the most artistic and gorgeous wedding photos I've ever seen. They even came up to Vermont a day early to hike the local trails, scoping out the best backdrops for a mountaintop wedding shoot. She captured all of the love, laughter, and tears from our wedding weekend through an incredible series of candids that embody her "perfectly unposed" style.

Erin has been an absolute joy to work with from start to finish, and we can't recommend her (and Peter!) highly enough.

Gina

Married on 07/01/2018

Oh gosh! Are their enough words to describe how amazing this lady is? Erin is probably one of the most genuine, real, and sweetest person there is. And hands down one of the best decisions my husband and I made leading up to our wedding day.

My husband and I got married on June 30, 2018, but booked Erin the year before. She did our engagement pictures shortly after we chose her for our wedding, and that was it! We just loved her from the moment we met her.

Erin is all about catching you in the raw, natural moments... and she did just that! She made us feel comfortable and just let us be us. In the months of planning leading up to the wedding day, I had several crazy bride questions, and Erin happily took them all. She had recommendations for me when I needed to be pointed in the right direction, like my makeup artist who I ended up loving, and was there for everything we needed her for. She simply went above and beyond her "duty" as a wedding photographer.

The day of the wedding Erin was there for it ALL! I'm not kidding, from moments before the day began, to the very last dance, Erin was there. She was on the floor, standing on chairs, and wherever she needed to be to catch that moment. Most photographers charge you by the hour, but Erin is there all-day-long. Some of my favorite pictures were taken from opposite times in the day, which I don't think I could have gotten without her being there that whole time. After looking at my photographs, I was so taken back by what she captured. It was genuine all the way through, and that's exactly what we wanted. People cannot get over how beautiful my photographs were and that is because of Erin. I couldn't have asked for a better photographer to be with us on the best day of our lives. Do yourselves a favor: look at Erin's work, and then call her! You'll get the best photographs you could have imagine and a great friend! We love you, Erin! :)

XO


Heather

Married on 05/26/2018

Somehow I stumbled upon a photograph of Erin's on a social media site and then googled her.The best part about her website is that she makes everything transparent and up front; I can't tell you how much I loved this about her right away!While freakishly going to her website every day for weeks I drooled over so many beautiful photos that she had posted on her blog along with tears of absolute joy reading her heartfelt words about each couple.I knew that I wanted to meet with Erin, and once I emailed her she was very responsive and got right back to me.She was super accommodating and traveled to Syracuse to meet us before work.I instantly got a warm vibe from her and felt super comfortable.Erin and Peter, who we later hired as a second shooter, met us at my husband's family farm for the engagement shoot.They captured the most beautiful pictures during a sunset shoot of the two of us and our fur baby Stella.Fast forward to our wedding day on May 26, 2018 when we had the dream team, Erin and Peter capturing one of the most important days of our life.Our guests and other vendors had so many wonderful things to say about Erin and Peter, and how easy they were to work with.They photographed so many beautiful, intimate moments and we will be forever grateful to them both.It is amazing to look back at our wedding day as it unfolds and just re-live the entire day photo by photo.We were overjoyed when Erin was already posting pictures of our wedding on social media just a couple days later and less than 2 weeks after the wedding she sent us the link to access 2,600+ edited, colored, and black and white photos from our wedding.Now that's amazing, I swear she's superwoman!Not only is Erin the best at what she does and produces gorgeous photos, she is genuine, caring, accommodating, professional, timely, and passionate about her work! I could go on for days about how awesome Erin is but just know you won't be disappointed with her as your photographer! Sincerely, Her #1 Fan


Katie E.

Married on 02/10/2018

Erin Covey Creative is the best!📷📸

I can not say enough great things about Erin! She captured every moment of our engagement session last summer.... our wedding in February... our maternity pictures just a couple months ago! I love how she is able to capture such raw moments with candid pictures and how she's able to loosen anyone up when capturing the moments. She cares about her clients and I highly recommend anyone that's getting married to contact her and book her right away! Thank you Erin from the bottom of our hearts for these pictures that we will cherish forever!
- Katie & Kris Eddy

Alyssa

Married on 10/22/2017

Erin was literally the most amazing person and most talented photographer ever! She was so easy to work with, she stayed all day at the wedding, she worked incredibly hard and delivered our pictures less than 2 weeks after the wedding. Best decision of all our vendors!!

Abigail

Married on 09/16/2017

Erin is the most talented, kind, accommodating, supportive, generous, fun, and professional photographer - and person! We couldn't have asked for more. We had met with a couple photographers however didn't feel the "click" we felt was necessary - seeing as we are both a little awkward in front of the camera, ha-ha. We felt it was important not to settle unless we felt it was "right". So we kept looking... We were actually referred to Erin by our incredible videographer, Josh, from Bear in Motion. They work together a lot and he couldn't have said more amazing things about her. We reached out to her and scheduled a call a couple days later. We knew, from our 10-15 minute phone conversation, that she was the one. And after our engagement photo shoot - in which she traveled all the way from Saratoga, NY to Westport, CT - we knew we had found the best of the best. We even used one of her INCREDIBLE photos as our Save the Date. Erin's photographs are stunning - every single one. As I mentioned, I have trouble looking "natural" in photos however Erin made us feel so comfortable and like we were superstars! We can't praise her enough. Everyone that we show our photos to is blown away. Oooh and not to mention, we got all of them a week after the wedding!!! Erin was a pleasure to work with from start to finish and would recommend her to anyone!!!

Are you interested?
Send a message