14 Reviews
Recommended by 86% of couples
Quality of service

4.3 out of 5 rating

Average response time

4.4 out of 5 rating

Professionalism

4.4 out of 5 rating

Value

4.2 out of 5 rating

Flexibility

4.2 out of 5 rating
3 User photos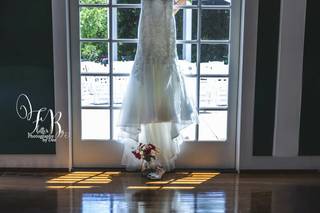 Marykay

Married on 07/24/2020

Beautiful dress, great staff

Was able to find the perfect dress off the rack! Staff was super friendly and alterations were great!

Shelby

Married on 06/11/2016

Emmy's was so helpful in helping me find the perfect dress. When I had a melt down and i thought i needed a different dress they got me in right away and helped me realize my original dress was perfect. My dress came in very quickly, as did my bridesmaids.

Kelli

Married on 10/10/2015

Emmy's carries a variety of designers and sizes! The sizing thing was important to me so I could be confident that I would fit in the dress I was ordering. They're not a large bridal store, but they have enough variety to give everyone what they are looking for. They might not have a dozen dresses in your style, but all it takes is one. Their alterations were also very reasonable and well-done.

Are you interested?

Send a message

Love my gown and bridesmaid dresses!

Christina

Married on 05/19/2014

I went in to Emmy's knowing which dress I wanted to look at. They had it ready and waiting for me to try on in the fitting room! From then on it was smooth sailing and they were fantastic each and every time I was there!! The fitting went great and the price was unbeatable. Thanks, Emmy's!!

The ladies at Emmy's are so nice and helpful. They remember you from visit to visit and treat you like a princess! Plus, their prices are very reasonable. I'm so glad I am an Emmy's bride!

Most afforadable beautiful wedding dresses !!

Andrea

Married on 09/17/2011

I wanted to thank Emmy's Bridal for finding me the PERFECT dress. They were helpful, affordable and the people there were super nice. I found my dress after trying on five dresses. They took there time but were fast about it (so it felt like we were not there all day long). I would recommend Emmy's Bridal to any bride looking for a dress.

Lisa

Married on 09/06/2006

Emmys Bridal was top notch for getting the brides and bridesmaid dresses in a timely fashion. They were very accomodating, even stayed late one night just to make sure my dress was perfect. They went out of their way for my bridal party, even helped my mother find the perfect outfit.

Jessica

Married on 09/24/2016

I went with them originally because they were the only local vendor who carried my bridesmaids dresses but they really turned out to be a great choice. They are great about calls back, detailed information, being organized no matter who is there, it was everything I could have asked for in a shop, they were a great help.

Christina

Married on 10/07/2011

Initially, I had an amazing experience with Emmy's. When I went in to try on dresses and ended up purchasing mine (and my veil), I was working with Anne. She did an amazing job. She didn't bat an eye when I picked about 20 dresses to try on, and even stayed open late with us so that we could pick out and order bridesmaid dresses.

Because I liked the service so much, I went back there to get my headpiece. The second time, I had a different consultant. Somewhere between when I picked my headpiece out to when it got rang up, the tag was switched on it to a higher priced headpiece. I didn't think much of the price being more than I was originally told it would be until I got home and Googled the style in which I paid for (in order to show a picture of it to my mother) and a completely different headband showed up. When I went back to the store to point it out, I was told I was wrong because the tag *had* to be what it said it was. The headband I have isn't even the same designer as the one I paid for. I was treated rudely, and never given the difference back for what I over-paid.

When I went back for alterations, Anne was my consultant again, and again, she was great. Everything fit perfectly and my dress was beautiful.

The gowns are beautiful and reasonably priced, so I would still recommend Emmy's, but on the basis that you ask for Anne.

Nicole

Married on 06/14/2014

Wonderful staff and can do anything. Make a vail, jewelry and make your dress fit perfect.

Sarah

Married on 04/19/2008

At first I loved Emmy's. They had the perfect dress, and I am still in love with it. We did have trouble getting the dress in, and I started to wonder if it would be in on time, but they came though and helped out with the costs. In all it worked out great.

Rude on the phone, told me the tear in my dress was my fault not theirs when they tried to hide it by tacking it. Buy a dress anywhere but here!

Emmy's Bridal's reply:

Dear Tonya W., First, we very much appreciate your business and hope your wedding day was spectacular. Our customer's satisfaction is our highest priority at Emmy's, we are sorry for your frustration. After months of good service, it is important to address the accusations in your review. The employee you spoke to while on the phone call mentioned stayed as calm and professional as possible given the tone and language that you were using. If you had been calmer, you may have found her easier to understand. The 3" tear in the tulle of your skirt is unfortunate and we were neither blaming you nor trying to hide it from you. Remember, you bought a sample dress at a large discount in "as is" condition. It is possible The tear may have been there at the time of purchase, could have occurred during one of your many fittings, or may have occurred after the dress was picked up the week before the wedding. The tacks you mentioned were all around the skirt of the dress to keep the many layers of tulle in line and not put there by us to hide the tear. The gown was thoroughly pressed before pick-up, but the layers of tulle probably made the small tear difficult to see during that process. We wish you all the best in your marriage.