227 Reviews
Recommended by 100% of couples
Quality of service

5 out of 5 rating

Average response time

5 out of 5 rating

Professionalism

5 out of 5 rating

Value

5 out of 5 rating

Flexibility

5 out of 5 rating
70 User photos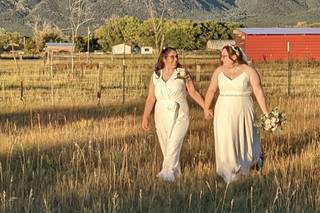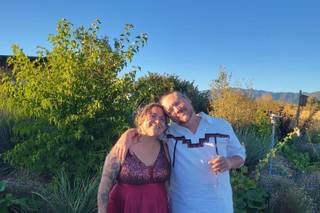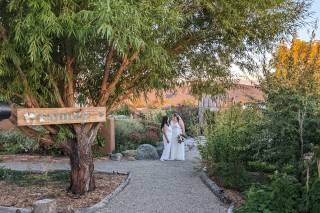 + 66

photos
Mikayla W.

Married on 12/02/2022

Choose Dan!!!

My husband, Cole, and I are from North Texas. We wanted to elope somewhere alone, reasonably priced, and a good distance away from home. We asked ourselves to think of where we wanted to go all day and regroup that evening. 1,2,3... say where you want to go. "New Mexico!" The first google search for "Eloping in New Mexico" showed a link for Dan's website. I was prepared to search for DAYS. One visit to his website and we were dead set. Dan had reviews, pictures, packages with the option to customize them to fit your idea of perfect, your choice of religious or secular vows, reading scripture or doing whatever symbolic things you'd like with your rings/any part of your ceremony. Any way you want, Dan is going to try to make it happen. The garden is gorgeous winter like when we went or whenever you go. Flowers, tipis, pond and a little waterfall. Add the Deana, the photographer, and her services to your day, too! Dan is going to be the most bang for your buck!

Embracing Ceremony's reply:

Mikayla, thank you so much. I'm delighted that your process so easily landed you on my website and connecting with me for a memorable wedding experience. I hope your family is enjoying knowing you're married now. Next visit, in warmer weather, you'll have to do a bit more hiking.

Alysa C.

Married on 11/26/2022

Amazing experience!!

Dan was recommended to us by our photographer (as we are from out of town) and he made the entire process so easy! We had lots of questions and he always replied back to our emails quickly. He had multiple options of how we wanted the ceremony to go and made it run smoothly and efficiently. We highly suggest Dan if you're looking for an officiant!

Embracing Ceremony's reply:

Planning a wedding from a far can be stressful and I'm always happy to help by answering questions. Thanks for placing your trust in me Alysa -- I was delighted to be of assistance!

Char K.

Married on 11/12/2022

Great Experience

Dan was very helpful and accommodating. He responded to emails quickly. The venue we chose was beautiful, peaceful and special. The ceremony Dan planned was for us and made us feel comfortable. Great experience. Highly recommend Embracing Ceremony and Minister Dan Jones.

Embracing Ceremony's reply:

Thank you so much Char. I'm so happy to hear I was able to provide a sense of comfort as that is something I strive for, especially on your wedding day!

Are you interested?

Send a message

Silvia M.

Married on 10/12/2022

Simply an Outstanding and Magical place

Dan Jones was our wedding officiant almost two weeks ago in the Spirit of Taos Gardens, NM. The ceremony site in the gardens has a majestic backdrop of the mountains and the view is stunning. A perfect place for a wedding. It exceeded our expectations. Despite the fact that my husband & I live in Florida & thus had to rely on email to plan the ceremony, Dan was so easy to work with, easy to reach and quickly to respond. He provides enough information that leaves you with little or no questions in mind. Working with Dan made us feel comfortable and not only brought us the experience we were looking for, but enriched our faith in professionalism.
Dan you are well placed in your industry and would highly recommend you to anyone planning a wedding in Northern New Mexico or anywhere else.
Thank you for making our day memorable.
John & Silvia

Embracing Ceremony's reply:

I'm so glad that the SpiriTaos Gardens fulfilled your wishes Silvia! You wouldn't know it today -- winter has set in here at 7,000 feet. Now the mountain view is very snowy!

Mary

Married on 10/08/2022

A wonderful experience!

We got married in October in Taos, NM. Everything was perfect that day and our officiant, Dan Jones, played an integral part in personalizing the event. He selected readings from literary greats that reflected many of the things we each love and cherish and was so fitting to our surroundings at the Hacienda del Sol. A truly wonderful day for us and our children.

Embracing Ceremony's reply:

Thank you Mary! I love knowing that I had a role in a day that'll forever be a fond memory for you. Many blessings from a now-wintry Taos!

Mitchell G.

Married on 10/08/2022

Beautiful ceremony and very professional

We could not recommend Dan enough. He was prompt in responding, courteous, professional, and patient. And the ceremony he created was absolutely perfect for what we wanted. Can't go wrong!

Embracing Ceremony's reply:

Thanks Mitchell! I enjoyed working with you both. I hope the rest of the evening went beautifully -- the dinner table was gorgeous!

Allison S.

Married on 10/08/2022

Wonderful officiant!!

Dan was the best officiant we could have asked for! We had a wonderful experience from the very beginning. Dan made sure that our ceremony was exactly how we wanted. He made the process so easy by providing us with ideas and structure while still allowing us to input our own personal touches. He recommended a champagne box addition to our ceremony and it ended up being one of our favorite parts. We got a customized box and now have it sitting on display in our living room! Dan was responsive and so easy to work with. He helped us create the ceremony of our dreams and was patient with us as we worked to edit the script to be exactly how we wanted. Dan was professional and his delivery was impeccable. Our guests couldn't quit talking about how much they loved our ceremony, and most importantly, we loved it and will cherish it forever. 10/10 would recommend Dan to officiate your wedding!

Embracing Ceremony's reply:

Thank you so much and I'm so delighted that your guests responded so positively to the ceremony. They were a fun group and I enjoyed interacting with them. And speaking of fun, make sure that champagne bottle remains in the box until your first anniversary!!!

Shirley S.

Married on 10/01/2022

Absolutely Perfect!

The ceremony was exactly what we would had hoped for and more ! Dan selected the perfect choice of words and made our moments that much more special . From the location he suggested to the recommendation of photographer, our ceremony was perfect ! We couldn't have asked for anything more !
We highly Recommend Embracing Ceremony to anyone looking for professionalism , quality and friendly service. It's perfect !

Embracing Ceremony's reply:

Thank you so much Shirley! I'm so happy that everything was good for you. It was a pleasure facilitating your magical day.

Ashleigh M.

Married on 09/24/2022

Absolutely Perfect!!

We had an amazing wedding! Working with Dan to get our ceremony written and planned out was such a pleasant experience. Him and Tim really went above and beyond. Our wedding was absolutely perfect and exactly what I envisioned! The flowers, cake, and of course the gardens were breathtakingly beautiful. Thank you both so much!

+ 2

photos

Embracing Ceremony's reply:

Thanks Ashleigh! We really enjoyed working with you and I'm glad our Forever in Love package worked so well for you. You and Anna were a delight and I'm glad it was such a great experience for not only the two of you, but all or your guests.

Courtney W.

Married on 09/24/2022

So professional and meaningful!!

An incredible ceremony full of meaning. He truly embodied my partner and I's love. Dan took the time to get to us know to create a custom ceremony that was so beautiful . I would use Dan x1000 times more!

Embracing Ceremony's reply:

Thank you so much Courtney. You and Chris were fun to work with and I enjoyed facilitating a smooth-sailing show for you the day of your wedding at El Monte Sagrado. I wish you all the best.

Tanya A.

Married on 09/18/2022

What an amazing day and a wonderful experience

So happy with his responsiveness and gentleness with our wedding. We received nothing less than what was promised, and within the whole commotion I was so grateful to also receive a copy of the ceremony script. He is kind and soft spoken, we loved every bit of our experience with him.

Embracing Ceremony's reply:

Thank you Tanya. It was such an honor to spend time in your family's historic orchard and with your loving family. Thank you for including me as part of your special day.

Jo Koling

Married on 09/07/2022

Embracing Ceremony

Highly recommend venue with beautiful garden and memorable mountain backdrop. Dan's professional touch made our wedding a day to remember forever.

Embracing Ceremony's reply:

Thank you Jo! It was a pleasure working with you and I'm delighted that you enjoyed the colorful SpiriTaos Garden venue.

Aryela R.

Married on 08/28/2022

Choose Dan!

Dan was a true professional. He helped us through the ceremony process with poise and was truly amazing. He is knowledgeable, kind and friendly. Our family was so over the moon about how beautifully he carried his words and so we're my husband and I. I can't recommend Dan enough!

Embracing Ceremony's reply:

Thanks so much Ary! I'm glad everyone enjoyed the ceremony. Everything was beautiful that evening. All my best!

Julia S.

Married on 06/07/2022

Professional, responsive, and just right for our wedding

Dan was a great officiant for our wedding. He was very easy to work with, knowledgeable, and has many resources for couples getting married. He is very responsive, and is very clear in his communication. He understands the balance of professionalism that is needed for a day as big as this, with infusing the ceremony with the exact tone of love and warmth we were after. We were able to create exactly the ceremony that we wanted! I would unhesitatingly recommend his services.

Embracing Ceremony's reply:

Thanks so much Julia. I really enjoyed working with you and Thad. Your wedding day was just perfect -- thanks to your careful planning and attention to detail. My very best wishes to you and Thad.

Deb R.

Married on 05/18/2022

Easy and pleasant.

Our ceremony was customized to our desires and relationship. Perfect!

Embracing Ceremony's reply:

Thank you Deb! I hope you had a wonderful dinner at The Love Apple. So convenient to Hacienda del Sol! My best wishes!

Daniel R.

Married on 05/15/2022

Every thing was perfect for us

Dan and Deanna were perfect they made us feel relaxed and special answered any questions we had they made our wedding very special loved the cermony it was perfect for us

Embracing Ceremony's reply:

Thank you Daniel. So great that we had such a beautiful day up in the Taos Ski Valley. I wish you both all the best!

Dodd, J.

Married on 05/11/2022

Amazing wedding

Dan created the perfect wedding memories for us. Thank you, Dan!!

Erin B.

Married on 04/08/2022

Perfect intimate Taos elopement

We were hoping for a low key elopement and initially planned to have our ceremony in a courthouse. However, I stumbled upon Dan's site and loved the idea of having a ceremony outside surrounded by the beauty that is Taos. From the moment I contacted him Dan made everything extremely easy. The location he chose by the Taos Gorge Bridge was breathtaking, and Deanna, the photographer he works with (optional to add on to the ceremony), was also lovely and so easy to work with. Dan's ceremony was clearly carefully prepared and meaningful. Overall, working with Dan made our intimate wedding everything we wanted, and I would definitely recommend him to others who don't want to deal with the typical drama associated with a wedding!

Embracing Ceremony's reply:

Thank you Erin. Deanna and I loved working with you. We were so appreciative that you trusted us to be the ones to create (and capture by camera) this most special day in your lives.

Julie V.

Married on 03/19/2022

Perfect elopement in Taos thanks to Dan

We decided 1 month prior to our wedding date that we were going to elope and feel very lucky to have found Dan to perform our ceremony. We met with him via Zoom to go over the details of our wedding, what we wanted and hear our "story". He was super helpful in recommending a place to stay in Taos, letting us know about fantastic restaurants in the area and answering any and all preliminary questions we had. And his garden was the perfect spot to exchange our vows! Dan was warm and friendly and he performed a lovely and thoughtful ceremony for us that we couldn't have been happier with. He even played photographer right afterwards and took a few photos of us with snow capped Taos mountains in the background - it was perfect!

Embracing Ceremony's reply:

Julie, you were such a delight to work with. I enjoyed having you and Corey pose for pictures afterwards -- I was having fun. I'm glad I captured a few images you like. Thanks for trusting your elopement to Embracing Ceremony!

Gabriel A.

Married on 03/04/2022

Dan had such a beautiful ceremony prepared for us and said exactly the right sermon

A beautiful sermon and the setting was picture perfect

Embracing Ceremony's reply:

Thank you so much. I'm glad we had such a gorgeous day in the winter for your ceremony. All my best to you both.

Sara K.

Married on 01/02/2022

Dan is my hero!

Dan was amazing from the very beginning but he saved the day when our New Years Day wedding was ruined by a major snowstorm. I was snowed into my cabin (even with 4 wheel drive) with no wifi and no cell service. Thankfully, one person in our party had a few bars and we were able to contact Dan. Even though he was dealing with a crisis himself, snowed in with no electricity at home, he was quick to communicate and move our wedding to the next day.

The next day he showed up as promised and performed a perfect wedding ceremony. Our family was raving about his delivery, script, and jokes. They said it was the best and most entertaining ceremony they have ever attended and that he would be worth transporting to Dallas if anyone else in the family gets married.

Dan, thank you for everything.

Embracing Ceremony's reply:

What can I say Sara? I'm dedicated to my profession and want everyone to be completely satisfied. I love what I do! Thank you so much for your ability to flex and make the best of the situation. It was a pleasure working with you.

Gareth C.

Married on 01/01/2022

Thank you for making our wedding so unique and magical!

Dan went above and beyond for us in making our special day an amazingly joyous and memorable occasion, and all with precious little notice and challenging weather conditions to contend with. As an officiant, Dan was a superb orator, and spoke from a script that was thoughtfully-written, evocative, and expressive - a real testament to his professional ability to capture the love and joy of the moment and the day. The combination of his celebratory words with the absolutely stunning backdrop and location made our wedding a day that will live long in our memories. I could not recommend Embracing Ceremony more highly to anyone wishing to tie the knot in a truly unique and magical fashion!

Embracing Ceremony's reply:

Thanks so much Gareth. It was fun working with you and Cadia and I'm glad we were able to navigate through a snowstorm. You were my first wedding of the year and in my new micro wedding SpiriTaos Garden venue. Thanks for the opportunity to contribute to your special day.

Emma C.

Married on 12/24/2021

Best officiant in New Mexico!

Dan provided the officiant services for our Christmas Eve wedding. He was great to work with, extremely flexible and thoughtful in his preparation of the ceremony script, and was able to tailor it perfectly to our personalities and relationship. Dan's method works well—we enjoyed filling out the questionnaires that allowed him to get to know us and then seeing how he turned those answers into a beautiful ceremony. We planned our wedding from out of state and appreciated meeting Dan on Zoom a few months before the wedding date. We weren't sure how a non-religious ceremony would go but Dan presented many options in an orderly fashion. Our guests all commented on how much they enjoyed the ceremony, which made us feel really good! On the day of the ceremony, Dan arrived early and was a calm and steadying presence. Highly recommend working with Dan! -Emma & Matt (Austin, TX)

Embracing Ceremony's reply:

Thank you so much Emma. I appreciate all your kind words. I love that your guests liked your ceremony -- on top of it working well for you and Matt! All my best wishes for a safe and healthy 2022.

Wendy J.

Married on 11/07/2021

Amazing Experience

Dan was very professional, kind, funny and knowledgable, he made our elopement very special. He communicated with us throughout the easy process, and was very helpful in answering any questions/concerns we had. The ceremony itself was beautiful and very special. The vows that he prepared for us were perfect. I highly recommend Dan to anyone who is needing an officiant for their wedding!

Embracing Ceremony's reply:

Thanks Wendy. I enjoyed working with you and I'm glad that we co-created such a good experience for you!

Ryan D.

Married on 10/20/2021

Amazing experience!

Working with Dan was an amazing experience. It doesn't matter if you're getting married or eloping, understanding the ins-and-outs of what is required to make the ceremony happen and legal filing is stressful. Dan helped us through the entire process. On top of that, he stood in the freezing weather at sunrise with us to give us the ceremony of our dreams. I hope everyone that can uses his services does so they can have as smooth an experience as we did!

Embracing Ceremony's reply:

So glad to share your adventure with you Ryan! It was fun ... and yes, chilly! I know it'll be a day you look back on for the rest of your lives. Yay!
Are you interested?
Send a message