39 Reviews
Recommended by 99% of couples
Quality of service

4.9 out of 5 rating

Average response time

5 out of 5 rating

Professionalism

5 out of 5 rating

Value

4.9 out of 5 rating

Flexibility

5 out of 5 rating
6 User photos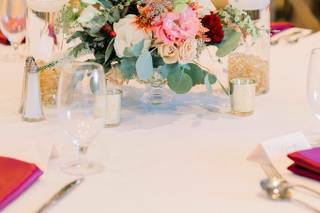 + 2

photos
Whitney R.

Married on 10/30/2021

For the best wedding planner, look no further

I have spent the past almost two months trying to come up with the perfect way to describe my experience with Jen, but honestly, there are not enough words. When I met with Jen almost two years before my wedding date, I spoke with her on the phone from 800 miles away (I live in Chicago, IL). I'm originally from the Beaufort area, but had not lived there for several years. From the beginning, Jen was there every step of the way. Planning a wedding from 800 miles away and then during a pandemic was a bit mind-boggling, but Jen was an absolute angel and made the whole experience seamless. Her communication, design, resources, organizational, and problem solving skills are unmatched. We met via Zoom often, and she always answered all of my questions.

She also created the wedding of my dreams plus more. She took everything that was inside my head and put it on paper while staying within the realm of my budget. I seriously could not have planned my wedding without her.

Outside all of those things, Jen is one of the kindest, beautiful souls you will ever meet. All of my vendors, guests, and family members adored her. To this day, I still hear how wonderful Jen was at the wedding. If I could work with Jen again, I would--100%. Thank you, Jen, for being a part of my life and creating the most beautiful wedding for me.

+ 3

photos

Crystal

Married on 04/29/2017

I would like to start out by saying that finding a great wedding planner is so very important when planning a destination wedding! When my husband and I decided to get married in Hilton Head I reached out to Jen and it was one of the best decisions I made in the wedding planning process. It is so comforting knowing that you have someone working for you that knows the area and the local vendors so well.

I initially knew I loved Jens taste by her portfolio so throughout the process I felt very at ease with her recommendations. She helped me to book some of the most amazing vendors!!!! If you are starting to plan a wedding in the area be sure to contact Jen first, she can help you with so many little details right away that will later become so important! For instance, deciding on your venue is crucial and Jen has incredible knowledge about the area to help you find the venue that will reflect your style/vision. From there she does a wonderful job with guiding you through the steps you need to take and helping you to do things in the proper timeframe (timeframe is so very important - vendors get booked, etc).

I also want to mention how amazing our day of experience was. I am extremely detail oriented and Jen executed and oversaw every little detail perfectly!!! I can't describe how happy I was seeing all the aspects we had worked so hard on during the planning process come to life. Having her and her team there on our wedding day allowed me to relax. I felt as though she would make sure everything came together the way I had envisioned - and I was right! I am so THANKFUL we reached out to Jen all those months ago and will forever CHERISH our wedding planning process/wedding day experience!!! Know that if you decide to use Embellished Events you will be in the very best of hands.

Meagan

Married on 11/07/2015

For those of you who don't like long reviews I'll cut to the chase – If you are looking for an organized, professional, creative and intelligent wedding planner then do yourself a favor and hire Jen Leiti before you do anything else wedding related.

For people looking for a little more detail here goes. My now husband and I live in New York City but both have an affinity for the Lowcountry. Given that dynamic we knew that we needed someone on the ground who knew the vendors and could help our vision come to life with lots of emails and phone calls. As silly as it sounds I initially approached Jen because I loved her website! I knew I wanted someone professional with good taste and my first reaction after seeing how she markets herself is that this is someone that like me, takes pride in the details. During our first phone conversation I knew that Jen was exactly who I wanted to go through this process with. She instantly made me feel more at ease and the way she approached discussing different wedding ideas really showcased what an expert she is – I trusted her to just run with a lot of things wedding related and am so glad that I did.

On the day of our wedding Jen and her team executed all aspects of the day perfectly. For example, we had an outdoor ceremony and right before I was supposed to walk down the aisle the sky opened up and it started pouring. Jen told everyone to quickly come inside and we would resume the ceremony following the rain delay. Jen quickly came to chat with me and let me know the storm would pass by and we'd start where we stopped. Given the trust I put in Jen through this process and the quality with which she had executed everything this far I knew that she would handle this and I didn't have to worry at all. 20 mins and a couple champagnes later the skies cleared and we continued as planned! The entire night was perfect and I credit most of that to Jen!

Are you interested?

Send a message

Ashley

Married on 10/17/2015

Jen Leiti and Embellished Events are definitely top-notch! We are biased because we feel we had the most perfect wedding, but comments from our guests attest to her and her crew's amazing skills: "how did you plan such a beautiful wedding from afar?!," "when my daughter gets engaged can we call you to plan the wedding?," "This was hands-down the most stunning and fun wedding we have ever attended" (which means a lot coming from friends who are all married and are very wise ;) ).

Jen's sense of style, design, attention to detail, and flexibility were unable to be matched. She worked around our busy lives/work schedules over the past 14 months of wedding planning. Her extremely positive and fun personality made it very easy to communicate with her, made us enjoy talking to her, and made it very difficult not to become great friends with her! She is invested in you and your significant other. She listens to what YOU want and dream for YOUR big day and transforms that into reality... and in our case the wedding she helped us create exceeded anything we could have dreamed for.

The only request from the bride, groom, and wedding guests... "Can we do it all over again?!?". The honest truth is that if we could do it all over again, we would not change a darn thing!

To all of those future brides out there- If you are looking for an upscale wedding planner that you can 100% trust to help you plan the biggest day of your life, while keeping your vision and budget in mind, I would highly recommend Jen Leiti and Embellished Events without hesitation! I have no doubt that she can transform your dreams into reality and even exceed your expectations.

Much love to Jen Leiti and Embellished Events

Sincerely,
The Pittsburgh Newlyweds

Kara

Married on 05/30/2015

Jen Leiti and team from Embellished Events made my wedding day glisten with beauty, harmony and joy! Jen was a dedicated support member for me... an out of town bride. She operated with professionalism and an anything is possible attitude. The vendors I worked with through Jen were each artist in their craft, accommodating and kind. She was avail for me anytime of day, and flexible when minds were changed! She made us feel comfortable and happy from the time we started working with her to the day of the wedding. She orchestrated the day down to the min with ease and calm...and was willing to help out in any way necessary to make the day the beautiful, love filled event we hoped for and received. I would recommend ANYONE work with Jen on their low country wedding!

Embellished Events's reply:

Aww, thank you Kara for the sweet words! I enjoyed working with you just as much and still can't get over how beautiful your wedding day was...perfect weather for an evening of dancing under the stars.

Selena

Married on 04/23/2015

Jen was amazing to work with!!!! She helped me find awesome vendors and answered every email right away! She took our vision and made it come to life :)

Great person to work with !!!!

Ashley

Married on 01/24/2015

Jen with Embellished Events was absolutely AMAZING! Jen's passion, professionalism, creativity, and amazing personality made our wedding planning so smooth and easy! She was on top of all tasks, to ensure they were completed on-time! As well as, gave us wide variety of creative, fun, and beautiful options that reflected our personality, and most importantly worked within our budget. I am horrible with making decisions and communicating what I dreamed my wedding would be. But helped and took all of our (crazy) ideas and turned it into a whimsical, elegant, beautiful wedding! :)

Also, beyond my husband and I working full-time, I unexpectedly injured my knee, which led to full knee surgery. With me being out of commission and unable to travel and drive. Jen went above and beyond to help with little tasks that I couldn't get to and made our wedding day was what I've always dreamed of!

I would 1,000% recommend Jen with Embellished Events. She turns your thoughts, ideas, and dreams into reality and most importantly, into a day you will never forget!

Lindsey A.

Married on 10/03/2014

We knew that planning a destination wedding would require someone with local experience and contacts to help us. The best decision we made was choosing Jen Leiti of Embellished Events. Her knowledge of the right vendors to use were absolutely spot-on and invaluable. We could never have achieved the look we wanted for the ceremony and reception without Jennifer helping us define our vision for the day and guiding us to the right people to execute that vision. Besides helping us choose vendors, she was absolutely superb in tactfully and diplomatically moving the process along - helping us make timely decisions and communicating with us throughout the planning process. Her wedding day support was invaluable as she coordinated the schedules for every minute of the celebration. She took so many of the details out of our hands that we didn't have to worry about a thing. Jennifer was an absolute life-saver and I couldn't recommend her more highly.

Natalie

Married on 04/26/2014

Style, creativity, personality, and patience make-up Embellished Events wedding planning services. Jennifer Leiti, owner, and her team of assistants helped execute our ideas into the perfect wedding day! From the beginning, we could rely on Jen for her attentiveness and follow through with vendors and ideas. We appreciated Embellished Events organization and communication with the use of Planning Pod. We highly recommend Embellished Events for your wedding planning in the future. Excellent service and staff.

Patti

Married on 03/29/2014

Jennifer and the Embellished Events staff were such a blessing! As Mother of the Bride for this destination wedding I can honestly say I don't know how we could have done it without them! Jennifer provided vendor resources and helped us with negotiations so we could stay on budget. When we arrived in Hilton Head the week of the wedding all we had to do was show up where and when Jennifer told us to on our timeline! Absolutely every detail was covered and the wedding went off without a hitch, at least that's how it seemed to us. Thank you for the perfect day Embellished Events!

Megan

Married on 03/01/2014

Brian and I were so thrilled with the way that Jen was able to translate our ideas into a truly gorgeous event. Due to our schedules, we couldn't be in the area for much of the planning, so we had to rely on her judgment-- and we're so glad we did! We enjoyed every minute of the big day, and could not have imagined a better outcome.

Janice

Married on 10/12/2013

We began working with Jen at Embellished Events about a year and half before our wedding date. As an out of town bride and groom, we knew we needed some help planning our South Carolina wedding.

Jennifer came through and exceeded our expectations. She has a true eye for detail and made our wedding unique, as we wanted it.

Our wedding was fully outside under a tent, which required a lot of rental items and design of the space. Jen transformed a plot of land into a glamorous and chic space. She took our vision and turned it into the wedding of our dreams.

All details were handled, from the lighting in nearby trees, to our hand written seating chart on mirrors, to our lounge area outside of the tent. Jen coordinated with all vendors, had meetings with them on-site while we were out of town, and followed up with each vendor to confirm all details were in place. Jen scheduled meetings for us while we were in-town, and spent as much time as needed with us to finalize details.

Jen truly made our planning process smooth and this came through in the end result. I highly recommend Jen and her team!

Embellished Events's reply:

Why thank you for the sweet words Janice! There is nothing greater in this industry than seeing months of hard work and planning come to life and exceeding the bride and groom's expectations. Working with you and Adam was a dream and something I'll cherish forever. Thank you for trusting me with this special day and best wishes to you both!!

Leslie

Married on 09/06/2013

Jen's exceptional eye for design and attention to detail made our wedding day absolutely perfect. We couldn't have done it without her. She made planning a wedding easy and seamless for us and always made herself available whenever we had questions. Hiring Jen was the best investment we made for our wedding and highly recommend her to other brides that are newly engaged and beginning the planning process.

Kelly

Married on 05/18/2013

While my now husband and I were initially hesitant to spend "extra" money on a wedding planner, once we met Jen Leiti of Embellished Events, we knew she was going to be worth every penny. Jen was with us every step of the way (even before we had signed our contract, she had suggested a venue to check out we hadn't considered and we ended up falling in love) from the vendors, the details, to the execution of the best night of our lives. Jen took our initial vision and made sure that every last detail went towards bringing that vision to life. Every one of her recommended vendors worked out perfectly - their customer service was superb and they all worked together with Jen to provide us a seemingly perfect ceremony and reception. There could have been problems, but not any one of the guests, myself included, ever heard about or saw one. Jen responded to every one of my emails (and there were quite a few) quickly and professionally and she's just about the sweetest and most understanding person I've ever met. I can also say that by the end of the wedding planning process, you too will have a newfound friend in Jen. Jen was also very understanding of not only respecting our vision, but also respecting our budget. She really gave us the freedom to develop our own vision of the wedding we wanted and would suggest ideas or touches that we may not have thought of, but they only added to the overall experience of our big day. Jen knows what will work and what will get you your dream wedding, but I felt the entire time that we were planning our big day with a close friend instead of a paid consultant. The best part about Embellished Events is that their fantastic team, with their very thorough planning, allowed my husband and I (and our families) to have the chance to really relax and enjoy the special moments. Our guests are still raving about the stunning and fun reception that we would not have been able to create or have without Embellished Events.

Nick

Married on 05/04/2013

Words cannot express how thankful we were to have hired Embellished Events for full service wedding coordination! Jennifer Leiti and her team of fantastic assistants are truly wonderful to work with. We hired Embellished events a month after we were engaged and never once doubted our decision. Jen has an amazing eye for detail. She custom made our head table runner, wedding party napkins, outdoor pillows and tent pole sashes. She was truly an asset to have at every vendor meeting, adding input on food choices, complimentary flower colors, and tent options! Her and her team enlisted several hours to make our wedding go off with out a hitch. Jen handled every small detail while ensuring I was truly treated as a princess for the day.

We sincerely appreciated the wedding package Jen put together for us online. She tracked all of our vendor agreements, uploaded agendas for our vendor meetings and week of events, provided a budget template and an over all timeline of "things to do" by month to help us stay on track.

We definitely recommend Embellished Events to all other Low Country brides. Jen is fantastic to worth with, you won't be disappointed!

Jennifer

Married on 10/27/2012

I planned my wedding from a distance and needed help from a wedding planner. Working with Jen was fantastic! She is so detailed and thought of things I would never have considered. All of the vendors that she recommended were excellent.

Looking back at the experience, there was nothing about the day that I would change, and I would work with Jen again in a minute. Her help was invaluable and well worth the expense. Several of our guests told us that ours was the best wedding they had attended and I'm convinced that is due in large part to Jen and her thoughtful planning. I highly recommend her service to anyone planning a wedding or any major event.

Embellished Events's reply:

Thank you so much Jen for the sweet words! Every minute spent planning with you was so much fun and I'm honored to have had the opportunity to be part of this very special day. Best wishes!

Sierra

Married on 05/05/2012

Embellished Events did a great job planning and executing my wedding day. my wedding was a great success mostly because of Jen and her staff.

Geneva

Married on 04/28/2012

Jen Leiti of Embellished Events helped us create the wedding of our dreams. When I say that I could not have done this without her... I mean it in all seriousness. Her vision and enthusiasm was present from day one until the last moment of the wedding day. She was bursting with fresh ideas but always listened very carefully, and provided just the right amount of guidance and suggestions. She took my ideas to a whole new level!! Jen was incredibly professional, both with me and with all of the vendors she came in contact with. She was a tremendous resource and helped us choose the PERFECT location for our rehearsal dinner, ceremony and reception! She was exceptionally organized, and helped to keep me on track throughout the entire process. On the day of the wedding she was flawless, and along with her team orchestrated a phenomenal event. My husband (!!!) and I could not have been more pleased with our investment in Embellished Events. Thank you so much Jen for all that you did to make our day so special!!!!

Embellished Events's reply:

Geneva, your sweet words mean more to me than anything and are the greatest reminder of why I love what I do so much! It was an absolute pleasure working with you over the past year! Your wedding day was spectacular and my team and I were honored to be part of it. Thank you so very much for the opportunity to be part of your and Luke's special day!

Kathy

Married on 04/28/2012

"As MOB of this wedding, I bless the day Geneva found you and your team. My very particular, detail-oriented, artistic daughter was able to capture all her visions and set the perfect mood for her dream wedding, with your guidance and support the whole way through. On the day of, your staff and you had EVERYTHING perfectly done, down to the last cotton boll. We all felt so comfortable that everything was going was going smoothly, that we could just relax and bask in the love and joy of the day. After hearing stories about other's experiences with planners, I was concerned at the start, but you were the absolute planner of our dreams! All happiness to you with your new arrival in a few months."


Leslie

Married on 04/21/2012

Jen was absolutely amazing to work with!! Our wedding day went so smoothly and was absolutely perfect.

Embellished Events's reply:

Thank you for the sweet words! I enjoyed working with you Kurt every moment of the way and was honored to assist you in planning the perfect wedding day! Best wishes to you both!

Anne

Married on 04/07/2012

What a pleasure it is to work with Embellished Events! Owner Jennifer Leiti is a true professional and sincerely cares about EVERY detail! Her team is polished, efficient and on time, always!!! As a commercial photography studio, we work along many different vendors and always look forward to working with Embellished Events... Take the time to speak with Jennifer - she will create an elegant, chic and innovative wedding for you and your spouse that will provide memories for a lifetime...
Anne, Photography by Anne

Embellished Events's reply:

Thank you for the sweet words Anne! It's always a pleasure to work with you and your team as well! Looking forward to our wedding together on June 4!

Stephanie

Married on 03/30/2012

Jennifer is positive, impressive and consistent in her goal of satisfying the bride and groom, all guests and vendors from the wedding. Exceptional etiquette and management skills were extremely helpful as a destination wedding needs a local planner without a doubt. Freshly presenting additional help was her assistant, Kylie. She helped on the big day with knowledgeable ease and dedication.

Embellished Events's reply:

Stephanie, it was an absolute pleasure and honor to be part of your wedding day!! Thank you for allowing us to be part of such a special celebration. Kylie and I wish you and Taurean a lifetime of love, laughter and happiness together. We can't wait to see pictures!! Best wishes you two!

Rachel

Married on 09/24/2011

I must say that I was originally hesitant to hire a wedding planner, due to the added cost and the fact that I was determined to be a "hands on" bride. However, looking back on my wedding I seriously do not know how we could have done it without Jennifer and her team. Jen worked with me to understand my vision for the wedding day, and helped to make it a reality by coordinating with all of my vendors and setting up everything as I imagined. She was a huge help at the rehearsal and provided advice and direction for me and my family when needed. She was very professional and went above and beyond to help with everything we needed. I would recommend Jennifer and her team to anyone, ESPECIALLY if they were planning a destination wedding.

Embellished Events's reply:

Thank you for the sweet words Rachel! It was an absolute pleasure working with you and we were honored to be part of your wedding celebration! Best wishes to you and your new husband!

Lindsey

Married on 09/10/2011

Thank you for everything you did for us! The wedding turned out perfect! I was so relaxed and calm the day of the wedding thanks to you being there :)

Sue

Married on 09/03/2011

Both my daughter and I live in different cities than where the wedding was held. We felt so comfortable with Jen. She helped provide names of vendors and provided information about different ones. Answered emails and questions promptly. I've never seen a more detailed timeline. And it was great. Kept everyone on schedule. She took all of the stress out of all of the little details that mount up the closer you get to the wedding day. Would definitely work with her again.
Are you interested?
Send a message