Reviews
5.0 out of 5 rating
Quality of service

4.9 out of 5 rating

Average response time

5 out of 5 rating

Professionalism

5 out of 5 rating

Value

5 out of 5 rating

Flexibility

5 out of 5 rating
99%
Recommended by couples
212 User photos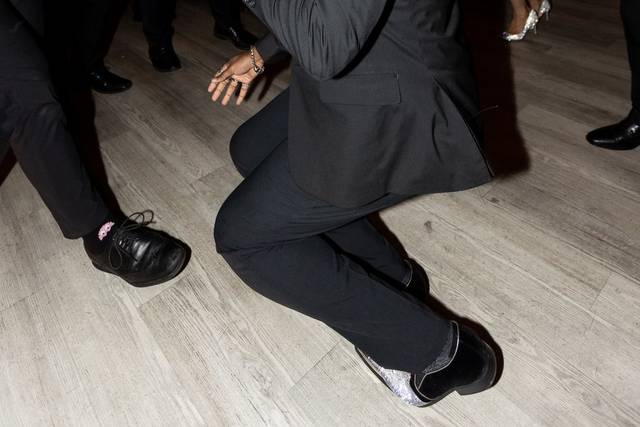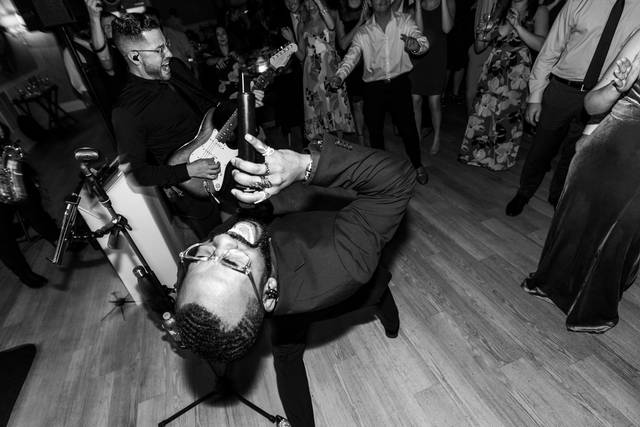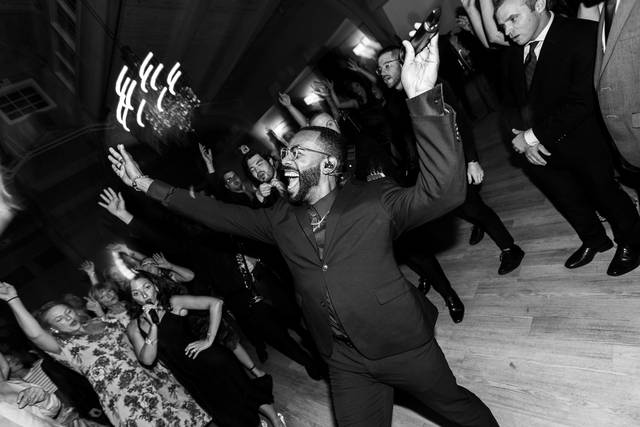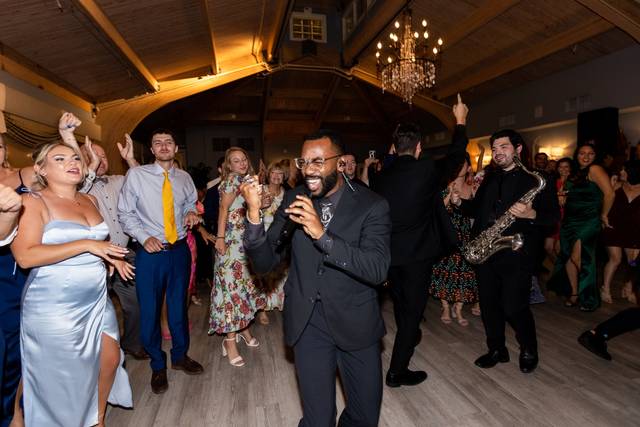 + 208

photos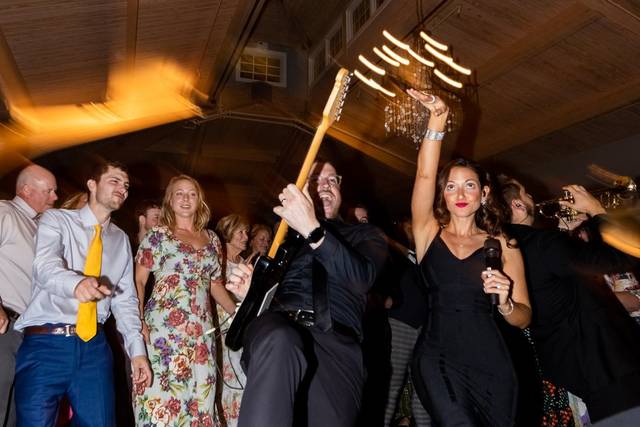 Tessa

Married on 09/08/2023

The ABSOLUTE best!!!!!

EMG is the ABSOLUTE BEST!!!!!! From the first time I met them, they were immediately amazing to work with -- so kind, fun, and they made everything SO easy! Tom hosted our event and did an absolutely incredible job!! He brought the party (everyone was dancing the entire time), but also kept it elegant and classy (none of that cheesy DJ stuff!). He was also extremely detail oriented, taking the time and care to understand every detail of the day.. and then he executed to perfection! Also, the live musicians were super talented and did a beautiful job. Totally speechless at how awesome the EMG crew is -- cannot recommend them enough!!!!

Monica

Married on 09/02/2023

Perfection

Absolutely the best! Had so many compliments on our music. Our DJ worked with us the entire night and even after we gave specific ceremony music intrusions he absolutely killed it!!! Everything was exactly how we wanted!

Zoe R.

Married on 08/27/2023

Kept the party going at maximum overdrive

Our wedding became an extraordinary celebration, all thanks to the sensational fusion band Neon Transit that graced our special day. They did more than keep everyone on the dance floor; they transformed our wedding into an electrifying dance extravaganza that left us and our guests utterly thrilled.

From the very start, their performance infused the atmosphere with an infectious energy that had everyone moving. Combining the live band's organic sound with the DJ's modern touch was a genius move, making their music irresistible and dynamic.

Their versatility knew no bounds, effortlessly spanning various genres and eras, catering to all musical tastes and ages present. Their engagement with the audience was magnetic, with the lead vocalist encouraging sing-alongs and spontaneous dance-offs, creating an inclusive and joyful atmosphere.

Our wedding had countless memorable moments, but it was this remarkable band-DJ fusion that took it to an entirely new level. They made our party unforgettable, and we'll forever cherish the energy and enthusiasm they brought to our special day.

Are you interested?

Send a message

Marissa W.

Married on 08/19/2023

Neon Transit EXCEEDED Expectations

I have nothing but amazing things to say about our experience with using Elegant Music Group for my wedding in August 2023.

When looking for vendors, we wanted a hybrid band but struggled to find a group that was responsive to what we were going for. From the get, EMG had their clients in mind, while still imparting their expertise and wisdom. We felt super confident with the team.

We ended up hiring Neon Transit, an amazing hybrid band, for our wedding. From there, we were primarily in contact with Yanko, who is a DJ/MC extraordinaire, who you could immediately tell has a passion for his work. I felt like I was in great hands with Yanko and trusted his suggestions. He guided us to work out the details and allowed us to not have to worry about the details on our big day.

Our guests were OBSESSED with Neon Transit. They loved the selection of music, the hybrid approach, and the energy the band provided. At least 3 people asked us for the website/contact information for their wedding or a friend.

20/10 recommend this vendor. They are easy to work with, extremely organized, and really keep in mind their clients when planning out your day! Thank you to EMG and Neon Transit for making our day so special!

Carly D.

Married on 08/12/2023

Absolutely perfect

We were absolutely thrilled with the music at our wedding thanks to Josuel at Elegant Music Group! My husband and I had a very specific vision for the vibe we wanted to create with our wedding music, and Josuel was receptive to our ideas from the very beginning. We really felt that our vision was his top priority. He was also extremely attentive to detail, (i.e, going over the pronunciation of names, order of events, etc). We had our cocktail hour and reception in the Conservatory at the Madison Hotel and it was the most perfect day. The music and the natural uplighting provided by Josuel were a class act. The music was the perfect volume; you never had to shout to be heard, and the dance floor was full the whole time with people of all ages. It was such an elegant and classy vibe which was exactly what we wanted. We did not want the night to end! Thank you Josuel and EMG, we cannot recommend you enough.

Kara O.

Married on 07/14/2023

Thank you!

Josuel made our wedding at Bear Brook Valley beyond what we ever could have imagined. Bringing our family and friends together through an epic night of dancing is something we will cherish forever. Josuel brilliantly blended a wide variety of genres that kept our guests on the dance floor all night long. He brought all of the details we discussed in our planning meetings to life. He knew exactly how to keep the energy and excitement going. He even included an incredible Kompa set. Everyone can't stop talking about how Josuel was a hit and we hope our paths cross again.

Josuel & the entire EMG team were fantastic. We are so grateful!

Sitara P.

Married on 07/08/2023

Fantastic job by the EMG team!

We had EMG for our July wedding - for a welcome party and the wedding night itself - and could not praise them highly enough. We had Josuel as the event host on our wedding night and he did a wonderful job getting everyone up and dancing, balancing a multicultural wedding and guests from varying age ranges. We also had a violin and keyboard player for the ceremony and during the dinner, and they were also absolutely fantastic! They were so skilled and able to learn any random song we requested. Also a special shout-out to Chano who did a great job getting people up and dancing even at the welcome party, ever when we didn't expect them to :) Everyone from EMG was incredibly professional, on time and did a wonderful job. We highly recommend them!

Adrienne S.

Married on 07/08/2023

CityScape and the Park Avenue Horns

If you are considering booking City Scape and the Park Avenue Horns for your wedding, DO IT! The band is SO talented and put on an amazing show for our reception! We worked with Mike during the initial booking and consultation stages and he really took the time to explain all of the different entertainment options and answered all of our questions. Once we found out that they were available for our wedding date, it was a no brainer to book with them! 
During the planning stages, we worked closely with Michael in making sure every detail was covered. Planning with EMG is so easy, as they have an app that allows you to create playlists and details that you want to make sure are included in your reception. They tailored the set list perfectly to our music tastes and were an absolute blast the night of the wedding! Our dance floor was packed all night, and the band members were so much fun and interacted with our guests.
We also booked our photobooth with EMG, and it was a hit! Guests got their own individual copies of their photos, and we were not only provided with a digital link to all photos taken at our wedding, but also a photo guestbook. We truly cannot say enough good things about working with EMG and City Scape, and our guests are still raving about them!

Michael P.

Married on 07/01/2023

Amazing DJ. Had the dance floor packed.

Tom our DJ was amazing. He made himself readily available before the wedding and made sure all the songs were organized and tailored to our specific taste (which was no small feat as he was able to include music for myself, the groom, my bride, my side of the family and my wife's side of the family. It was a perfect blend that never left the dance floor empty. I highly recommend!

Lori N.

Married on 06/24/2023

Best vendor we had!

Elegant Music Group was a preferred vendor for our venue and we definitely know why. From the very beginning of our experience with them, the whole staff was nothing but professional. They always answered our questions immediately and the app to choose our music made the whole process so much fun for us. We used them for our guitarist for the ceremony, our Photo Booth which was a big hit with the best pics, and most importantly our event host Cesar kept the party going all night. He listened carefully to our requests and definitely delivered. Our guests were on the dance floor all night! We also used EMG for our digital seating chart and two special photo slideshows on the tvs and each added tremendously to our day. We couldn't recommend them enough!

Sam W.

Married on 05/28/2023

BEST Wedding DJs Ever!

Tom and his team made our wedding the most incredible dance party. Despite a wide range of guests, Tom had the entire room dancing all night! I would hire them again for any event and would encourage others to do the same!

Jackie P.

Married on 05/20/2023

Great experience with Matty G!

Even before we first met with Matty G before our wedding, my husband and I were so excited to work with him, as he had done an acquaintance's wedding and we heard nothing but good things. We were especially glad to book with EMG when we learned about their use of the app during the planning process. This made it super easy to add a song or two on a whim when you hear something and think "we have to play that at our wedding!" Matty is a true professional and you can tell how much he wants you to have the most perfect day. He reiterated to us multiple times that he would not be offended if we wanted the volume down, didn't want to hear a specific song, or wanted him to change things up. On top of being extremely professional and organized, Matty is also extremely funny and helped lighten the mood a few times.
We asked Matty to play a variety of music that would appeal to a lot of people, and he crushed it! The dance floor was packed the entire night.

We also booked photobooth services through EMG. The photobooth assistant was extremely kind and helpful and helped everyone enjoy taking the photos!

Brianne L.

Married on 04/29/2023

Ten out of ten!

There are not enough words to give justice to just how INCREDIBLE these guys were. From the very first video call they were so easy to work with, it totally put our minds at ease. We chose an acoustic guitar for the ceremony and cocktail hour portions, and were so lucky to have Matt who created the perfect romantic atmosphere. But it was our DJ Bryan who really brought the whole night together - from our first call together we knew he would be the perfect fit. He absolutely nailed the party/dance vibe we were going for - every time a new song started you could audibly hear our guests scream "OMG I love this song!" which kept everyone on their feet the whole time. The music was absolutely a wedding highlight for us and we can't recommend EMG enough!

Flavio B.

Married on 04/22/2023

Wow! EMG will do a show at your wedding!

EMG is the right vendor for entertainment! Josuel, our host, simply made a show, even surprising me with playing Brazilian songs I loved and I missed to request! He actually got what we wanted and made an amazing selection! The sparkles and the clouds took the party to another level, the musicians at the ceremony played beautifully and the photo boot was a blast! And more than what happened during the party, there is all the support they provided before. Musicians accepted to play the songs we chose, they recorded a mix we needed for the first dance a couple times until we got the perfect cuts, and Josuel ensured all the details we discussed in the planning matched. You will have peace of mind! I cannot thank EMG enough for all the amazing work they did and for turning our party into a success!

Joanna S.

Married on 03/25/2023

Best decision of our wedding planning

When planning our wedding, my husband and I knew the DJ would be the most important part of our night. From our first meeting with EMG we knew they were the right choice. They had a great vibe and were so helpful along the way. We could not have been more HAPPY with having Bryan on our special day. He was amazing with our parents and bridal party but made it the most perfect night. We truly never saw the dance floor empty and I owe that to him and his amazing team!! You will not regret working with EMG!!

Julie M.

Married on 03/25/2023

Everything You Need for An Amazing Event

Tom and his team at EMG were incredible. From the planning process to the big day, everything was seamless. I was worried about the flow of my wedding and timing, but Tom took the lead and kept it all moving, perfectly. We took advantage of a lot of the enhancements and talent that EMG offers, including live musicians for the ceremony and cocktail hour (keys and sax), digital seating chart, ballroom uplighting, the vanity photobooth and indoor sparklers. It is no exaggeration to say everything exceeded our expectations. And then there's Tom, owner, DJ extraordinaire. He is unbelievably nice and professional and knows how to throw one heck of a party. Our dance floor was PACKED the entire night. "Legendary", "electric" are just a few of the fantastic reviews I received from my wedding guests.

I would recommend Elegant Music Group to anyone looking to throw an outstanding event. They make the planning process easy and provide you and your guests an event they will never forget. They really are incredible.

Jaclyn G.

Married on 03/18/2023

Elegant Music Group absolutely NAILED IT!!

Elegant Music Group absolutely NAILED IT at our wedding - and it was one of the BEST decisions we could've made for our big day! DJ Tom and his team knew exactly what they were doing - and the dance floor was packed ALL night long with people of all ages! Tom got the vibe we wanted EXACTLY right and people cannot stop talking about the music and what an amazing time they had on the dance floor. Tom and his team were professional, kind, classy and extremely talented. HIGHLY HIGHLY recommended EMG!

Edward L.

Married on 03/18/2023

Amazing! All inclusive entertainment provider

We used EMG for our wedding in NJ and they came highly recommended by the venue. Austin was a fantastic host/DJ and made sure everything went along smoothly. We also added a string trio and live electric violin and saxophone - all the musicians were top-notch and were able to play by ear to match the background tunes.


For our ceremony, the bride walked down to a very specific anime song that was only available in piano format, but the string trio had no problem transcribing and playing it with strings - that was likely the first time in history our specific song was ever played by strings, and it was beautifully executed. Lastly, we added a photobooth from EMG and all our guests had fun. The support staff and coordinators ensured a smooth process throughout for billing, add-ons, and services. All questions were answered and this company is highly responsive and open to making sure customers are happy and have a perfect wedding.


Mary A.

Married on 12/31/2022

Tom Gambuzza from Elegant Music Group

Tom Gambuzza from Elegant Music Group was the BEST decision that we made in our entire wedding planning process. From the moment we originally reached out to elegant music group, we knew that we found the right company for us. We had met with a few other companies but the fit just did not seem right. Working with Elegant Music Group was so seamless and easy, which is so important because planning a wedding can be so stressful.

Now back to Tom - he listened to every request we had and went above and beyond to meet our expectations. We recently watched the raw footage from our wedding video and we can truly say that the dance floor was packed the entire night. We asked Tom to play a variety of music, as we had a mixed crowd. He exceeded our expectations! He was the best host for our wedding. We have friends who are getting married in the future and are inquiring about booking Tom. If you are debating it, I highly suggest you book Tom from elegant music group - you will not be disappointed.

Derek M.

Married on 12/03/2022

Outstanding!

Josuel and his team perfectly captured the vibe we wanted for the wedding. He was a professional, approachable and flexible. Had a great play list and kept everyone on the dance floor when needed. I can not stress how good he was for our special day. I would recommend him to anyone.

Becky M.

Married on 11/20/2022

Dance floor packed all night long thanks to EMG!!!

Words cannot even begin to describe how amazing the EMG team was to work with! It has been 3 months since our wedding and our guests are still raving about the music (rightfully so - it was EPIC)!! Working with Tom was an absolute dream - he was professional, fun, and had an amazing set list to keep our dance floor packed all night long!! My husband and I were going back and forth if we wanted a band or a DJ so we compromised on the hybrid package and it was the best decision!!! There was no pushback on any song request we made. Tom is an incredible DJ and we had TJ on the drums, Tristan on the electric violin, and Boyce on the Sax - the entire team was on point all night long!! For our ceremony and cocktail hour we had the violin & keys which was the perfect combo. I surprised my husband with the song I was walking down the aisle to and Tom helped make that happen! The look on my husband's face was priceless thanks to EMG!!!

Yvette F.

Married on 11/13/2022

Fabolous DJ + live percussionist for our wedding reception

We were very happy with hiring EMG music for our wedding reception party. We hired Matty as our DJ and added a live percussion musician accompaniment. Matty did a fabulous job DJing at our wedding!!! Our guests loved the music and we got so much positive feedback about the party - it was perfect. We enjoyed the night so much and felt from our first conversation with Matty that we were in good hands - which made it easy to sit back, relax, and dance the night away. Matty balanced his attentiveness to our specific requests with flexibility and spontaneity - ensuring that our 'must plays' were played and then added great spice to our open dance set. Additionally, he was great at keeping the flow of the night going - making enthusiastic announcements and keeping to the timing we discussed for our different dance sets.

Also, so many people told us they LOVED the percussion addition - it made a big difference in adding to the party and creating a live music experience. Our friends were jamming out to the percussionist and raved about the combination of DJ + live musician.

We really couldn't be happier with our music for the wedding and highly recommend EMG! We are so grateful and just overjoyed with how much fun and seamless the party was - in large thanks to the EMG team!

Audrey

Married on 10/22/2022

Everybody danced all night

The music makes the party and City Scape and the Park Avenue Horns was absolutely outstanding at our daughter's wedding on Oct. 22, 2022 at the Crystal Plaza. The entire crowd was up on the dance floor all night. Just amazing.

Jessica D.

Married on 10/15/2022

The Dream EMG Team!

We have nothing but good things to say about Tom and the EMG Team. It was extremely easy to work with them in the time leading up to our wedding day— communication was always clear and organized— at each point in time, we knew what to expect and this made the process stress-free. Tom had our guests dancing all night with a nice blend of both of our music tastes. We highly recommend Tom and his team.

Shannon H.

Married on 10/15/2022

Great experience

Josuel was fantastic. His professionalism and creativity was the perfect touch for our wedding. Everyone was complementing the music. Josuel helped us every step of the way.
Are you interested?
Send a message