Reviews
4.9 out of 5 rating
Quality of service

4.9 out of 5 rating

Average response time

4.9 out of 5 rating

Professionalism

4.9 out of 5 rating

Value

4.9 out of 5 rating

Flexibility

4.9 out of 5 rating
98%
Recommended by couples
17 User photos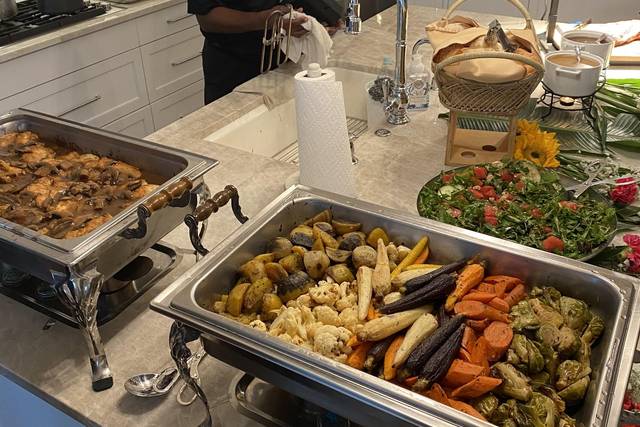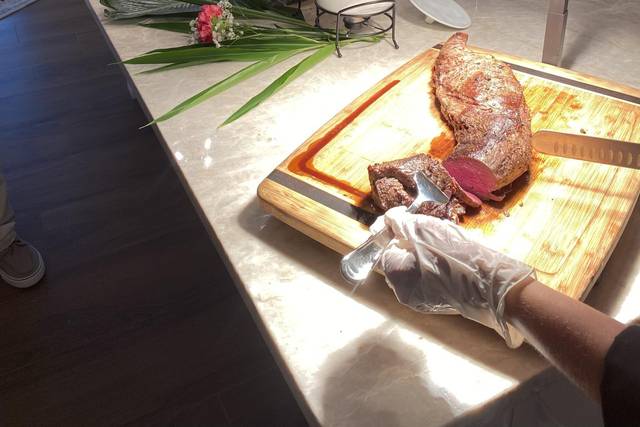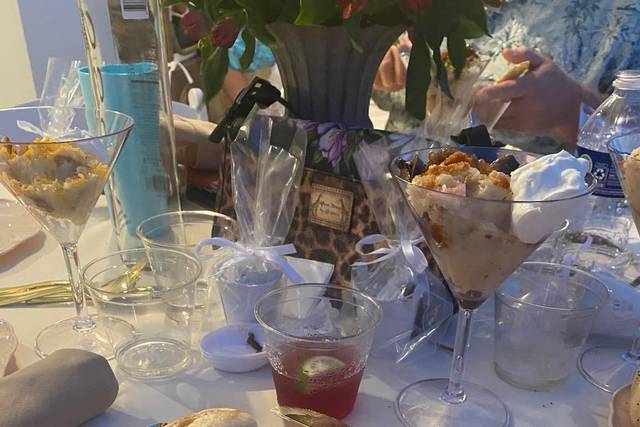 + 13

photos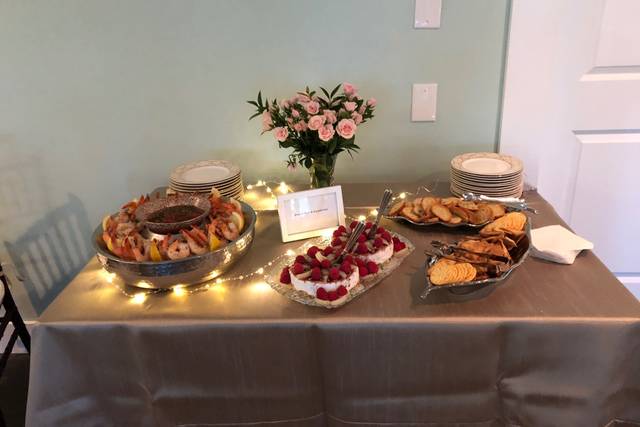 Michelle P.

Married on 07/04/2023

The best of the best catering

On July 4th 2023, I attended a wedding in a private residence right on the intercoastal. Elegant Events was the caterer and Bar Service. They were excellent with the quality of food, the presentation and the staff service. Chef Patrice went above and beyond to meet all of the dietary needs of several of the guests as well. I would highly recommend this company for all of your catering needs.

Rob S.

Married on 04/29/2023

Amazing Food and Service

I cannot express how fantastic the food tasted. The presentation was outstanding as well. We had passed hors d'oeuvres and a pasta station, salad station, sweet station, and stir fry station. We used the bartender service as well for the wedding and had a brunch service the next morning. The food taste was amazing and everything was hot. All of our guests raved about the food and how friendly the staff at Elegant Events were. Patrice met with us several times in the year leading up to our wedding and was always so patient and had great suggestions. We had an outdoor venue and there were heavy rains during most of the meal service and the team executed hot served meals without any issues. We are forever grateful to Patrice and William and the rest of the team for helping to make our Wedding very special with memories that will last a lifetime.

Maria

Married on 03/18/2023

Great Caterer

Patrice was excellent and easy to work with. I planned with her for my sons wedding in Florida all while I was in NJ and she was very accommodating to all of our needs. The food was delicious! I highly recommend her for your catering needs.

Maria

Are you interested?

Send a message

Amazing business

We used Elegant Events and Catering for our Engagement party and Wedding and it of course did not disappoint. We received so many compliments on how delicious our food was. The presentation was beautiful as well! Highly recommend.

Susan R.

Married on 12/21/2022

The best ever food, service and presentation

I'd used Patrice and her team before for other events so I knew they'd be great for my wedding g weekend, but even so, they surpassed my expectations. They managed the food for my 3 day affair with expertise and amazingly excellent food for all of it - including a pasta dinner for 80, and brunch for 110, and a dinner for 120- each at different venues and menus: each exquisite. They were simply wonderful.

Karen D.

Married on 11/05/2022

Patrice and staff make everything so smooth. Amazing experience

Patrice and her staff went above and beyond to make this day so perfect. Food was OUTSTANDING! The presentation was beautiful.

Paulette V.

Married on 11/05/2022

"Boston In The House"

My future sister-in-law and I were planning my small wedding at her home in Stuart Florida and we happened to stumble upon Elegant Events and Custom Catering's website. I live in the Boston area and not familiar with Stuart at all, but after speaking with Patrice Depino I knew I found the right Caterer. She and I went back and forth via email, fine tuning our menu choices once or twice. She offered her opinion, but also allowed us to have free reign with our selections. The results were spectacular! Her staff was professional and courteous and very attentive to our quests. The food was out of this world! Our guests raved over the passed appetizers and beautifully presented entrees. The Mashed Potato in a Martini Glass was a huge hit! We had people coming up to us days later commenting on how delicious everything was. Patrice and her staff made our wedding very special and memorable. Highly recommend!!!!

Jackie L.

Married on 10/26/2022

Elegant events/ PatriceDepino

It was such a pleasure to have elegant events take care of my daughters wedding celebration. The food was delicious. The service was good. People were raving over how good it was and we were treated with respect. All my questions were always answered and I'm thankful that Patrice worked with my budget. She made our party a complete success thumbs up!!

Lori M.

Married on 06/11/2022

Wonderful!!!

Delicious food and wonderful service!

Keleigh

Married on 05/07/2022

Amazing!

Patrice and team went above and beyond - all of our guests were OBSESSED with the food- they could not stop talking about it. SO many options, she will absolutely have something you will love. Patrice is extremely talented and I cannot recommend her enough :)

Lynn

Married on 04/23/2022

Food was amazing!

Patrice did a phenomenal job catering our 90-person at-home wedding reception. She made great food suggestions that worked for the variety of guests. Everything was cooked fresh and served hot (or cold, for those cold items). The servers not only passed hors d' oeuvres, but also picked up plates and cups and kept the reception area tidy. When the meal was served (we had food stations), all of Patrice's staff was on hand to make sure none of our guests waited in long lines to get their food. Our guests raved about the food and service for days after. I'd say Patrice went above and beyond to make sure our event was stress-free from a food perspective. She even had her staff cut and serve our wedding cake (which we purchased separately) without an additional charge. Food was an important part of our reception and Patrice delivered. I would recommend her without hesitation.

Carlee B.

Married on 03/05/2022

Amazing! Didn't have to worry about a thing!

Patrice was the best! I planned a Vero Beach wedding from Tallahassee and wasn't able to do a tasting before hand but all the food was amazing. Some of the wedding guests said it was the best wedding food they ever had. I heard after their truck had broken down on 95 day of but they were able to get another truck and have everything there on time. Service was impeccable. Hire Patrice and you won't have to worry. You can trust her absolutely.

Heather G.

Married on 01/16/2022

Simply amazing!

From the tasting to the wedding, my husband and I were absolutely blown away with the level of detail and professionalism Patrice had towards our wedding envision. Patrice made the most effort I have experienced during this trying time, making us feel secure in our decision with her and her communication was above and beyond what we could have hoped for. Patrice and her team arrived early to the venue leaving more than enough time for preparations. The food was cooked on site and guests never had to wait longer than a few seconds for a hot plate. To this day, the top comment my husband and I hear is how spectacular and delicious the food was. I highly recommend anyone to check Patrice and her team out for delicious food, amazing support and superb pricing!

Elegant Events and Custom Catering's reply:

Thank you for that wonderful review
We loved working with you. You all were
a dream to work with. We wish you a lifetime
of Happiness and lots of little Heather's and
Hector's. God Speed

Jessica

Married on 11/06/2021

Since my mother and step-father to be run businesses and work full time, I, the food hound in the family got the responsibility of selecting a caterer for their engagement party. I got so frustrated with this task that I created a menu with a few ideas of what we wanted and emailed it out to about 15 caterers.

Since we wanted about 4 different passed hors d' oeuvres and surf and turf for the dinner portion for only 35 people most caterers wouldn't work with me. They wanted to sell me quantity not variety, and they also wouldn't allow us to take left overs we purchased home. They were not upfront about where they purchased their fish and if it was frozen or not (big deal to us) and wouldn't work with us on cuts of meat either.

Patrice called me in the evening, I knew it was a caterer, I didn't feel like speaking with another or getting gouged again but I'm glad I answered.

Unlike every single other caterer I spoke with, she didn't rush me off the phone. She listened to everything I told her, then asked plenty of questions. We stayed on the phone for an hour and a half! She even allowed me to find my own fish, fresh, never frozen cobia from a friend of mine and cooked it perfectly herself. Everything for my mothers event was personalized, her staff was wonderful and the food was to die for! I had so many compliments on Patrice, her services and her wonderful food.

I really can't express enough how personal of an experience Patrice makes catering. I felt like we had a friend in the kitchen cooking for us.

When dinner was through they bagged all the left overs for us and cleaned up everything spotlessly.

If I ever get hitched I will be calling Patrice for my own without a doubt!

Mary W.

Married on 11/03/2021

Fabulous and flavorful!

Elegant Events was so professional, courteous, and helpful. The food was outstanding, flavorful, and beautifully presented. I used them for both a rehearsal dinner and a welcome party for my son's wedding. I recommend them highly - delightful and delicious!

Pauline A.

Married on 08/24/2021

A Wedding Planner's Dream Come True

As a planner I know how important it is to provide a delicious meal for your guests .My Daughter was married on August 7, 2021. Chef Depino truly provided all of our guests with an impressive menu. All of the food was cooked fresh on site, including an interactive Tempura Station which everyone raved about! I went to every table to greet all the guests and they all told me it was the best food they ever had at a wedding! I have attended and coordinated numerous weddings and I agree that Chef Depino is always on point with flavor, presentation and service. I wanted the best for my daughter's wedding and I got it.

Kasandra W.

Married on 08/07/2021

Perfection!

Elegant Events catered my sister's wedding at Ever After Farms. All I have to say is that everything was perfect. The taste, timing and service were exceptional. The bride, groom, wedding party and guests enjoyed every bite. Chef Depino runs a well oiled machine. We are so thankful to her and her team.

Ryan V.

Married on 08/07/2021

Beautiful wedding day

Everything was absolutely amazing. The professionalism , environment, set up, food, everything! Thankyou for everything

Liz

Married on 07/10/2021

Flexible, delicious food, accommodating

Elegant Events and Custom Catering was wonderful to work with. We didn't have a large group so they were able to accommodate a few dishes we could eat in the morning as well. They were very personable and very flexible with our schedule. Fun, lively energy!

Did I mention the food was delicious!?

Highly recommended!

Liz

Fred M.

Married on 05/28/2021

Fred and Kathy Mandato

Patrice is an excellent chef and our guests raved about the food. Everything was fresh, tasty and impeccably served in our backyard setting where our wedding took place.
I highly recommend Elegant Events.

Elizabeth H.

Married on 04/25/2021

Wedding caterer

If I could add more than 5 stars I would. Patrice was the ONLY caterer in Stuart Florida who not only returned my phone call In a timely manner but also followed through with Enthusiasm and absolute caring. She did everything in her power to make our event perfect including going to the event site multiple times in my place (we are from New York so couldn't get to the beach site prior to the wedding), meeting with the event coordinator who she even recommended to me, recreated our menu several times And never got upset with us
( picky bride), calming me and reassuring me whenever I got nervous ( which was a feat in itself)! I can't say enough about her staff and her professionalism. They also came back the next day to cook an awesome breakfast for all our guests. The food was excellent
and we truly enjoyed having Patrice and her staff part of our special day. She will NOT disappoint!!!!
Thanks again for everything you did for us and for making this day perfect and as special as it truly was.
Liz

Vikki J.

Married on 06/03/2020

Top Notch!! Delicious food!!

Delicious food and top notch staff!! Thank you for a job well done for our daughter's wedding!!!

Latisha F.

Married on 05/02/2020

LBGT Wedding

This company was Awesome! The food was delicious Patrice helped me create a menu that would be great for my guest And as suitable for my budget. She was even nice enough to prepare a separate dish for my wife(lamb chops) which were delicious! Patrice and her husband was very professional. Hors d'oeuvres were cooked onsite which my guest appreciated receiving hot food. I would Highly recommend Elegant events for your Catering service.

Jane H.

Married on 03/21/2020

Amazing!!!

Patrice was a joy to work with. The food fantastic and her staff very professional. I am ready to have another party just for her food 🥰

Karen K.

Married on 03/06/2020

Absolutely Amazing Food and Service

Food was fabulous, everything we wanted. My friends and family are still commenting that they have never had food this good at a reception before. Everything was exceptional from the pasted appetizers to the main course. Their team was professional and took care of all our requests. Would definitely hire again in the future.
Are you interested?
Send a message