137 Reviews
Recommended by 98% of couples
Quality of service

4.9 out of 5 rating

Average response time

5 out of 5 rating

Professionalism

5 out of 5 rating

Value

4.7 out of 5 rating

Flexibility

4.9 out of 5 rating
9 User photos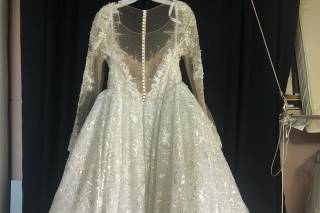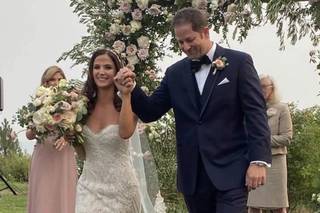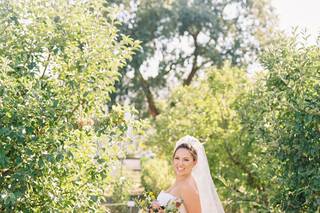 + 5

photos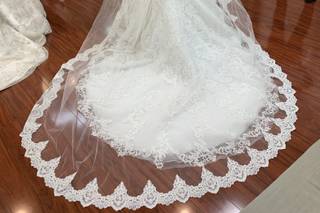 Samantha D.

Married on 05/28/2023

Great and kind service!

Elegance Preserved was wonderful! Everyone was so kind through the process. They pick up your dress from your home and deliver it back when the service is finished. I had my dress cleaned and it came out beautifully. My scheduled completion date was in December, but they accommodated a sooner completion date when I requested with no trouble at all. I really appreciate everyones help and how kind everyone was. Would definitely recommend!

Carson

Married on 11/07/2022

Clean and Steam Wedding Dres

Wish I could give Elegance Preserved 100 stars on here! They went above and beyond and answered all of my questions. My wedding was in San Francisco, but I'm from Texas, so I was nervous about shipping my dress, but let me tell you, my Essence of Australia dress was so white after they cleaned and steamed it and just perfect! When I picked it up I wanted to cry. They did an amazing job! I recommend them to any bride. Very stress free process! I love them!

Brittany J.

Married on 08/26/2022

Elegance Preserved 10/10!!!!

Back in August I married the love of my life in a beauitful Carolina Herrera dress. On top of what I assume to be normal soiling on the hem, one of the tulle layers had at some point ripped from my heel stepping on it. Although small, I searched for the best of the best to help with my beloved dress. I reached out to Elegance Preserved and their amazing team for assistance.
Their site offered clear directions on how the steps needed to get a quote. Within an hour of filing out my order form, Olivia scheduled me for the next route in my area and offered a timeframe of expectance. Once my driver Brittany arrived, she anwsered any of my additional questions and put me to ease! The handoff of my dress was easy and took less that 5 minutes in all! After a few days I recieved my quote for a cleaning and preservation, plus word of the additional tears the found during the examination process (one's I hadn't even seen!). I was sent photos of the damage before approving my fair repair quote and given an honest opinion of the out come. Fast forward just a few weeks and my dress is complete and ready for delivery! Returned back to me as easily as it was picked up, was my beautiful dress looking as stunning as it did the day I brought it home from the shop. I cannot stop recommending Elegance to any and all of my girlfriends after their big day. Customer service and quality of service is 10/10! Thank you Elegance Preserved team for everything.

Are you interested?

Send a message

Lara H.

Married on 08/20/2022

Trusted company to work on your dress

I used this company to preserve my gown and veil, and I'm so happy with their work and professionalism. They made everything so easy by coming straight to your door for pickup and drop off, and their communication was excellent from start to finish. You can let them know if you want your dress cleaned only or also preserved, and they provide a free quote beforehand, so everything is transparent. After months and months of hectic wedding planning, I really appreciated how seamless and hassle-free they made the experience for me. I highly recommend using this company!

Ping

Married on 06/12/2022

Great service all-around

The team was very responsive and I was able to have my dress picked-up in the same week. It was hassle-free as they provided pick-up and drop-off services and they truly did an amazing job in preserving my dress and veil. I'd recommend this to anyone who's looking to have their dresses cleaned and/or preserved! Extremely happy with the service and the result :)

Jaclyn N.

Married on 05/22/2022

Life Saver

I highly recommend Elegance Preserved and will not use anyone other place going forward but them. Our dress maker Suzanne Hanley which owns Atelier Des Modistes recommended them and we are so happy she did. I had them persevere my wedding dress and additionally they took care of my moms dress and my engagement dress which Suzanne designed and made as well. Sadly at our welcome reception red wine was spilled on my engagement dress which was Silk and they were able to get the wine stains out and save my dress. Their attention to detail, customer service, quality and flexibility sets them apart from any other options. Make sure to ask for Olivia when you reach out as she will take care of you.

Shila M.

Married on 12/03/2021

Amazing!!!

Elegance preserved did a fantastic job cleaning my dress! They made the cleaning process convenient and stress free. I got my dress from Janene's bridal which is where I got the recommendation for elegance preserved. Their covid safety precautions included picking up and delivering your dress right to your door. Highly recommend!


Vanesa R.

Married on 11/13/2021

Sample Dress Cleaning

So happy with the services provided by elegance preserved! I own a Anne Barge "Raven" wedding gown purchased from a sample sale at Kinsley James in 2019. The dress has any delicate features including an Embroidered Lace overlay with Beaded details. The dress had several blemishes across the train and around the underarms that I was very concerned about. Beacuse of these details I was very hesitant to send the dress to be cleaned because I feared it would be ruined. Elegance preserved did such an amazing job in keeping touch through the cleaning and providing details about the process. I was highly satisfied when I received my dress afterwards and could really tell the difference. The dress looked amazing! 😍 My wedding just passed and I will definitely be using the cleaning and preservation services soon!

Maggie K.

Married on 11/04/2021

Fast and good quality!

Super nice and accommodating to my timeline! I didn't take my dress out till 2 weeks before my wedding day and realized it got a little dirty from the bag or something. They were fast, picked it up from my house abs had it turned around faster than my normal dry cleaning! Very nice and responsive. Can't ask for anything better!

Maddie V.

Married on 10/20/2021

Incredible, kind, Amazing!

The folks at EP are amazing. I purchased my gown from the flagship Sarah Seven Love Club in San Francisco and headed to EP upon their recommendation. When I reached out to them for cleaning of my dress, a sample gown from Sarah Seven, they responded to my inquiry almost immediately. They picked up my dress a few days later and worked with my semi-tight timeline to return my dress just a few days prior to my wedding. It was SO easy and they were so kind and communicative. My dress looks brand new and I cannot wait to wear it!!

Alex C.

Married on 09/30/2021

Amazing service all around!

I live in Chicago and had a surprisingly difficult time finding a dry cleaner who would take my dress (and clean it at a reasonable price), so after lots of calling around I decided to use Elegance Preserved as they were the recommended dry cleaner from my wedding dress designer, Sarah Seven. They are located in San Francisco so this required having the dress shipped there and back but it honestly turned out easier and more stress free than using any local cleaner! I simply emailed them some photos of the dress, and they provided a quote in a timely manner. Then they sent me a FedEx box with a prepaid shipping label and I shipped my gown off to them! It took about 2 months for them to do the cleaning, but I just received it back today and it looks good as new! I had a lot of dirt staining on the bottom of the gown from having an outdoor wedding, and you would never know that by looking at the dress post-cleaning. My dress also has pearl appliqués all over (it's the Caterina style by Sarah Seven) and they did a great job in keeping them all intact. I also really appreciated the customer service - the ladies were extremely communicative and kept me informed throughout the whole process. I would recommend EP to anyone, regardless of if you live in the SF area or not because this was a seriously easy process.

Sabrina C.

Married on 09/18/2021

My wedding day was magical.

My wedding day was magical. It took me a while to find a dress that a truly loved on me. It's a Daalarna Couture, model BDP 207 that I bought at Wildbride in San Francisco. I plan to keep my dress, so I wanted a reputable company to clean it and preserve and chose Elegance Preserved. Not only is the dress now spotless but Elegance Preserved collected and then returned the clean dress at my door! Very convenient and Covid safe!

Carissa M.

Married on 09/05/2021

Excellent Service, Professionalism and Communication

I decided to get my dress preserved through Elegance Preserved after reading their wonderful online reviews. It is a little pricy (I had a Mori Lee dress that had a lot of lace and a train), but it is well worth the cost to me. I would've been devastated if I had let my dress sit in the closet and get dirty and yellow. It's now preserved as a forever memory of the happiest day of my life!

The Elegance Preserved team has excellent customer service. Because I live in the North Bay, I met at a point half way to drop my dress off. I received an email notification when my dress arrived at their shop. It took about 10-11 weeks to get it cleaned and preserved. When my dress was finished, they couriered and hand delivered my dress (in the rain!!). They maintained excellent communication and professionalism throughout the process. I highly recommend Elegance Preserved if you are looking to preserve your wedding dress. You won't regret it!

Elizabeth V.

Married on 08/21/2021

Easiest part of wedding planning

Elegance made this the easiest part of all my wedding planning. I got my dress at Winnie couture and they recommended me to preserve my dress at elegance,BEST decision! They made the entire process easy and stress free, the home pick ups and drop offs made it even better with Covid restrictions.

Lupita R.

Married on 08/13/2021

Wedding dress and veil preservation

Elegance Preserved did an amazing job restoring my Sophia Tolli gown and cathedral-style veil. I got married in August and immediate following the wedding, I moved to Florida to join my husband. I left my gown behind in California with my mother because I was set on having Elegance Preserved restore and preserve it. This business went above and beyond with me as they not only communicated with me while I was across the country, but also with my mother who speaks very little English. They were very kind and picked up my dress and veil from my mom's house to give me a price estimate. Within 3 months, they meticulously worked on my gown and veil. They were able to throughly remove all of the stains from all of the layers of lace and beading. They removed tough stains such as asphalt and returned the dress and veil to new conditions. Once the dress was ready, the contacted me and were kind enough to deliver the items for free to my mom's doorstep. When we received the items, they came in a high quality box and the dress and veil were neatly folded in with tissue paper. They even provided a set of gloves so that we could inspect the dress for ourselves. I'm so grateful to have found Elegance Preserved and their prices are so reasonable for their exceptional work and excellent customer service. I am so impressed as they made preserving my dress so stress-free all while I was across the country.

Jennifer

Married on 08/13/2021

Best Experience!

I'm so glad I used Elegance Preserved for my wedding dress cleaning and preservation needs. They picked up my Demetrios wedding gown (that I was so nervous about having away from me for a few weeks because I purchased it from Brides by Young in Chicago and have not let it out of my sight) from my apartment and were communicating with me with all the updates! I received consistent and professional communication & was given the opportunity to do a FaceTime viewing of my dress after it was cleaned, and had my dress dropped off to me a month before anticipated! Masks are worn at pick up and drop off and it is clear COVID-19 safety for customers and staff is a priority. I highly recommend Elegance Preserved. Also special shout out to Olivia for being so friendly and providing excellent customer service!

Outdoor wedding leaves wedding gown in distress

My new daughter in law purchased a beautiful wedding gown at The Galleria in San Francisco. On the day of the wedding she looked so gorgeous in this Innes di santo, French lace dress. The following day I was sad to see her beautiful dress had become heavily soiled along the hemline. Since this was an outdoor wedding dried grass had also become matted into the delicate tulle underskirt. I was afraid the gown was ruined forever….however, Elegance Preserved, was able to restore the dress to its original beauty. Every step of the way, Elegance Preserved offered excellent service. When the dress was completed they even hand delivered it to my daughter in law at her office in downtown San Francisco. If you entrust your priceless gown to this business, I'm sure you will be as pleased and impressed as well!

Elaine L.

Married on 07/18/2021

Elegance Preserved service is flawless

I handled cleaning and preservation for my daughter's Eddy K wedding dress. Her wedding shop, Janene's Bridal in Alameda, recommended Elegance Preserved. Their service was flawless, and the team was very attentive. The dress was dirty and there were a few minor spots that needed repair. Elegance staff was highly efficient. They sent detailed emails, picked up the dress, and delivered it when finished. It was a wonderful experience and I would highly recommend the company. They are consummate professionals and make the entire experience very easy and pleasant. The dress looked wonderful after their cleaning. I am so glad we chose them and would certainly hire them again.

Katie P.

Married on 06/26/2021

Excellent Service and Wonderful Preservation

The people at Elegance Preserved were incredibly easy to work with and treated my dress with such care. My grandmother was the main contact with Elegance Preserved, as she gifted me my dress preservation, and said she was very impressed by the timeliness and kindness shown during the entire process. My dress is a WTOO Juno dress I bought from BoLee Bridal and after a wonderful wedding in the Santa Cruz mountains, it was pretty dirty and beat up. Elegance Preserved help to clean and beautifully boxed the dress. They personally delivered the dress to my house when it was ready and were so helpful in answering my questions and giving advice on how to best store the dress. I would recommend Elegance Preserved for future brides.

Cierra H.

Married on 06/19/2021

One of the BEST companies I've ever worked with!

Let me first say that working with Elegance Preserved was one of the BEST experiences I've had with any company ever. EVER. My Mom and I probably said this to each other on 3 separate occasions. I never once worried about my dress, or the process, because the team is so good at building trust. They're so nice and so knowledgeable. I got a gorgeous Carolina Herrera ball gown for the wedding and she was BIG. She was also a very special silk material that had to be carefully cleaned. I knew I couldn't rely on some regular cleaning shop for a gown like this. Huge bonus, the team from Elegance Preserved does home pick up and drop off. Yes, they literally come to your house! So you don't have to lug your big beautiful dress around. Pick up and drop off were COVID friendly, with mask, and gloves, very professional. This is basically everything you'd ever want from a concierge wedding gown cleaning service. I'm going to use them again now that my wedding is over and I need to clean my gown and my after-party dress. Trust me, this is the company you want to work with. You have enough going on as it is. You don't need to stress over the dress. Let them take care of you! 

Alejandra G.

Married on 06/11/2021

Super accommodating and easy!

I heard about Elegance Preserved through Kinsley James where I purchased my Rita Vinieris wedding dress. I contacted them when I came back from my honeymoon because preserving my wedding dress and veil was super important to me. They were super helpful answering my questions and addressing my concerns. They gave me plenty of time to review everything and were super accommodating with my busy schedule and hectic life. They also made the pick up and drop off super easy. I highly recommend them to all brides!

Nicole L.

Married on 05/22/2021

Excellent service for any bride

I purchased my Rivini gown from Kinsley James Bridal in Walnut Creek, and Elegance Preserved came highly recommended for preserving my dress and veil before my May 2021 wedding. The team at Elegance has streamlined the entire process to make it as simple as possible for every bride. They maintain excellent communication with you throughout the entire process via text, phone call, and email, which helps relieve the stress and worry that comes with handing over an expensive and important garment to someone you don't know. I received my gown and veil yesterday and was impressed with how carefully they were packaged; they even included a pair of white gloves for me to wear when it is time to remove the dress and veil before my big day. I would recommend them to any bride looking to store their dress ahead of their wedding.

Olivia R.

Married on 12/11/2020

Best cleaning experience!

I was so worried about having my dress dry cleaned! Mine is a very beaded Galia Lahav. Elegance Preserved made me feel so comfortable and ensured that the beading would hold up; it turned out beautifully! I couldn't be more impressed. Thank you so much for making my gown brand new again. I'll definitely be recommending you to all my girlfriends!

Nichole M.

Married on 11/07/2020

Cleaning my sample sale gown!

I bought a gown from a company I work for right off the floor because I loved it so much! I had no thoughts about what it would take to get it cleaned. Elegance Preserved has an amazing and informative website that makes the process smooth and easy! Your gown is in great hands with this company and I highly recommend them for any preservation or cleaning service.

Melissa J.

Married on 08/18/2020

AMAZING from beginning inquiry to delivering my dress!!!!

I searched all over Yelp for a place to clean & preserve my beautiful Pronovias wedding gown. A friend had mentioned Elegance Preserved AND I saw all the positive reviews. I had a really good feeling about them, from start to finish!!! During COVID-19, what better way to conduct services - they pickup your gown to evaluate & give you a quote, and deliver it back to you!!! Nearly contactless. Other reasons why I loved Elegance Preserved: quick, friendly, thorough communication, excellent customer service, absolute convenience, fair pricing … I can go on forever!!!! I would highly recommend them & will spread the word about their services!!! Thank you so much for taking care of such an important garment!!!
Are you interested?
Send a message