128 Reviews
Recommended by 98% of couples
Quality of service

4.9 out of 5 rating

Average response time

4.8 out of 5 rating

Professionalism

4.8 out of 5 rating

Value

4.9 out of 5 rating

Flexibility

4.9 out of 5 rating
74 User photos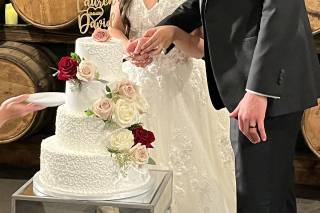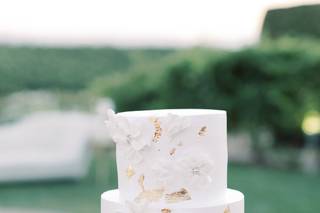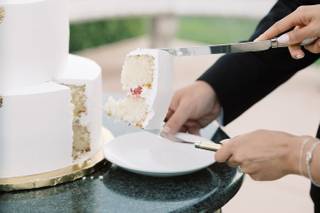 + 70

photos
Sheryl

Married on 11/03/2022

Beautiful Cake

Jennifer did an amazing job on our wedding cake. I provided a picture of the base of how I wanted the cake and verbally described what I wanted added. She took those words and turned it into exactly what I had envisioned. Not only was it a beautiful cake, it tasted oh so good! We had three layers: chocolate with whipped filling, white cake with strawberry filling and lemon cake with raspberry filling. So so so good! Totally recommend elegance on display. Jennifer is super busy with orders, so know it may take a little time to get back to you. Be patient, she always responds! Thank you elegance on display!
Note, the photo does not do the cake justice. It was an ivory whipped cream frosting, but lighting makes it look pink.

Lauren H.

Married on 10/15/2022

Amazing beautiful wedding cake and dessert bar

Jennifer is amazing to work with! We loved visiting her shop, trying the different cake flavors and discussing our vision for our wedding cake. She is very responsive and executed exactly what we envisioned for our wedding day. The cake was not only beautiful - it was delicious and moist and all of our guests loved it! Jennifer also provided us with a dessert bar and everything was delicious and looked beautiful. Would definitely recommend to anyone and everyone planning their wedding!

Maryanne N.

Married on 07/16/2022

The best, highly recommend!

Jennifer is incredible and so easy to work with. We had a very specific type of cake and design that we wanted for the wedding and she knocked it out of the park! It was a true testament to the range of cake designs that she can do exceptionally well. Other than that, everything was easy peasy and we had nothing to worry about - cake was delivered and perfect the day of.

Are you interested?

Send a message

Hannah G.

Married on 05/14/2022

The most amazing desserts!

Elegance on Display was everything we could've asked for as our dessert vendor for our wedding!! Jennifer was sooo easy to work with and was willing to make pretty much any dessert combo we wanted which was incredible!
Our wedding cake was special just for us and tasted absolutely AMAZING! I ate if for breakfast, lunch and dinner while on our honeymoon it was that good! Our dessert bar was filled with so many fun and adorable tasty treats, and my guests had nothing but amazing things to say about each item! 100% would recommend to any one else looking for a dessert vendor!

Elegance On Display's reply:

Thank you so much. I'm glad everyone enjoyed them. So glad we could help make your day special. I hope your anniversary cake will be just as enjoyable.

Izzy Z.

Married on 04/30/2022

Amazing to work with!

Jennifer is nothing but amazing! She was so easy to work with and her creations are DELICIOUS. They were a hit at our wedding! We had a small two-tier sweetheart cake and a whole array of bite-sized treats. A month later and I am still getting text messages about how yummy the mini banana cream pies were. I cannot recommend Jennifer and her team enough!

Sarah N.

Married on 04/24/2022

Her desserts are to die for!

Jennifer is INCREDIBLE. Not only are her desserts the best tasting, they are beautiful. She took our non-traditional idea and made it even better. We loved working with her for our wedding. Everyone is still talking about how amazing all of it was. Her banana pudding cups are to die for. Thanks for everything Jennifer!

Christopher G.

Married on 03/20/2022

Excellent Desserts from an Excellent Vendor

I have no criticisms to give. They were very responsive with questions we had, they explained all of the options clearly for us, there was nothing hidden and no surprises. The desserts themselves were also fantastic! For the cake design, we simply provided 5-6 examples of inspiration, and they were able to create a unique but matching design from our requests. The cake itself was three tiers with two combinations of flavors and both were extremely well received by our guest. I've got a little bit of cake that we stored away for later tonight so I can enjoy it again in a more peaceful setting and I am very excited for it.

If we didn't live a bit too far away for it to be practical, I would gladly hire them again to provide desserts for any other occasions.

Pauline L.

Married on 03/13/2022

Artistic Perfection!

Jennifer Duarte of Elegance on Display was the chosen baker for our all-inclusive wedding venue, Villa de Amore, nearby. I am so glad they chose her because the cake she made for us was more beautiful than I could have imagined that I teared up when I saw it for the first time at the venue. She was easy to work with and the tasting was insane how much we got to try. We tasted, I think, 6 slices of cakes and 4 mini desserts. The mini desserts were too sweet for my taste but the cakes were each so flavorful and moist. She had so many flavor options: carrot, spice, lemon, vanilla, chocolate, almond, cookies and cream... We ended up going with red velvet and cream cheese frosting, and a mountain and fir tree design. She knocked it out of the park. The cake was so moist and spongy and just the right amount of sweetness. Her prices are really good too for the quality and design you get. Truly wonderful. Thanks sooo much, Jennifer!!!!

Courtney C.

Married on 11/13/2021

Delicious Cake/Desserts and Perfect Presentation!

We found Jennifer (Elegance on Display) through our venue's preferred vendors list, and we are so incredibly happy we hired her for our wedding! We still can't stop talking about the desserts and cake she made for us! The chocolate pudding cake shots and banana nilla pudding shots were our absolute favorite and wish we had an endless supply since they were that good! We paid extra for her rentals/display set up and are so happy we did since it made things so much less stressful. She set everything up beautifully and it exceeded our expectations! We did have to drive back to the store the next day to deliver her display trays, but it was totally worth it to save the headache of buying and storing our own cake platters! Hands down recommend having Jennifer (Elegance on Display) as your cake baker, dessert maker, or both! We are so happy with our experience and can't thank her enough for making such delicious treats for our wedding!

Sydney M.

Married on 10/03/2021

Beautiful and Delicious!

Our cake was perfect. I gave Jennifer a picture from Pinterest of what we wanted, I dropped fresh flowers off a couple days before our wedding and the final product was exactly like the picture. I couldn't be happier with it. Elegance on display was easy to work with, responded quickly to email and we found them a lot more reasonably priced than other bakers in the area. Not only was the cake beautiful but it tasted AMAZING. Thank you!!

Mya

Married on 08/13/2021

Wonderful!!!

Jennifer was wonderful! She was patient, honest, and super funny! We had a blast at our tasting and our cake turned out exactly how we dreamed! We couldn't be more happy! 10/10 recommend the almond cake with the raspberry mouse. Seriously, the best cake/flavor I have EVER tried.

Elegance On Display's reply:

Thank you for the wonderful review. I'm glad I could help make your day extra special. Thank you for posting pictures.

Brittany

Married on 04/18/2021

Everything was amazing!

Jennifer is wonderful!! Very responsive, great pricing, and easy to work with. She created our dessert bar and wedding cake. We got a small 6" cutting cake and it was perfect! The desserts were a HUGE hit at the wedding, Everything was delicious and the cake tasted amazinggg. Thanks so much Jennifer!

Alia A.

Married on 09/25/2020

The Cake was Beautiful!

Jennifer was great from beginning to end. She made our vision come true, and is truly an artist! I would recommend her for all off your baking needs!

Travis

Married on 05/04/2020

Amazing Cakes & Amazing Character

Highly recommend! The artistry is simply amazing! Not only are the cakes amazing I love businesses that give back! Read an article on Jennifer of Elegance on Display and during these hard times she is using her resources to help her community with hard to find items on the shelves! Amazing! Thank you!

Aimee J.

Married on 02/27/2020

Delicious and stunning

Jennifer is an extraordinary Baker and a true artist. Our cake was delicious and unforgettable. She exceeded all our expectations. It was beautifully decorated, tasted amazing, and was a focal point of our reception. She gave us a first anniversary cake for next year- it's in our freezer now, and I want to eat it now !

Desiree

Married on 12/14/2019

Wedding Cake 12/14/19

Elegance on Display did an incredible job with our wedding cake. Jennifer and her team are remarkably amazing. She executed our vision to perfection. Thank you!!

Deidre

Married on 11/09/2019

Delicious and Easy to Work With

We did our research and looked for an affordable bakery to do our dessert bar at Paradise Falls. Jennifer and her team were easy to work with from the start. We scheduled our tasting very easily on a weekend. We tried EVERYTHING we wanted to try.

They delivered the desserts to our venue where the dessert bar was beautifully displayed. We brought the leftover desserts back to our hotel after and it was so nice to have the desserts in the evening to snack on. Everything was great, but the brownies were a crowd favorite!!!! Jennifer and her team did a fantastic job and we may have to order more brownies, cheesecake bites, and cookies for future events. Thank you Elegance on Display for making everything so easy for us and creating not only beautiful, but delicious desserts.

Elegance On Display's reply:

Thank you so much. I'm glad you enjoyed everything. We would love to do desserts for you in the future.

Kimberly A.

Married on 11/03/2019

Extraordinary Cake

My wedding cake was all that I asked for. I wanted it simple and clean, which was what was delivered to me on my wedding day. I also have to mention that their cake flavors were outstanding and think my husband and I had chosen the best combinations for our cake. Jennifer was awesome, quick to respond, and answered all of my questions. I would absolutely recommend them to anyone looking to have a great tasting and looking cake!

Dana K.

Married on 11/02/2019

Excellent!

From the very beginning Jennifer was the most efficient and friendly person to work with! She helped us to pin down what we wanted for our wedding, shared her knowledge and created the most delicious and beautiful cake and desserts for us in the end! Our guests keep asking where we got our desserts from. She provided an excellent cake and desserts as well as a top notch customer experience. Truly an amazing professional!

Kim M.

Married on 10/04/2019

Amazing experience

Beautiful displays and delicious desserts. We did an array of desserts and every single piece was amazing

Amy

Married on 09/19/2019

jaw dropping dessert table created by Jennifer!

I just have to say that Jenifer is amazing at what she does. She literally created the most amazing dessert table. All of our guests were in awe with the beauty and detailed work she made on each treat. The cake was amazing, looked amazing and tasted delicious. If you are looking for perfection you should go with Elegance on display. Jenifer is also very professional, punctual, she did everything to a T exactly how I wanted it. super thankful for her creating such beauty on my most special day. Friends and family are still sending me pictures of our dessert table and telling me how amazing it looked.

+ 5

photos

Alissa H.

Married on 09/01/2019

Forever Thankful for Jennifer - HIGHLY Recommend!

Jennifer at Elegance on Display went above and beyond our expectation. From the moment we first met with her, we knew we were in good hands for our cake. We went in to her shop for a tasting. I have food allergies and of course bride brain forgot to mention that over the phone, yet she was beyond accommodating for me and was able to whip something together that I could try as well. (How amazing is that?!) Not only was everything beyond delicious and we were practically already sold but, at the end of our tasting we expected to pay like any other tasting, we pulled out our wallets and she said "Oh no! This is on me!" That sealed the deal for us, she was beyond kind, warm, and inviting and made the entire process extremely stress-free. We wanted a small cake that we could use for cake cutting and enjoy between the two of us (me being gluten-free and dairy-free, we got the cake so that I could enjoy it and decided on a dessert table for the rest of the guests). We honestly would have booked her for all the other desserts had we not already booked someone else. It turns out the cake was being served to our guests (which was totally fine), and no one knew it was gluten-free and dairy-free, and they were RAVING about it. This was just a testament to Jennifer's gift. We are so grateful for Jennifer and the privilege of working with her. We will forever recommend her to anyone for their dessert and cake needs!

Christina H.

Married on 08/25/2019

Detailed and Delicious!

Elegance on Display was included as the cake vendor for our wedding venue, but I would highly recommend them to anyone look for a gorgeous cake in the area. Their flavor selection was unbeatable and their staff spent a lot of time taking detailed notes and drawing up a mock up of the perfect cake for us. The end product was so incredibly beautiful, with unique details on each tier including small pearl designs, lace, and icing rosettes. We chose an almond cake with chocolate icing for one layer and white cake with strawberry Bavarian cream for the other layer and it was absolutely to die for! Highly recommend!!

Holly

Married on 08/24/2019

Beautiful and delicious desserts

We are so happy to have found Jennifer at Elegance on Display. We went for our tasting and immediately knew we wanted to book with her. We are planning to do small cake to cut and a variety of desserts. Everything we tried was delicious. I know our guests are going to be happy. Also, I don't know how she does it, but her prices for cakes and desserts are unbelievable. She also has so many amazing cake stands and other displays for rent for a very reasonable price. We are so excited to have Jennifer and her beautiful dessert display for our wedding day.


Update! Everything turned out amazing and we are so looking forward to using Jennifer for any future events we have! We went with the dessert bar and it was absolutely beautiful!

Nora

Married on 07/22/2019

Cake was Fantastic!

Wow, our wedding cake looked and tasted AMAZING! Jennifer and her team were so friendly during our tasting, heard everything that we were wanting, and really delivered on the wedding! Everything was seriously on point and everyone loved our cake! So good!
Are you interested?
Send a message