217 Reviews
Recommended by 91% of couples
Quality of service

4.6 out of 5 rating

Average response time

4.5 out of 5 rating

Professionalism

4.6 out of 5 rating

Value

4.6 out of 5 rating

Flexibility

4.4 out of 5 rating
28 User photos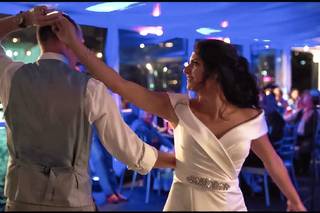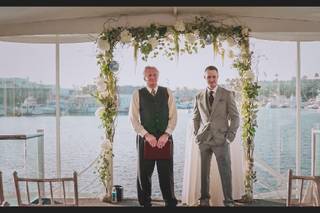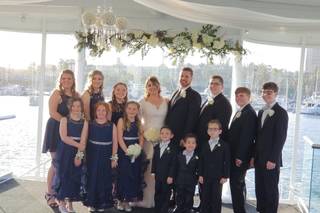 + 24

photos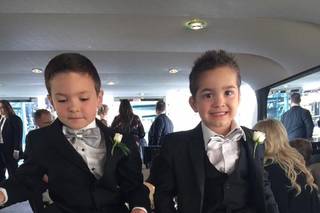 Clay D.

Married on 10/20/2020

Amazing venues

Couldn't be happier! Our wedding was on the perfect day at sunset and from start to finish the communication, efficiency, and skill of the staff and the vendors was unbeatable. We couldn't believe that the cost was so affordable for the value. The food was delicious, their vendors were all on the same page and just felt like one flawless event. Our props to Susan for planning and Jen as the day of coordinator! Best wedding we could have even imagined, and wouldn't change a thing!

Cherry C.

Married on 06/28/2019

Wonderful time!!

Had our wedding on 6/28/19 at the Newport Princess for 50 guests. It was AMAZING! We spoke with Kim from the start to the end. We handled everything through mostly emails and texts here and there. Kim was very helpful and understanding with everything. She was able to answer everything immediately even my one question emails were not a problem for her. If you book an event with Electra, make sure you ask if they have the things you want before purchasing them. I didn't use much of their stuff because I had a DIY wedding but they have a lot to offer. I only used their easels, round mirrors for centerpieces, lanterns and white drapings for the ceremony and stairwell. They made me a custom sign at the broad walk for my guests to see when they get to the marina.

I highly recommend going to the food/vendor fair! We pretty much decided on everything that same night! We had the jumbo shrimp as our appetizers, mesclun salad, steamed veggies, scalloped potatoes. For our entree, we had coconut macadamia chicken. It was originally fish, but the chef at the vendor night told us we can substitute the meat so we chose chicken! The food was incredible and all my guests loved the food! The chicken wasn't dry at all!

The week of my wedding, I found out that my day-of coordinator was Star. I spoke to her on the phone first and it went well! Star was so detailed and made sure to ask all the important questions. We dropped off all our stuff a couple hours before the wedding (you're able to drop it off the day before as well) and when we arrived at the yacht everything looked great!!! We didn't ask for much, but we were glad everything we asked for were done! She got everything done on a timely manner. We weren't going to have speeches but we added the speeches literally right when we got there and Star made it happen! In the end, she did a good job collecting all my stuff without us having to do anything! I left my card box for the venue to use in the future; I should have left more things for the venue to use!

Overall, choosing Electra Cruises as our venue was the best choice! All of our guests had an amazing time, literally!!


Brian S.

Married on 05/19/2019

They made it easy!

Both Susan and Jen were awesome. The planning was super easy, the evening went off without a hitch and we all had the tome of our lives. Beautiful ship, great food, amazing staff! My only regret is that it's over.

+ 3

photos

Are you interested?

Send a message

Caitlin

Married on 10/20/2018

We got married on July 27, 2018 & I am so happy we found Electra Cruises to be our wedding venue. We are actually from out of state but I came across their website and we decided the travel out to California to take a look at the venue. We I am so happy we found Electra Cruises to be our wedding venue. We are actually from out of state but I came across their website and we decided the travel out to California to take a look at the venue. We instantly fell in love with Destiny and knew this is where we wanted to get married. Electra made the wedding planning so easy and kept all of the stress off of me. The fact that this is an all-inclusive venue made my life so much easier. I am very indecisive but they were always so nice and answered any questions I had. Mary was my first wedding planner who was awesome but Jessica ended up taking over and was just as sweet and very detailed in her answers to my questions. All of our guests talked about how fun and unique the experience was. fell in love with Destiny and knew this is where we wanted to get married. Electra made the wedding planning so easy and kept all of the stress off of me. The fact that this is an all-inclusive venue made my life so much easier. I am very indecisive but they were always so nice and answered any questions I had. Mary was my first wedding planner who was awesome but Jessica ended up taking over and was just as sweet and very detailed in her answers to my questions. All of our guests talked about how fun and unique the experience was and could not stop raving about how good the food was!!

Jamie

Married on 05/12/2018

Had an amazing time with Electra Cruises. Susan took care of everything before the day of the wedding and Kim handled the wedding day. Felt like I had nothing to worry about with Electra Cruises, everything was included in the package set up by them and I added the upgrades, which so happy that I did that.

Ally

Married on 02/18/2018

We really enjoyed working with Electra Cruises Maureen was great and Susan the cordinator on the boat was fabulous. It made planning easy because they already have great vendors picked out and the food was wonderful. My only suggestion would be maybe an extra half hour if went way too quick

Alyssa

Married on 02/09/2018

From the second I got engaged, I knew I wanted an ocean wedding. My mom suggested Electra Cruises, as she has attended events for work through them. The second we got in contact with our wedding planner, Allison, I knew that everything would be fine. Allison was incredibly wonderful - she answered every question we had within 24 hours, she recommended the perfect DJ, Photographer, and Officiant when we told her we wanted a fun and relaxed event, and she even took the time to meet with us face-to-face to go over some details. We live in Colorado so she really helped to ease our stress of getting everything together and making sure everything goes right from a few states away.
We got married on "The Electra", which is the smallest boat they have, and it was so wonderful for our small and intimate wedding. They allowed us to make our centerpieces and chair decorations so when we brought them on the boat, along with the guest book, card box, and other items, they were great at setting everything up. All we had to do was bring them the boxes everything was in and they set it up for us. We were incredibly happy with how professional they were and how little we had to do. We just had to focus on getting ready and getting married. Everyone worked quickly and efficiently to make sure everything was done correctly and on time. We did not have to worry about a single thing. We appreciate Electra Cruises so much, for making our day the absolute best it could have been and making the whole process incredibly easy.

Jia

Married on 09/30/2017

Really a nice place for the wedding. Our assistant Star is very friendly and professional. I also like the food a lot.

Jasmine

Married on 03/21/2017

Electra was amazing! If you are looking for an inclusive venue that provides a unique experience for your special day and the wedding guests attending, this is it! Compared to others in the business, after shopping around I was sold because of how personable the staff was. As a destination bride, I did not want to be worried about anything and because I choose Electra I did not. I created my own center pieces for the reception and the day of coordinator made the table designs just the way I had imagined them in my head! Check them out, you will not be disappointed.

Candice

Married on 01/08/2017

Electra Cruises was the best option for us and for anyone that wants a stress free, everything was taken care if wedding. Mary M. was our coordinator through out the whole process, she made it as easy as can anything and everything we wanted was done. She was so realistic about pricing and timing of the even to save us money. Our day of coordinator Karen K. Along with all the staff and vendors made our day a dream come true. It was unreal how perfect our day went with no stress. Just get ready and get pretty and it's our day!! Perfect words they always used, "We will take care of it". They did!!! They set whole boat from center pieces, table chart table, guest book table made sure all our guest had food and drinks at all times. Our photographer Sylvie did amazing, along with our florist Jean from La Vonne's, my bouquet came out perfect!! Our first DJ cancelled on us a couple days before the wedding and Austin Murray saved the day!! He did a great song mix for us with in 2 days, everyone was on the dance floor. Everyone loved our minister Phillip, they said his personality and humor was off the charts great. And Omg!!! Our cake and dessert bar from Pacific Pastries was phenomenal!! It was a perfect wedding day for us. Just what a princess can ask for :):):)

Jonathan

Married on 11/18/2016

The thought of having my wedding on a boat was crazy even crazier on a yacht. However, the pricing, location, and flexibility made it possible. We couldn't have made a better decision than going with Electra for our venue. It was spectacular and all of our guests were in shock at the professionalism and attention of the staff on board. They were amazing.

Clover

Married on 10/09/2016

My Wife and I just got married on the yacht Destiny this weekend on October 9th,2016 in the evening! I couldn't waste any more time without making a review! We were so happy with the outcome Electra cruises had offered us! From Day one when we stepped into their office Kim Konopka (our wedding planner/coordinator) had welcomed us and guided us throughout the entire process! Kim helped us with financial guidance and all the details for the wedding. Kim has been holding our hands from day 1 until the day of our wedding. She is the nicest and most organized person I know. We have been planning for a whole year and she made everything so easy. Gina at the office was also very helpful. When Kim wasn't available..Gina was there. We always had our questions answered. On the day of our wedding, Star was our coordinator. She was perfect! We only met once and that's all I needed to trust her on our BIG DAY! She kept us calm and made sure everything was running smoothly. We had over 28 people in our wedding party and it was NO PROBLEM for Star. She is also bilingual so that was a plus! I also have to say that their vendors are the best! We had DJ Raul as our DJ and he was the best. He kept the guests dancing all night. He is very responsive and fun interaction with the crowd. Everything on Electra cruises was the best decision we ever made. They did everything perfect and worth every penny! We will miss you guys! Thank you Electra Cruises!

Kami

Married on 08/04/2016

Where do we start? From the day we met Susan for a tour of the boats we fell in love!! We knew that this was where we wanted to celebrate our wedding! The convince of having all of the vendors included made planning so smooth and hassle free. From our photographer Nico to our DJ Austin, to our florist LaVonnes our minister Gary and our awesome cake from Cinderella cakes. It was all perfect. Our guests absolutely loved the food and we are still getting compliments on what an amazing wedding it was. 10/10 one friend said!! Our day of coordinator Brittany was so thorough and made everything stress free. We would 100% recommend Electra Cruises for anyone's wedding. We wish we could go back and do it all over again. Take it all in, it's over in the blink of an eye!!

This wedding venue is everything I could of asked for. Susan is our agent and has been so helpful with everything! Can't wait to say I do on June 26th!

Vanida

Married on 05/21/2016

I loved everything about this venue. Our night was perfect and everyone had a great time. All of our guests loved the food we picked and danced the night away! I wish that we sprung for the extra hour because 4 hours just wasn't enough, but I'm just glad we were able to get the open bar for everyone! If you're looking for a beautiful venue that's different, this is definitely a great choice. The staff was amazing, I never felt overwhelmed and even though I was 30 minutes late (oops!) from the time I should have been there, my on board coordinator had everything ready to go!

Rachelle

Married on 04/16/2016

My husband and I got married on the yacht Eternity April 16, 2016 in the evening. We were specifically looking for an all-inclusive venue on our local beaches of Southern California and looked everywhere from Santa Barbara down to San Diego. Electra Cruises was the best all-inclusive venue around! We decided to go to the vendor night on the date of our wedding a year out to see how the weather was during that time. Planning with this venue was a breeze but it was not quite what I expected. Their planners are more so for sales planning such as which vendors did you book, how many people for food, and they tally up the invoice. You plan quite a lot by yourself unless you hired out a wedding planner. Which is another aspect I did not expect, you do not get your same planner on the day of your wedding, they give you a different day of coordinator which contacts you days before the big day. Susan was our sales planner and she was AMAZING! She was so helpful and sweet throughout the entire process and really made us feel at ease the entire time. Honestly, our wedding on the Eternity was stunning and it was for a great price. My husband and I thought that it was worth the money to not have to have anyone in our party or family lift a finger that day, and they didn't. Our Wedding day was so relaxing and worry free, everything was perfect. The bridal suite was very comfortable with my 4 bridesmaids, myself, and I had 2 photographers in and out of there. Everything went perfectly and I have received so many compliments from my guests. "Best and nicest wedding I have ever been to", "Most organized wedding wedding I have ever been to", "Best food", "Great music". The crew was amazing and everyone loved them. The food was absolutely delicious! We describe our wedding as a dream come true. We were married at sunset on the yacht Eternity on the beautiful Newport Harbor with stunning views, loving family and friends. If we had to do it over, we wouldn't change a thing!

Tiffany

Married on 04/02/2016

I would 1000 times over have my wedding here. The staff is very professional, well organized, friendly, and everything you could ever want. The yachts are very well maintained. The entire wedding was seamless and perfect in every way. The food was amazing, highly recommend the baron of beef and the rosemary potatoes! The views during the evening cruise were spectacular as well.

Kellie

Married on 12/30/2015

Susan is the lady who is helping my fiance and I. She, as well as all of the Electra Cruising Staff, were all welcoming, excited to work with us, and very accommodating to any of our needs and wishes. The boat is an extraordinary piece of art work in itself. But the deals that this company is able to offer are unbeatable. The total cost of my wedding is what some venues near the beach were to rent out. I have always dreamed of a beach wedding and when I found out that this incredible yacht was an option, and a reasonable one at that, Susan and Electra Cruises worked very closely with my fiance and I to help make sure it was the right fit for us. Electra Cruises is based on making their customers happy. They work with vendors at a discounted rate and they do not work for commission. Their only incentive is

Where do I even begin?! My fiancé and I got engaged a little over a month ago and decided we did not want to wait a year and a half to make it official. We knew we had to be realistic with where we could get married, when, and who would be available. We considered eloping, then a small wedding, and then found Electra. Thankfully Susan was wonderful and gave us a tour of each yacht and showed us the ins and outs. She was beyond helpful and you could tell she loves her job! She was never pushy which is a huge plus in my book. My fiancé and I fell in love with the Destiny and were aiming for October of this year to get married. Luckily Susan found a few open dates with our dream boat. We ended up putting a deposit down and setting our date within 24 hours! We did our tasting a few weeks ago and it was unbelievably easy, quick, and so much fun! You could select your DJ, captain, photographer, and food all on a gorgeous yacht in a few hours---which is exactly what we did! If you are on a time crunch, you must consider Electra cruises as it is affordable, flexible, and professional.

Kayla

Married on 10/15/2015

AMAZING! I love that this was all-inclusive. It made picking all of the vendors so much easier! Plus how many people can say they got married on a yacht! So unique and affordable with so many different yachts.

Nicole

Married on 10/05/2015

Amazing day!
I cannot thank everyone enough at Electra Cruise for such an amazing day! We go married on the Destiny with a head count of 75 people and decided on the 5 hour charter. Highly recommend the extra hour because time fly's by way too fast and you will wish you had more time. Getting married on this boat was the best decision by far. For us this was a destination wedding. They made everything so easy as far as planning goes even from 4,000 miles away! The staff was SO friendly. The food was top notch. The boat made for some awesome wedding photos that we will cherish for years to come. Even our guests raved about the entire event!
Allison was our planner and she was always quick to respond to any and every question I had from start to finish. Karen was our day of coordinator and she was incredible. Roy was our DJ -he kept the dance floor moving. Gary Barmore was our officiant - He was endearing and fun. Sharon Pulcino (Creative Visions Photography) was our photographer - She moved quickly and got all the shots and them some to capture such a great day. I could not be happier with our choices when it came down to the actual day! The whole process exceeded my expectations and would recommend them to anyone looking to have a fabulous unforgettable wedding!


Wesley

Married on 08/22/2015

Where do I start? From the beginning Lorraine and the team at Electra made this process so smooth and effortless. Lorraine was always available for any questions, had wonderful suggestions and cautionary advice while making us feel that she cared, and she did. On the day of the event everything was so well organized, which made it easy for us to fully enjoy and take in the most important day of our lives. I truly have no regrets and would do it all over again with Electra. A big thank you!!!

Diane

Married on 06/06/2015

My husband and I just got married on the Electra Cruises "Destiny" yacht. Our event was amazing and the Destiny was perfect for the amount of guests we had. Donna Lacey our sales representative and the yacht staff were amazing from start to finish, Donna even came to wish us well right before we departed from the dock and the staff took care of everything making me and my then fiancé feel stress free. All of our guests were saying "how amazing it was" and "what a good time" they were having. The food was surprisingly delicious though we only had a few bites then we were off to mingle and it could not have been a more gorgeous day the weather was perfect. Our officiant Phil added charm and charisma to our ceremony, which brought our guests to life and Roy Mendoza was an amazing DJ we would use him for any event, he set the ambiance for the entire event with his energy and extensive knowledge in music As an added bonus we added the Cigar Guys to our event as an additional treat for our guests and everyone was astounded by their service as well. If you are looking for a venue right on the harbor in Newport Beach, California it doesn't get any better than this, thank you Electra Cruises for making our day "unforgettable!"

Nikki

Married on 06/06/2015

Our wedding aboard the ATHENA was perfect! We wanted a venue that was "all-inclusive" if you will. And we are so happy we chose Electra Cruises. From our first meeting with Donna we knew we were in good hands. She went over every detail about the boat, caterers, florists, etc and answered every email or phone call in a timely manner. She really took away any stress a bride can have. The vendor night they have is a unique experience but makes it easy to meet/pick your vendor (if you aren't bringing an outside vendor on board). I felt like we had the dream team of vendors for the boat: DJ Von, Cinderella Cakes & LaVonne's Florist, all of which work with the boat on a regular basis so they know how it all works. The food was incredible & our guests specifically LOVED the coconut encrusted prawns we served during cocktail hour. You can't go wrong with anything on the menu though! And finally our wedding coordinator for the boat, Gina - she was incredible! Everything aboard the boat was perfect because of her. We would get married with Electra Cruises all over again in a heartbeat. HIGHLY RECOMMEND.


Dave

Married on 05/16/2015

Had our wedding here last week on the Eternity and we couldn't have asked for a better experience. Susan Pereda was our wedding planner, and Anjelica was our day-of coordinator, and they were both angels in making our wedding as stress-free and memorable as it can be.
Are you interested?
Send a message