66 Reviews
Recommended by 95% of couples
Quality of service

4.8 out of 5 rating

Average response time

4.9 out of 5 rating

Professionalism

4.9 out of 5 rating

Value

4.8 out of 5 rating

Flexibility

4.4 out of 5 rating
12 User photos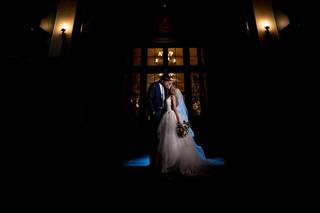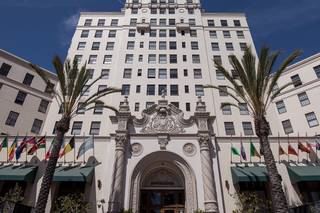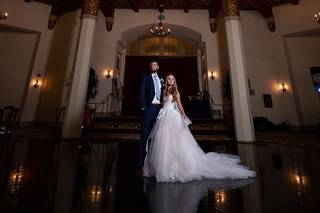 + 8

photos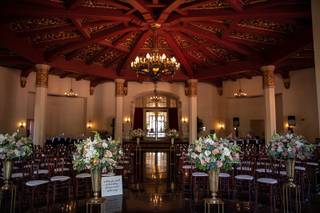 Taylor

Married on 08/03/2019

Breath taking venue, excellent experience, unforgettable wedding

The El Cortez is very comparable in pricing with other venues in the downtown San Diego area. This venue makes it incredibly easy to price everything out and chose your vendors! We worked with Jessica and she was so helpful, excited and knowledgeable. She replied immediately to all emails (of course during normal business hours). Our wedding was like s fairytale. It has a very historic yet somehow Disney and laid back feel all together. The venue has the best of both worlds with indoor/outdoor space. Many people said it was the best wedding they had ever been too.

+ 2

photos

Emelyn

Married on 10/06/2018

THIS WAS THE BEST NIGHT! EVER!
My husband and I married here this past weekend (10/6/18) and it completely blew away our expectations. We wanted a venue that was in downtown San Diego, had some city vibes, some romantic vibes, and could comfortably fit 200 people. I cannot believe I almost overlooked this venue. The moment we set foot in the Don Room we knew it was perfect. Then we stepped out onto the patio, turned around and pretty much immediately signed the paperwork.
Jessica is absolutely incredible. We hired her as our day of coordinator and NOT ONE thing went wrong on Saturday. Everything ran so smoothly, it was seamless. She was so accommodating, always presenting multiple options and solutions to any obstacle, she is a pro.
We had multiple people tell us this was the "best wedding they've ever attended" (we agree... in our humble, unbiased opinion).
105% recommend. If we could relive this night we absolutely would, and we would not change ONE thing. Thank you!

+ 4

photos

Maya B.

Married on 09/22/2018

Magical wedding💚💛💜💝

Probably I am the Happiest Bride ever.. My wedding was magical at El Cortez! It's really beautiful venue with a great vibes. Since the minute I arrive for the very first time, I immediately felt that this place is very special.
I loved round dance floor and a lot of space. all tables are in the perfect circle, and all the guest could see each other. I immediately imagined my wedding decorations around and I felt in LOVE!!! The second time I felt in Love when I stepped outside and seen a terrace.
Jessica, my wedding coordinator was a delight. So professional, kind and so attentive to all my requests. It was the biggest pleasure to work with her and her team.
We got hundreds of compliments for the venue. All our guests were enjoying such a unique and gorgeous atmosphere.
Highly recommended!🌟🌟🌟🌟🌟

Are you interested?

Send a message

Jessica

Married on 05/19/2018

We got married on 5/19/18 and the El Cortez Don Room was the perfect venue for us! It had our 3 biggest must-haves: outdoor space, parking, and an open bar! The ballroom alone is gorgeous and needs very little décor. Jessica, the coordinator, is the one who reached out to us to make sure we didn't miss out on this venue and we're so happy she did! She was efficient in answering emails and really catered to us so that our wedding planning went as smoothly as it did. We will never forget our beautiful wedding at this beautiful, one-of-a-kind venue.

Emily

Married on 03/03/2018

I cannot say enough good things about Jessica, Kathi, and Joe at El Cortez/Tavolo Chaise. What an amazing, genuine team that truly cares about their clients. My fiance (now husband) and I had the most magical wedding at El Cortez - it was beyond what we expected. Guests have not stopped raving about the venue and evening. Jessica connected us with an amazing caterer and was such a relaxing person to work with. She even checked in on me while she was out of the state to assure me things would be fine with the rain in the forecast. Kathi and Joe really stepped in the final week of planning to put together a beautiful design for our rainy day ceremony adjustments. My only recommendation to potential clients is that they ask about having one of El Cortez's staff be their "day of coordinator" - I wish I had! Thank you to Jessica, Kathi, and Joe for everything.

Aubrey

Married on 02/17/2018

I just had had my wedding at the El Cortez two weeks ago and I'm still on cloud nine! The venue itself is gorgeous and I knew as soon as I saw it I had to get married here. Jessica was so quick to answer any questions I had, and always reassured me that everything would go according to plan. I had total faith and confidence in her (which was a HUGE stress relief!). Needless to say, our wedding went smoothly and our guests raved about the El Cortez and how beautiful it was. I couldn't be happier,and I highly recommend this venue to anyone!

Pierre

Married on 12/09/2017

What a great experience, the staff were wonderful from start to finish. The place is like a jewel. Joe was perfect for the day of the event, we loved the ceiling in the ballroom and the wonderful dance floor.

Jake

Married on 11/25/2017

What an amazing venue with an amazing staff! We worked with Kathi, who was cheerful and always happy to help us throughout our planning process, and Joe, who was amazingly helpful on the day of the event. The staff really helped make the day special, and we're friendly and personable.

The Don Room itself is a sight to see; ornate golden engravings line the ceiling, pillars line the dance floor, and the entrance through double doors provides a great view of the room for guests as they enter. I would highly recommend the El Cortez Don Room for your special day!

My wedding wouldn't be my dream wedding if it did not happen in El Cortez Don Room.. It had every single aspect I was looking for. When I inquired, Jessica quickly responded, we met up initially and treated us real special with champagne flutes waiting for us, our names lit up on the tables; it just was meant to be.. We fell in love with the place immediately. The place itself, the views, the detail of the ceiling, the historical background of the building itself--it just exemplifies us as a couple. The decor, the ambience, I can't put it into words..
Now service, again, Jessica would be the best coordinator for all of this. She replies as soon as she can, she even adjusts her time if she can to accomodate us. I am in the military and currently stationed all the way in Camp Pendleton, so the stress from work, oh btw, im also I was a full time in-campus grad student at the time, plus wedding planning.. she was very flexible. She will inform you if she going on leave, so you dont be left hanging and freak out, howcome Jessica is not responding! As a bride, we could be paranoid like that, but she always plans ahead! She has a great network of recommendations, vendors, styles, designs, colors, you name it.
Altogether, EL CORTEZ DON ROOM, kudos, bravo zulu as we say it in the Navy, we wish to celebrate our Silver Anniversary back there! :) Thank you.

Elizabeth

Married on 11/05/2017

Getting married at the El Cortez was a beautiful experience. Jessica and her team were fantastic and extremely professional​ the whole time leading up to the wedding and the wedding day! Everything went as planned and was more beautiful than I could ever imagine. I would recommend the El Cortez for anyone who wants a romantic and historical vibe for their special day. Thank you so much!!

Kimberly

Married on 07/08/2017

It took me a while to find the perfect spot for our July 8, 2017 wedding reception. We wanted something enchanting, different, elegant, genuine, not stuffy, and representative of San Diego. We were thrilled and our guest were wowed with the El Cortez Don Room. I almost overlooked it and, boy, am I glad I didn't. Jessica was wonderful to work with and helped me brainstorm, problem solve and dream about our special day!
Our guest enjoyed the best of both worlds by dancing inside in the gorgeous ballroom and then mingling outside under the moonlight on the terrace. The space if very accommodating for a small or large wedding. Our wedding and reception was breathtaking! We highly recommend making your own history at the historical The Don Room!! Several of our guest parked and/or stayed at the Holiday Inn. It was very convenient. Best wishes!!

Edselle

Married on 11/12/2016

My husband and I knew rightright away it was our reception venue when we stepped into the Don Room at the El Cortez. Its gorgeous! Jessica and the staff from the El Cortez were so helpful, they made the planning go smoothly. It was everything we had imagined it to be and more. All of our guests were very impressed with the venue and the ambience, they loved it! We didn't even use a lot of decor because the place was already as beautiful in itself. Did I mention that there is also a littlle piece of history to it too? Even more to make the El Cortez Don Room an exciting, beautiful, great place to celebrate your special day!

Edselle

Married on 11/12/2016

My husband and I recently celebrated our wedding reception at the El Cortez Don Room last November 12, 2016. All we can say is that it was meant to be from the moment we stepped into the Don Room. It is just breathtaking. That ceiling is gorgeous. Jessica and the staff have been such a great help with the planning. Everything went smoothly. All of our guests are in awe of the venue. There was nothing but great compliments from guests all night until to this day. We didn't even have to decorate as much because the place is just as beautiful on its own. We highly recommend this venue for any celebration. You will not be dissapointed.

Kaela

Married on 06/11/2016

If the exterior doesn't sell you on this venue alone, book a tour! Kathi was our director of sales for our wedding and we couldn't have had a better experience! We were allowed to have our ceremony outdoors on the patio and the reception in the Don Room. There are several different options for lighting packages, etc depending on your budget. They also have a very helpful list of vendors that they prefer to work with so the work is much easier for you! Our guests were blown away by the beauty of the El Cortez! My husband and I couldn't be happier with our choice!

Rishona

Married on 12/06/2015

Our ceremony in The Don Room was pretty amazing. The room decorates itself and the shape of the space makes it feel both intimate and spacious at the same time. The cocktail hour was fun on the Terrace, the lighting and lounge options that were setup gave it that extra sparkle, especially as the sun set. Jessica did a great job at coordinating day of both her crew and managing the vendors. You could feel that she was eager to help and make our vision come to life. We flipped the room during cocktail hour for the reception and on our sneak peek, everything looked beautiful and just the way we wanted it. We loved that there was both inside/outside and our out of town family could enjoy the fantastic San Diego weather and see a bit of downtown. We planned the wedding from another coast and it was great to have Jessica's insight and coordination throughout the planning and especially day of. The venue is amazing with an even more fantastic staff. If we could choose again we would totally choose El Cortez.

Rochele

Married on 11/22/2015

Jessica and the team at El Cortez were amazing! Our wedding this past Sunday was absolutely perfect. We had more than a few personal touches we wanted to add to our wedding and everything went off without a hitch. Jessica and the team were so attentive to our needs and well as our guests, we can't thank them enough for a truly spectacular wedding day!

Jessica Beiriger, Joe and the entire team were extremely helpful throughout our entire process. From planning to coordinating and the amazing turn out the day of our wedding. They made an effort to work with us/build a relationship and make our wedding perfect. The venue speaks for its self along with event/sales team makes it the best place to get married in San Diego. I highly recommend making it a priority to visit the venue. Our guest are still talking about the wedding months later. Thank you to the entire team at the Don Room. DP & MO Pom

Martha

Married on 10/03/2015

This was an absolutely gorgeous place for my daughter's destination wedding in October. The ballroom did not require much decoration, in fact less is better. We had tall, all white, flower arrangements as centerpieces, which was perfect for the high dark/gold beautifully carved ceilings.

The staff was wonderful. Jessica Beiringer from sales, was quick to answer any questions and provided EXCELLENT service whenever we called her. The "day of" staff were very friendly and everything ran smoothly.

It was a beautiful warm day and evening, so having such a large outside terrace for our guests to enjoy was wonderful. You must use their preferred caterers, but they were also great to work with. We used Abbey Catering (which is yet another good review to be written about them). Chairs and tables must be booked through Tavolo Chaise and we had Best Beverage Catering for the drinks. Again, excellent company to work with. They provided 2 bartenders for over 225 guests, so they were kept busy, but they kept on smiling to the end.

The venue is downtown, but parking was not an issue as we made arrangments with The Holiday Inn Express (which is directly across the street) They were able to provide parking to our guests for $8 (a great price for downtown)

We went over budget on the overall wedding, but I am very happy we took the leap and chose The Don Room. It was money well spent and every penny worth it. My daughter and her husband couldn't have been happier. Our guests are still talking about the day and how much they enjoyed themselves at such a beautiful location.



Macey

Married on 08/29/2015

There are TONS of wedding venues to choose from in San Diego! All of which are stunning and beautiful! The Don Room at the El Cortez is one of them. For my fiance (now husband) and I the moment we drove up to the building and then entered the lobby and walked into the actual Don Room - we KNEW - we had found our venue. Being built in the 1920's the building set the tone for the tone of our wedding. The ceiling of the Don Room is spectacular and the circular room creates an intimacy you won't find else where.

Jessica Beiriger - the point of contact for weddings at the Don Room is very helpful and PATIENT! She knows how to handle brides and is the perfect combination of supportive and assertive.

I wish I could get married all over again - and my wedding was only last weekend!

Still walking on rainbows !



David

Married on 08/28/2015

We just had out wedding at El Cortez and loved it! We had a destination wedding so we were trying to limit having to decorate as much as possible. The venue is beautiful and just a few up-lights really helped make the Don Room a great reception location. We also hired Jessica as our D.O.C. and she did an AMAZING job! The best money we spent the entire wedding was on her. She helped make sure everything day of ran smoothly and efficiently!

Anthony

Married on 07/25/2015

We fell in love with the Don Room as soon as we walked in! Then, once we saw the outdoor terrace we were blown away! This venue has it all, history, romance, beautiful architecture, and it is unique!

Jessica was amazing to work with, and Joe (Tavolo Chaise) made everything run smoothly. Our wedding was absolutely perfect, and because of the attention to detail, we had no stress leading up the big day.

Our guests raved about the venue, and we would recommend The Don Room to anyone looking to get married in San Diego.

Gretchen

Married on 08/09/2014

Gorgeous venue and the staff there (I worked with Jessica B) were so professional, responsive and helpful. They came up with great ideas and I was not stressed at all because I knew they were well equiped and experienced in providing a quality event. Everything went perfectly day of!! Thank you so much!

Ellie

Married on 08/02/2014

The El Cortez was the one and only venue we looked at for our wedding. A good friend had gotten married at the El Cortez a few years ago and she had only good things to say about the experience and I completely agree with her. I loved that the El Cortez is a San Diego landmark with a perfect location to Balboa Park for photos. The fact that our wedding is the only event of the evening made it such an intimate experience. Our ceremony on the terrace was perfect and the commute to cocktail hour was easy for guests. The Don Room speaks for itself. It does not need much decoration to make this room glow. The El Cortez made planning simple by providing outstanding vendor recommendations. Jessica, from the El Cortez worked with my husband and I to make sure that we were totally happy and organized. She was the best and it felt like I was planning a wedding with the help of a friend.

Sarah

Married on 07/12/2014

My husband and I were married just over a month ago at the El Cortez. We had reserved the venue almost a year and a half before the date, and during that time I exchanged many emails and phone calls with the venue coordinator, Jessica. My husband and I live in Portland (although we are both from SD), so planning the wedding and hashing out details required constant communication and quick responses from Jessica and the El Cortez team. Jessica was beyond wonderful. Additionally, we hired Jessica for "day-of" planning services, which was a great choice and was paramount to making sure the day went off without a hitch, and relieving much stress. The terrace where the ceremony took place ended up looking beautiful; the Cortez has a rental company that they work with, which made renting chairs, decor, a pergola and chandelier very simple. Once we moved into the Don Room (which is gorgeous on its own), everyone was blown away. The detail in the carved ceiling is so ornate, and the floors and chairs are so elegant. It was a wonderful, fun,beautiful, wedding thanks in large part to Jessica's professionalism and skill. I would recommend this venue to anyone- it certainly gave us the wedding of our dreams!

Jeff

Married on 08/31/2013

The Don Room at the El Cortez was the perfect place for our wedding. Jessica Beiriger was incredible kind and helpful all through the preparations. The room was so beautiful - many people told us it was the best wedding they've been too, and I'm sure the room and the terrace - also awesome - were a big part of that. I wouldn't do it anywhere else if I had to do it again. Thanks so much Jessica and everyone at the El Cortez for helping to make our day so incredible!

Are you interested?
Send a message