Reviews
4.8 out of 5 rating
Quality of service

4.8 out of 5 rating

Average response time

4.7 out of 5 rating

Professionalism

4.8 out of 5 rating

Value

4.8 out of 5 rating

Flexibility

4.8 out of 5 rating
96%
Recommended by couples
260 User photos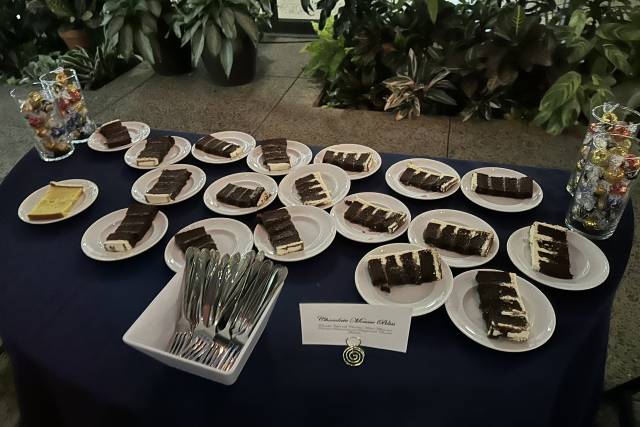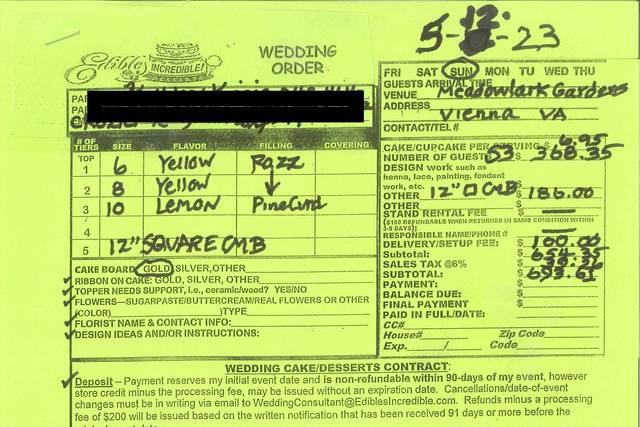 + 256

photos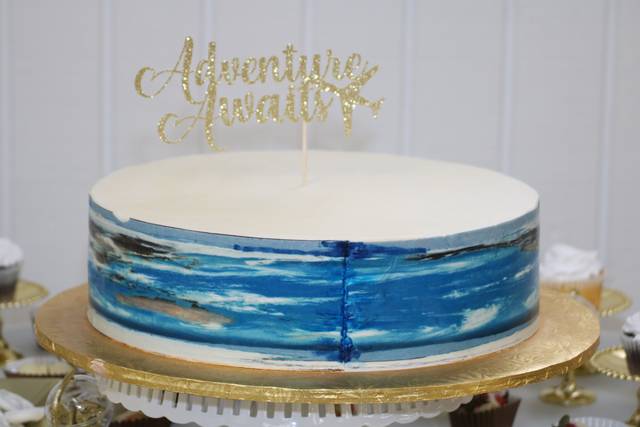 Featured

Shariffa

Married on 11/04/2022

Everyone is STILL Raving

Alan and Robyn were a dream to work with and clearly know their stuff! Everyone raved about the cake will into the weekend(we had a Friday wedding). We had a 3 tier cake, each tier was a different flavor, and it was as amazing as it was on tasting day. If you aren't booking Edibles Incredible for your cake and desserts, you are making a huge mistake.
Absolutely divine!

Edibles Incredible Desserts's reply:

Your review Shariffa was excellent and heartwarming for the team to read. Thank you so much! We really appreciate your advice to other couples, i.e., "You are making a huge mistake if you aren't booking with Edibles Incredible!" What business doesn't love to hear those words. Frankly, it is all about how wonderful the customer is! Thanks from the bottom of our hearts!

Julie

Getting married on 10/21/2023

The Best Cake I've Ever Had!

I am not married yet, but we had our cake tasting this weekend and knew immediately we had to hire Robyn and Allan to bake our wedding cake! They will tell you that it's "love at first bite", and it's the absolute truth. Everything we tasted was full of flavor and moist, but we were particularly blown away by their raspberry filling. Additionally, they may be some of the warmest and kindest people I've met throughout my vendor searches. They will make you feel like a priority and will do whatever they can to give you the experience you're looking for. They also offer a complimentary cake for your anniversary with the flavors you chose for your wedding! I would leave more than 5 stars if I could!

Edibles Incredible Desserts's reply:

Thank you Julie! We look forward to assisting you in this exciting time of your life. We're so glad that you were blown away by the Vanilla Razz Cake- - -it's just so good and one of our faves. We are excited to be part of your special day. Thanks much!
Robyn, Alan, and the Edibles Incredible Award-Winning Desserts Team

Jessica C.

Married on 09/01/2023

Wonderful experience

I loved our cake. It turned out beautiful. The people at the bakery were enthusiastic about their job! They gave great recommendations. Spent a lot of time describing the flavors to us. Overall great experience and I would use them again!

Are you interested?

Send a message

Elaine M.

Married on 07/22/2023

Best Cake Ever

I have been to 40-50 weddings over the years and never before did I have such a delicious wedding cake. My son and his wife chose a three tier cake. The top and bottom layers were the almond torte and the middle layer was vanilla. The cake was decorated to the bride's specifications with light blue hyacinths. Not only did it look beautiful, it tasted Incredible! Guests are still talking about the almond torte.
Thanks to you Robyn and your team. It was a pleasure working with you.

Samia

Married on 11/05/2022

Robyn and Alan and all the staff are amazing

First of all, I dont like cake. But edibles incredibles are so good at what they do. Ever since our tasting, I've been so excited to eat the cake at the wedding, as well as my family. We went with the Pina Colada, Choco mousse and Vanilla. The prices are fair, it tastes amazing, the owners are so sweet and professional. The cakes been the easiest process of this whole wedding. I'm super grateful for picking them as my vendor and cant wait to eat cake soon lol.

Edibles Incredible Desserts's reply:

Thank you Samia for a glowing report! Remember, it's easy to be nice to nice people which you were. So glad our process worked well for you and also so grateful for your choice of Edibles Incredible Award-Winning Desserts! We look forward to seeing you soon! Have a wonderful holiday and New Year!

Megan T.

Married on 10/08/2022

Their cakes really are incredible

We used Edible Incredibles for our wedding cake, and they did not disappoint. The cake was exactly what I had envisioned, and it tasted absolutely amazing. The layers of cake were super moist, and the flavors were out of this world. With someone whose family takes their cake very seriously, we have received nothing but raving reviews from wedding guests about the cake. Robyn was also so friendly to work with.

Edibles Incredible Desserts's reply:

Our team at Edibles Incredible Award-Winning Desserts loves to please customers. That is our job and we love exceeding expectations! So glad to hear that the flavors were out of this world! We love doing what we do and our best part is dealing with customers like you. We love to laugh and create! Thanks for a great review.

Becca H.

Married on 10/07/2022

Wonderful vendor

Would absolutely recommend this company for you wedding day! They were willing to work with any sort of allergies we had and the cake turned out beautifully! The tasting they sent us home with had more than enough goodies in the take home box than we had envisioned and the tasting slices were HUGE! Highly recommend them for your special day - they are more than happy to work with you to ensure that everything goes smoothly with the cake! Everyone at the wedding raved about how delicious the flavors were (these included the gluten free cupcakes as well) - the flavors for the cake we chose were Hummingbird, Chocolate Mousse and Chocolate Peanut Butter!

Ea2D423Ed8736Af2672Da92B7043Fd1855Ea98F1

Married on 09/25/2022

Best cake we've ever had!

Alan and Robyn are amazing at their craft. Not only are they talented bakers but also just really great people. I was an anxious bride and Robyn took the time to really listen to my worries and answered all of my questions. When we picked our cake flavor (pina colada) we knew that our guests would love it and they did! Everybody asked if they could take a slice home! We hope to have many more reasons to order cakes from Alan and Robyn in the future!

Erin N.

Married on 09/03/2022

The Most Delicious, Perfect Wedding Cake

I knew I wanted a delicious cake for our wedding, and when we sampled the flavors from Edibles Incredible, we knew we'd found our cake. Alan and Robyn are both so kind and a delight to work with. They were so helpful when determining the size cake based on the number of guests and truly made our vision come to life. We had the perfect amount and the guests RAVED about how delicious the cake was! I'm so happy we went with Edibles Incredible and would highly recommend you choose them for your event. Thanks so much, Alan and Robyn!

Edibles Incredible Desserts's reply:

Thanks Erin for your wonderful review on your wedding cake. We're so glad that your guests raved about the taste of your cake! We are so happy that your guests raved about our cake! Who doesn't love that!!! Thanks so much for choosing us! We look forward to seeing you for your complimentary anniversary cake!

Cristina

Married on 07/23/2022

The place to get your cake

The cake from Edibles Incredibles was awesome. Everyone loved the cake with only the top tier left. Our cake had three flavors: strawberry, lemon and chocolate. We had a three tier cake and a sheet cake. Cake was moist and so tasty. It was perfect.
Thank you Robyn and Alan.

Edibles Incredible Desserts's reply:

Thank you Cristina! We so appreciate your review and happy to know that you and your guests loved the different flavors that we provided. We wish you both the best first year. . .and look forward to seeing you for your complimentary anniversary cake - we love providing that for you and your honey. Easy to do, let us know your flavor and when you would like to pick it up. Again, we look forward to seeing you!
Warmest regards from Alan, Robyn, and the Edibles Incredible Desserts Team :)

Erik S.

Married on 07/23/2022

Delicious Wedding Cake

If you want your wedding cake to taste really good, this is the place to go.

Desni

Married on 07/16/2022

Great service

Alan and Robyn are amazing team. They made my beautiful wedding cake dream with no regret.
We also requested a wedding anniversary cake early just because we have to move overseas. They're flexibility help us get our wedding anniversary 5 months early. Thank you Alan and Robyn! We love the Lemon sublime and chocolate Mousse Bliss flavor!

Lauren T.

Married on 04/30/2022

Delicious wedding cake!

The cake was gorgeous and exactly what we wanted. We added flowers on top from our florist for an extra pop of color. We had two flavors- the chocolate bliss and vanilla raspberry. Both flavors were a hit with the guests and we received many compliments!

Emily E.

Married on 04/30/2022

Best cake ever

Edibles Incredibles has been our family's go to bakery for ages! We planned our wedding during COVID and they seamlessly had options for virtual tastings (we picked up our tasting selections to enjoy at home), and were in touch to remind us of ordering deadlines. Our wedding was on the small side ( about 40 guests) and we had a 3 tier cake with 3 flavors. Our theme was "Oktoberfest" and we didn't have a "vision" for the cake, but at their creative suggestion, our cake was simple with a hint of the Bavarian flag diamond pattern with subtle touches of blue (our color). They even delivered to our venue in WV for a very reasonable fee. We continue to work with Edibles Incredibles for all of our cake-worthy celebrations!

Clare S.

Married on 04/23/2022

4/23/22 Wedding

Alan was wonderful at explaining the cake options at the Lansdowne Wedding Event, and Jim helped us pick our flavors over the phone when we called. Robyn was always in touch with me making sure every detail was covered and ready for the big day. Our cake was gorgeous and delicious! We were so happy to work with their team!

Edibles Incredible Desserts's reply:

Wow, what a lovely review. . .the team sure appreciated your comments! We love to hear that we made customers happy! Best of luck to you two and best wishes for your first and second year together.

Melissa A.

Married on 04/15/2022

Wedding Cake

My husband and I chose Edibles Incredibles for make our wedding cake and we could not have had a more better experience working with them! Our guests absolutely loved the three different cake flavors they suggested and the elegant wedding cake design Robyn created was just stunningly perfect. The guests could not stop talking about how beautiful it turned out and the taste was just superb in every way possible. Thank you for the amazing job and putting so much time and effort to make it perfect for us. We could not have picked a better place to make our wedding cake! Edibles Incredible name says it's all, absolutely INCREDIBLE! Thank you again Alan and Robyn for the amazing work!

Edibles Incredible Desserts's reply:

It's wonderful and easy to work with wonderful people lie you two as it's always easy to be nice to kind people! Thank you for that and thank you for your kind comments regarding your cake. It's always our favorite thing to do! May you have a great year and a healthy one! Wishing you the best!

Eimy B.

Married on 03/26/2022

Washington landmarks - cherry blossom

We came from NY looking for a perfect cake and we found it with Edibles Incredibles. Robin and Allan are the best.
The created the perfect cake without fondant for me which it was amazing because every single bakery refuse to work without fondant.
I love them

Edibles Incredible Desserts's reply:

Thanks so much Eimy for finding us! We thoroughly enjoyed creating your "perfect cake". The Edibles Incredible Desserts Team loved making your cake. We wait to see you again soon! Enjoy your first married year together and don't forget to let us know when you want your free first year anniversary cake!

Janifer L.

Married on 03/26/2022

Beautiful cakes and wonderful owners

Robyn and Alan were so great and so nice. You can really tell that they love what they do and are passionate about it. Another thing is that the price point compared to other vendors we were looking at was a lot lower, but the quality was still so great. We had a wedding cake done by them yesterday and honestly, it was absolutely beautiful and tasty. They were very accommodating to everything we asked for and executed it perfectly.

Robyn and Alan, if you are reading this, we just want to say thank you SO much!! You guys were so great and we can't wait to contact you in the future for our baby shower!

Christina R.

Married on 02/05/2022

Distinctive, individual, and unrepeatable

Alan and Robyn were so gracious, kind, and patient with us. My husband and I did not want to be engaged for a long time, and Alan and Robyn were able to work with us and our timing constraints without complaint. In fact, they were the easiest wedding vendor we worked with among a long list of people assisting us! I could rave about their business acumen (their professionalism is unmatched and their cakes/products are exceptionally delicious and beautiful) but what made the experience really special was their warmness and generosity. I will never forget their words of encouragement throughout our wedding planning, and I highly recommend them!

Edibles Incredible Desserts's reply:

Thank you so so much Christina. . .what a beautiful review! We absolutely love working with couples for their special occasions. It's easy to have fun with nice people like you and your hubby! Thank you for your kind review and positive recommendation. Can't wait to see you for your complimentary anniversary cake! All the best to you both!

Trisha C.

Married on 01/22/2022

Outstanding

All the cakes we tried were amazing and they did a fabulous job with the design I requested for the cake!

Richard L.

Married on 01/15/2022

Family owned and very Friendly

The samples were delicious and made it hard to choose. They were able to make a wedding cake for us on very short notice. The Cake was beautiful and tasty and we had a lot leftover.

Edibles Incredible Desserts's reply:

Thanks so much Richard for your lovely review. We sure enjoyed working with you and wish you two the very best. We're so happy that you loved the cake. Hoping to see you soon for your complimentary anniversary cake! Wish you both a wonderful year!

Sharyn C.

Married on 01/09/2022

I have bought cakes from Edibles Incredible for many years for wedding, showebirthdays, office parties and fundraisers. Their cakes and service i

Excellent service and excellent products.

Maureen R.

Married on 01/02/2022

Best cake and owners in Virginia!

Simply the BEST! Edible Incredible is not only the best cake I've ever had but has the kindest owners! Robyn and Alan are so passionate about what they do. They did this beautiful 90th birthday cake for my mom! Robyn put so much love into this cake! She worked with me on designs. I sampled lots of the flavors with my mom. They made us feel so special! I'm forever grateful for all they did to make this birthday unforgettable!

Edibles Incredible Desserts's reply:

Thank you Maureen for your beautiful and kind review. We are so happy that you loved the cake! Just know that we are so grateful for you as well!

John R.

Married on 12/03/2021

OMG this cake

People will be talking about our cake for a long time. It was exactly what we asked for, came on time and was DELICIOUS!

Edibles Incredible Desserts's reply:

Hello John and thank you for your review! We always want to be perfect in our delivery and our cake and that makes us very happy! We wish you a great 2021 and look forward to seeing you again.

Jessica O.

Married on 11/13/2021

Great selection and customer service!

The cake was beautiful! Everything was on time and it looked amazing. Everyone also kept saying how delicious it was.

Edibles Incredible Desserts's reply:

Hi Jessica - We loved creating your cake and so happy it was beautiful! We really appreciate your review. We wish you the best in this next year and we look forward to seeing you for your complimentary anniversary cake!
Are you interested?
Send a message