31 Reviews
Recommended by 99% of couples
Quality of service

5 out of 5 rating

Average response time

4.9 out of 5 rating

Professionalism

4.9 out of 5 rating

Value

4.9 out of 5 rating

Flexibility

5 out of 5 rating
Awards
14 User photos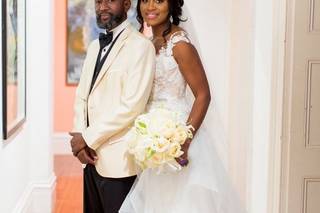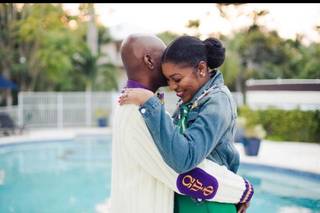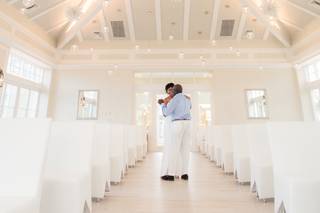 + 10

photos
Kelly

Married on 05/19/2019

Definitely recommended!

Eboni was the photographer for our destination wedding in May 2019.

She was very pleasure to work with. Very personable and professional. Neither my husband or myself is a great poser, but she helped us to be relaxed throughout the entire process. Our venue was at Melia, and it definitely helped that she was already familiar with the place. We were very satisfied with the photos we received, which was delivered on the promised date. I definitely recommend Eboni for your dream beach wedding!



Eboni Robyn Photography's reply:

Thank you Kelly! What an awesome surprise. I really appreciate you taking the time to share your experience with Eboni Robyn Photography. Working with you, Nick and your visiting family and friends was a true pleasure. I'm glad I was able to help you both feel more relaxed. I strive to be the best wedding photographer in the Bahamas. You guys made my job easy. Let me know when you come back to Nassau. Maybe we can plan an anniversary photo session. You're the best, Kelly! Thanks again for sharing such a positive experience. It means the world to me!

Phylicia

Married on 08/25/2018

Eboni is a true gem. From the moment I spoke to her initially to booking to the moment I met her for our engagement shoot and then leading to and on our wedding day . She makes one feel very comfortable In front of the camera.

Brooke

Married on 04/14/2018

First of all, Eboni was AMAZING! She was so sweet and professional. I have never taken professional pictures before and she helped me with everything along the way. Eboni was very professional and her work was just GORGEOUS!! I would book her again and again if we lived closer to each other.

Are you interested?

Send a message

Daniel

Married on 03/31/2018

Eboni was a pleasure to work with. She was super responsive and returned the finished photos way ahead of our expected timeframe. She knew of all the great spots and made the session comfortable and fun.

Gloria

Married on 01/01/2018

My fiancé and I are so happy we found Eboni for our engagement photos. She discussed the details and ideas of the shoot beforehand and travel logistics as we were traveling to Nassau, Bahamas by cruise ship. During the shoot, she was very relaxed and made both of us feel very comfortable. We had a lot of laughs and an overall great experience. When we received our photos, we were completely blown away. She went above and beyond to capture the best moments between us and we cannot be any happier. Trust us, when we say that booking Eboni is the best decision you can make!

Eboni Robyn Photography's reply:

Hi Gloria!

Thank you so so much for your review. Eli and I are so glad that you and Joe got to see some of the beaches and colorful architecture on the island. You were great to photograph and we're happy that you enjoyed the experience.

Jason

Married on 10/07/2017

This was an absolutely amazing experience. From the communication prior, to the timely manner in which we received the pictures, Eboni made sure that every step was PERFECTION! I would highly recommend her to anyone looking to capture a special moment!

Eboni Robyn Photography's reply:

That's very kind of you. Thank you very much! We're happy to know that you liked your photographs. You guys were relaxed and totally yourselves. You were a beautiful family as well! We had a fun time. Please give our best to Page and the rest of the family!

P.S. Thanks for all those business tips! : )


Robin

Married on 10/04/2017

It was a private wedding just myself and my husband we love our pictures she did a great job. I just wished we got them sooner family really wanted to see our pictures. The only thing I would change is this is the most important day of people's lives send the pictures much sooner

Dor'mario

Married on 09/03/2017

Eboni Robyn was very professional and accommodating. We did not know how it was going to work out traveling to another country to take engagement Photos but the they exceeded our expectations in every way. Our photos were absolutely exceptional and I'm hard to please. I would definitely use their services again if needed and I would recommend them to my friends and family!

Adrienne

Married on 09/03/2017

I've worked with a lot of photographers for various projects in the past, so i can say that Eli and Eboni are by far THE MOST professional and skilled duo I have worked with. Thanks so much for bringing my engagement shoot to life! Xoxo

Maxiann

Married on 08/12/2017

Eboni Robyn Photography gave us exactly what we wanted on one of the most important days of our lives! We could not be more pleased with our experience during our wedding preparations, during our big day and even afterwards. From the engagement photos to the wedding photos, Eboni Robyn Photography captured each momentous occasion from start to finish.

+ 2

photos

Danielle

Married on 05/28/2017

Eboni & Eli are truly the dynamic duo! From the very first minute I spoke to Eboni on the phone, I knew she was the perfect photographer for our wedding. Eboni takes the time to get to know you personally and understand exactly what you want for your special day. As we all know- planning a destination wedding isn't the easiest task, but with Eboni there's nothing to worry about because she's got it! and made me feel extremely reassured throughout the whole planning process. Eboni is very detailed oriented and organized - giving you helpful tips to prep before the big day and ideas for different portraits and schedule day of. On the day of the wedding both Eboni & Eli were 100% on at all times and after seeing our photos which came out absolutely gorgeous, its clearly evident they didn't miss one reaction, move, or special moment. They are true professionals and I wouldn't have gone with anyone else for our special day. You will not regret your decision one bit by going with Eboni Robyn Photography! Thank you!!!

Eboni Robyn Photography's reply:

Hi Danielle! Thank you! We were happy to help and it was a delight to meet and work with you and John. O my goodness, that was a spectacular day! The ceremony venue was unique, taking photographs in historic Old Nassau was perfect and the authentic festive Bahamian parade to the reception hall is one to remember. Your family and guests were a ball of fun! Opa!!!! Documenting your love as well as your first day as husband and wife was an absolute pleasure. Eboni and I thank you for sharing your storybook wedding day with us.


Mario

Married on 05/28/2017

I cannot say enough good things about Eboni and her work. She responds to your questions immediately and is a perfectionist to details. We could not have picked a better photographer for our destination wedding. She knew where to get the best shots on the Island and her work at the cocktail party on the beach and reception indoors was incredible. Our experience with her and her team could not have been any better. My daughter and son in law and our family, relatives and friends will have great photos to look at for ever.

Eboni Robyn Photography's reply:

Thank you for the kind words. They mean a lot and we truly appreciate it.

John

Married on 05/28/2017

My wife and I cannot say enough good things about Eboni and Eli! Not only are they AWESOME people but their photography and coordination was outstanding. They are so much fun to be around! We recently got our photos back from the wedding and they came out ABSOLUTELY AMAZING!!! Feel free to reach out to me via email if you would like to hear more about our incredible experience - johntraynor88@gmail.com.

Eboni Robyn Photography's reply:

Thanks for the glowing words John! It WAS amazing thanks to you and your BEAUTIFUL wife. Thank you, thank you, thank you for inviting Eli and I into your family on a memorable day.


Jenitza

Married on 05/20/2017

She was very nice and on time. I loved the pictures she took of my wedding event. Thank you for taking time of to take pictures.

+ 2

photos

Brett

Married on 05/07/2017

Eboni and Eli were absolutely amazing. The photos were breathtaking, they were so incredible in every step of our big day. Making it moment/ time of the day even more effortless. They have awesome souls, a great eye and were one of the best teams. Turn around time on everything we asked for was on point. They had helpful insight into what worked and new the property we were getting married in extremely well. If you are getting married in Nassau they are, no questions asked, the best option.

Eboni Robyn Photography's reply:

Many thanks for the gracious words brother. Eboni and I have nothing but appreciation for having had the opportunity to meet and work with you both. Roger Sterling on Mad Men said its a mistake to be conspicuously happy but you on your wedding day has got to be an exception. Kelly was gorgeous and you were a dead match with rugged good looks. You two have old fashioned hearts with timeless love and we enjoyed every bit of it. Thank you for sharing such a special occasion and your family with us.


Kelly

Married on 05/07/2017

We could not have been happier with Eboni and Eli!!!!! We got married at the One & Only Ocean Club in the Bahamas and were planning the wedding from Washington, DC. They were so flexible in FaceTiming with us throughout the planning process and providing a lot of information and feedback so we were so comfortable and prepared for the big day! Your photographers are a HUGE part of your wedding, not only because of the pictures and memories they provide after the fact, but because they're with you throughout some of the most intimate moments on the wedding day. We couldn't have asked for better people to be by our sides! They went above and beyond helping us with anything we needed. Their attention to detail produced photos we never could've even imagined! To say we were happy with hiring them would be the biggest understatement. If you're getting married in the Bahamas....BOOK THEM ASAP!!

Eboni Robyn Photography's reply:

BIG thank you Kelly! From the moment Eli and I met you in D.C. we looked forward to your wedding day, not for the photography but to see two remarkable people create a lifelong bond together. One & Only Ocean Club with the Cloisters and Versailles Gardens were picture perfect. Family and friends were a fun bunch and great in front of the camera. And best of all, the love between you and Brett was beautiful. We feel privileged and so thankful to be a part of your wedding. Thanks so much for such a spectacular day! 


Holly

Married on 04/05/2017

We couldn't be more thrilled with our decision to have Eboni capture our wedding day. Finding a photographer for a destination wedding is a little stressful but this decision was one I will forever be grateful for. Eboni was absolutely amazing, personable and fun! She made every moment feel natural and comfortable. Her work is gorgeous and exactly what we envisioned. She provided a sneak peak for us almost immediately and we were blown away by the full gallery. I wish we lived closer to have her capture special moments in our future. I am incredibly thankful to have found her in my search and 1000% recommend her! If you have a destination wedding in the Bahamas, don't hesitate to contact her! You will love every moment she captures!

Eboni Robyn Photography's reply:

Thank you for sharing your experience Holly. Not only did I enjoy photographing you and Graham, you have been so encouraging. I feel super fortunate and grateful that we have amazing clients like you. It was a joy to document your big day.

P.S. - We travel! We'd love to come for your special occasions. Just say the word! : )

Kris

Married on 11/19/2016

Eboni was amazing at capturing our special day. Couldn't have been happier with her work and awesome personality. Our photos came out perfect and the venues she brought us to were beautiful. Would recommend her to anyone and everyone!

Kalynn

Married on 09/04/2016

Eboni did a wonderful job at our wedding! Was quick to respond when we needed a photographer pretty last minute and was able to customize a package for our needs. Thanks for all your hard work!

Gary

Married on 09/04/2016

A true pleasure to work with. AA++++
We would hire them again.


Teynarae

Married on 09/03/2016

Eboni and her husband are an amazing team. They make you feel like fast friends and are more interested in their clients and the clients' well being as opposed to receiving a check at the end of their session.

Their attention to detail and precision and dedication to get the perfect shot is uncanny. Yet, somehow they manage to stay within time range without you feeling rushed.

The service is flawless. I can't say enough about how professional yet friendly the two of them are. It's a true feat to reach such a balanace in a personally owned business.

Aside from the service the actual product is unmatched. The photos from my wedding done were so clean and beautiful. I was also so impressed with the speed in which I received them and also the amount received in such a short time.

I will be using Eboni and Eli for every single life event I have in the future. Their services are simply that good.

Eboni Robyn Photography's reply:

Teynarae, Teynarae! What can I say? We will be forever thankful to you and Henry for your entrusting your Eleuthera destination wedding photography to us. From the snazzy but relaxed rehearsal dinner, to the outdoor ceremony with ocean panoramic, your romantic portraits, to the late night dancing pool side....we had a fantastic time documenting it all. Call on us any time.

Ana

Married on 04/24/2016

We were blessed to win our photo package...Eli and Eboni were really God sent! We has a few setbacks that day with time, but they were extremely flexible. It was an awesome experience for me, who hates taking photos but they made it all easy and comfortable always greeting you with a smile. They were really awesome and I would highly recommend their services you will get so much more than you expected!

Eboni Robyn Photography's reply:

Ana, you and Chris were an adorable couple! It was an honor to work with you and we wish you many years of happiness.


Olivia

Married on 04/16/2016

After all the fun and jokes we had on our first photo shoot - the engagement photoshoot, we were so sure about them for our wedding photos. We didn't think twice about choosing them and in the end we did not regret our choice. We ended up having some of the most unforgettable moments of our wedding day during the portrait and family photo taking part of the day. And I was super-thrilled when we received the first sneak peek of our wedding photos while we were still on honeymoon! I can still remember staying up all night to look through all of the beautiful images that were sent. With Eboni Robyn Photography the photo-taking experience is fun, the wait for photos is never too long, and the high-quality results are always worth it. They are the best!

Eboni Robyn Photography's reply:

I can't tell you what a privilege it was to photograph you and Sherman's engagement session AND wedding. You both have a natural harmony and humor together. There's no need for a mulligan, but we'd do it all over again anyway. It was a pleasure getting to know you and share your wedding day. Thank you. We wish you a lifetime of love and much more!


Karen

Married on 03/19/2016

I am so grateful that I found Eboni to be the photographer for my wedding. We did not meet until a few weeks before my big day because I was living in another country, but we communicated via email and instantly we clicked and I felt at ease, she is so professional and personable! Eboni and her husband Eli were a great duo and so much fun to work with,! I had the largest wedding party in the world and Eboni was able to organize us all in a cool, calm, and collected manner which I know is not an easy feat! The turn around time for the photos was very reasonable and when we did get our final shots (so many of them) they were all so beautiful and totally captured our special day in the best way possible. Thank you so much Eboni for being the awesome photographer that you are!

Eboni Robyn Photography's reply:

Hi Karen! You are so sweet. Thank you. We really enjoyed working with you. The wedding party WAS massive but that's just how much you and Mario are loved and how many people you've touched. The ceremony was lovely and will be remembered. We're so happy that you enjoyed our time together. Thanks again for allowing us to be a part of an amazing day.


Shante

Married on 09/05/2015

Every time we view or share our wedding photos it takes us back to each and every warm moment we had that day with our family and friends. No other photographer can help you relive those moments like Eboni Robyn Photography. Thank you for making our special day last forever.

Eboni Robyn Photography's reply:

Thank you so much! Your wedding holds a memorable place with us. You looked stunning and it was amazing how quickly the day moved along from getting ready, to I do's, to your first dance and cake cutting. Sharing your wedding day was special to us and it brings us joy to know that your photographs are so cherished to you and Jason. Enjoy them as much as you like! : ) We wish you both love and happiness every day in your future.

Are you interested?
Send a message