46 Reviews
Recommended by 99% of couples
Quality of service

5 out of 5 rating

Average response time

4.9 out of 5 rating

Professionalism

5 out of 5 rating

Value

5 out of 5 rating

Flexibility

5 out of 5 rating
75 User photos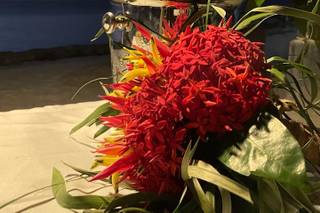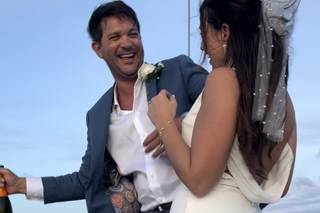 + 71

photos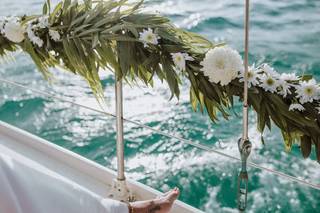 Andrea

Married on 12/17/2022

Perfect. Simple and stress-free

We did an elopement with Dulce. It was simple from beginning to end. Melina and Melody were easy to work with and you can see they love their jobs!
Jose Louis was a great photographer!
We could not have asked for a better ceremony! 💜💜💜💜 Many thanks for making our day so special!

Kennedy T.

Married on 11/16/2022

The absolute best!

These ladies went so far above and beyond to make sure EVERYTHING was perfect for our day! Not to mention they pulled it off with less than 2 months to plan. Melody is so talented and they are such genuinely kind people; the are more than wedding planners. Mariel fixed my hair and make-up after being in the hot sun all day and even pulled my spanx up for me! They saved my wedding cake for me so we could have it the next day when I didn't make it to our reception- (because of the champagne lol)- I heard the reception was gorgeous- Hire these ladies!! I promise it will be the BEST decision!

+ 3

photos

Momo

Married on 07/02/2022

Do you want your dream wedding? Come to dulce belize weddings.

If you are abroad or in town I deeply request you to look no further. I did my fair share of researching and I am so happy to have found Melody. This is the best wedding coordinator, planner , decorator in town. Melody is outstanding, professional, and has an extreme eye to detail. She is a true artist and can handle awkward situations even when people bring unexpected guests. Melody will create a wedding of your desire. She is always prepared, I mean seriously prepared to make sure you look your best even if you need extra undergarments. Our wedding day was so perfect! It is all thanks to Melody and the Dulce Belize Wedding Crew. This is a review but it is heartfelt, Melody thank you so much for being part of a very special day of our life. It was a dream come true.

+ 2

photos

Are you interested?

Send a message

Quan P.

Married on 07/02/2022

Best wedding coordinator ever

Melody is the best wedding coordinator we could've asked for. My wife and I both live in the US and wanted to get married in her father land (Belize). We found Melody on wedding wire and couldn't have asked for anyone better. We had no idea where to even start planning but she helped us right away. She gave us plenty of options of different resorts on different islands to fit our needs of a 60+ person wedding. Island time is something that can be frustrating especially when you are trying to get a wedding planned but Melody does not operate on island time. She is very responsive. If you need her she will answer. She is organized, and attentive to detail. When things don't go according to plan with vendors, she fights for us and does everything to try to accomadate our needs. Melody is awesome. She will make your wedding day perfect and beautiful. We are so blessed and happy to have worked with Melody. Our wedding day was perfect. It was everything we could've asked for and more. You will be in good hands. Book her before she is booked.

Maria

Married on 06/14/2022

Incredible!

Had the best experience with Melody and her team! We had to move the wedding to a different location 2 days before the wedding and Melody took care of everything! We had a small wedding of 20 people and She made it even better than we expected it. 10/10 would recommend Dulce Belize Weddings!

+ 3

photos

Carlie Z.

Married on 04/07/2022

best day ever

Dulce Belize Weddings gave me the wedding of my dreams! Our day was beautiful & overly easy because of these amazing ladies! Highly recommended

Deborah U.

Married on 12/29/2021

Vow Renewal - 25th Wedding Anniversary

Melody and Muriel were wonderful to work with! They did all the planning and organizing for us, everything was absolutely beautiful!! I highly recommend Dulce Belize Weddings! Our day was perfect.
Deborah U
Colorado

Stephan P.

Married on 02/02/2020

Knows how to get things done!

We threw Melody some curveball requests for our wedding and she never batted an eye. We wanted a waterfall wedding, with a Mayan Shaman, a very specific bus for transport, local dinner and a small beach bonfire with dessert. While we did a lot of our own research on the front end, it was crucial to have someone local, who knew the culture/vibe, had connections and was able to manage our expectations based on their personal knowledge and experience. For example, some vendors are awesome but not super responsive. Or, my wife wanted to get local flowers for her bouquet. Melody tracked down vendors who weren't responding to my emails, and while she supported the local flowers idea, she let us know that local flowers will droop over in like 30 minutes of picking them and that's not a good look for a bouquet. Little stuff like that makes a huge difference and she knows all of it.

On the day of the wedding, Melody was on super on top of everything, managing time, people and vendors promptly and elegantly. Despite never having been to the waterfall, as soon as we arrived, she jumped off the bus and got to work situating and organizing things and people and making sure our hopes and dreams for the ceremony were met. (Note, I think she usually does site visits, but the waterfall was very far from where she's based, so we opted to not send her out there for a site visit).

We LOVED all of our vendors, all of which came from her connections. She's worked with people, she knows who's good for what you need. Like, my wife doesn't wear much makeup and didn't want an overwhelming amount of makeup for the big day-Melody knew just the makeup artist to go to for that (my wife loved what she did and she looked beautiful). Overall, I just felt at ease because I knew, no matter what was thrown her way, Melody could deal with it and make it work out. She was told the bus we wanted wasn't available ON the day of the wedding, but she wasn't having it and finagled something so it was a very similar or the same bus, I can't remember. Having the peace of mind that she could work magic and could handle anything, was everything. And she gave us an incredibly reasonable price-we got more than what we paid for.



+ 2

photos

Dulce Belize Weddings's reply:

Thank you for trusting me! I know it couldn't have been easy with me not even being close to near where you guys were staying and our vendors that don't respond to e-mails at least they answered their phones and social media pages! lol But most importantly like I told you from the beginning we all live in Belize where the pace is "take it easy man" most importantly they show up and get the job done! It was a pleasure to help plan your wedding!

Jill F.

Married on 01/12/2020

My Surprise Wedding!

With the help of Melody and her team my fiance surprised me with the most romantic & lovely wedding! I had no idea it was my wedding day until Melody showed up at my room with everything from dress options, shoes, jewelry, makeup artist, photographer, videographer and even a seamstress! She was ready for everything.
Thank you for making it the easiest stress-free day. Your staff was so kind and made me feel comfortable the entire day even with surprise after surprise, I had NO IDEA where I was going! Thank you for all the details you focused on, My favorite flower, the mariachi band, the dolphins swimming around our boat...It was a dreamy island wedding!
We hope to see you guys again soon.

Savannah P.

Married on 12/14/2019

Amazing San Pedro Wedding

Melody and her team did such an amazing job. They went above and beyond to ensure my wedding day was perfect! They were extremely professional and blew my expectations out of the water! I would recommend this company 100X over again. Makayla was my right hand woman on the big day and she was absolutely fantastic. Everybody loved her and commented about how amazing the wedding turned out thanks to Dulce Belize Weddings. I could not be more thankful that I decided to go with this company.

Nikki R.

Married on 07/06/2019

Made our day beautiful

Melody is very friendly and made sure we had what we needed. On the day of the wedding she made sure everything was in place and turned any potential fire into magic. The entire day was simply beautiful and we appreciate her wedding service.

Veronica

Married on 06/19/2019

Truly a dream wedding !

AMAZING!!! My wedding turned out better than anything I could have imagined. I had a vision and Melody knew exactly what I wanted. She definitely took my breath away with the final set up and my guest were so amazed and happy to be apart of it all. Melody has an amazing team that is ready and willing to help with anything I requested, even last minute request! I can honestly say I had a dream wedding and there is not one thing I would change. I am forever grateful for the beautiful memories!

Connie

Married on 05/11/2019

Superior service with Island Charm

Melody was the perfect wedding planner and coordinator for our Belize wedding! She was communicative from the very first time I reached out and I loved that she skypes with potential clients before even agreeing to work with you so that she can make sure you are a good match. Melody and her assistant Cora helped us with many things that were outside of their responsibilities even, such as booking excursions and hopper flights for our guests and all their recommendations were gold!
Melody is straight forward about what she thinks will work for your venue in relation to your ideas and everything she did for our wedding was beyond our expectations. Since my husband didn't really have time (or the desire) to help plan things, it was a God send to have Melody helping me with everything. She also is an amazing florist and designed/made mine and my bridesmaid's bouquets as well as the floral arrangements on our arch and tables. On the day of it all came together perfectly and we had a dream wedding in one of the most gorgeous places on earth!

+ 3

photos

Danielle E.

Married on 04/18/2019

Beautiful, couldn't ask for anything better!

Melody helped with so much during the whole process! Without her, it wouldn't have went as smooth as it did! She's very organized and very thorough!! She was sweet and personable, yet professional at the same time! Her staff was wonderful, along with the vendors she recommended! Also, very reasonably priced for all the time and effort she puts into each one of her weddings!

Le'naya

Married on 04/06/2019

Perfect Wedding Day!

Melody made the whole process super easy. I wanted a beautiful wedding with no worries, and she certainly exceeded my expections! Everything was stunning and I never had to worry about a thing. We had a wild bunch in attendance at our wedding, she was able to keep everyone inline while maintaining a fun atmosphere.
We had a suprise thunderstorm the afternoon of our wedding, eventhough it cleared before the ceremony Melody was ready with a plan B. We highly recommend Melody and her team. They made our dream beach wedding come true!

Paige

Married on 02/22/2019

Perfect Wedding! Vision turned to reality

We got married in Belize in February 2019. Dulce Belize Weddings was amazing to work with and Melody did the most wonderful job of taking our tropical / boho vision and making it reality. We literally didn't have to worry about anything with Dulce Belize. And on top of that Melody was super fun!
Within one day, our beachside location was turned into a colorful, twinkling destination. It was beautiful. And he Carribean Beach BBQ was succulent.
It was the perfect wedding! I highly recommend Dulce Belize Weddings to everyone.

+ 2

photos

Nyssa

Married on 12/16/2018

Best day of our lives!

We definitely needed a wedding coordinator to help plan our elopement in Belize from the U.S. and have the sandbar wedding we wanted. Melody did an amazing job of pulling it all together and thinking of details even I could not have thought of. It was a perfect, magical day!

Dan

Married on 07/13/2018

Melody and her team were awesome!! Beautiful setup, great food and took care of every request!!! Took care of 3 nights of dinners/drinks and even a pig roast!!!!

Meena

Married on 05/12/2018

Melody did an amazing job with our wedding last month! She was able to make my dream wedding into reality! The vendors she uses are extremely professional and the quality was just superb. Thank you so much, Melody!

Sheena

Married on 03/08/2018

Melody was incredibly patient with me as I continued to change my ideas for my wedding. I requested a few items that made it a bit difficult, but Melody pulled through for me; even found me eucalyptus from Guatemala! Melody went above and beyond to ensure that my wedding was everything that I wanted. A lot of sparkles and bling and the most beautiful flowers. If you want a beach wedding, with a glamorous look, then put your trust in Melody. Melody took all of my stress away. Our wedding was everything that we dreamt of and more.

Millie

Married on 01/20/2018

Melody and her team gave us our dream destination beach wedding in Belize on January 20, 2018. Planning a destination wedding isn't easy, especially if you have never visited your wedding location. We started working with Dulce Belize Weddings in the middle of trying to plan ourselves. From the moment I connected with Melody I knew she could see my vision but there was no way I could have pull it off by myself. It was seamless. Our wedding could not have been more perfect. On the wedding day we were faced with rain and wind, which of course caused challenges and last-minute changes. You would have thought we asked for the rain. I give her a 5+++ star review. Thank you so much Melody, you made our day Ahhhhmaaaazzzing!

+ 6

photos

Melody

Married on 01/08/2018

Melody and her team made my weddding "stress free" and there aren't enough words to describe how beautiful they made it. I had every confidence in her and she exceeded my expectations. From the get go, she made me feel like she had everything under control, and she overachieved on my special day!! I can't thank her enough!!! She is a gem of the island. My guests raves about how much fun they had at the wedding and about how beautifully everything turned out. That to me, is a great indication of the success of the wedding planner.

Laura

Married on 11/30/2017

Melody at Dulce Belize Wedding was truly amazing. She made our wedding and wedding planning experience so much easier and overall just better. Not only was she amazing to work with while we were planning, she went above and beyond once we arrived in Belize. Melody made communicating during planning very easy and made sure that whatever mode of communication was easiest was available to us. She worked with our busy life and work schedules and always made time to talk when we needed. She was very open to our ideas and made sure that every detail was covered. Once we arrived in Belize she greeted us upon arrival and went out of her way to welcome us and make us feel at home on the island. She kept in amazing contact with us prior to the wedding and gave us great recommendations on our whole trip. On our special day she made sure everything was perfect and that everyone was prepared and where they should be. I couldn't have imagined a more perfect day or a better person to assist us along the way. Melody made our wedding dreams come true.

Ashley

Married on 08/18/2017

Dulce Belize Weddings made our wedding absolutely perfect. Melody is incredible at what she does! She is so wonderful at listening to your ideas about what you want and she has this uncanny ability to make whatever the idea is BETTER. I could not have imagined a more beautiful set-up. She made my wedding completely stress-free; she made sure all of the vendors were on time, and on the top of their game :) Melody was perfect through the entire planning process, video chats, emails, calls, and she even met me at the airport the day we landed on Ambergris! She took care of every detail, I almost felt like I should have had to do more, but that's just how good she is! lol
Understandable personal circumstances prevented her from being there on the day of my actual wedding and she put DJ Deb in command. Deb. was. amazing!!!! Our family still talks about how fun she was! And she made sure everything went smoothly, from the ceremony, to the reception/dance that was held at a different venue, she ensured that everything was perfect.
We had the most unbelievable wedding, and we literally owe it all to Melody and the Dulce Belize Wedding team. You will not find a better planner :)

+ 5

photos

Kari

Married on 06/01/2017

Melody and team were fantastic to work with. She took our vision and brought it to life with little stress or concern!

Planning a wedding from far away is challenging, but Melody established trust early on and took care of the smallest details. She was hands on from the time we arrived on the island and organized her teams and other vendors with precision. On the day of the wedding, I wouldn't have wanted anyone else there. She took care of everything, allowing me to focus on the momentous occasion. In the blink of an eye she was polished and professional and made things happen without a single snag.

I appreciated Melody's attention to detail and ideas to customize and make our special day our own. She was firm when necessary, but also a pleasure to share our special day with. Melody is a new friend whom I look forward to visiting on future anniversary trips!

Dulce Belize Weddings's reply:

Kari and Seth thank you! You guys were such a wonderful couple and we look forward to seeing you again and again!
Are you interested?
Send a message