35 Reviews
Recommended by 98% of couples
Quality of service

4.9 out of 5 rating

Average response time

4.9 out of 5 rating

Professionalism

5 out of 5 rating

Value

4.8 out of 5 rating

Flexibility

5 out of 5 rating
7 User photos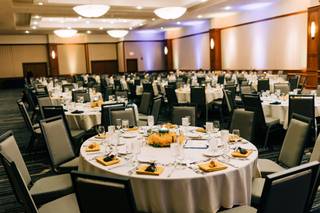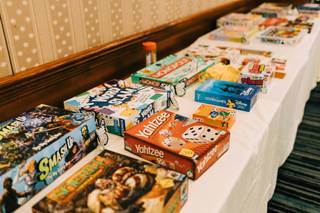 + 3

photos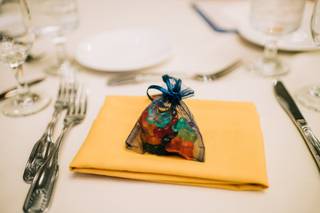 Brianna T.

Married on 11/02/2019

A wonderful venue and team

De Anna and her team were incredible to work with. They were responsive and super-flexible with our (sometimes weird) requests. The food was great, the service was impeccable, and the ballroom was beautifully set.

Heidi O.

Married on 10/05/2019

Fabulous Service and Wonderful Event Coordinator

The facilities, the staff, and the event coordinator at The Doubletree Inn Park Plaza were incredible. They did a fabulous job of helping us bring our reception dreams and desires to life for a reasonable cost. Everyone was wonderful to work with and our evening reception/dinner and game night was just plain amazing. If I ever have another large event to plan, or maybe even a smaller one, I'm going back to the Doubletree Park Plaza! Also...the food was incredible too!

+ 4

photos

Doubletree Hotel Minneapolis Park Place's reply:

Heidi,

We thank you for sharing such kind words of our staff. It was an honor to be apart of your special day. We wish you all the happiness in the world.
Very Kind Regards,
Lynda Ellingson
Director of Catering

Heidi L.

Married on 10/05/2019

Highly Responsive! Excellent Customer Service!

De Anna is wonderful to work with. She is highly responsive. Wonderful to work with. Courteous, thoughtful. No one compared to De Anna or this Venue in Customer Service, Responsiveness, or Flexibility.

Are you interested?

Send a message

Mary

Married on 09/29/2018

The staff at Doubletree was wonderful to work with. We had so many compliments from our guests. Having everything so well coordinated allowed to relax and enjoy ourselves. It was a night we'll always remember.

Mother of the groom!

Carly

Married on 08/18/2018

Angie and the team at the DoubleTree were truly AMAZING. They made our day so special and we could not have asked for a better group to work with. THANK YOU from the bottom of our hearts for everything

Joseph

Married on 10/07/2017

Jackie and her team were very responsive to all our needs. They accommodated our gluten free guests without a problem and met the dietary needs of others as well. When our wedding planner had an auto accident on her way to the reception, Jackie stepped in and kept all calm until she arrived. They gathered the flowers at the end of the night and had them on carts for us in the morning so we could transport them to a local nursing home. All in all, they were amazing!

Doubletree Hotel Minneapolis Park Place's reply:

Thank you so much, we are so glad you enjoyed the day!

Katie

Married on 09/30/2017

My husband and I chose the DoubleTree as a venue for our September 30th wedding! Words cannot describe how impressed we were with the whole process. Jackie, the Catering Sales Manager, was AMAZING--very easy to work with and a great communicator. She put me at ease throughout the planning process. From the final result of the decorated Park Ballroom, to the food, to the staff, there was not a single thing that we were displeased with. I would highly recommend this venue for those getting married in the future.

Doubletree Hotel Minneapolis Park Place's reply:

Thank you Katie! We so appreciate you and Andrew sharing such an important day with us!

Jeana

Married on 09/19/2015

The staff at the Doubletree was very helpful. They helped take some of the stress out of the process. I especially appreciated how responsive the staff was in the few weeks leading up to the big day.

AMAZING!! We could not have asked for a better venue to hold our wedding. From start to finish, Katelyn was fabulous, she walked us through everything in detail and helped us make sure our dream wedding came to life. We could not have done it without her and the DoubleTree Park Place team. The ceremony, cocktail hour, and reception were all beautifully set up and our guests' loved all the details and ease of everything being in one location. We would do the whole day over again, in a heartbeat!! Thank you to Katelyn for making our wedding day, a day we will remember for the rest of our lives!

Carrie

Married on 05/16/2015

AMAZING!! We could not have asked for a better venue to hold our wedding. From start to finish, Katelyn was fabulous, she walked us through everything in detail and helped us make sure our dream wedding came to life. We could not have done it without her and the DoubleTree Park Place team. The ceremony, cocktail hour, and reception were all beautifully set up and our guests' loved all the details and ease of everything being in one location. We would do the whole day over again, in a heartbeat!! Thank you to Katelyn for making our wedding day, a day we will remember for the rest of our lives!

Katelyn and her staff were wonderful to work with. Everyone was so friendly. Our guests were impressed with everything, from the ceremony to last dance.
Was great having everything in one place because we had a lot of guests coming from out of town.

Working with the Catering Manager and staff made planning our wedding very convenient and less stressful than I had ever imagined. Communication between the DoubleTree and other vendors we had selected happened without my need to instigate. We were able to drop off all of our centerpieces and nik-naks the Tuesday before the wedding so the last few days before the wedding were spent relaxing instead of running around and not only are you given the venue space for later in the evening than most place, but you are also not required to collect your items that evening, but can pick them up in the morning, leaving you to fully enjoy your evening. Thanks to the DoubleTree Park Place staff I was able to truly enjoy my wedding leaving all the details to the professionals.

Melissa

Married on 10/11/2014

We got married Oct 11th, 2014. Like most brides I had been dreaming about the perfect wedding... And for me it was a fairytale wedding I had been dreaming of. We worked with Katelyn Keyes and she was perfect. Our first meeting with her was when we were still looking for a reception site but after meeting with her, our mind was instantly made up. She worked with us throughout the whole process and made sure we were both on the same page. She worked with our budget and was not pushy at all about adding extra things like some people can be. She helped us put our fairytale wedding together and made sure everything went smoothly and as least stressful as possible. She was professional but also very personable. When we finally walked into our reception that night everything was better than we imagined. Our set up was beautiful, our food was delicious and the service was exceptional. We had heard that the Doubletree hosted great weddings, but we didn't fully understand how happy we would be until that night. I would definitely recommend this site to anyone looking for a reasonably priced reception site with great staff.



The DoubleTree – Park Place is an amazing venue. We had our cocktail hour in the Lower Atrium and the reception was in the Park Ballroom for about 160 guests. Katelyn Keyes, the Catering Sales Manager, was super friendly and always got back to me with an answer. I felt very comfortable that she wouldn't leave out any of the details and everything went smoothly. We received a lot of compliments from our guests about the food and wine. The location was great, just across the street from the West End where they had additional bars and entertainment. We would highly recommend the DoubleTree- Park Place to couples looking for a great place to hold their reception!

Anita

Married on 08/02/2014

Katelyn Keyes and her team are truly the best! Katelyn definitely made the wedding planning process stress free and smooth sailing! I am so blessed to have had her as a wedding planner and pulling off our special day. Everything was beautiful and we received so many compliments on our wedding and it was all because Katelyn put everything together perfectly. I couldn't have asked for a better wedding planner, she knows what she is doing! I would definitely recommend her to anyone in need of a wedding planner, and if I had to rate her from 1 to 10...it would be a 20! Whenever we needed something or had a question, she always was responsive and quick! She was always professional and even recommend some great vendors to us! I was truly amazed by that because how many wedding planners can actually bring the vendors to you to sell their services. She understood our vision and it turned out beautifully! Thank you so much again and I would highly recommend her to any engaged couple!

After comparing many different venues, we decided to book our daughter's wedding reception at the Doubletree by Hilton Minneapolis. Katelyn, the Catering Manager, was extremely helpful in assisting us in selecting the perfect room/package to accommodate a smaller reception (60 people). We appreciated that the hotel was conveniently located right across from The West End - an upscale mall with shopping, restaurants and bars. We received a special block rate for the hotel rooms, where many of us stayed, which made it convenient to coordinate meals and activities. At the reception, the room was beautifully decorated - the tables were elegant, the buffet items we selected were deliciously prepared, and the staff were extremely helpful and attentive to our needs. The reception included dancing, which made for a very fun evening. We highly recommend this venue.

Tori

Married on 07/12/2014

This hotel is wonderful! They have the best event coordinator there is. When ever I had a question Katelyn had an answer. We had our cocktail hour in the atrium and the reception in the grand ballroom. The atrium was beautiful and the ballroom was breath taking. The food and service were great as well. I cannot think of a complaint.

Great experience!
Just had my daughter's wedding reception at the Doubletree Park Place. We initlally chose this venue because of the location & proximity to West End & downtown, as well as the easy route from ceremony (Woods Chapel). We looked at a other places as a venue, but chose Doubletree because of the flexibility they provided us.
The Doubletree Event planner, Katelyn Keyes, was amazing. She gave us many options to choose from & we never felt like she was pushing us in additional costs. No matter how many questions we had (& we had a lot throughout the months leading to wedding), she was always very prompt to respond & give us any info or suggestions we needed. Very much a "can-do" attitude. She made sure the evening was off to a great start the night of the reception & checked in with us to see all was going well before leaving as dinner was served.
A nice bonus - the comped rooms the night of the wedding for the bridal suite, & BOTH sets of parents. Drink vouchers the night before the wedding were also appreciated. If there is a tasting offered, be sure to take advantage of it. Will help make decisions as to appetizers & meals. Another big plus is that we were allowed to bring in our own wine, with a reasonable corkage fee. Everything went smoothly with the vendors & the timetable Katelyn had worked out for the night also worked well.
And those Hilton Honors points are sure to come in handy!

All in all, would highly recommend Doubletree Park Place as a reception venue.

Chelsey

Married on 11/02/2013

The DoubleTree by Hilton Hotel Minneapolis-Park Place was ABSOLUTELY phenomenal! Katelyn Keyes is by far the best catering sales manager ever, she was attentive to everything, helped me out when I had no idea what I was doing, and made my big day unforgettable. The event staff was also extremely amazing, they decorated the ceremony, cocktail hour, and reception EXACTLY how I wanted it and it looked amazing beyond belief. I do not have one terrible thing to say about this place because they truly care about your day and they want it to be one you will never forget, down to the decor, food, EVERYTHING, you literally get 5 star service all around for a pretty affordable cost as well (affordable for a wedding at least). Thank you so much Doubletree Park Place for everything you did, I couldn't have asked for anything better!!!

Corynn

Married on 08/17/2013

Perfect, Perfect, Perfect!
Wow! I was so amazed with the job the Doubletree did for our wedding! Our Doubletree consultant, Katelyn Keyes, was so impressive. She answered every phone call or email within the hour and was extremely detailed and helpful. Her organization, friendliness and calm demeanor made wedding planning with her such a joyful experience! She helped us plan everything perfectly. I wasn't sure who would be able to help us set up the cocktail hour items and the reception items, but the Doubletree Staff offered to do it all! They set up everything exactly as I imagined! When I walked into the Park Place ballroom, I almost cried! Everything was so beautiful, exactly as I had imagined it, and my friends and family did not have to do anything to set it up!

The food was delicious, we received many comments on that! The Doubletree staff served the wedding guests so well, the service and timeliness was fantastic. We weren't able to make the group tasting, so Katelyn kindly set up an individual tasting for my family so that we could decide on our choices. She even set up other meetings after that with us so that we could go over details and finalize all of our information, so that we wouldn't deal with stress on the day of the wedding. Whenever I had a question about who would handle something, Katelyn promptly responded, 'We can do it!" And they sure did! They handled every little detail, perfectly.

I can't say enough about how helpful and wonderful the Doubletree was, responsive to all of our needs! It was definitely one of the more affordable options, but that did not take away from the ballroom's beauty or the staff's work. I would say this is the hidden gem of Minneapolis!

Our guests loved the location, several spent the weekend shopping in the West End area, and exploring the restaurants. After the wedding, guests were able to walk to nearby bars, so no one had to drive.
I wouldn't change a thing about my reception!

Leticia

Married on 04/14/2013

Loved this place everything I wanted for my reception they made happen

Jill

Married on 09/14/2012

The serving staff were phenomenal, catering to our every need. Many of our guests commented on how great the food was, and the service was quick, but they weren't being hovered over.

Tom

Married on 12/27/2008

Katie Diaz did a fantastic job as well as the staff at the Doubletree Hotel Park Place!! The reception was decorated soooo well...the environment was out of this world! The servers did a great job...they even had a great way to bring the food to the head table. You will have to see it for your own eyes! A++++

Kaitlin

Married on 07/21/2017

We didn't have our wedding here, but it was where we set up our hotel block. The coordinators were great, there were several we worked with or met with in person and everyone was helpful and responsive. The hotel gave us an awesome rate and it's located close to lots of food / entertainment options so it was convenient for our guests. The big selling point was that our venue was within their shuttle radius and because we had enough guests book we were able to get free shuttle service to and from the venue for hotel guests.

Julie

Married on 10/08/2016

My husband and I just got married this past Saturday (10/8/16) and we are just so AMAZED at how perfect our day was. We held our cocktail hour and reception at the Doubletree along with our Sunday breakfast. We also had our room block here and basically just spent the whole weekend at the hotel. Brooke was so fun and easy to work with through the entire process. I made a decent amount of last minute changes and she was accommodating to each one...PLUS she set everything up for me at the reception that I dropped off early in the week and also items we brought from the ceremony. The staff took on WAY more than I was expecting. The ballroom looked GORGEOUS and the food was delicious (from what I heard from guests - I barely had time to eat).

Breakfast the next day in the lower atrium area was the perfect way to end the weekend with family as well. The food was delicious and the service was amazing.

I am just blown away by the whole experience. I definitely recommend this place for your wedding or even just for an event. It is very spacious and the service is AMAZING!
Are you interested?
Send a message