243 Reviews
Recommended by 100% of couples
Quality of service

5 out of 5 rating

Average response time

5 out of 5 rating

Professionalism

5 out of 5 rating

Value

5 out of 5 rating

Flexibility

5 out of 5 rating
82 User photos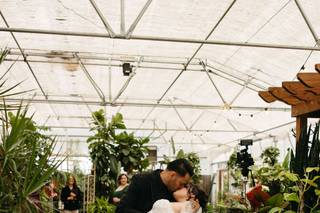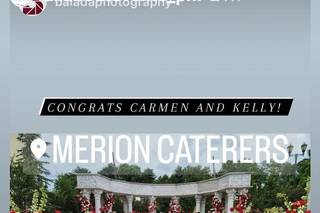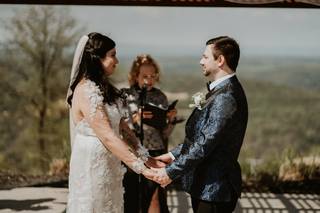 + 78

photos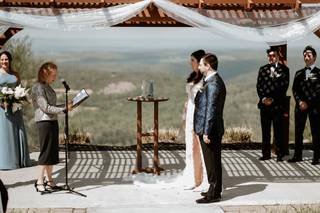 Featured

Bronte

Married on 10/03/2020

Our Perfect Ceremony

After COVID forced us to change our original wedding plans, we reached out to Lehigh Valley Celebrants with approximately 30 days till our wedding. We connected with Kiera via Zoom and our conversation flowed incredibly easily. She was so kind and warm, and made us feel completely comfortable, explained the entire process to us thoroughly and within just one hour we could tell she understood who we were as a couple -- and that we needed to have her create our ceremony. Kiera was amazing to work with from start to finish -- she shared detailed outlines, provided questionnaires, as well as tons of examples of readings, poems and quotes that we could incorporate into our ceremony--and she was always willing to answer any questions. I can't say enough good things about Kiera --- she's a phenomenal writer and is passionate about the work she does and making sure that each ceremony truly captures her client's personalities and love story. Our ceremony exceeded our expectations! It was absolutely beautiful. There were a lot of tear-filled eyes and our family and friends raved about it after saying that they love how personalized it was and that it was the best ceremony they've ever been to. The ceremony was really in one word PERFECT. It was thoughtful, romantic, lighthearted, filled with so much joy and love, and truly showcased who we are as both individuals and as a couple. There were so many magical moments from our wedding day, but I can honestly say the top one I keep replaying in my head is the ceremony. I cannot recommend Kiera (thank you so so much!) enough. She will make sure your day is unique, memorable and beautiful!

Chad S.

Married on 11/04/2022

Exceptional & welcoming!

Laura Eppler did an exceptional job as a Celebrant at my wedding. Very good at communicating to us throughout the whole process & giving us guidance & insight. Very welcoming too! Would highly recommend to her to all as a celebrant!

M C

Married on 10/15/2022

Fantastic celebrant

We had a wonderful time with Laura - we had multiple wedding guests ask after the ceremony whether the celebrant was a close family friend or family member!!

Are you interested?

Send a message

Nicole

Married on 10/08/2022

We loved working with Irene!

We are so happy we found Irene and Lehigh Valley Celebrants! When we first met Irene, we weren't sure how to connect the various milestones of our relationship into a cohesive story. At our very first meeting it became clear that this is one of her talents. We were so impressed with the way she was able to weave things together so soon after meeting us, we knew we had to work with her! In addition to telling our story better than we could, Irene shared many helpful options for ceremony details and wording and answered every question that we had. The ceremony Irene put together was so "us" that many of our guests assumed that she was a family friend of ours! Irene was a pleasure to work with and she is a very calming, kind, and thoughtful person. We highly recommend working with her for your wedding!

Erica

Married on 10/02/2022

Created a beautiful ceremony for us

Donna did such a wonderful job as our celebrant. She took in everything we suggested and created a beautiful ceremony. She even gave us suggestions that we never thought of including and they became our favorite parts of the ceremony. The most important thing to us was making the ceremony feel intimate and centered around our love and Donna did that and then some! She also did a wonderful job of including Spanish pieces or translations into the ceremony because we are an interracial couple. I cannot recommend her services enough ❤️

Carlos A.

Married on 10/02/2022

Personalized, authentic, easy to work with

We are so happy to have found Lehigh Valley Celebrants. Irene was an absolute pleasure to work with, from our Zoom meetings to contacting her in regards to any questions that we thought of throughout the planning process. We read on online reviews that some guests have found the ceremony to be their favorite part of the wedding because of Lehigh Valley Celebrants - a statement we found to be bold! Well... Lo and behold, many of our guests have said the same thing. Irene told our story beautifully and authentically. Some guests have told us it was the most enjoyable, fun, and beautiful ceremony they've been to. We can't recommend Irene enough!

Krista T.

Married on 10/01/2022

Fantastic Officiant!

We had Laura as our officiant and she was fantastic! We had a few virtual meetings and many email exchanges throughout the process. She gave us detailed guidelines and suggestions for what to include in our ceremony and was very open with the editing process. With our input, she wrote a beautiful ceremony that was perfect for us. She also helped us write our vows and gave feedback to ensure they read well and that each of our vows matched in length and tone. We had a great experience and I highly recommend Laura!

Erin W.

Married on 10/01/2022

Personalized

We had Katherine as our celebrant. She did an amazing job at our ceremony. Katherine did a great job spreading out our homework and drafts so we had a good amount of time to go over everything and be prepared. She also made sure to check in on the legal side reminding us upcoming dates. Our ceremony was beautiful and personalized. I still get teary eyed and giggle thinking about it. I would highly recommend her to any future bride.

Arielle P.

Married on 09/25/2022

Amazing Celebrants!

Irene was our celebrant and she truly brought us so much peace leading up the the day of the wedding. Every time we had a meeting with her, we fell deeper and deeper in love, and grew more excited with the day. Irene make us very comfortable, and was very thorough in gathering information about us to create our ceremony. She was open to our ideas and suggested ways to make it more personal. On the day of, she was very organized and came ready to go. I'm so glad she was our officient. It made a worlds different to have her calm and fun demeanor at our ceremony, and we felt like we were being married by someone who appreciated all that we grew to be.

Jenny K.

Married on 09/10/2022

Excellent!

My husband and I were so happy that we chose Lehigh Valley Celebrants for our wedding! Our officiant, Laura Eppler, did an absolutely amazing job with writing our ceremony! It was so beautiful and she got to know us as a couple by meeting with us over Zoom and having us fill out a questionnaire. She was able to beautifully incorporate how we felt about each other and details about us into our ceremony. She was very helpful throughout the entire planning process and responsive to all of our questions. We got so many compliments from our guests about how beautiful our ceremony was and they loved how personalized it was. It perfectly reflected us as a couple and we could not be any happier with it. We would highly recommend Laura to anyone looking for an officiant for their wedding!

Nadine H.

Married on 08/13/2022

Amazing, personalized wedding ceremony!

Lehigh Valley Celebrants' Irene Blough officiated my August 13, 2022 wedding at Bally Spring Inn and designed a beautiful ceremony! Planning our ceremony was a daunting task to us, however, we always felt that Irene provided us with all the tools and support to create a ceremony that we never imagined we would have (in a good way!) Choosing an officiant was probably the most challenging wedding planning task, but we immediately knew we made the right choice with Lehigh Valley Celebrants. Through communicating and working with Irene, we found the task to become simpler and simpler because she provided us with the different ceremony pieces and options we could choose from to make sure that it was tailored to our needs/wants. It was a relief too in the planning process to know that we could count on her quick replies, thorough answers, patience with us, and how dependable she was on the day of the wedding. Her calm nature and attitude helped us feel more relaxed and like we could settle into each moment on the day of and through planning. Irene Blough and Lehigh Valley Celebrants were hands down our most organized, streamlined, and dependable vendor we had for our wedding. They have mastered the art of working with other people: zoom and in person meetings, email communication that was personable yet efficient, and a reasonable timeline for task completion (including friendly reminders for us, where needed, we really appreciated having reminders whether or not we needed them so we felt supported and not at risk for any 'gotcha' moments in planning).
We had no idea before planning a wedding that you could have such a personalized ceremony; it was never something we had witnessed at a wedding before! We have heard so many compliments about you and our ceremony from our guests, too! Everyone, including us, loved Irene and everything she crafted for us. She is a fantastic public speaker and writer.
Receiving the ceremony script in our card box was the most wonderful surprise, and I may have shed a few tears at the thoughtfulness of that small yet meaningful touch! It will be easy to remember every detail of our ceremony in the future with this script (especially since we did not opt for videography). Thank you, Irene!


Ashley F.

Married on 08/02/2022

Most incredible ceremony

I can not say enough wonderful things about Donna - from the beginning of the process and how comfortable she made us feel to the last minute COVID changes to a small microwedding and then to the day of the ceremony itself and her beautiful ceremony. She truly made this entire experience wonderful and our guests (in-person and via Zoom!) could not stop talking about how amazing the ceremony was. It was personal, intimate and Donna took the time to listen to what we wanted and get to us know us as a couple which made her ceremony so special for everyone to witness. The ceremony was truly our favorite part of our day and we cant wait to have her again at our larger celebration next year. Again, I can not stress enough how wonderful Donna was during the entire process and how amazing she was for our ceremony. Even during these crazy times, she made our living room ceremony the most special experience of our lives! Cant wait to have her with us again next year!

Elizabeth R.

Married on 07/29/2022

A beautiful and personalized ceremony

Irene was wonderful for our wedding! She really took the time to get to know us, both individually and as a couple. Her effort and dedication were evident in the ceremony she wrote for us. We received so many compliments on the beautiful ceremony she wrote, specifically how personalized it was.

Kelly D.

Married on 07/17/2022

Very pleased

Irene speach was delivered on point and precise to our message we wanted delivered. Everyone's comments about the ceremony speach were all positive.

Kaitlyn G.

Married on 06/25/2022

The absolute best celebrant

We had the privilege of having Laura officiate our wedding and she absolutely blew us aways with the most beautiful ceremony she created just for us! She was an absolute joy to work with. We knew from our first call that we could not only trust her but that she was going to create something that was unique and memorable to us. All of our guests could not have told us more how beautiful our ceremony was. We are forever grateful that Laura is a part of our story. We definitely recommend having Laura be a part of your special day.


Amanda F.

Married on 06/25/2022

Exceeded our expectations

One of our biggest stressors in wedding planning was finding a celebrant would be make our ceremony both memorable and personal. Not knowing any close family or friends who could officiate for us made me think that we would have a hard time keeping the ceremony personal but not long after meeting Irene from Lehigh Valley Celebrants we knew that she was the perfect person to make our ceremony everything we hoped it be. Our first meeting was via zoom and we spoke with Irene for over an hour talking about our story, our lives, and our relationship. Irene asked a ton of questions and made us feel like every detail of our story was so special. She asked how we would like our ceremony to be done and offered all of the information we needed and thought of all of the details we didn't think to ask about. After our meeting she was so easy to get in contact with and led us in the right direction leading up until our wedding day. She not only sent us information on our ceremony itself but she sent great tips for rehearsal and obtaining our marriage license. After she had handwritten our ceremony she sent it to us for our approval and asked if we would like anything added, changed, or taken away. She made all of the decisions up to us while pointing us in the right direction. A week or so before the wedding we had another zoom meeting where we talked final details, pronouncing names, and timing for the wedding day. On the day of the wedding Irene arrived early and introduced herself to our bridal party and close family. She led our processional and entire ceremony with such ease and every single detail mentioned in our ceremony was so personal to us and exactly what we envisioned. We felt that every person at our wedding got an inside look at the growth of our relationship and felt the love between us blossom with Irene's words. We even had a guest approach us afterwards and say that it was the best ceremony she had ever been to. Irene truly exceeded our expectations, and we wouldn't change a thing about our ceremony. She even left the book she was reading from with our ceremony written for us to have as a keepsake which is so special to us. If you're looking for a celebrant for your special day Irene is the perfect person, she not only is an absolute pleasure to work with but she made the most important part of our wedding day absolutely perfect.

Christina N.

Married on 05/15/2022

Laura was fantastic

Laura was so informative and helpful during our meetings. She made us feel so comfortable and we had some good laughs. She took her time with you and made sure to get every detail down. She is the reason why our ceremony was absolutely beautiful. Our guests thought she did such an amazing job! We are so happy we found her! We've even recommended her to another couple who's getting married as she's that amazing at her job. She brought tears to my husband, family, and friends with her beautiful words. It was perfect and we feel so lucky to have had her.

Taylor K.

Married on 03/19/2022

Absolutely wonderful

We chose to work with Laura from the Lehigh Valley Celebrants to to create what turned out to be the perfect wedding ceremony for us. She took the time to not just get to know us personally, but also to craft a wedding ceremony that so completely and uniquely captured our values and styles. We knew we could trust her from the start with her strong speaking ability, her organizational skills, and most importantly, how her kindness made us feel so at ease. We had several meetings to talk about what we wanted our ceremony to feel like and got to be a part of the planning process. When we previewed what Laura wrote for us it felt as if she had been there throughout our entire relationship, and after the ceremony we had so many guests ask how we knew her and how she knew us so well. We are so truly grateful to have had her there to guide us, encourage us, and to articulate so well our story and the feelings we had for each other. She not only wrote our ceremony but helped us remember why we were getting married in the first place and helped us to bond over all we had been through as a couple. The ceremony is the most important part of the wedding day and choosing Laura to write and perform is what made it my favorite part.

Melissa B.

Married on 02/11/2022

Irene is Incredible!

We loved having Irene as our celebrant! She helped us understand the wedding process and all the technicalities of a typical wedding, then my husband and I picked the pieces that worked for us. My husband and I each completed a survey that helped Irene write the most beautiful ceremony. She was able to represent our relationship perfectly and encompassed every part of our love.

My husband is Dominican, and many of his family members are primarily Spanish speakers. We wanted to have our ceremony in both languages so everyone could understand. Irene was able to translate nearly perfectly, and was open to suggestions on certain phrases that may have made more sense to the Spanish speakers with a Dominican dialect.

Irene spoke with a perfect cadence, sweetly and with passion, in both languages. I could tell she was excited to celebrate our love, and she put a lot of effort into making the perfect ceremony.

I'd recommend Irene and the Lehigh Valley Celebrants to any couple!

Kelli B.

Married on 12/10/2021

Perfectly Crafted Ceremony

Working with Laura to create our wedding ceremony was such a great experience! From our first zoom call we knew she was a perfect match for us. Laura was so professional, organized and fun! She really took the time to get to know us so that she could craft a ceremony that fit us perfectly. Many of our guests said it was the best wedding ceremony they had been to. We can't recommend Laura enough!

Olivia P.

Married on 10/30/2021

Amazing work!

We loved working with Kiera! We met a few times over zoom and she was able to personalize our ceremony to include everything we wanted and represented our relationship so well! Our ceremony was perfect and we couldn't have asked for anything better for our wedding day.

Benjamin P.

Married on 10/23/2021

Best Celebrant Ever

When choosing who you want to write and perform one of the most important ceremonies of your life, choose Kiera. You couldn't hope for a better experience. When my wife and I chose her, we were already confident she would do a wonderful job. She was a family friend already, so of course we trusted her. We still managed to underestimate just how lucky we were to have her be our celebrant.

There are so many things that made working with Kiera a wonderful experience. I'll try to point out some of the highlights without writing a novel.

To start off, Kiera as a person is a delight to work with. She is interested, and personable, and above all professional. From minute one you can tell that she loves what she does and takes pleasure in doing it well. Kiera understands how much this moment means for you, and joyfully does everything she can to make your wedding ceremony as special, personal, and individual as possible.

Kiera is able to do this thanks in part to the process she follows. My wife and I were given questionnaires to fill out individually. My wife and I chose to keep our answers secret from each other so we could be surprised later. The questions included some of the obvious things. How we met, what we liked about the other person, what we enjoy doing together, but that was just the start. The questions became more specific and insightful beyond that. It was a little daunting at first, but once my wife and I dug in, we found ourselves really enjoying the memories it brought up, reliving some of the stories the questions asked for. By the end, Kiera got to know us and our story almost better than we did ourselves.

This close knowledge of who we are and what matters to us informed the tone of our ceremony, and together Kiera helped us choose what beats to include, a union ceremony, and accommodated our own particular needs for the ceremony. We wanted to stream our wedding, so one of the things we asked for was a way to include our friends and family at home, and to make the ceremony engaging to watch. Kiera provided resources for example vows, different kinds of traditions and ceremonies, and was always quick to answer any questions we asked.

Closer to the wedding, we were sent a draft of the ceremony. We walked through it with Kiera so we could tweak it to fit just perfect. She was willing to write 3 separate drafts of the ceremony for us, and I'm sure she would have done more if we wanted them.

The actual ceremony was performed with such joy and care that you could hear it in her voice. She was engaging and clear in her delivery, and was perfectly comfortable being recorded for our stream.

After the wedding, we received so many compliments on the beauty and fit of our ceremony. I'll say here what I told everyone that gave us that compliment. It's thanks to Kiera. Without her our ceremony wouldn't have been half as magical.

Thank you, Kiera. From the bottom of our hearts.

Juliann B.

Married on 10/16/2021

Laura Eppler - Don't look any further!

Laura was absolutely fantastic and I am so happy we didn't look any further. Talking to Laura was easy. She understood our relationship right off the bat and was flexible with all our needs. Not only did we LOVE her, all of our guests complimented how wonderful she was. She has a heart of gold and is the sweetest person. I can go on all day!!

Patrick H.

Married on 10/02/2021

Fantastic!

Laura Eppler with Lehigh Valley Celebrants was absolutely fantastic. The entire process working with Laura was one that was handled with care and professionalism as we prepared for our ceremony.
Our planning with Laura began about a year prior to our Wedding with a video call where she was able to better meet us and learn about our relationship. From there, Laura put together a detailed 12 month plan involving personal questionnaires for us to complete to assist her in putting together her ceremony. As we came into the final few months and weeks with Laura she provided us with an edit of the ceremony for us to review, along with recommendations on preparing our vows. You can tell that Laura put the time and attention into every aspect of the ceremony and left no stone unturned with ensuring the ceremony met our expectations.
On our Wedding Day, Laura really delivered. She did a phenomenal job in leading the ceremony and helping us as a couple feel in the moment. We received many compliments from our guests and were told it was one of the best ceremony's they have been a part of. We would absolutely recommend Laura to any couple who intends to really put deep thought into their ceremony and not afraid to go the extra step to make everything more than perfect.
Thank you again, Laura!


Allison H.

Married on 09/25/2021

Highlight of our day

We were so lucky to have Kiera Wilhelm as our celebrant for our wedding day. We can't begin to count all the positive comments we've received about our ceremony. And most importantly, it was perfect for us. Kiera was great from our first zoom call, through creating the ceremony, to the day of. She made us feel comfortable and took the time to explain our options and the pros and cons of different decisions we could make. She offered up ideas we never would have thought of ourselves but that made our wedding ceremony that much more personal and special; it could not have been more perfect. Her delivery of the ceremony was stunning as well, it felt more like a close was friend marrying us than someone we had only met on zoom a few times! If you're looking for a celebrant to make your ceremony feel like you, she's it. Thank you, Kiera!
Are you interested?
Send a message