136 Reviews
Recommended by 100% of couples
Quality of service

5 out of 5 rating

Average response time

5 out of 5 rating

Professionalism

5 out of 5 rating

Value

5 out of 5 rating

Flexibility

5 out of 5 rating
22 User photos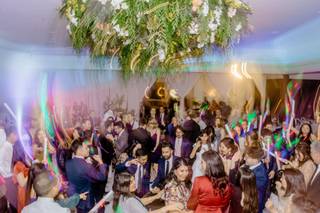 + 18

photos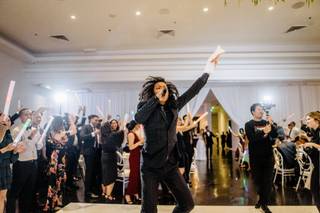 Dianne S.

Married on 06/24/2022

Best DJ Ever!

One of the most important aspects of our wedding was music. We had spoken to another potential vendor but after speaking with Rex and Amanda, we knew we had to book with Synergy Events for their DJ/MC services! Rex and Amanda were knowledgeable and great to work with throughout the wedding planning process. Moreover, they had previously worked at our venue at Millwick and were familiar with the setup, which put our minds at ease. Using their in-house wedding planning portal made it easy to arrange our song selections and program. During the week of the wedding, we met with DJ Wrex to go over the planning form and pronunciation of names. We appreciated his time and preparation for our big day, and it made us really excited for the wedding!

DJ Wrex played all of our favorite genres from Hawaiian Reggae during cocktail hour to Hip Hop during the Dance Floor portion. He also knew how to incorporate a special dance segment done by the groom and his groomsmen. However, our favorite part was the custom mix he created using our favorite songs. Our guests loved the mix and were singing along throughout the entire dinner service. Even more amazing is that he uploaded it onto Soundcloud, which is a great way for us and our guests to reminiscence. Here is a link to the mix: https://soundcloud.com/wrexofficial/michael-dianne.

One great thing about DJ Wrex is that he knows how to read the room. Many people have already commented about this, but it's worth mentioning because it truly takes skill! Our guests had so much dancing throughout the whole night even well before the dance floor was open. DJ Wrex incorporates your favorite songs and understands how to bring both the young and older crowd to the dance floor. All our guests complimented us on our DJ and we are so grateful to Rex and Amanda!

Angelica

Married on 03/12/2022

The best dj!

A coworker of mine had DJ Wrex at her wedding and after watching only a couple of videos I already knew I needed him for mine! We had to postpone our wedding a couple of times due to the pandemic but we made sure that he was available each time. He made the process so easy by providing an event planning form that we filled out and he even used our personal Spotify playlist that we made to get a feel for what we wanted. We only had one virtual meeting and that one meeting got us so hyped up for the big day. If we had any questions, him and his wife were easy to get a hold of and responded quickly. On our wedding day the music at our ceremony and reception were spot on and he kept the vibes going all night! Everyone had so much fun and even a month after, my guests are still talking about how great the music was! You need to have DJ Wrex at any of your events! You won't regret it! Thank you so much Wrex for making our big day so fun and memorable for everyone!

Melissa F.

Married on 10/02/2021

It would be a SYN NOT TO HIRE THEM because they bring the eNERGY!!!!

This review is very long overdue but so necessary!! DJ Wrex completely set the vibe for our wedding and I could not imagine what the night would be like without him. Both him and his wife were/are super friendly when meeting through zoom to discuss what our song choices would be. He also makes it easy with a form to fill out that basically outlines your reception and important song choices for the night. Also included, you can discuss and explain any genres or must-plays and any songs you don't want at your event. He also provided the uplighting at our venue and was very professional with final discussion/walk-through prior to our wedding. Needless to say, he was a guest favorite!!! He got everyone up and hyped during our wedding entrance and his song transitions are second to none. Many guests complimented us on our DJ and we couldn't be happier!! He had the crowd partying to the very last song and even had some singing along! He definitely made our wedding so memorable and special. We HIGHLY recommend DJ Wrex to anyone and everyone looking for a DJ and lighting services!!! He will not disappoint!!

Are you interested?

Send a message

Mariel

Married on 08/21/2021

seriously, stop searching for DJs and hire Wrex!

Ok now that's recovered from my 6 month long post-wedding laziness, I'm finally getting to writing a much deserved 5-star (5+++ stars actually!) review lol. After searching on various wedding planning sites and not really feeling any DJs I came across, I turned to my good friend & wedding photographer and asked him for some DJ recommendations since I know he's been to a lot of weddings. He only had one name to give me- Wrex. The recommendation came with the warning that he gets booked pretty fast. So I contacted him right away and crossed my fingers and he was available! When we had to postpone our wedding, he changed our date with no issues, though I would have planned our new date around him if he wasn't available because he was one of the vendors I 100% wasn't going to replace.

After I booked him, I realized that so many of my coworkers actually listen to his mixes on soundcloud & leave them playing at the work stations during our shifts. Then I'd feel like a cool kid saying "oh wow. he's actually my wedding DJ." lol! To which I was met with requests to come to my reception just to see him mix in real life.

The week of the wedding, we had a phone meeting with Wrex to go over the wedding song request list we had filled out for him. We went over the ceremony music, grand entrance, dances, and just the overall vibes we wanted for the reception. I appreciated having this meeting because I feel like it really helped ease my mind that he understood my vision. Like many brides, I was veryyyy specific and detail oriented during planning and the week of the wedding, I was a big ball of anxiety.

The day of the wedding, Wrex executed everything perfectly and all the songs were timed exactly how I wanted, down to the second. I think I even texted him last minute to cut and mix 2 songs together at the request of my MOH & BM who added a 2nd dance to their grand entrance and he did it with no problem. He payed such close attention to what was going on in the program that he would choose to play a song that just fit so perfectly in the moment (a speech mentioned my husband liked the group Blaque so he played them after that speech/ our interview video mentioned we connected on Star Wars and he played the theme song when it was over) & it made it so personal.

When the real party started, every song he played was on point. The dance floor was never empty! There was wall twerking, I was getting thrown up in the air, the cops came....... hahaha definitely the kind of party I wanted for my wedding! Even my Titas & Titos were so impressed with Wrex & appreciated how he catered to everyone's taste in music but didn't make it boring. I can't thank him or recommend him enough!

Jesseann

Married on 06/19/2021

Best night of my life thanks to dj wrex/syngergy events

DJ Wrex is AMAZING!! I can honestly say my wedding day was the best night of my life thanks to DJ Wrex/Synergy Events, and have to mention Ray on the Mic! The PERFECT DJ/MC duo!!! I was literally on the dance floor ALL night. The music was amazing and our dance floor was packed!! We gave DJ Wrex a list of songs we wanted to for sure play at our wedding, which he did, but his music was already amazing! He was able to feel out the crowd (I had older family members + younger friends) and he was able switch up the music based on the vibe of the guests. I got so many compliments from my family members and friends about his music. Also have to mention that his equipment set up/lighting looked awesome! We got uplights from him too and that looked amazing at our venue.

One of the most important parts of planning our wedding was the music because that's the one thing I always remember when I go to weddings and the main thing that determines whether I have fun or not lol. DJ Wrex did NOT disappoint. The music, the timing of everything, even the intro music during toasts, it was perfect. I would trust him 110% with any other event I have in the future! Excellent communication, very professional, and so helpful and nice!!

Barbara N.

Married on 09/11/2020

Best Day Ever!

DJ Wrex was the second vendor we booked after the venue! We love his mixes on Soundcloud and knew we wanted him to DJ our wedding. Our wedding was in September 2020 and although there were a lot of changes we had to implement throughout the planning, DJ Wrex always worked with us and made it happen! He knows how to feel out the vibe and got everyone to dance the night away. We had the best time of our lives, even during the pandemic... all of our family, friends, and bridal party agree! Thank you so much!!!

Marie I.

Married on 06/27/2020

Dj wrex is the best!

DJ Wrex is AMAZING!! Where do I even begin.... From the get go, Rex was very professional, had great communication, and offered so many tools for wedding planning (and not just for music). When we first reached out to him, we told him the vibe we were going for and right away he sent us some of his work and we were hooked! We literally told him what kind of songs we were into, what we want, what we don't want and he did it ALL! He scheduled multiple phones calls leading up to the wedding to make sure everything was perfect - and he delivered!

He has an online portal where you can enter all the songs you want played during your wedding. You have to pick specific songs for certain parts of the wedding and Wrex has lists that you can go through to help you choose songs for that. For example, he has songs for recessional, bouquet toss, father/daughter dance, etc... This list definitely helped us because it was 1 less thing we had to stress about/ think too much about!

We had our wedding at Hangar 21 South and the main reason we booked that venue was so that we could have the helicopter grand entrance. This grand entrance and the timing of it was very important to us. We told Rex how important this was for us and he went above and beyond to make this happen perfectly. He contacted our planner to figure out the exact timing of our grand entrance and helped figure out the timeline. The day of the wedding, Rex, our planner, MC Mitchell, & the venue all pulled together and made the most perfect grand entrance for us!

Not only that, the music the entire night was so great that everyone was on the dance floor the ENTIRE TIME. I seriously forgot to take pictures with guests because I was too busy on the dance floor having the TIME OF MY LIFE. I would try to go take a break and then another song would come on that I had to dance to! ALL of our guests were talking about the music and how EVERY song was a hit!

He can definitely feel the crowd and just go with the flow. There were MANY times where he picked the perfect songs, sound effects, just everything was PERFECT! He also encouraged us to take a group photo and we are SO glad we did! He offers so much advice - not only for music but for wedding planning as a whole!

My husband is from Philly & is a die hard Eagles fan - we had many guests from Philly in attendance. After the Best Man (Who is also from Philly) had finished up his speech, DJ WREX literally ended his speech with the fly eagles fly fight song. ALL our guests from Philly sang along and it was amazing! We did not ask him to do this - he saw the crowd, felt the vibe, and just knew what to do.

If you are looking for a DJ - BOOK DJ WREX! He will definitely bring it and he will deliver!

Pio A.

Married on 02/22/2020

Best Dj and mc combination

If you didn't know by know wrex is an amazing Dj. His music selection is on point and he knows how to keep the dance floor packed. Now pair him with Mitchell you know you'll have an amazing wedding. I just want to thank both of you guys for making our special day amazing!

Ryan

Married on 12/31/2019

The BEST in the business - Highly Recommended!

DJ Wrex and MC Mitchell are the BOMB! My wife and I booked Wrex and Mitchell for our reception at the Portofino Hotel and I can't begin to express how great of a job they both did from start to finish. The second my wife and I stepped into the venue for our 'grand entrance' I knew we made the right choice. Wrex and Mitchell know how to work a crowd and keep the fun going all night long :)

Wrex and Mitchell were attentive to every detail and request leading up to the wedding and their professionalism and personable characters enhanced the night on so many levels. At one point during the reception we had a wedding crasher (evidently it happens outside of movies, who knew!) and the way it was handled by both Wrex and Mitchell was so very impressive, hilarious, and addressed like the true professionals they both are. During and after the wedding my wife and I heard from so many guests that the DJ and MC were the best they had ever seen or experienced and we couldn't agree more!

If you have an upcoming wedding or event, do yourself a favor and book DJ Wrex and MC Mitchell stat! You won't regret it!

Justin A.

Married on 12/28/2019

The freaking best

My wedding was last night 12/28/2019. I first heard of DJ wrex and Mitchell De Guzman through my fiancé when she saw them in April. I will just say they did not disappoint and were on point throughout the whole event. These two are the fucking best in the business and trust me, your event is in good hands with these two. Thank again guys

Jennifer L.

Married on 12/14/2019

LIT AF Wedding With DJ Wrex and MC Mitchell

When I first contacted DJ Wrex and MC Mitchell, I told them that the no. 1 thing I wanted for our wedding was for it be LIT AF. And boy, did these two bring it!!! I was little nervous initially talking to them both because I was concerned about how we were going to be able to create a fun/lively vibe all while still ensuring that my husband's Afghan family and my Vietnamese family would still be comfortable. Thankfully, DJ Wrex had great suggestions for music mixes that included both EDM, hip hop and Afghan music. His mixes were so good that most of our guests (Afghan, Vietnamese, and Americanized folks included LOL) stayed on the dance floor partying it up until the end of the night! I also appreciated how much time and dedication DJ Wrex put into making our playlist. He played all of our favorites songs and made sure to "take us to EDC" for the night.

DJ Wrex's musical talents are only matched by his wonderfully charismatic and hype monster MC Mitchell! I remember months leading up to the wedding, I was in consistent contact with Mitchell and told him my concerns about ensuring that the wedding was still respectful to the elders while still being LIT. Mitchell did a great job surveying our wedding crowd, checking the pulse on guests' party levels, and keeping the energy alive all night while never once alienating anyone! Mitchell was also so incredibly respectful to everyone around him, and it helped our guests endear themselves to him and listen to his instructions for hype moments.

As a team, these two have really figured out the best strategies for keeping wedding guests happy and excited throughout the reception. From getting your guests animated for your grand entrance to maintaining maximum crowd coverage on the dance floor - they got you covered.

DJ Wrex and his team also handled all of the lighting for our wedding. We went from elegant lighting for ceremony and dinner, to EDC rave grounds for dancing/partying later in the evening.

I don't have a single criticism for these two. I genuinely and truly loved working with them. YOU CANNOT GO WRONG IF YOU BOOK THESE TWO FOR YOUR WEDDING. IN FACT, YOU WILL BE GUARANTEED THE BEST OF TIMES.

+ 4

photos

Steph

Married on 11/15/2019

Lit lit lit

If you want to throw a LIT wedding and make your money's worth, hire Dj Wrex! Him
and Mitch were a big part of our wedding. Our family and friends couldn't stop talking about how lit our wedding was! They definitely know how to throw a party. They will listen to you, only play what you ask, and still engage your guests. You can ask for a ratchet playlist and they can still make it classy. The energy will always be live! Do yourself a favor and have them for your wedding! My husband and I couldn't believe we threw that wedding. Worth. Every. Penny.

Melissa T.

Married on 11/10/2019

Extremely Awesome Experience

Thank you so much DJ Wrex and DJ Buddy!! You guys really made our wedding the BEST EVER! All of our guest said that it was the most fun night they had ever had at a wedding! Everyone is still raving about how much fun they had! John and I had an extremely awesome time! You guys are the BEST in the business!!

Melissa R.

Married on 10/19/2019

EPIC and best night ever!!!

EPIC!!!!!! DJ Wrex and Mitchell killed it at our wedding! We couldn't have asked to work with a more amazing team. From the moment we booked with them they have been the most supportive team with advice, guidance and suggestions to make your wedding a night you won't forget.

You can't go wrong with hiring this awesome team to make your wedding a day to remember! We got so many comments from our guest saying how much fun they and had no idea we were going to Vegas to party!!

Thank you DJ Wrex and Mitchell for making our wedding the most EPIC and memorable night for us! Brian and I are so honored to have you make our wedding the best ever!!

Nick P.

Married on 08/09/2019

To dj wrex

Hey Rex just wanted to say thank you for playing my music 🎶 at the reception!!! That meant a lot to me and just the time you took to look for my music is above and beyond.. I really appreciate that brother. Thanks again! 👏🏽👏🏽👏🏽🙌🏽🙌🏽

Regita

Married on 08/09/2019

Best DJ ever

We were so blessed to have won him as our wedding DJ and he was amazing, everyone had so much fun, there was nonstop dancing, I HIGHLY RECOMMEND!

Hunter T.

Married on 06/22/2019

WREX and His Squad Blew Us All Away

If you're reading this, you are probably noticing that virtually every review for a wedding DJ sounds exactly the same, "Best DJ ever!" "He killed it!" "So much fun!"

Let me tell you, stop scrolling right now and just book these guys.

I am a DJ and have shared the stage with top talent. My wife is an event planner who has a very serious attention to detail, and we wanted everything to be top notch for our big day.

To say that DJ Wrex and MC Mitchell absolutely slayed doesn't even come close to what went down. They went above and beyond what anyone could possibly expect, and my wife and I had very high expectations because of our professional background.

In addition to providing DJ Wrex with several songs to play at the standard times, such as grand entrance, cake cutting, first dance, etc., we also provided him with an additional SIX tracks which were edits and mashups that I had personally made and sent to him beforehand, and he incorporated them seamlessly.

We asked DJ Wrex and MC Mitchell to help us go through three very specific and different vibes as the night progressed – family friendly (Bruno Mars, YMCA, etc), throwback hip hop (Jay-Z, Petey Pablo, Usher, etc), and then rage (EDM, trap, dubstep). DJ Wrex must have spent hours preparing because every genre was done so well, it was mind blowing. He knew exactly what songs to play, and when, and by the end of the night, it turned into a full on rave, which is exactly what we wanted. Whatever style you're going for, or if it's a combination, you can rest assured they can achieve it.

And what can I even say about MC Mitchell? He was born to get the crowd hyped up. Before our grand entrance, we could hear the crowd roaring like it was a Beyonce' concert. His energy was incredible all the way through 1am, and he brought out the party vibes from every single person on the dance floor. You can check out his vlog of our evening at the link below.

They also provided a ton of lighting and a lighting engineer who clearly had practiced with our specific song requests and really took the whole experience to the next level.

Like I said, stop scrolling. Your time is valuable. Just book them.

MC Mitchell's VLOG: https://www.youtube.com/watch?v=C53QhwDWGnk&feature=youtu.be




Tiffany H.

Married on 06/08/2019

Amazing dj and mc

DJ Wrex and MC Mitchell DeGuzman were an awesome team. Played music from the 90s, 00s, and early 10s, and dance floor was always full and poppin which is what we wanted. Mitchell did a great job hyping everybody up and helping keep the energy up. Would definitely recommend for anyone looking for a DJ and MC team. All the guests at our wedding were raving about them afterwards.

Kathy

Married on 06/01/2019

Wedding DJ


DJ Wrex and MC Mitchel DeGuzman!!! 5,000 stars!
These guys are everything you could dream of and more.
I had been following DJ Wrex since Napster days, appreciating his keen sense of diverse eclectic melodic tunes embedded in a foundation of hip hop. So of course it was easy for me to choose him for my wedding as my DJ. I actually didn't know he did weddings, so that was a nice surprise. And no, my wedding was not all 90s hip hop. Music ranged from Hall and Oates to Cardi B.
So just to break it down a little of the dynamic duo...
DJ Wrex and Mitchel DeGuzman make the perfect couple. For every reservation, you have the free-spirit. For every punctual, suit jacket-pressed, hair-on-point type of person, you will have your trendsetter better half who can pull off any outfit. These two not only made me feel comfortable in my own skin when we talked about deets of the wedding, but they helped me dream into life the perfect wedding day, with all the advice a DJ and MC who have hosted many events could provide. And as a testament, I received multiple texts the following days from people saying they had not danced so much or felt such good vibes and energy in a very long time. Energy is definitely something you can't control, especially if you're center stage and have to be like...a bride or something :-P, so trust these guys to direct the night to a success. All ages and all backgrounds enjoyed what these two brought to our wedding!
Love ya'll!!
The Drinkwaters


Cherisse M.

Married on 04/13/2019

Hands down Best wedding DJ ever!!!!

Wrex and Mitchell are the best wedding Dj/MC duo out there! My husband and I just got married on April 13th and we still can't get over how amazing the night was. Our guests can't either, we are still getting tons of compliments about how insanely on point the DJ was. We have been to multiple weddings where the DJ and MC didn't know how to keep the wedding guests interested. This is one thing we didn't want at our wedding. We wanted to make sure people were constantly on the dance floor!!! Wrex definitely delivered this!!! He played all the old school jams to the point where my friends got out of their seats and started signing the songs out loud! It was AMAZING! Hearing everyone sing musiq soulchild together was probably one of the highlights of our wedding. Wrex and Mitchell have the perfect chemistry that made our wedding so much fun!

His ability to keep the crowd moving is one thing but his professionalism is another characteristic to note. Wrex goes over in detail the song choices from the grand entrance to the very last song of the night. He makes great suggestions and knows when to drop a beat at the perfect moment!

Another great surprise was the special mix he put together for us! It had all of our favorite songs. It was probably the best wedding gift we have received. I can't say enough about my experience with Wrex! Please book them and book them fast! I everyone had them at their wedding so they can experience the fun we had!

Nancy

Married on 12/15/2018

Perfect DJ and MC duo!

Hiring DJ Wrex and Mitch to DJ and MC our wedding was one of the best decisions we've ever made!! My husband and I had one face-to-face meeting with Wrex to sign our contract and a phone meeting with both Wrex and Mitch a few weeks before the wedding. Prior to the phone meeting, Wrex sent over a questionnaire so we could provide details about the wedding and the questionnaire was reviewed during the phone conference. They were very dependable and communication was consistent.
Wrex was amazing! I requested a specific part of a song for the ceremony; he created it, sent it over, edited it to make it even better and sent another version! His attention to detail was awesome. The music was exactly what we wanted. Our guests were so hyped, they started dancing during dinner and the dance floor was never empty throughout the evening.
Mitch's energy was awesome!!!!! During our phone meeting, we reviewed the pronunciations of names and they made suggestions to help with the flow of the events. Mitch did a great job hyping up the crowd during the grand entrance!!! He kept the energy going throughout the wedding and was so much fun!
We got married January 2019 and we are still getting compliments about Wrex and Mitch and how fun they made our wedding! I would highly recommend booking Wrex and Mitch as your DJ and MC. They went above and beyond their duties and made our wedding memorable! They were reliable, professional and FUN!!


Charlie

Married on 12/15/2018

Amazingly fun!

Cannot say enough about how awesome of a job Wrex did at our wedding! He totally rocked the crowd and I don't think there was a time when people weren't dancing. I can't say I ever saw a table full from people just watching others dance - There were at LEAST 3-4 people from each table dancing the entire night. We gave him a general playlist, and based on what people were jamming to, he filled in the rest. Friends and family are still saying how fun our wedding was because the music was on point. Wrex, teamed up with Mitchell, totally made our wedding 10x better than I could've ever imagined. Highly recommend!!! Thanks, Wrex!!!

Bryan C.

Married on 12/07/2018

Best in the Business.

Dj Wrex is the Dj you must have at your wedding or any special event you throw. He Dj'd me and my wife's wedding reception back in December, and the dance floor was never empty. He listened to what we wanted to be played throughout the night, and he exceeded those expectations. Not once the whole night did we say, "What? Why is he playing that song?" Multiple guests came up to me and said "this is the best playlist we have ever heard at a wedding!" The only thing I was sad about was not being able to hear what he played before we entered the reception area because I was told by some of my friends that everyone was already hyped before our entourage even entered. He made everything so pleasant for me and my wife by being so detailed oriented. He could have just played music he wanted at certain parts, but he gave us our choice to each and every one of those parts. Dj Wrex is one of the coolest and chillest guys I have ever met. He really wants to make your special day, a day to remember, and without a doubt he did.

If you have Dj Wrex, it is mandatory that you have Mitchell there to MC your event. Wrex and Mitch go hand in hand. Mitch is what Robin is to Batman, John C. Reilly is to Will Ferrell, Kel is to Kenan, you see where I am going. I am not going to lie, I was skeptical at first of Mitch because I thought he would be over the top and that he would be too much for my guests. However, that was not at all the case. There was never was a dull moment with Mitch, and he had everybody laughing and involved. Mitchell knows the right things to say at the right time, and definitely knows how to work the crowd. My wife and I cannot thank Dj Wrex and Mitch enough for playing a huge part for our wedding day.


Claudine M.

Married on 11/18/2018

#HappilyEverArca2018

#HappilyEverArca2018

How do i start this review? There is so much to write about DJ Wrex and MC Mitchell. Maybe i can give you a rundown of everything? 😬

- DJ Wrex and MC Mitchell are amazing and kind professionals.
- They never fail to ask their clients about their expectations with their event. They are very good with communicating with their clients. 👌🏼
- DJ Wrex communicated with me and my now husband regarding the timeline of the ceremony/cocktail hour/reception. He gave us pointers that will help with the flow of the wedding. He listened with our requests towards how we want the ceremony/cocktail hour/reception vibe to be. He EXCEEDED our expectations with how he played the music throughout the whole event. I'm telling you, from start to finish, our dance floor was never empty. All ages were grooving 👶🏻👧🏻👩🏻👨🏻👵🏻🧓🏻💃🏻🕺🏻
It was amazing to see our guests having fun on the dance floor. In DJ WREX we TRUST 🙌🏻💯
-MC Mitchell communicated with me days before the wedding with regards to the pronunciations of our wedding party. He made time out of his busy day to learn all of the names and boy do we have a big entourage and even before the grand entrance, he asked each person to see if he got the pronunciations right. 👌🏼Communication with this duo was never tough. With regards to the wedding, MC Mitchell gave it his all. This man is an energy machine. He was able to pump up the crowd with his energy and MC skills. From our grand entrance to our last song, this guy's energy didn't dim down, which transferred to how the crowd's energy was the whole night. Mitchell brought us to another dimension! 🔥🔥🔥 He definitely was one of the reasons why our wedding was EPIC and truly MEMORABLE.


P.S. (: up until now, people are still talking about our wedding and first thing they compliment was our DJ and MC :)

- If you ever need someone to DJ and HOST your event, book this amazing DUO, cos honestly they are worth it and they are the BEST IN THE GAME!!! 💯💞🔥


Jeffrey G.

Married on 11/10/2018

Best dj/mc duo in the game!

If you are having a wedding and you don't have DJ Wrex and Mitch controlling the turntables and mic, you are missing out on one of the biggest highlights you and your guests will remember! My wife and I got married 3 weeks ago and we still get friends and family telling us how much they enjoyed our wedding and how much fun they had on the dance floor! We received nonstop compliments on how great DJ Wrex and Mitch were that night. The dance floor was never empty! We personally loved how hyped our grand entrance was! These guys are as professional as they come. We met up with DJ Wrex to go over our timeline of the night and he made the process very smooth and stress free. Mitch took the time to give us a call and go over correct pronunciations of everyone in our wedding party. We are a Filipino couple. And if you know anything about Filipinos, we have huge families. If you want a boring basic wedding, these guys are not for you. but if you want a wedding that you and your guests will remember for weeks to come, book them immediately! There's a reason they are booked almost a year in advance. The HYPE is REAL!!
Are you interested?
Send a message