Reviews
5.0 out of 5 rating
Quality of service

5 out of 5 rating

Average response time

4.9 out of 5 rating

Professionalism

5 out of 5 rating

Value

4.9 out of 5 rating

Flexibility

5 out of 5 rating
99%
Recommended by couples
4 User photos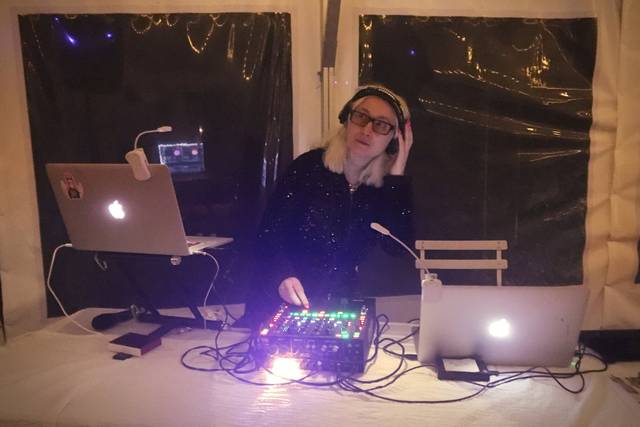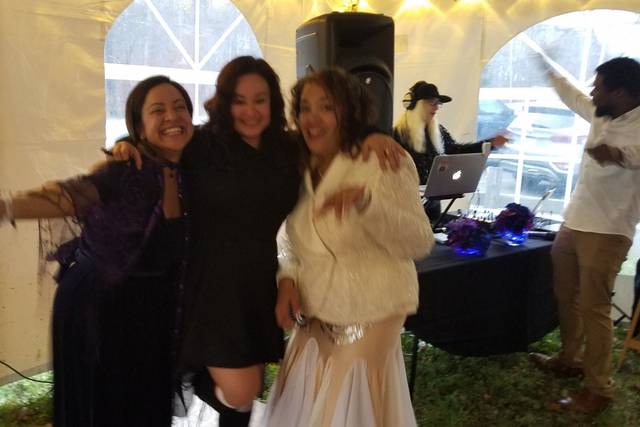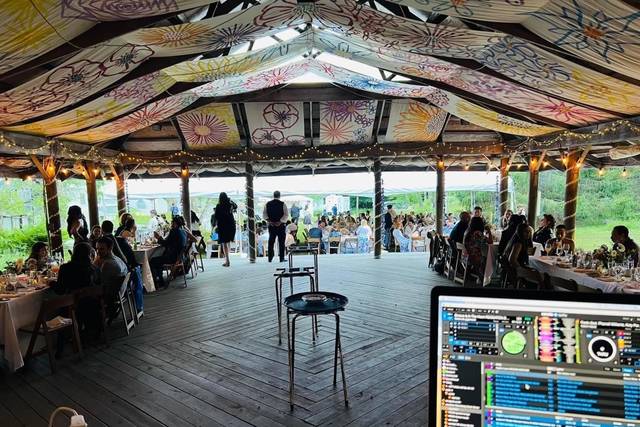 Dhebora B.

Married on 06/10/2023

Amazing dj

Julie is amazing...we had a great time in the wedding with her!

Damon W.

Married on 06/10/2023

Flawless execution, then rocked it on the dance floor

I always loved DJ Shakey, and she didn't disappoint at our wedding! Our pre-wedding discussions on what we wanted were very clear and straightforward. She did everything right with the processional, recessional, announcing speeches, etc. And then completely rocked it on the dance floor; quite a few of our guests complimented us on our DJ choice

Moldover M.

Married on 05/30/2023

Whole Lotta Love!

I cannot thank DJ Shakey enough for all her hard work and positive energy throughout the process of pulling off our beautiful, but complex, international wedding.  I've been a fan of hers in the underground music scene for many years but never had the pleasure to appreciate her DJ work from the perspective of a wedding client until now. Seeing her take a ridiculously hodgepodge collection of requests and turn them into a coherent (and frankly awesome) soundtrack to get married to, AND expertly deal with all the hassles that go along with the general role of wedding-DJ, I now have a much greater appreciation for her deep musical knowledge, skill, and wisdom. I heard so much of what I adore about all of Shakey's music (the desire to rock a dance floor, educate some ears, and to share a bit of her loveable musical identity) in all the mixes she did for our wedding. Outstanding work!  Thank you so much!!!

Are you interested?

Send a message

Anna S.

Married on 05/21/2023

Hired Dj Shakey for my wedding after years of attending events when Dj Shakey performed

I've known Dj Shakey for years and have attended numerous events with Dj Shakey on the lineup or solo. When it came it my own wedding, it was a no brainer for me to hire her, not only for our shared music sensibilities but Also for her 1) experience as a wedding Dj 2) professionalism and responsiveness and 3) incredible music versatility. While I may like a specific genre a lot, Dj Shakey helped balance the wedding playlist flawlessly so that everyone had a great time. She was thoughtful about the details for venue considerations and gave a lot of guidance on that as well.

Chris C.

Married on 11/12/2022

DJ Shakey Rocks!

Julie AKA DJ Shakey performed at my now sister-in-law's wedding back in 2009 and was tremendous and my now wife and I knew when planning our wedding she was the first vendor we needed to book. She was both professional and thorough along with laid-back and encouraging of what music we envisioned for the day.

Moreover, she worked great with our other vendors - the venue especially - to figure out sound solutions. Day of went perfectly from the ceremony and cocktail hour to microphones for the speeches and extra hour of music to cut loose.

Ultimately, we couldn't have asked for a better DJ for our wedding and we are excited to have been the first wedding DJ Shakey managed that included the Minutemen and Three 6 Mafia in the setlist. We wholeheartedly recommend her for your special day. Thanks again, Julie!

Jason L.

Married on 10/31/2022

Shakey knows how to get things shaking

I have known DJ Shakey for some time. She is a veteran DJ in the NYC underground scene. I hired Shakey to DJ my wedding in up-state NY. She arrived on time and proceeded to play exactly the tunes we wanted to hear for the first part of the set. For the second part of the set, she let loose with the kind of beats that got things moving, including a somewhat reserved retired federal magistrate that found her way to the dance floor. I can wholeheartedly recommend DJ Shakey for your wedding. Whether you prefer the classics or cutting edge EDM from the underground, Shakey has what you are looking for.

L.f

Married on 10/15/2022

Excellent!

Julie was an absolute dream to work with. Highly recommend!

Shaun E.

Married on 09/24/2022

Book dj shakey now for the best party of your life!

DJ SHAKEY IS IT! You do NOT need to look any further for the greatest, grooviest, hippest, chillest DJ there IS! You and your party will be SHOUTING DJ Shakey's name at the end of your event - we sure were!

She understood the mood of the room for EVERY moment! She predicted what we wanted to hear, and she presented songs that made everyone SCREAM with excitement! We had a Studio 54-disco wedding, and she mixed up 70s classics with 2000s grind music - it was UNREAL!

Not only did she know exactly how to get the party going, she was so spot on with every music cue in our ceremony, she was a SUPERB emcee, and was so communicative, helpful, and willing to help us throughout our entire wedding planning process. Nothing I can write will capture the sheer GENIUS of Shakey.

Please book her for your event, you will have the best damn party of your LIVES!


Cat F.

Married on 09/10/2022

Professional, creative & goes the extra mile

Julie (DJ Shakey) is a consummate professional. She is extremely responsive and incredibly easy to talk to. Julie is an expert at what she does yet she doesn't have ego. She also goes the extra mile: my venue wasn't being responsive or helpful. Julie offered to reach out to them directly and delicately (and persistently) communicated with them until they were able to supply the information she needed. She is personable; talking to her feels like talking to a friend. It's no surprise that she is respected member of the DJ community. We'd recommend her in a heartbeat.

Emily C.

Married on 07/04/2022

The best profesh

Love working with this consummate professional always keeping it fresh and funky and flexible.

Jonathan S.

Married on 07/03/2022

Shakey Made the Night

We've known Shakey as a party DJ for years, and so when we decided that a typical wedding DJ just wasn't going to cut it, we knew exactly who to call. She is a true master. So many of our guests told us how blown away they were by the music and the dancefloor energy. One couple that we invited hired her on the spot to play their wedding. Julie truly knows how to make an incredible party, and we'll be forever grateful for her contribution to our wedding.

Katherine M.

Married on 05/21/2022

DJ Shakey - Queen of Vinyl

Julie absolutely killed it at our wedding. Music and vinyl are super important to us and she was an integral part of our party. Communication was always easy with her and she was able to incorporate traditional Croatian music with our vinyl American jams (not an easy task)... with great finesse. She is a true professional and artist. Thanks Julie!

Darren B.

Married on 04/09/2022

Amazing all around! Book ASAP

Julie / DJ Shakey had our wedding party on the dance floor all night.! She was extremely responsive from the first moment of outreach and a true professional. We had a few calls leading up to the party discussing run of show and some of our thoughts on music. Everything went off without a hitch as she would be right on cue timing wise for everything we spoke about.

DJ Shakey delivered from the first dance to the Mr. Brightside closer! She even put together a few custom mash ups based on the varied taste of my wife and I. Everyone could not stop raving about the music. We could barely find anyone with pictures and videos of the evening since everyone was breaking it down.

I could not recommend her enough for your future wedding, bar/bat mitzvah or casual party!

Kelsey E.

Married on 12/18/2021

Chillest DJ!

Julie was one of the first vendors we booked for our wedding. From our initial phone conversation, we really liked Julie's vibe: low-key, kind, calm, flexible, reliable, etc etc. This was so helpful, particularly planning a wedding during the rise of the Omicron variant. (Also, we are from NJ and were wary of the super-macho, cheesy, Jersey Shore wedding DJ--but she's not like that at all). Julie provided the perfect music for our ceremony and reception, and we all had SUCH a great time dancing under a disco ball. Thanks so much again!

Greg K.

Married on 11/10/2021

Great experience

DJ Shakey was reliable, professional, and help us get our evening right when it came to the music. Thanks!!

Hilary K.

Married on 10/24/2021

The best!!

We are so grateful and happy we found DJ Shakey, she was absolutely amazing at our wedding. We were looking for someone who wasn't your classic "wedding DJ", and Julie was exactly that. She was so easy to work with leading up to the date, and took the time to make sure she understood what we were looking for. We had some special requests for Israeli music which she was totally open to and did an amazing job incorporating throughout the night at the wedding. We wanted the night to just feel like a party - and it was! Everyone was on the dance floor all night, including my parents haha. Hire her now! Thank you so much Julie!!

Zack F.

Married on 10/10/2021

DJ Shakey was amaaaaazing!

Shakey really helped make our wedding super special. The night flowed so well because of how she weaved together all the music. From dance classics to 90s hiphop to Cumbia, Shakey gave us everything we asked for and so much more. I couldn't recommend her any more strongly!

Caroline B.

Married on 10/03/2021

Loved DJ Shakey

DJ Shakey was amazing! She played great music and worked with us a lot on the set list before the party. She was very professional and we felt we were in good hands. One less thing to worry about as the big day approaches!

Carrie B.

Married on 08/28/2021

Excellent job in short order!

We were recommended DJ Shakey (Julie) after our DJ realized she had double booked herself just a month before our wedding date. We are SO grateful that Julie was able to step in at the last minute and drive up to the boonies from New York, first of all because we needed a DJ, and secondly (and more importantly) because she did an awesome job, was really thoughtful about making sure she was putting together a good play list for us, and was really communicative. So so many compliments from our guests on her music choices and mixes, and she is a really chill and cool person to boot :) Highly recommend!

Emma

Married on 07/10/2021

Best dj ever

DJ Shakey was absolutely fantastic and easy to work with from start to finish. She was so flexible and helpful when we had to reschedule due to the pandemic. Then, when we finally got to have our big day, she rocked it!! Everyone was on the dance floor the whole night long and it was everything I could have hoped for. Make sure to book DJ Shakey!!

Rochelle

Married on 08/17/2019

Shakey rocked the party!

DJ Shakey did a really amazing job at our wedding. In addition to playing an awesome selection of songs, she handled a lot of logistics like coordinating different songs during our ceremony, setting up speakers in multiple locations, and introducing the speeches. When the dance party started DJ Shakey really rocked it and people went wild (there was line dancing, a mosh pit, and crowd surfing, but if you want something more peaceful we're sure she can deliver that too). Shakey is really easy to work with, super nice, and very professional - we definitely recommend her for your wedding!

Paige

Married on 08/10/2019

Perfect Collection of Music We Loved and Could Dance to!

We met DJ Shakey at another friend's wedding two years ago and knew we had to have her at our wedding! She took the time to discuss the schedule of the night with me and made sure all our favorite songs were played. My guests and I danced ALL night and had the BEST time on the dance floor. We couldn't have asked for a more perfect collection of fun, dance music for our wedding! Not to mention, Julie is the nicest person and so easy to talk to and so flexible! Perfect night :)

Grace

Married on 07/20/2019

Thank you!

Dj Shakey did an awesome job for our wedding - thanks for capturing our musical taste perfectly!!

Yaelle

Married on 12/08/2018

Hire DJ Shakey Now!!!!

Julie made our party amazing. We cannot recommend her highly enough. We danced the night away and she was so awesome to work with!

Evan

Married on 08/04/2018

Shakey was an absolute dream to work with. I've danced to her DJ sets many times and knew she had a reputation as a top shelf wedding DJ. When time came for me to find a wedding DJ she was the first person I reached out to. Shakey not only made it incredibly easy to articulate our musical vision for the reception, she also thoughtfully educated us on what works best, musically, for a wedding like ours. Hard to put a value on the confidence that came from knowing that we were working with someone who has thousands of hours of experience doing something so important as setting the vibe for our wedding.

In the above and beyond category: she also rented us the DJ equipment and soundsystem, set everything up and coordinated with 2 other DJs we also had to make sure that the night flowed smoothly. And it really did. First dance was perfect, the hora was beautiful chaos, and the dance party afterwards had all 3 generations from both of our families shaking it on the floor. I really couldn't be happier with how the music turned out. I'm also not surprised at all, because I knew from the start that Shakey was a true master.
Are you interested?
Send a message