184 Reviews
Recommended by 100% of couples
Quality of service

5 out of 5 rating

Average response time

5 out of 5 rating

Professionalism

5 out of 5 rating

Value

5 out of 5 rating

Flexibility

5 out of 5 rating
23 User photos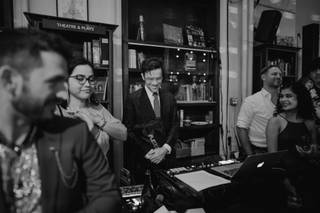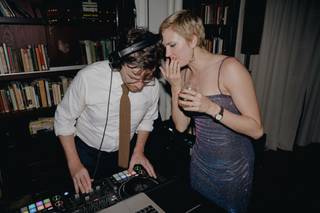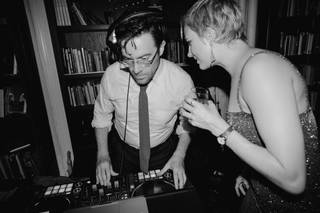 + 19

photos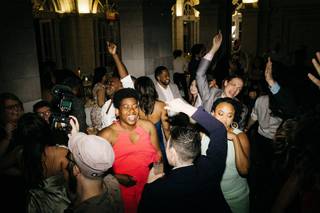 Jamie J.

Married on 04/22/2023

Hiring James was the best decision we made for the wedding!

My now husband and I aren't huge on dancing/loud music, but needed a DJ for our wedding, and found James through recommendations (and everyone recommends him who knows him for good reason!). Every step of the way James was a BLAST to work with, and made everything easy. On the day of the wedding, he helped everything to flow SO well; the music he played was fantastic and had everyone dancing, including us and our shy-er friends! I cannot recommend James enough to anyone looking for a DJ-this was the best decision we could have made for our special day!

Tony

Married on 03/25/2023

Best DJ Ever!

My wife and I just got married at the Wythe Hotel this past weekend. Last year, when we were interviewing DJ's, we liked talking with James the best by far. He was extremely personable, easy to talk to, and a true professional throughout the entire experience. He was probably our favorite vendor we worked with during the entire wedding! He really knew how to read the room and play the right songs and the right time. And all of the timing, from the ceremony, to the speeches, to the reception were perfect. Highly recommended, and I would definitely hire him for my next wedding (just kidding :D)!

Kelsey

Married on 03/23/2023

You NEED James!

My (now) husband and I were planning to contract James for our wedding, but decided to elope at the courthouse instead and had James DJ my birthday party at a bar & party space in Bushwick, NYC. As I had formerly worked events at The Wythe Hotel in Brooklyn, I had already seen James DJ tons of weddings and witnessed first-hand his incredible ability to keep people on the dance floor all night long, and he did not disappoint for my birthday party! We had a super diverse mix of personal and professional friends and he kept EVERYONE on the dancing while keeping the playlist super spot on to my music taste (shared via a very eclectic Spotify playlist ahead of the event, so this was no small feat!).
Texts I received from friends afterwards described our hours spent dancing as 'healing', 'freeing', and an 'absolute blast' - and I could not agree more. So, TLDR: having wedding or just a fun party: you NEED James!

Are you interested?

Send a message

Kevin M.

Married on 03/18/2023

The Best Wedding DJ in New York

We worked with James Mulry for our recent wedding in NYC (Second in the Kimpton Eventi), and he was a dream DJ. He made the planning process so easy by offering smart suggestions that matched our desired style. We were looking for a specific tone for the party, and James just "got it" instantly. On the day of the wedding, his DJ skills were flawless--So many guests came up to us saying that it was the most fun they ever had dancing at a wedding. Do not hire anyone else!! James is the best!!

Alexis W.

Married on 02/11/2023

Best dance party

Hiring James Mulry was one of the best decisions we could have ever made for our wedding. James kept the dance floor alive the entire night, with both families and our friends. We especially loved his recommendations, and the process leading up the wedding was very thorough. James is a pro, and ready to answer any possible questions with a number of thoughtful solutions. I think his background in nightlife helps give James an advantage, and he's the perfect choice if you want a fun contemporary wedding that isn't traditional. We had a blast dancing to everything from Pixies to Sophie to Weezer to Donna Summer. James really spent time getting to know us and our musical taste beforehand, and this was very clear in his DJ set during the reception. We couldn't recommend him enough. If you want your guests to be talking about how fun your wedding was for weeks, definitely hire James Mulry!

Krista P.

Married on 12/31/2022

The G.O.A.T

I think I'm still recovering from dancing all night at my wedding from almost two weeks ago, and it's all thanks to James. His professionalism, communication, attention to detail, fun energy and knowledge of the wedding industry is unmatched, and he helped us throw the best New Year's Eve party we could have ever imagined. James did not miss a single music cue and kept our guests on the dance floor literally ALL NIGHT. He is the best! Do not look any further for your DJ needs—hire James!!!!

David

Married on 11/12/2022

Dynamite DJ Delivered!

James Mulry. A music magician. A soldier of sound. A rebel of rhythm. Our great photographer recommended James to us. As soon as we met him, we connected with his energy, his desire to know us as a couple, was extremely well organized, helped plan in advance, listened carefully, and happily made suggestions from his own curated music knowledge. The day of, James was professional, entertaining, spot on paying attention to the vibrant crowd and engaged our family and friends with an ongoing perfect play list. Following the moods throughout the afternoon and evening. James, was most concerned with the music, as any DJ should be. So as wanted and needed, we did not need any fancy ridiculous blinking lights and the silly club atmosphere. James brought sophistication and class to our elegant once-in-a-lifetime moment. He respected and followed the rules of our venue - the beautiful Prospect Park Boat House. He worked outside for the ceremony and seamlessly worked inside for the reception. He also respected our concerns regarding health risks/COVID (We had some immune compromised guests at our wedding). We wish we could have our wedding yearly, in particularly, so we could have James once again be part of our party. He's a true artist in tune with his surroundings and the beats, symphonies, and hot diggity rock-n-roll he delivered! Everyone should have James part of their event.


Maggie S.

Married on 11/11/2022

Best DJ of all time

We absolutely LOVED James and were so glad that he was a part of our wedding at The Castle by Marlow Events in Red Hook, Brooklyn. Not only does he have exceptional music taste but he was so easy to work with through the whole process. He felt like a friend, super supportive and willing to make it all happen. He was also extremely professional, you can tell he knows exactly what he's doing on all fronts – from planning to playlist making to emceeing to making sure all of the dads knew how to speak correctly into a microphone. He was able to take my eclectic music taste and make it into an experience that all of our guests loved. I also really appreciated that he vibe-checked with me a few times throughout the night (and gave me final approval on shooting down a cheesy song request that he correctly guessed I would not have enjoyed). And his dance party skills are unmatched. To quote my friend who came up to me mid-party, "All chutes, no ladders." Could have danced all night. Highly recommend James to anyone considering him. 100000/10.

Marisa

Married on 10/28/2022

The bessstttt


If you want your guests on the dance floor all night - you NEED to hire James! My husband and I were picky with who we wanted to DJ because they play such an integral part in the night. We knew we wanted who could manage a crowd and play some amazing music without overpowering our event (ya know what I mean). We met James through our wedding planner and my husband and I instantly fell in love with him. I swear we were talking about how great we thought he was for days after our first meeting. James was so organized, thoughtful, and friendly throughout the entire planning process. He reminded us of deadlines for music choices, provided lists for inspiration and listening, and was incredible about merging our taste in music into something cohesive and fun (we like A LOT of different genres). On the day of, it felt like we had a close friend DJing for us. To no surprise, the dance floor was packed the entire night and we had people commenting all night how amazing the music was (and some maybe liked James a little too much LOL 😉). From reminding me to eat, to transitioning from location to location seamlessly, to laughing with us about a wild guest - James was really just the best. I'm not kidding when I say everyone was on the dance floor, even our "I can't dance" guests! Thank you James for everything! We miss ya! If you're looking for the perfect DJ - look no further.

Ashley E.

Married on 10/21/2022

10/10 Highly Recommend!

We were so happy we went with James for all things wedding music. Having never planned a wedding before, my husband and I were completely lost about the flow, timelines, logistics, etc. Throughout the entire process with James, he was so professional and collaborative, answered all of our questions, worked directly with our ceremony musicians the day-of, and went above and beyond to make our day absolutely perfect. As a couple, we opted to forgo a few typical wedding ceremony and reception traditions and James was able to not only be accommodating to our wishes, but also offer innovative and fun suggestions for alternatives. My boomer father (who until our wedding assumed all DJs looked like they were ready to play a 7th grade gymnasium dance in a flat billed hat and jeans) was probably the most shocked when James showed up in a tux looking snappy, dapper, and professional. His vibes and appearance absolutely matched his level of service. Guests are STILL months later complimenting our music and seamless flow of the entire night, all thanks to James!

Jenna F.

Married on 09/24/2022

Best DJ Ever! 5 Stars is not enough

We hired James for our wedding celebration, and it was one of the best decisions we made. You can tell upfront that he is the ultimate professional through the questions he asks and the care he puts in to really getting to know how you want the event to go in advance. During the event, he kept the celebratory energy high the whole night, and also perfectly orchestrated each phase of the evening. Every song exactly nailed our tastes, and the vibe we were looking for. It was truly the best dance floor I could ever imagine thanks to his expertise. We kept hearing repeatedly from friends and family who attended about how awesome our DJ was (and we wholeheartedly agree). I would highly recommend James to any couple, or anyone looking to have an excellent party!

Wes S.

Married on 09/21/2022

James Mulry is a phenomenal DJ (and likely a witch)

Do you remember that scene in Hocus Pocus where Winifred Sanderson and the Sanderson sisters sing "I put a spell on you" and the adults dance non-stop into the night? Well, now presenting James Mulry, who is essentially Bette Midler/Winifred Sanderson in DJ form.

We're so glad we chose James for to DJ our wedding reception at House Works Bookstore in Soho this Fall. He is a phenomenal artist (maybe a witch??) who holds that precarious line between professionalism and fun with perfect ease.

James is a genuinely kind, funny and interesting person who carefully listened our "must haves," provided feedback on our playlist based on his experience, and helped curate our timeline to make sure his cues were seamless. He also made sure we had an open line of communication all the way up until the big day. The true MVP move was when he helped make sure our disco ball was properly set up and rotating - which was definitely not his job, but indicative of how he really goes above and beyond.

I've said it before and I'll say it again: James essentially murdered our friends and family with his killer beats at our reception. And we were NOT mad about it! No mercy was shown. He had everyone —across ages, friend groups, dance skill— grooving for hours. There were no survivors.

Andrew S.

Married on 09/18/2022

Wouldn't want any other DJ

James was the best DJ we could've asked for. He has such a passion for music in general and he does such a great job at making a playlist that is tailor-made to your specific tastes. He also offers up a lot of great suggestions how how the night should go musically speaking and I really felt like he understood what we wanted out of the night, and flawlessly executed. He really was able to do it all and I would absolutely work with him again.

Sean R.

Married on 09/05/2022

Beyond amazing

James was everything we could have asked for in a DJ and more. From our first phone call to our last dance, he was a pleasure to work with. We threw a range of genres and decades at him, which he crafted into the perfect wedding soundtrack that got everyone up and dancing. From family to friends, old and young, everyone complimented us on the music — even the venue staff! Now we just need to plan another big event so we can get to party with him again.

Jenny R.

Married on 08/06/2022

Better Than The Band

When you're planning a wedding, you have to make a lot of compromises. Are you splurging on the booze? The flowers? The music? Well, I'm here to tell you on the other side of our wedding that I never once felt like choosing a dj over a band was a compromise. But that's really all because of how special James is specifically. We got married at Gather Greene in the Hudson Valley town of Coxsackie (in upstate New York) just mere weeks ago and I can't even begin to express how incredible it was to work with James. And that's not just because he's *so* on top of things (there's so much more organizing, sound checking, wrangling, schedule keeping, mc-ing and other work involved with djing that it never even dawned on me to think about), or that he allowed us to dictate the vibe and specific songs we wanted to hear while adding his own flavor to beef up our list, but it's really in the quality of the work and small details that play a HUGE role in your day that James sets himself apart. Here's the perfect example: During our ceremony, our officiant called out a joke that had recently developed around me not having heard of the song "Escape" by Enrique Iglacias. It was a song my now husband and our officiant (friend) loved from their youth, and we hadn't included it on our list of must plays. But James, listening perceptively during the ceremony intuitively knew that it had to come on our playlist and spontaneously added it. The crowd ROARED, and the party that erupted around my husband and his friend as they broke out into a dance to the song is hands down one of my favorite moments of our wedding night. It was one of those unplanned, incredible moments that really just adds to the magic of the night. Similarly, when my sister who I had vehemently told before the wedding she couldn't lead a line dancing lesson at our party asked James to play the Boot Scootin' Boogy, he checked in with me, again intuitively understanding from our previous conversations during the planning process that I just wouldn't be down with that and squashed it before our party took a turn we wouldn't have wanted. These are the kinds of pivots and additions you're just not going to get from a band. Lastly, I didn't expect we'd get SO many comments from guests on how incredible the musical transitions were, or how much they loved the playlist ("I don't want it to ever end!") but those comments kept rolling in on the night, and still are weeks later. In my opinion, the music is a huge part of the FUN factor of a wedding, and I couldn't be more grateful we chose James to dj our event.

Robert S.

Married on 06/20/2022

An amazing DJ - highly recommend.

James was our DJ for our wedding at Celestine Restaurant in DUMBO (Brooklyn, NY). He was a pleasure to work with as he was very relaxed and catered to all of our requests and needs. The way he carried himself throughout the ceremony, reception, etc. is second to none. We appreciate everything James has done for this wedding and would highly recommend him to anyone in the future!

Danielle T.

Married on 06/04/2022

The best. Period.

James was one of the best choices we made for our wedding at The Halyard in Greenport, on the North Fork. His musical talent and ability to read the room kept everyone on the dance floor all night long and his attention to detail and MCing skills ensured a flawless execution of our timeline (without being corny, which is what we were looking for). James knows his stuff. Both music-wise and wedding-wise, James was on it—balancing guests of all ages and from both coasts with smooth transitions and a progression that took the vibes from fun to party and brought even guests who never dance at weddings out on the dance floor. Ultimately, James created an EPIC night, not only for us but for all our guests, with multiple people coming up to us throughout the night saying how amazing our DJ was and that it was the best wedding they've ever been to. Not only was James amazing to have on our wedding day, but he made the planning process so easy and seamless as well. He's quick to reply, gives great advice, jumped right in to create our wedding day timeline within minutes when we didn't have one, and even went to visit our venue prior to the day to ensure everything would go smoothly. James went above and beyond to exceed expectations and we would HIGHLY recommend him for any event you need a capable and talented DJ, who can also serve as an MC.

Alex V.

Married on 05/28/2022

5/5 Stars for NYC NYBG May 2022 Wedding

5/5 Stars. James was our DJ for our May 2022 outdoor/indoor NYC wedding at the Stone Mill at the New York Botanical Garden in the Bronx. James met with us beforehand (virtually) several times and worked with us through the details of the evening. James was highly responsive and very easy to work with.

James executed perfectly the different musical vibes we wanted for the various parts of the wedding day: pre ceremony (string pop music), ceremony (classic strings) , cocktail hour (tropical house), dinner (easy listening), first dance (classic), cake cutting, dancing (disco, pop, energic). James played our 'must play' and filled in the rest seamlessly with his knowledge of music and our recommendations. The quality of service was outstanding.

James was the utmost professional. As the MC he didn't steal the spotlight yet facilitated key moments such as speeches and dances.

The technology was great. The music sounded crisp. The microphones were nice. And James had an indoor outdoor setup and was super flexible with us.

James was nice enough to share the set list with us after - Thanks James!

Dillon D.

Married on 05/13/2022

No need to look any further for a DJ. James is 100% the best!

James was VERY professional and knew exactly what he was doing to make sure we had the perfect setup for our day. In our kick-off call with Jame it was very clear he was paying attention and had sent us a brief overview on what all he would cover to make sure we were prepared on what to expect. We trusted him fully on what he thought was best for our guests along with accommodating any artists to avoid and songs to make sure to play. After signing the contract to work with James - we met to discuss any other details he may need to know about for the day and made sure we were comfortable with all steps moving forward. All of our guests have said multiple times "The DJ was legit the best and had everyone dancing from younger to older". I have not heard one bad thing about James since our wedding day. He was for sure the best DJ we have ever witnessed at a wedding and we hope to see him at a future party.

Katie C.

Married on 04/30/2022

The greatest DJ!

James was an absolute pleasure to work with from start to finish. We knew immediately that we wanted to hire him from his warm personality and deep knowledge of his craft. Our guests can't stop gushing about how great the music was - he took everyone's requests and knew exactly what songs to play when to keep the party going. He also flawlessly ran our ceremony including supporting multiple mics for all of our readers. If you're thinking of hiring James for your wedding, please just do it!

Quinn K.

Married on 04/09/2022

Greatest DJ Ever

A fantastic DJ with an innate knowledge of what type of music makes a wedding great, James was an absolute pleasure to work with from start to finish. After helping guide us through song selections in the lead-up to the big day, collaborating with our wedding planner on flow, and a million other little details, he kept the energy cranked allll the way up during our reception with a ton of excellent songs (I pretty much never stepped foot off the dance floor).

99 scott wedding

James did a really fantastic job making sure we and all our guests had a great time. He incorporated our requests but added a lot that we would never thought of on our own. Highly recommend!

Alyssa S.

Married on 02/09/2022

Phenomenal DJ!

I cannot say enough GREAT things about James! From our first meeting with him, until packing up at the wedding, he was so professional and considerate. He makes it a point for the day to be about you and your partner, not about him on the microphone and that was SO important to us. Between every conversation and the worksheet he had us complete, he was able to curate a better wedding playlist than we ever imagined. Our wedding was a backyard wedding out East on Long Island, so outside of making the trek to be there, we also had to work around a not so traditional venue. He handled every situation that was thrown at him with grace and ease and really kept the positive vibe of the day going. To give you an idea of how great he kept the party moving, we ended up asking him to stay an extra hour after our scheduled time and it was a great decision! So many guests at the wedding approached us asking where we found James, so I am sure we will be seeing him at some weddings in the future. I know I will definitely use him for any future events as well!

Ted C.

Married on 12/29/2021

Awesome DJ!!!

James DJ'd our wedding at the Wythe Hotel, and I cannot overstate how great a job he did. The music choices were fantastic -- we had many of our guests say so! -- and he was an absolute breeze to work with. Absolutely would work with again and would recommend.

Anna E.

Married on 12/03/2021

BEST Wedding DJ & Just a kind soul

Our wedding was in December of 2021 at 501 Union in Brooklyn, NY. My husband and I are VERY into music, and cared very much about the playlist - from the ceremony, the cocktail hour, the dinner, and all the way to the reception party - and when I say cared, I mean painstakingly so. We really wanted to work with a DJ who understood that we would have very specific requests regarding the vibe of the night, genre of music, order of certain songs, etc. and be flexible with us, instead of putting his/her ego/pride over what our wants/desires would be. And we also wanted someone who really would make the night / party about us and our guests. We did NOT want someone in the middle of the dance floor with a microphone - we wanted someone to oversee and guide / facilitate the night as smoothly and as subtly as possible. And James was everything that we ever wanted (and more!) James made sure that we got on a zoom call to get to know each other, and he asked thoughtful questions to understand our story (how we met, how's long distance during a global pandemic), then he asked us what we wanted for our night - what our vision would be, what the most important things were to us when it came to the music part of our wedding. He took the time to really listen to what we wanted, and really worked to execute our vision on the night of the wedding. On the day of the wedding, he was there for support, and was present when he needed to be, but was mainly in the background cheering all of us on, and just throwing us the best party! But also, James is a REALLY nice guy. He's just a kind and humble soul. He genuinely cares about his work, and understands how important this night is to the couple. And he WILL care about you as a human being. We were able to fully trust James in this entire process, and honestly, our wedding was a magical night. He gave us great advice on how to smoothly have every part of the night flow into the next, and of course, the music was on epic!!! Thank you James, and we miss you!
Are you interested?
Send a message