275 Reviews
Recommended by 100% of couples
Quality of service

5 out of 5 rating

Average response time

5 out of 5 rating

Professionalism

5 out of 5 rating

Value

5 out of 5 rating

Flexibility

5 out of 5 rating
28 User photos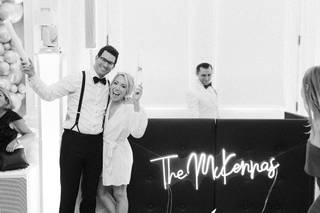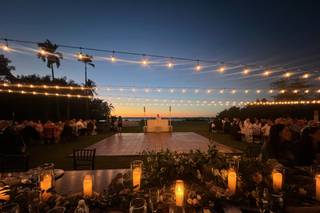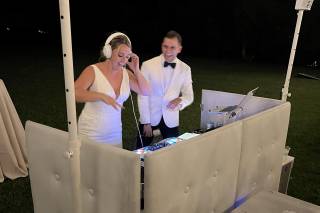 + 24

photos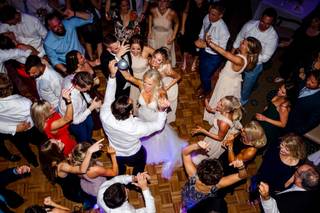 Angela

Married on 05/20/2023

Hire Dayve!

We can't say enough good things about DJ Dayve. He was so professional, organized, and fun. He kept people out on the dance floor the entire night. All of the guests could not stop raving about him. If you are looking for an amazing DJ who is also a great person hire Dayve. Thank you Dayve for an amazing night we will remember forever.

Matt N.

Married on 04/29/2023

Exceptional

DJ Dayve is an exceptional wedding DJ who truly went above and beyond to make our special day unforgettable. From the very beginning, he was incredibly detailed and organized, scheduling regular Zoom check-ins to refine every aspect of the timeline, ceremony lineup, and music playlists for the ceremony, cocktail hour, and reception. He even provided us with guidance during the reception itself, letting us know when and where to be at particular points during the evening which allowed me and my bride to enjoy the evening with friends and family.

But what really impressed us about DJ Dayve was his ability to accommodate multiple equipment setups throughout the day. Despite the fact that we had an outdoor ceremony, an indoor cocktail hour, and a reception in a different room, he was able to transition seamlessly between each location, ensuring that every detail was perfect. He worked closely with our wedding coordinator to make sure that all of the necessary details were taken care of.

Overall, we couldn't have been happier with DJ Dayve's performance at our wedding. He's much more than just a DJ - he's a true professional who takes pride in his work and goes above and beyond to make sure that every detail is perfect. We would absolutely recommend him to anyone who is looking for a talented and dedicated wedding DJ.

Christina

Married on 04/23/2023

First off, I believe the DJ is the most important vendor if you want a fun party. They can make or break your wedding.

DJ Dayve was one of the BEST decisions that we made for our wedding. He was organized, very professional and fun. Dayve helped me put together the wedding timeline and would keep my wedding coordinator in the loop if anything changed. This was a HUGE help as I had to provide this schedule to every other vendor.

On the day of the wedding, we had on and off rain (they say it is good luck!). Everyone was running around deciding if we should go under "cover" or be out under the trees as originally planned. The schedule "went out the window" but Dayve was so professional and was able to improvise flawlessly.

Our guests were from all generations and DJ Dayve was able to "fuse" music that everyone enjoyed. I still have people telling me how much fun our wedding was and it was because of Dayve! He was able to see who was on the dance floor and played music to keep them there. It was a SUCCESS!

We can't thank DJ Dayve enough. We are still smiling and wish we could go back! Thank you for an incredible night!

DJ Dayve's reply:

Christina! Thanks so much for all that you wrote. Rain is indeed good luck and you had plenty of it so that means extra good luck for the two of you. Thanks so much for welcoming me in to be a part of your wedding day, and thanks for being an amazing client! Hope to see you in Tampa one day soon!

Are you interested?

Send a message

Kristine R.

Married on 04/15/2023

Dj dayve is the best!

DJ Dayve was more than we could have ever expected. From our initial first meeting, Dayve was extremely attentive and thorough. He valued all of our input and provided an amazing experience for us and our guests. He even carried out our request for late-night karaoke! Our guests were raving about Dayve for days following our wedding. Could not recommend Dayve enough!!

Mike G.

Married on 04/08/2023

DJ Dayve is #1 DJ in SW FL for a reason!

DJ Dayve exceeded our expectations which were already high after our pre-wedding meetings with him! His music mix had the dance floor packed all night and he was great at reading the vibe of the room. Going into the wedding planning, I wanted a real band but I can't say enough how amazing DJ Dayve was. He is also extremely organized in making sure everything is ready to go before the wedding. I would recommend DJ Dayve 100/100 times!

Nicole

Married on 03/19/2023

Wedding Day DJ

Having a great DJ was something that was very important to us as a couple when it came to our wedding.

DJ Dayve was very professional from the start to end of the entire experience.

He was super friendly, easy to work with, organized and helpful throughout the process of picking and planning each playlist.

I really loved how we were able to pick from each playlist and make edits to songs we loved and wanted to be played and songs we did not want played.

I felt like the process allowed us to have our own personal touch to the music that was played on our day.

I loved how he asked what color suit we wanted him to wear the day of our wedding. The tan suit went perfectly with our color scheme.

He worked side by side with our planner and made sure everything ran smoothly.

DJ Dayve had all of our guests up on the dance floor. As the bride I was dancing all night long!

Hire DJ Dayve for your wedding day! You will not regret it!

User2593443

Recently married

Dayve was amazing!! The most organized and professional I could have asked for! He created a flawless timeline that my venue was able to follow and literally acted as not only a host of the party, but practically a wedding day organizer!! He is the best at what he does- you will not find a DJ who goes above and beyond like this. He is much more than just your music- he is the entire backbone of your wedding!! You must call him and at least learn what he does over the phone. Even for the price- there is NO one who does it like Dayve does!!!

DJ Dayve's reply:

Thank you so much for this!

Anna S.

Married on 02/07/2023

The Best DJ You'll Ever Find!

DJ Dayve was absolutely wonderful. He was both professional, organized, and very fun! We met with him twice before the wedding to make sure that everything we wanted music and light wise was correct, and he even included our wedding planner on the meeting. He asked us some questions about our music style and got a feel for what music we were looking for at certain points in the night, and he absolutely nailed it! Almost everyone was dancing for the whole night! We could not have imagined a better DJ if we tried.

Melissa Z.

Married on 01/21/2023

Professional and talented

DJ Dayve came to our rescue after Hurricane Ian. The band we hired didn't come through for us and Dayve stepped in and made our wedding INCREDIBLE.

Thank you, thank you, thank you!

Lorie L.

Married on 12/02/2022

The perfect blend of flawless execution paired with incredible vibes

DJ Dayve was instrumental in us having the best wedding we could have possibly dreamed of. It takes a special skill set to be professional, organized, timely, and accommodative… all things that are crucially important if you're going to have a low stress day… but then to also have the presence, musical abilities, and swagger to ensure the entire crowd has a good time. We would give 100 stars for DJ Dayve's rating for all of these elements, if possible.

We all know that there are a thousand moving parts during a wedding day, but until you're the bride and groom, it's hard to appreciate how much truly is going on. Even when we surprised Dayve with a couple last minute changes, he handled them flawlessly.

Equally as important as things working and flowing properly is the vibe being set throughout the day and night. We asked a lot of DJ Dayve… starting with a romantic, elegant, low key vibe and then on the opposite end of the spectrum finishing with an after party that got absolutely lit. He was able to strike the perfect mix for each of the settings and there wasn't a single person (Grandma included!) who didn't have an absolute blast. There were countless guests who asked us how we found Dayve and raved about how much fun our reception was… there is no greater compliment than that! If you want to exercise a lot of control over the curating of your playlists or if you want him to read and react to the crowd… DJ Dayve can do it all!


Audrey P.

Married on 11/19/2022

Top Wedding DJ!

DJ Dayve is outstanding! DJ vs. a band was a hot topic in our home prior to booking, but after having DJ Dayve at our wedding there is not a doubt in ANYONE'S mind that booking him was the BEST move we made. He was perfect from our first meeting to the last second on the dance floor. He is extremely professional, polished and well poised. DJ Dayve was able to read the crowd and picked the perfect music to keep the dance floor packed all night. We have lost count of the amount of guests who have commented on how spectacular he was. All commenting on how they have never seen a wedding dance floor with so much energy. 1,000/10 stars! If one of my friends were to get married in this area I would have them select their date around DJ Dayve's availability - he is that good! Thanks Dayve for everything your talent is truly one of a kind!

Ashley M.

Married on 10/22/2022

Perfectly amazing!

Having DJ Dayve to provide the musical entertainment/components for our wedding was THE BIGGEST blessing! DJ Dayve is extremely organized, helpful, and professional, and it is very clear he enjoys what he does! He went out of his way to communicate with each vendor to ensure the musical events and related events ran smoothly, especially when there were multiple musicians. He also spent extra time traveling to get a DVD from my family to rip audio and video to use at the wedding for my father-daughter dance, something he didn't have to do but did! He eased many of my anxieties when it came to timelines and song choices after our very first meeting with the manner in which he outlines the planned wedding day. If you are in need of a DJ for your event or wedding, look no further than DJ Dayve! He made the planning process and wedding day so easy and fun! He also really knows how to make a crowd dance!! Rating: A million / 10 stars!!!

Maria B.

Married on 06/15/2022

Absolutely amazing!

DJ Dayve was beyond professional and made our day so very SPECIAL!! He helped plan our wedding timeline and reached out to all my vendors and wedding planner. He also was extremely organized in how he sets up his playlists on the computer. I loved how he had zoom calls and thoroughly planned our special day! He also played our Italian songs that we grew up with since my family is 100%- my family was extremely impressed! He played all of our songs!! We had the best wedding and DANCED THE ENTIRE DAY ALL THE WAY UP TO THE AFTER PARTY! He was the one that made our day special with all of our meaningful songs!! He's the best! We highly recommend him!!!! All of our guests still talk about how much fun they had!!

Ann G.

Married on 04/01/2022

The BEST decision I made!!!!!!!

If I could suggest ONE thing as you begin to plan your wedding, that is to hire DJ Dayve! He doesn't just provide DJ services, he provides an experience. From start to finish throughout the planning process he was organized (which is my weakness), fun and professional. The care and time he took prior to our wedding day to ensure he would offer the best experience was unmatched. We were able to collaborate through song choices and he enlightened me in music choices that I loved but never knew of before. Dj Dayve really shined the night of our wedding though. His set was so sleek and the up lighting added such a fun touch. He is an absolute genius when it came to reading the room. Each song he played, he looked up and read the audience and altered what he was playing according to how we were feeling. My guest list was small (because of covid) but we were mighty and everyone kept commenting how much fun they had because of him. He is an absolute class act and will hire him for every event moving forward. He really did make our wedding night unforgettable.

Kelsey R.

Married on 03/25/2022

Good Vibes Only!

Are you looking for someone to keep the beats sick and the vibes high on your wedding day?! Look no further than DJ Dayve! Dayve met with us multiple times before our big day to ensure he truly captured our music style and personalities to create the most incredible playlist catered specifically to us! He brings the biggest smile and the BEST energy to every planning meeting and continues that through the entire wedding day! He is an absolute class act! He is so incredibly organized and made sure he knew how to pronounce all of our friends' and family's names and knew exactly which songs were special to us and why. He went above and beyond in every way and exceeded our expectations and then some! He had a playlist of song suggestions for every part of the night when we were stuck on some special song choices. He read the vibes of the dance floor and mixed in different songs to keep everyone from all age groups on the dance floor all night long! We had everyone from our grandparents to our teenage cousins telling us how awesome the music was during our entire event! We had a jam packed dance floor until the final song and we have DJ Dayve to thank for that! Thank you so much Dayve, you made our big day so memorable and we truly had the best time!

Sarah

Married on 01/29/2022

Words are not enough

As a couple that prioritizes music and the effect it has, there could not have been a more perfect DJ than Dave. His personality, professionalism, energy, and talent is unmatched. He will make sure that you and your guests have the best time, and the entire time he has the best attitude! We couldn't even keep up with the amount of compliments we received regarding Dave throughout the night and the following days.

Amanda P.

Married on 12/30/2021

The best choice!

Absolutely cannot recommend DJ Dayve enough. Not only we're all my guests dancing the whole night, but every single one of my guests came up to me complimenting him on his music choices and the uplighting. DJ Dayve was super organized too it made me feel at ease and eliminated a ton of stress for me. Thank you again DJ Dayve :)

Julie P.

Married on 12/18/2021

The best dj!

We have absolutely nothing but AMAZING things to say about our experience with DJ Dayve. Trying to distill it down to a short blurb seems almost impossible. From the beginning of communication, Dayve was responsive, friendly, flexible, and helped us create a perfect day. Leading up to the wedding, my in-laws asked about why we chose a DJ several times. They had only ever been to weddings with bands and thought that was the best way to go. After cutting it up on the dance floor throughout the whole night, they both said that if they knew a DJ could do that, why would you get a band?! From working with our officiant and a live singer for the ceremony, having to move the ceremony indoors, to making the dance floor feel like a club, DJ Dayve was the absolute best! We had so many people come up to us during the night, at brunch the next day, and in the weeks following to share how much they loved the DJ. You will not regret booking Dayve for your next event!!

Samantha L.

Married on 12/10/2021

Stop searching and hire this guy before he gets booked on your day!

DJ Dayve was the first vendor I hired because it was the easiest decision. Your DJ is essentially the host of the party and if the DJ is great then the party is great. It really doesn't get any better than Dayve. From start to finish his professionalism blew me away. His process from the day of booking all the way up to the event is organized and seamless. Fast forward to the actual wedding day - from morning till night this guy was on! Not only was the music on point for the entire day but several of my guests felt like they had meaningful connections with him. We were talking about it the entire next day. He interacts with the crowd and really makes you feel like you're partying with him. I was sad to say goodbye 😂. He is the epitome of what it means to be a DJ. Look no further. This is your guy. Thanks again Dayve! 😊

Kurtis S.

Married on 12/04/2021

Best DJ Ever!

DJ Dayve was quite simply the perfect hire for our wedding! In every single category he completely exceeded our expectations. From the beginning, his professionalism and organizational skills immediately made us feel confident with our decision. He maintained this all the way leading up to the day of our wedding by coordinating directly with all of our other vendors and venue. He saved the best for last by putting on an incredible performance that incorporated all of our asks, suggestions and musical preferences. Our guests are still raving about DJ Dayve as are we! Thank you for making it the best night of our lives!!

Martin W.

Married on 11/10/2021

Best Wedding DJ

DJ Dayve did an AMAZING job. He was very organized and paid a ton of attention to detail. Was able to make changes on the fly and his communication throughout the process was A+. Most importantly, he was outstanding at reading the room and keeping everyone dancing the whole entire night. He did such a great job that we actually extended another hour to our reception because everyone was having so much fun. We highly recommend DJ Dayve, no question about it.

Bryan D.

Married on 11/06/2021

Amazing DJ

DJ Dayve was a fantastic DJ throughout the whole process. He was very organized and had the whole process planned out perfectly. He was quick to respond and took our input into account when planning out the set list. Prior to the wedding we had a couple of meetings with Dayve where he walked us through what the night would look like. He answered all of our questions thoroughly and made sure that everything was customized to us. On the wedding day everything went smoothly, and the music was amazing. He played to the crowd and everyone had an amazing time. We received a numerous amount of compliments about how amazing Dayve was. If you need a DJ for a wedding or any other event DJ Dayve is your guy!

Kurt

Married on 11/05/2021

DJ Davye Delivers

We hired DJ Dayve for our Wedding reception and could not have been happier with that choice.
Dave was a pleasure to work with from the start. Very professional, organized, personable and extremely helpful while choosing the right music for our event. He spent all the time needed to walk through the timeline of the event and ensure we had the right music choices for each part of the reception.
Dave took the lead contacting our event planner to ensure he was able to enter the facility and get setup on time on the day of the event…. Taking all the pressure off us.
The day of the reception…perfection! We could not have been happier. Dave was on time, all setup and ready for our guests for cocktail hour. He played all the all music we decided on and was there to greet us when we arrived shortly after. He took the time to walkthrough the evening with us and then delivered with great introductions of the party and toasts. After that, he had us on the dance floor all night long!! Literally……
Dave was an absolute pleasure to work with for our wedding reception. The most impressive thing is, Dave REALLY enjoys what he does. You can see that as you watch him work.
100% Recommended! Hire DJ Dayve for your next event!


Alexandra

Married on 10/16/2021

Amazing to work with! Highly Recommend!

We got married on October 16th 2021 and DJ Dayve was our DJ! He is the best! He is attentive, organized and his expertise in this industry shows on so many levels! He is so professional not only in his work but how he showcases himself! DJ Dayve is so good at what he does and he is smiling the entire time. He kept everyone on the dance floor even with our country music requests!! Lol he did such a good job and we received so many compliments throughout the night! He invests so much into your day and choices that he really feels like a friend! Just the best!

Connor & Alex

Brandon C.

Married on 05/08/2021

Could not ask for a better DJ!

The reviews for DJ Dayve on this website speak for themselves, but when we began to work with him, we were even more impressed. Dayve went above and beyond for us in every way he could have. He was not only our favorite out of the DJ's we could have picked, but he was our favorite of our vendors on our big day.

Book this man! He will be a fantastic emcee, entertainer, and DJ that is willing to arrange your timeline/music completely to your specific preferences but also skilled at taking the reigns and giving you what he believes to be best (and he knows best!).

Would book him again in a heartbeat.
Are you interested?
Send a message