35 Reviews
Recommended by 100% of couples
Quality of service

5 out of 5 rating

Average response time

5 out of 5 rating

Professionalism

5 out of 5 rating

Value

5 out of 5 rating

Flexibility

5 out of 5 rating
2 User photos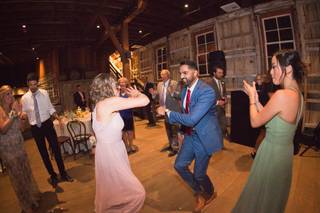 Melissa P.

Married on 02/10/2021

Made our wedding!

Picking the right music is essential to create a fun atmosphere for the wedding, so picking a DJ was one of my number one concerns. DJ Andi was easy to talk to, knew our venue very well, and was able to provide us advice as we chose our songs. Not only that, she created a fantastic set that everyone loved with just a little information from us. Highly recommend, made my wedding !


Michelle A.

Married on 09/21/2019

DJ Andi was awesome!

DJ Andi was great! She was flexible in accommodating our schedule while we were in town for our initial meeting and was happy to communicate with us via email or phone calls throughout our time working together. She was also helpful in suggesting song choices for particular events throughout the night (grand entrance, bouquet toss song, etc.) and found great times to work in the songs we wanted. We had created a "must play" list with a side list of extra songs we liked, but weren't sure if they were good wedding songs. She was happy to work with us on this and used her judgment of where to fit them in. She's very friendly and was happy to walk us through how the wedding day unfolds with a general timeline of the evening. She did a wonderful job at keeping us on our timeline with announcements for the first dance, cake cutting, etc. Our guests talked about how they had a great time and enjoyed their time on the dance floor! I would definitely recommend DJ Andi.

Melissa

Married on 09/22/2018

Can't imagine a better DJ!

DJ Andi was not only easy to work with and a great price, but flexible with her playlists and stayed accountable to special requests I had ( I gave her a list of 'must play' music) which was really important. She has a great energy, and knows how to keep the dance floor moving with all ages. My dad is particular with his music, as are many of my friends - yet she was able to please the crowd for both generations.
I told her I really wanted to keep the dance floor going, and wanted to dance myself. I really appreciated that she found me and mentioned when we had about an hour left, since I hadn't made it to the dance floor yet, due to guests catching me for photos and conversations. She saved my favorite songs for the end which was the icing on the cake!
DJ Andi is very knowledgeable, she helped my random list of songs fit perfectly throughout the wedding, from suggesting we use 'Sail' (not great for dancing) for the garter toss to having 'Glad you Came' as the final song.

5 Stars - Highly Recommend - I would use her again in a heartbeat!

Are you interested?

Send a message

Colleen

Married on 07/28/2018

We cannot day enough positive things about DJ Andi! Our wedding reception was at The Perry House, and she was highly recommended by them. I'm so glad she was!! She was the most excellent DJ and MC. Everything ran so smoothly and on time. She read the crowd SOOO well. We sent her a playlist ahead of time and she played everything on it and totally understood our vibe and was able to just run with it! She was an excellent value and worth every penny! Everyone was dancing the entire night!! Could not recommend her enough!!

Adi

Married on 07/07/2018

DJ Andi was great! She was immediately very responsive and professional. Her services were reasonably priced. And she did an amazing job. My husband had some pretty specific songs he wanted to hear for the pre-ceremony, processional, dinner, dancing, etc! He gave her a list and she did an amazing job playing songs at the right time for the mood and mixing it up when needed to keep guests happy. She was so personable and we got along with her great. She was worth every penny and I'm so glad we used her services instead of trying to DIY it!

Melodie

Married on 04/05/2018

Andi was amazing! She played a great variety for our wedding and was so flexible. When we decided to have a DJ at our wedding she came highly recommended from our venue! She was very quick to respond and willing to answer my many many questions. Andi is so kind and we loved her personality. We would highly recommend Andi!

Kayla

Married on 03/04/2018

Andy was amazing to work with! She did everything to make sure we had exactly what we wanted and help make our day absolutely perfect! I would recommend her to anyone!

Lois

Married on 12/16/2017

Andi is fabulous! She was able to find the unique music we were looking for, for our wedding ceremony. Everyone loved the music at our reception, and are still talking about the great time they had 10 days later. The 20 to 25 mph wind caused some on the spot changes to occur during the out door ceremony - Andi was on top of it and extremely flexible. Fantastic job Andi! Thank you for making our wedding memorable! You are truly the best!!


Cassidy

Married on 08/18/2017

Thank you so much for making our wedding such a blast!!! DJ Andi was more than we could have asked for!

Megan

Married on 07/03/2017

Dj Andi is incredible!! Not only is she an uber-professional (creative, prompt, flexible, organized, experienced), but she is an incredibly warm, bubbly, and fun-loving person!! She is a one-woman DJ machine!! Andi made sure our music and audio equipment experience was as fun and stress-free as possible. She played every song we requested and was a master at the flow/timing of the music and announcements. We will never forgot Dj Andi and cannot recommend her DJ-ing services enough!! P.S. She asked what our wedding colors were and wore a cute black blazer and adorable purple earrings to match!

Melanie

Married on 07/01/2017

DJ Andi is the bomb!! We just had her DJ our wedding at the Perry House. She lets you pick out all your own music and then designs a good "flow." She had so much energy during the wedding (she did the Macarena with us) and made sure everything went as planned. She works seamlessly with the staff at the Perry house (I really recommend if you are there) and she was a pleasure to work with (calm, fun, and genuinely excited for your day!)

Cindi

Married on 03/25/2017

Andi was the best! Can't say enough about how fortunate we were to have made the decision to use Andi as the DJ at our daughter's wedding. She met with the kids to talk and listen to their ideas for the wedding ceremony and music. Being non-traditional, they were specific about their music selections, music that had special meaning to them and their guests. She came to Lovers Point park for the ceremony and directed us on what to do, when to walk, and played the processional music the kids wanted. After the ceremony, she went to our reception site in Monterey and was fantastic. She announced the toasts, when dinner was being served, and when the dancing was to start. Everyone danced and got crazy with the music that had so many memories for the wedding couple and their friends. Andi is so personable and friendly. You could tell she wanted this night to be the best for the kids and by the end of the evening she felt like a friend to all of us. I would not hesitate to refer her services as the best DJ in the Monterey area!

Ushnish

Married on 10/08/2016

DJ Andi was absolutely the perfect person for our wedding! We were struggling to find a DJ within our budget so until 3 weeks before our wedding date we didn't even have one. But from looking at her website and a very pleasant initial conversation with her on the phone I got the feelings that she would be a good fit, her rate was reasonable as well. When we met in person we felt that she has a very calming serene presence while also being chatty which is a great combination for a DJ and MC. She had no issue with jumping in to helping us out at the very last minute for our wedding, and kept reminding us to send her all the info she needed ASAP :) What's also interesting is she helped us change our mind about where exactly we were going to do our ceremony procession and it improved our overall wedding flow significantly! She played our 2 procession songs as well as our recession songs at the right time, kept the party moving from one area of the venue to the other and made sure the right people got the mic to speak at the right time. She also helped play all our music choices, including hindi songs, so it is very worth your time to make as detailed a playlist as possible. Very much enjoyed working with her and highly recommend her as your wedding DJ :)

Constance

Married on 09/25/2016

We used DJ Andi for our daughter's wedding this month in Monterey. She was a pleasure to work with both during the planning stages and during the event. She was personable, professional, and did a great job playing the right kind of music at the right time, making announcements and helping to keep the day on track. We also thought her rate was very reasonable. Our daughter was worried that a DJ would be too intrusive, but this was not at all the case with DJ Andi. She was perfect!

We hired DJ Andi for our September wedding in Monterey. It was a brunch wedding so we weren't sure that anyone would want to dance and we didn't want to do any of the tacky reception stuff that serves a time filler at many weddings we have attended. We wanted a roaming style reception aimed at people interacting and having fun, with the option of going dance party if people felt like it. This was pretty much all of the guidance we gave DJ Andi. She did a great job managing the reception, reading the guests and helping to nudge them in whatever direction she could see it going. Our guests had a great time. DJ Andi worked seamlessly with the venue (Perry House). Two of our friends booked her for their upcoming wedding.

Max

Married on 07/11/2016

TL;DR: Andi is valuable far above her rate and super nice to boot.

7/11/2016: We were on the fence about getting a DJ anyways, "an iPod could do it!" We were trying to be frugal -- a noble effort. We soon realized the importance a DJ provides during a wedding. After searching the Monterey area for reasonably priced DJ's we found Andi and BOY DID WE LUCK OUT.

Some DJ's we interviewed seemed they were doing it as a side job, or really wanted to be DJing some EDM festival (nothing wrong there, just not the vibe we were going for for our wedding). DJ Andi was reasonably priced, extremely helpful, and had obscure songs we thought she wouldn't have ready to go!

Andi also has a wonderful spreadsheet of each step of the wedding so we didn't have to worry about it. She also became our pseudo-wedding planner at times (we chose to do it all ourselves), and Andi was above and beyond "just a DJ here to play a gig".

We live in Los Angeles and if I had a friend ask who to get for a wedding, I would tell them to pay for Andi to come down she is THAT GOOD!

DJ Andi is amazing. She cares and understands that music is the pulse of a party. She is able to keep guests of all generations engaged, happy, and on the dance floor more than just sitting in their seats at a reception.

If you want the best DJ available - engage DJ Andi

Corinna

Married on 06/17/2016

DJ Andi is hands down amazing! My husband and I booked her for our wedding this past June at the Perry House in Monterey. She was professional, quick to respond, and very personable! She is so sweet and will gladly offer her advice/ideas which we really appreciated. She met with us a week before the wedding to check in and go over final details. She did a great job at getting everyone out on the dance floor and everyone had a blast dancing the night away! With Dj Andi you can't go wrong and you know you can depend on her!

Mark

Married on 04/16/2016

DJ Andi is the real deal. We are so happy we chose her. She not only kicked butt spinning great tunes at our wedding on the day, but showed true professionalism in the way she made sure other details were taken care of. Everybody knows there's a ton of detail putting a wedding together. One thing we over looked was having mic's at our ceremony. Ours was outdoors, and needed both a lanyard for our officiant as well as a wireless for us and our guest speakers.
I can't express how amazing it was to walk up to our ceremony and see Andi there smiling and giving me a huge thumbs up. I knew
we couldn't possibly be in better hands.
The songs we chose for the first dances were timed perfectly. We chose a few obscure ones but she had no trouble finding them.
Lastly, I want to say this. Once Andi started the dance music, there was not a time when there wasn't a crowd on the dancefloor.
That's a testimonial to a great DJ.
Mark and Skip

Devin

Married on 03/12/2016

We were so happy and pleased to work with Andi. We recently used Andi at our wedding reception. She came highly recommended and it turned out I had the privilege of working along side her at different wedding venues years ago. She ran the reception so smoothly and was able to read our wide range age group and play music everyone would enjoy. She was so easy to work with and it was so nice knowing that she would run everything so smoothly that we were able to not think about what was next and able to enjoy our guests and wedding. Her continuous smile and positive outlook is infectious to everyone around her and they Jump right in with what ever she is asking or playing. It was so fun to reconnect with her over all these years and so special to have her be a part of our special Day. Andi is as professional as they come for DJ's she does not hog the mic and talk a ton like I have seen at other weddings. She has an amazing gift to read the crowd that is in front of her and cater to them. And most importantly she is easy to talk to and work with and does not add extra stress to the planning or day of the wedding, but is able to allow you to enjoy your wedding planning and wedding day.

Mollie

Married on 11/28/2015

DJ Andi was amazing!! We were married on 11/28. We had a bilingual ceremony and reception (the groom's side are from Peru), and Andi was great about incorporating all sorts of Spanish language music at the reception--from obscure 80's pop songs we asked for to great dance beats we didn't request. Everybody had a great time, even people who aren't usually dancers at weddings. We would go with Andi again in a heartbeat, she was a pleasure to work with, and her positive energy made things go very smoothly, during planning and on the day of. Thanks for the great tunes, and for the stellar hora loca, Andi!!

Debra

Married on 10/17/2015

What can you say about an amazing soul that absolutely made your wedding blissful? First of all, Andi is a consummate professional. From the moment we met her, we knew she was the person we wanted to share our day! We talked about our vision for our day, general ideas for music, and she made some wonderful suggestions. It was teamwork from the beginning! If you are looking for such a person to be a part of your very special day, look no further. She is THE BEST!

Caitlin

Married on 10/11/2015

While my soon to be husband and I agreed on most things about our weeding, music was not one of them! We have very different tastes in music, and before meeting with Andi, we probably would have had 0 music playing! Luckily, we met with Andi who helped us pick out the perfect songs for our big moments, and come up with a playlists of songs that all our guests could enjoy, while interweaving my husbands favorite songs (he has a very eclectic taste). I don't know how she got us to agree, but she did! The music was perfect throughout the whole day!

More than just the perfect songs, she made sure our wedding (at the Perry House) ran smoothly from beginning to end. From letting the guests know what to do, setting up toasts, helping the guitarist get set up for the ceremony, and getting my friends and family on the dance floor with me, Andi did it all. Throughout the whole experience, Andi made me feel as though she cared about my wedding as much as if it was her own. Her depth of experience is undeniable. She knew what to do at every turn. She is fun, entertaining, and I can't thank her enough for a fabulous wedding!!


DJ Andi is the best! She makes sure that your special day is encompassed with the perfect music! She was fun to work with, she listened, got so excited for us it made us even more excited and she executed the day perfectly. I highly recommend DJ Andi!

Sarah

Married on 06/27/2015

DJ Andi was so great! She played all of our 80s music that we wanted and suggested we do the Wobble dance. She told us she would teach us and even got out on the dance floor with us. It was a guest favorite that people still talk about today. The only complaint was that the system or speaker went down during the ceremony and we didn't get to walk out to music, but besides that she was great and very reasonably priced.
Are you interested?
Send a message