Reviews
4.9 out of 5 rating
Quality of service

5 out of 5 rating

Average response time

4.7 out of 5 rating

Professionalism

4.9 out of 5 rating

Value

4.9 out of 5 rating

Flexibility

5 out of 5 rating
98%
Recommended by couples
2 User photos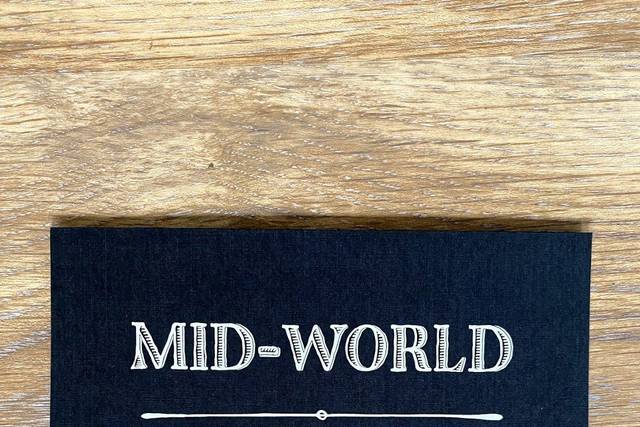 Stacy K.

Married on 10/02/2020

Amazing - Highly Recommend

Donnette and Steve were great to work with. They were quick, responsive, and super easy to work with. I found a wedding table sign online that after a little research I found out was done by Designs in Paper so I reached out to see if they could help me recreate the design with the text I wanted. Not only did they make the signs exactly like what I asked for but they made them even better than I could have imagined. It was so easy!! We worked exclusively through email and I received the table signs in less than a week! To say we are obsessed with the signs would be an understatement. We are thrilled to show these off at our wedding. I could not be happier.

Neena

Married on 11/11/2017

So so so happy with how our wedding invitations turned out! Our seating chart was also gorgeous and exactly what we wanted!

Stella

Married on 11/04/2017

We stressed so much over finding the perfect wedding invitations, without breaking the bank! Then I came across a picture of a beautiful suite on Instagram which had the elegance, and the monogram we were looking for. After contacting Donette I instantly knew this would be the place, she was very professional, reasonable with her prices, and thorough explaining the entire designing, proofreading, and ordering process. Donette worked with us to achieve the look we were looking for, and designed our custom monogram! Our invitation suites were breathtakingly beautiful, and our guest were calling us to tell us! We also had our matching menus made with her, and we purchased our monogram to have forever!!

Are you interested?

Send a message

Becky

Married on 04/22/2017

Donette and Steve were amazing to work with!! My husband and I got married in April so we used them for our paper products. We didn't really have an idea of what we wanted our invitations to look like and they gave us a wide array of options to choose from! We could make our own but it was neat to see examples of how much variety they could do. We met with them a few times for meetings and they were a pleasure to see always! They executed exactly what we wanted and made it look beautiful and effortless! Our save the dates and day-of programs were so pretty and seemed just like us! We got so many compliments on all of our paper products! They are so talented and great to work with. I will definitely be using them if I have any paper needs!

Courtney

Married on 10/15/2016

Donette and Steve are amazing! I am not artistic by any stretch of the imagination, and Donette was able to take what little guidance I had and create a beautiful invitation suite that I was proud to send to my friends and family. They also were able to address and mail all of the invitations, which was a huge stress relief for me knowing that I didn't have to worry about it. We also used them for our ceremony programs and seating charts and I absolutely loved how both of those turned out. The designs are gorgeous, the communication is outstanding, and the pricing is totally reasonable!

Eliza

Married on 07/30/2016

Donette and Steve are amazing! We live on opposite ends of the country, and all of our communication was via email - Donette was always responsive and crafted the most perfect program fans! We also decided to add on dessert flags later in the process (and much closer to our wedding date, I might add) - It was no problem for Donette to handle! They sent us pictures of our paper goods printed out and assembled, so we could see what they looked like and make any final changes before production - No changes were needed however, because they were absolutely perfect! When our paper goods arrived in the mail, we had the sweetest surprise and found that they had included a few custom cards with our names on them and the same flowers we had featured through out our paper products. So many of our guests commented how much they loved the program fans! Designs in Paper is an amazing company to work with, and we were so happy to have their custom goods at our wedding!

Designs in Paper was such a joy to work with! They were wonderful during the whole decision and design process -- they met with us at Panera with pre-printed invitation ideas with our names on them. They diligently worked with us and e-mailed back and forth until everything was perfected. It was also an easy process if you had a second round of invitations to send out-- just e-mail them with names and addresses and they sent them out!

Lindsey

Married on 02/01/2014

Desings in Paper designed the invitations for our wedding, as well as the invitaitons and place cards for our rehearsal dinner. Donette and Steve were a pleasure to work with and always very responsive and eager to make sure that everything was perfect.

Lauren

Married on 03/09/2013

I love this company! Donette designed such a beautiful wedding invitation I also got her to add thank you notes, water bottle labels, gift bag labels, etc. I thought my idea was good but she really took it up 5 notches. Such a great price and I loved working with them.

Erica

Married on 06/02/2012

Donette and Steve were absolutely wonderful to work with! They always went above and beyond and created several samples for us until we found the perfect design. They are so talented and have the best ideas! We loved our invitations and received so many compliments! They also created a beautiful banner, wedding programs, and other fun stuff for our wedding. Everything was perfect! I am so thankful I was able to work with Donette and Steve, and definitely plan on using them again in the future!

Rachel

Married on 04/28/2012

This was probably my favorite vendor I worked with the entire time!!! Donnette and Steve are awesome. I live in Knoxville and they made it very convenient to meet with them during the program and invitation process. I had multiple compliments on my invitations. Not only did they make the invitations by hand, I sent them my guest list and they addressed and mailed each of the invitations for me! That is definitely a big time saver when you are getting close to the wedding day. Any time I called them with a question or to see if they could do water bottle labels, cake toppers, etc. they said sure and I had an example in a few days. They were awesome!

Carol

Married on 04/28/2012

This vendor definetly needs more than a 5 star rating!! They are a delight to work with and always went above and beyond for us. They produce an outstanding product of very high quality and beautiful work!


Kathy

Married on 04/14/2012

This was an absolutely fantastic company to work with!!!! Everything they produced was absolutely beautiful, and exceeded all of our expectations! We had last minute requests constantly and they still helped us and produced top of the line products, just beautiful! I would recommend them to anyone without hesitation!!!!

Grayson

Married on 10/29/2011

Donette was amazing to work with. She has a sixth sense of knowing what you want before you even know. We received so many compliments on the invitations and the programs. She also provided us with signs for favors and reserved tables that looked amazing!

Courtney

Married on 07/24/2011

Donette was incredible to work with! We told her what we were looking for, and immediately fell in love with her design. We used them for our invitations, and our programs. They coordinated with each other, and even sent our special brand to our photographer for our guest book! Everyone raved about how beautiful our invitations were. I am so thankful that we got to work with Donette!

Stacy

Married on 06/25/2011

Designs In Paper... one word, FABULOUS!!! Donette and Steve are so helpful and creative. All of my guests raved about how fantastic my Save the Dates & Invitations were. Donette and Steve really took the time to get to know me and in turn, printed the coolest and most creative invitations that really represented me and my husband VERY well.
I will use them again for sure! They are the BEST!!!

Kayla

Married on 06/05/2010

If I could describe Designs in Paper it would be one word: AMAZING!!! I love love love Donette & Steve! They were truly AMAZING & created the most incredible invitations, thank you cards, favor labels, signs for candy buffet & wishing tree for my wedding! They also gave me great advice & listened to every long conversion I had with them (even if it was off subject)!! I am so blessed to have met them & work with them for my BIG day! I can't wait to use their services for my house warming shower, baby showers (when I have them), birthdays & more!! I can truly say at the end of all my wedding madness..I have two AMAZING new friends!! :)

Erin

Married on 05/21/2010

Donette and Steve were a recomendation from my wedding planner. I wanted a unique invitation that really said a lot about my style, and I certainly was not finding it in the cookie-cutter wedding books. So, we went with Donette and Steve. The can make ANYTHING you want.

We used them for our invitations, RSVP cards, favor tags, guest book and programs. All of them had a coordinating theme that went with our wedding decor.

We had a problem with the ink that I wanted for the invitations, and it wasn't turning out quite how I wanted. So, they actually got new paper, a new press, sent me nearly 50 different samples, to make sure it was exactly how I wanted it. Seriously. Some of the hardest working people I know.

Kelly

Married on 05/08/2010

I LOVE Donnette! She knew exactly what I wanted for invitations, and I only needed one sample. Many people commented on how classy the invitations looked. She was more than a vendor, she helped me find a handyman after the "Great Flood" of Nashville had destroyed my house. She is very caring and therefore will be the only person I'll use for paper products and printing. I already recommend her to my friends!

Monica

Married on 05/09/2009

I would recommend Designs in Paper x 1,000,000!! They are fabulous! I worked with them to do my save the dates, invitations, programs, and the extra decor around the wedding! They are extremely creative and design several things for you to look at. They truely get to know you and what you are looking for. I was so impressed with how they took my idea, and what I liked, and created a beautiful theme that brought out my groom and my personality so well! Donette even helped with me other advise for the wedding as we were talking, that helped me so much! They are also so good about helping you with budgets. They figure out ways to help with costs if you need that. I could go on and on. They are amazing and if i ever have the need again, i'll most definitely use them!

Katie

Married on 12/27/2008

I used Designs in Paper for their Confetti! It was my most favorite detail of the wedding! I told Donnette our names and our monogram and the wedding colors we were using and he put together the greatest confetti. Everyone thought it was so cute. I got married during the winter and he could even make a monogram in the shape of a snowflake! It was great! He was so much fun to work with. We contacted each other through email and he was very quick to respond! I ordered the confetti only a couple of weeks before the wedding and they were at my house within a few days! This was the perfect touch to make my wedding a little more personal!

Brittany

Married on 10/25/2008

Donette & Steve were AMAZING! We fell in love with our invitiations. We told them an idea of what they wanted and they made it happen. We even got personalized confetti for our reception. They will work with any budget and I would highly reccomend them!

Erin

Married on 08/02/2008

Donnette and Steve are excellent. They have a great ability to find your unique wedding style and match it with their paper products. I received compliment after compliment on my invitations, programs, and the awesome confetti!

They are super flexible and really easy to work with. I really felt like they "got" our wedding and what we wanted!

Stacey

Married on 07/26/2008

LOVE this company!!! They literally saved me after another invitation option fell through. They did my invites, programs, favor tags, and table confetti. They were the ones who helped pull together our theme and literally help incorporate every aspect of our wedding.

Both Steve and Donette are fun, professional, and great to work with. Donette would even call my mom with ideas out of the blue for things that had nothing to do with what she was actually helping us with. She was a great inspiration for our favors (salt water taffy bags to go with our beach theme) and made the favor tags to match the invites and programs perfectly.

I really can't say enough about how much I appreciated all that they did! It wasn't cheap, but it was fairly priced! Especially considering EVERYTHING they do is custom made! So no one else has the same design that you do! Everything was a hit!!

Melissa

Married on 06/28/2008

Donette & Steve are great!! In meeting with these two they will meet you at whatever location and whenever they are very accommodating!!

I was always stand offish to invitation people cause I thought they would be soo expensive and out of my range. Donette & Steve can make the invitation for you in your budget and then you get free 100 piece of confetti with the bride and grooms name. It is amazing that they can do that. And their invitation designs are only used once for each bride. That is good to know that yours is unique and will never be used again!

I also used them for the program fans, that worked perfect for an outdoor wedding. The quality is there too when it comes to the invitations and programs, which online invitations are not and are the same amount of money!! The invitations they have also match to all of the colors of davids bridal dresses. I didn't really think that mattered, but to have a theme of the wedding makes the event even more special!! The theme I had was cherry blossoms... it went all the way to the favors (which I got at www.beau-coup.com). They were able to print on the envelope everyone's address too which saved a lot of time for a wedding planning bride to be!!

The amount below is of the invitations and programs combined. I didn't have the basic package either because I wanted the rsvp and direction cards).

Are you interested?
Send a message