Reviews
5.0 out of 5 rating
Quality of service

5 out of 5 rating

Average response time

5 out of 5 rating

Professionalism

5 out of 5 rating

Value

4.9 out of 5 rating

Flexibility

5 out of 5 rating
99%
Recommended by couples
5 User photos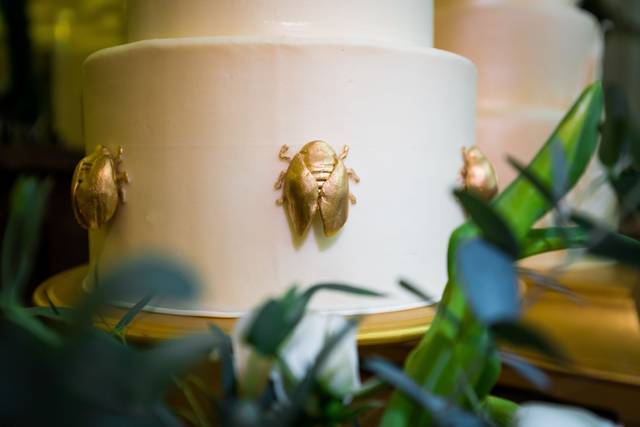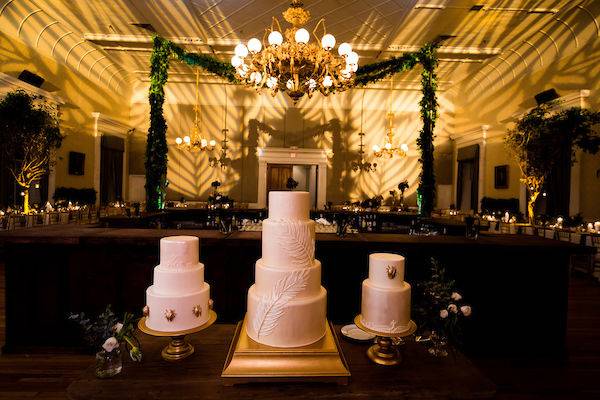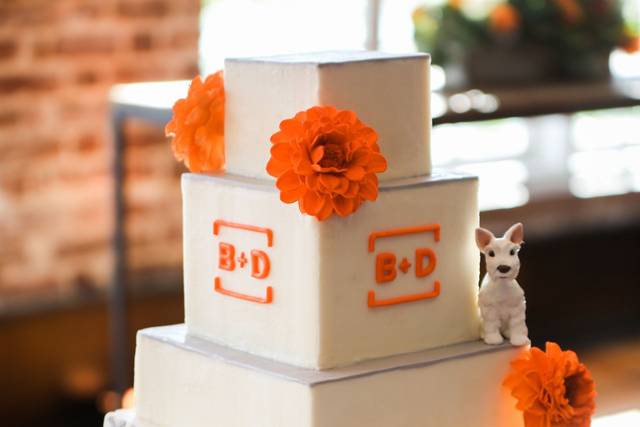 Danielle C.

Married on 10/29/2022

Best decision!

Working with Laney for our wedding cake was a great experience. The cake was absolutely delicious. She worked with me on a design that I fell in love with and did everything she could to fit in our budget.

On our wedding day, our cake was even more beautiful than we imagined, and it was just as delicious as it was during our tasting. I highly recommend Delicious Desserts for your wedding cake needs or a cake for any special event.

Hannah P.

Married on 09/08/2021

The most amazing cake!!

Our wedding cake was absolutely stunning, and tasted amazing!!! Laney went above and beyond and gave us exactly what we envisioned! You need her for your next event!

Brittney H.

Married on 10/05/2019

Wedding cake

Knowledgeable. Responsive. Unique ideas.

Are you interested?

Send a message

Lindsey

Married on 04/13/2019

Best Wedding Cake Ever!!

Laney did an awesome job with our wedding desserts!! For our wedding cake, we went with two flavors- lemon cake with butter cream and raspberry filling, and red velvet cake with cream cheese filling. The cake was so moist and flavorful, even my groom who isn't a sweets person was super impressed and ate a slice himself! I was obsessed with it- I honestly don't know if our cake topper will last a year in our freezer because it is too delicious! Laney did a great job working with our florist Wimberly to decorate the cake with flowers - it went so well with the rest of our colorful fairy-tale garden wedding theme! Laney was also sweet and made amazing chocolate chip cookies for my dad and members of my family who prefer cookies. All 60+ cookies were gone in minutes at our reception because they were such a hit! Laney did a wonderful job making our unique groomscake- my groom's favorite dessert is cheese cake so she made cheese cake bites and cake bites decorated with his favorite things- Clemson, volleyball, golf, cigars, for the rehearsal dinner. She set up and brought the cake stands herself, so we didn't have to worry about a thing! Thank you so much Laney for making the most delicious wedding cake and chocolate chip cookies I've ever had! You are the best!

Jennifer C.

Married on 04/13/2019

Best Wedding Cake, Cookies, and Groom's Cake Ever

Several of our other vendors recommended Laney at Delicious Desserts for my daughter's wedding cake and they did not steer us wrong! We were SO happy with the beautiful and delicious wedding cake. It was exactly what we wanted and was even prettier than I imagined. We got the red velvet cake with cream cheese frosting and lemon with raspberry filling. Our guests loved it – so delicious! We also had fresh baked cookies and we put them by the coffee station and can I just say, they were a huge hit! So yummy! We had a rehearsal dinner the night before the wedding for the wedding party and all the family that came into town for the wedding. We decided to do the groom's cake there and she did lovely little cake bites and super delicious strawberry cheesecakes with little pics with the groom's favorite things like golf, cigars, football, etc. – it was so cute! Laney came to both venues, set everything up, and provided the cake stands needed. I didn't have to worry about a thing. She also went above and beyond when I forgot to get the cake stands back at the end of the night from the rehearsal dinner and had to leave town after the wedding. She was so sweet and said she would go get them for me. We were extremely happy with Delicious Desserts and would recommend using her!

Annie

Married on 11/11/2017

Honestly, she is the best. I was very lost and she helped me figure out something I would love. She ended up re-creating the Charleston goldbugs I had on my save the dates invitations etc. She also helped me figure out the best way to feed 270 people cake etc. Everyone commented on how delicious it was. She is creative and obviously an amazing baker! I full recommend Laney, she is also just a lovely person to work with as well!

Jennifer

Married on 10/15/2017

Laney is the best! I didn't know exactly what I wanted, but Laney listened and then designed the perfect cake - it reflected my personality and the nuances of the wedding by mirroring the beading and lace designs in my dress in the piping on the cake - Absolutely elegant and glamorous - perfect, classy and did I mention delicious!!! Thank you Laney for helping make my wedding day perfect!

I cannot say enough good things about Laney and the cakes she makes. We ordered two cakes for a graduation dinner. They were absolutely as delicious as they were beautiful. Laney went above and beyond from communication to design to taste and delivery. Delicious Desserts made the event spectacular. Thank you so much!

Holly

Married on 04/02/2017

Laney blew me away with the cake I found on Pinterest- she made it look even better than the photo. It was delicious and truly a stunning cake! Thank you so much, Laney!!

Delicious Desserts's reply:

Thank you so much Holly! I'm so glad you liked everything. I can't wait to see the photos!

Donny

Married on 08/27/2016

I can't even begin to tell you how thankful and ecstatic we are to have been able to work with Laney. She is truly a great baker and an amazing artist. The cake was absolutely delicious and all of our guests agreed. With regards to the design, Laney was able to take our vision and make it even better than we could have imagined. The level of detail and dedication she puts into her cakes is second to none. To say the cake was beautiful and flawless would be an understatement. As if all of that doesn't set Laney apart from other wedding cake bakers in Charleston, I can't even begin tell you how incredible she was to work with. From the moment we stepped foot into her house for our cake tasting, we were laughing. Over the course of planning our wedding, Laney became, not just the person tasked with making our wedding cake, but someone we consider to be a true friend today. She is a lovely and hilarious person who has a heart of gold. I can truly say that Laney will do whatever it takes to give her clients what they want. When something as important as your wedding cake is on the line, Laney is the person you want in your corner. Seriously...there's just no comparison!

Lisa

Married on 08/08/2016

Working with Laney was one of the highlights of our destination wedding in Folly Beach, SC. We had her create a small cake for our reception as well as a variety of other desserts. Everything was not only delicious, but were beautifully finished and presented. We also ordered some of her famous cookies for the family to enjoy during the days after the wedding. All were so, so yummy! She was so fun and easy to work with and made everything exactly to our wishes.

Lindsey

Married on 06/11/2016

Laney from Delicious Desserts is AMAZING! She was so easy to work with and didn't kill me when I changed my cake design at least 5 times. She even stepped up when my wedding planner was MIA and tried to help us get in touch with him and brought us a birdcage to put our cards in at the wedding. She went above and beyond and I cannot thank her enough! Not to mention her cake is to die for! My husband and I enjoyed leftovers when we got home from our honeymoon!

Jenny

Married on 05/29/2016

Laney was absolutely wonderful to work with. My husband might say I'm obsessed with cake (I'm a baker myself in my free time) so we probably did 7 other cake tastings before we found Laney. Her cakes were without a doubt, the best I've tasted! If you're getting married in Charleston, definitely use Delicious Desserts! I promise you won't be disappointed!

Vicky

Married on 05/21/2016

Working with Laney from Delicious Desserts was one of the biggest highlights of our wedding planning process!!! She was recommended to me by my wedding planner (Megan Chandler from Ooh! Events, simply the best!) and Laney is just wonderful. I grew up in Florence, SC, where good food is highly appreciated, and I now live in NYC, where food is good for the most part, but there's also a lot of emphasis on how things look. And things that look amazing don't always taste amazing. Laney's cakes are BOTH. Everything looks exquisite and the taste is even better. She created our cake based on our vision, but she made it better by bringing new ideas to the table. Her creativity truly sets her apart. She was also very accommodating when we had to decrease our guest count when it became closer to our wedding date, though in retrospect I wish I hadn't because then we would have had more leftover cake!! She also created other desserts for our wedding, and I received compliments from everyone on both the cake and the desserts. Aside from her phenomenal baking skills, she is just an extremely warm and fun-loving person to have by your side on your big day. I cannot recommend her more highly. She's a 10.0 out of a 5.0!!!

Lauren

Married on 04/10/2016

I cannot tell you how much fun it was to work with Laney, the owner of Delicious Desserts. I live in Los Angeles, planned my wedding in Charleston, have a full time job that doesn't give me access to a phone and computer much throughout the day, and had no wedding planner (I had a day of, I'm not 'that' crazy) I found the entire wedding planning process fun and exciting but vendors can be difficult to plan with, given the circumstances listed above... Not Laney. Laney was amazing. I'd email her after work (which was late on the East Coast) and know I'd have an email response by the time I woke up or shortly after. We spoke on the phone several times when I could and each time I heard from her I was more and more sure that I chose the right cake vendor. She made arrangements to meet with my grandparents who drove down from Columbia to taste for me, she asked me for wedding details and a little about me and my now husband... all the info I provided and meeting my grandparents gave her an idea of who we were as a couple and the feel of our wedding day. She designed the perfect wedding cake. She nailed it. I had 150 guests, chose a 3 tier, 2 flavor cake, and almost the entire cake was eaten. It was my favorite decor piece and tasted amazing!! You can tell Laney's heart is in what she does. She genuinely cares for her clients and the product she makes from scratch and delivers. Do yourself a favor and team up with Laney. It was fun and exciting and I plan to use her for any reason I need a cake in the future!
PS, Her fondant icing is the best fondant icing I've ever tasted. I usually peel fondant icing off wedding cakes, I couldn't get enough of hers. :)

Robin

Married on 04/02/2016

We absolutely loved working with Laney! Cakes were delicious, tasting was a blast, and Laney has a great eye for design. Everyone at our wedding loved our cakes, and she even made us our favorite pies to go along with everything. I used Laney for a baby shower after the wedding, and we'll definitely be getting our cakes from her in the future!

Jessica

Married on 02/14/2016

Working with Laney was a sweet an experience as our wedding cake was tasty! My husband and I enjoyed meeting her and immediately felt at ease that she would create a breathtaking treat for our guests to enjoy on the wedding day. The cake was beautiful, but countless guests commented on how delicious it was as well. In fact, my husband and I have already eaten our top layer! There was no way we could wait a year to enjoy it again.
Laney is creative, friendly and absolutely amazing to work with. We highly recommend her and are so grateful we got to meet such nice folks during our wedding planning experience.

Megan

Married on 01/02/2016

Look no further than Delicious Desserts!

I have had incredible experiences working with Laney. I am a local photographer and shot a wedding where Laney was hired to provide the cake and desserts. She put together the most impressive wedding cake that I have witnessed in my entire career---and I have seen hundreds of wedding cakes. It was so modern and really a work of art. The couple that hired her raved all night about how fabulous and tasty it was. I was so impressed by her work that I had her design a cake for my boyfriend's birthday recently. Both of us thought it was the best cake we had ever tasted and it was just what I asked for aesthetically. I can only hope that I get to work with Laney at many more weddings so that I can see and taste her gorgeous, delicious cakes. Thanks again!

Rachael

Married on 10/03/2015

There are some vendors you know you just HAVE to work with from the second you meet them, and Laney Cowan is one of them. I could tell you that Laney's cake is DELICIOUS (it is). I could also tell you that Laney was the ONLY baker who was excited about making our vision come to life (she was). But what really sets Laney apart is how she cares for her clients. The very first time we met her, she drove halfway across town to hand-deliver cake samples to us. Almost a year later, when hurricane Joaquin cancelled the wedding reception we had planned and my husband's mother was unexpectedly admitted into a local ICU on life support, she again drove halfway across town to hand-deliver cake to us--this time our wedding cupcakes, which we would have never been able to enjoy otherwise. We're so grateful to have crossed paths with Laney, and she'll forever be a lifelong friend of ours.

Elizabeth

Married on 09/25/2015

From the first telephone call, I received total enthusiasm and openness. Even though I requested that Laney create a cake that was not easy, she worked with me. This was for my son's rehearsal dinner. He is a big archery hunter. I wanted a large buck with an arrow through it and a bull's eye behind. When I went to pick up the cake...I couldn't believe it. It was perfect. In fact I thought the deer might get up and run...so real looking. My son was THRILLED!!!!!!!! I can not say enough about her work. I highly recommend her business to all! Thanks Laney!

Brittney

Married on 09/19/2015

Our experience with Delicious Desserts was absolutely wonderful! We chose Delicious Desserts for our wedding cake after doing a cake tasting in December and loving everything on the plate! My husband and I live in Indiana and had a destination wedding in Isle of Palms, so all communication after the tasting was done via email. Laney was always responsive, and did an excellent job designing our cake and sending sketches along the way so we were on the same page. She even incorporated the lace from my wedding gown into the design! I was anxious to see the cake on our big day, and was so happy with how it turned it! Everyone loved the design, not to mention both flavors were absolutely delicious! We are so glad we chose Laney at Delicious Desserts as our wedding cake artist! Thank you, Laney!!

Laney made a delicious vanilla poundcake, chocolate and vanilla poundcake and this amazing lemon and raspberry cake! They were beautifully decorated and absolutely delicious - no fake icing taste, no flaky or dry cake - everything was delicious, rich and amazing. In fact, my husband loved the raspberry and lemon cake so much that I asked her to make another one for him once we returned from our honeymoon and she did for a reasonable price. Laney is very friendly and a great baker!

Marlene

Event on: 08/10/2015

The owner Laney Cowan was so very helpful and was prepared with ideas based on research of my company prior to our first phone contact. I was very impressed by her passion and attention to detail.

Tyrrell

Married on 07/17/2015

My cake was not only BEAUTIFUL and unique but tasted fantastic! It turned out perfect! I didn't have the pleasure of working directly with Laney because my wedding planner handled the coordination. What I do know is that I literally changed the design of my cake 1 week before my wedding, and Laney still managed to pull off my dream cake on extremely short notice. You can tell that she takes great pride in her work and it certainly shows. If you are looking for an easy to work with vendor, beautiful design, and great tasting cake, I would highly recommend Delicious Desserts for your wedding!

Courtney

Married on 07/04/2015

I would highly recommend Delicious Desserts! Laney is extremely talented. She took the time to meet with my husband and I twice -- first about a year in advance for an initial consultation, and then again four month prior to the wedding for a more detailed decision. She showed us many examples of different designs and styles she has done in the past, and also was open to any photos on Pinterest or the Internet that I had seen. The cake she designed was beautiful and EXACTLY what I had in my mind and I had tried to convey in our conversations. We had a fairly small wedding so didn't order a second groom's cake, but if we had a larger wedding I certainly would have (the photos of her groom's cakes are amazing)! Her designs are so creative and just perfectly executed. In addition, Laney is so friendly and passionate about her craft. She took care of all of the delivery and setup of the cake on her own; it was comforting to be getting ready upstairs knowing that she had it all handled downstairs!
Are you interested?
Send a message