125 Reviews
Recommended by 89% of couples
Quality of service

4.5 out of 5 rating

Average response time

4.6 out of 5 rating

Professionalism

4.5 out of 5 rating

Value

4.3 out of 5 rating

Flexibility

4.3 out of 5 rating
Awards
31 User photos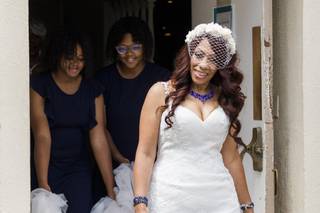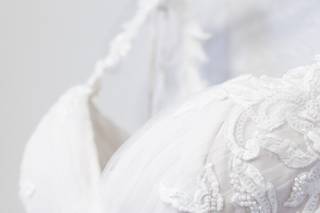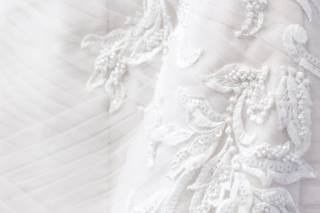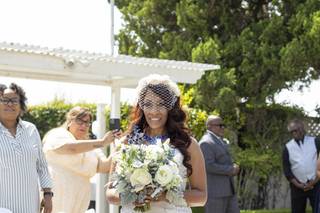 + 27

photos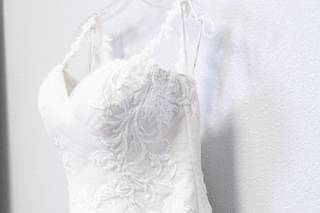 Featured

Regina C.

Married on 09/17/2022

My experience with Deborah's Bridal

I lover Deborah's Bridal, everyone was really helpful and courteous. The prices were reasanable and affordable. I my dream dress at a price thatcwas equitable for me. At my final fitting I received so many compliments on how my dress fit from them associates.

+ 17

photos

Brianna M.

Married on 08/21/2021

Unbeatable experience!

As soon as I walked into the door every single person made sure to greet me, they were all genuinely friendly and caring. I immediately knew I was in good hands. Janelle was my bridal consult and she was beyond helpful and very patient! I went in with a different vision in mind but that completely changed after talking with Janelle and trying on a few dresses. She found dresses that complimented my body type and captured my personality....which finally led me to THE ONE. ❤️I'm glad that this is a one stop shot..you can get your bridesmaids dresses here, and a whole lot more as well. I am beyond thankful for their transparency, kindness, professionalism, and commitment to every person who walk through those doors.

The experience is unbeatable, their consultants are professional, and their prices are very competitive. If you go to Deborah's, you won't need to go anywhere else.

Jackie P.

Married on 07/17/2021

The Perfect Dress Shopping Experience

Very classy and sophisticated environment for any budget!! My dress appointment was the first time I felt like a real bride and the consultants really help you ride that wave nd enjoy the moment!! Deborah's Bridal had so many style and silhouette options to choose from! My consultant helped me narrow down what silhouette I liked and then helped me find my perfect dress. Our wedding was postponed due to COVID but 2 years after purchasing my dress, I was still OBSESSED! Alterations department was so helpful as well which is crazy important...especially for a postponed wedding. Highly recommend :)

Are you interested?

Send a message

Lauren L.

Married on 02/08/2020

Best experience

I pretty much knew I was going to go to Deborah's first, before I went anywhere else, and I'm glad I did! The whole team was a dream to work with, and Deborah's has a variety of dress sizes to fit into, which as a wedding dress size 24, was so amazing. I was terrified of fitting into the "normal" sizes, and that fear was quelled in the first dress. I tried on tons of dresses, and all of them were amazing. I only had one request - highlight the pearl necklace my late grandfather gave me. They helped me choose what fit I liked the most (I stayed as open minded as possible), and once I found the fit and the style, really honed in and found the Dress. It was one I had found on their website and fell in love with, and I was so excited when it was exactly how I had hoped. We found the veil to match the dress thanks to my wonderful MIL choosing a Mantilla Lace.

The alterations team were the best! I decided to add beads for our evening wedding, to match my veil, and they worked up until the week before the wedding to make sure it was absolutely perfect. I also have a higher waist, and they had to take out some boning to release some bunches that were happening. They are incredible seamstresses and that dress was a dream come true. I love Deborah's and have recommended all my friends to go there.

+ 2

photos

Sarah H.

Married on 12/14/2019

Fabulous dresses and wonderful service!

Deborah's is wonderful! With an appointment, you have the full and undivided attention of your stylist. I worked with Peggy and she was so attentive and patient. I went in not knowing really what I wanted and she was so patient with me and let me try on as many dresses as I wanted. Once I figured out a style that I liked best, she was so great at letting me pull whatever dresses interested me. This isn't the experience you get at a lot of other bridal shops. I really appreciated the personal attention and attention to detail everyone in the shop took to ensure that I was happy and finding what I wanted. There also was not pressure to purchase even though I did end up buying from Deborah's. I also enjoyed the styling of multiple veils. They have wonderful dressing rooms too that are spacious, clean, and elegant looking. I can not rave enough about Deborah's! My veil also came in super fast! I'm more than pleased and would gladly recommend them to brides!

Deborah's Bridal's reply:

Hello Sarah,

Thank you for taking the time to write a review. We are happy that you had such a wonderful experience. Peggy truly enjoys helping our customers find the perfect dress for their very special day. We look forward to assisting you in finding mothers and bridesmaids dresses.

Best Wishes from all of us at Deborah's Bridal
Susana



Emilia

Married on 05/31/2019

Best experience

I had a great time shopping at Deborahs for my wedding gown. I tried on maybe 4 dresses and fell in love with the 1st one. They were really good about listening to me and my wishes for my special day. My dress was Stella York which carries for us plus size brides. I would recommend Deborahs in a heart beat.

Deborah's Bridal's reply:

Hello Emilia,

Thank you for sharing your lovely photos. It gives us such joy to know that you had a wonderful time saying "yes to the dress" at our store. We are very happy for you and wish you and your new husband the very best.

Deborah's Bridal

Sy4

Married on 03/16/2019

Veil & Tiara

Right when we stepped in me and my mother were greeted. I was in search for a veil and accessories for my wedding and I asked if I needed an appointment and they said they would be able to help me immediately and they sure did! Katie was very nice and willing! We had a wonderful experience for any bride I would greatly recommend this bridal store!

Natasha

Married on 10/27/2018

I am so happy that I chose Deborah's Bridal to look for my wedding dress. When I told a couple people what store I had in mind to go look for wedding dresses they had some negative things to say about this store. I chose to ignore the comments and check out Deborah's Bridal anyways. I went to the store on a Sunday to make an appointment and loved how friendly every one was. I was told that the size of the dress doesn't matter and that they can get any dress in any size which definitely sold me because I am on the thicker side. They asked me my budget which was $1,000 or less and said that they will be able to help find the right dress. I made my appointment for that following Wednesday. When I arrived Wednesday I met with Katie. Katie was very sweet and very helpful. I tried on a couple dresses and then found "The one" and it was close to my budget. Katie made this a fun experience for my mom, my friend and myself. We even had Deborah her self helping us. Thank you Katie for helping me find the perfect dress. I will definitely recommended Deborah's Bridal, they were way better priced, the dresses look expensive, they have dresses for any budget and the experience is way more personal than David's Bridal.

Nadine

Married on 06/30/2018

Very helpful ladies. Definitely take their time with you

Carissa

Married on 06/09/2018

Honestly I went in knowing I had a vision but I had told my consultant, Peggy, I wanted to pull that specific dress but I also want to pull multiple styles and fits and try on the dress I envisioned last. She was all for it and pulled lots of beautiful dresses. Going into my appointment I was sure I wasn't leaving with my dress as I'm a bigger figured woman and working on losing weight. I felt so comfortable and Peggy got input from other staff and I felt like such a beautiful person. At the end of the day I left with the dress I went in for (the dress of my dreams) and Peggy pulled the most beautiful veil to compliment my dress that I just had to get that too. I couldn't be more pleased with my experience and my sister who is one of the people with me said she was starting to get the urge to shop for her dress now because they were so amazing. I can't say enough about my experience and am so grateful to the staff at Deborah's Bridal. I can't wait til my dress comes in to wear it again but most of all to wear it on my big day!

Thank you Deborah's bridal staff and especially Peggy!

?Carissa

Cheryl L.

Married on 05/05/2018

I was looking for a certain style and having a hard time finding exactly what I wanted. After many appointments at other bridal stores, I emailed Deborah's to see if they had a certain dress that I was looking for. They called me the very next morning and I was able to make an appointment for that same day. I had my fitting with Lauren who was so friendly and helpful to work with. Although I did not end up buying the dress I went in to try on, I did find MY DRESS! Thanks to Lauren and all her patience and help, she helped me find the perfect dress for my wedding day!

Tiffany

Married on 03/16/2018

Great conversation. Made me feel super comfortable and open to changes during appt.

Jessica

Married on 03/03/2018

Excellent dress choices extremely friendly, and helpful

Carina

Married on 02/03/2018

I completely loved my experience at Deborah's Bridal! I am so happy that found my dress on my first store I went to. My consultant, Katie, really listened to what details I wanted in the dress that I get to marry the love of my life in. She was patient and willing to go dig through the racks for dresses that fit my ideas and she, and the other staff, really made my time there very enjoyable.

It is absolutely wonderful that I bought my dress from the same store my mother did 34 years ago when she married my father. I love the family tradition we started and I will definitely be bringing my future daughter here one day too. :)

Amanda

Married on 11/25/2017

My entourage and I rolled in with not only 100ish days til "I do", but also a budget, and lots of opinions... not to mention my body issues. My stylist not only began by speaking to my insecurities (I didn't even put my spanx on!), but she really held my hand and focused on me - not my crowd. I couldn't imagine going anywhere else!

Kathryn

Married on 11/18/2017

Heather was amazing! She got me in exactly what I wanted and after trying on 20 dresses (pre-Deborah's bridal) I found the one. :)

Emily

Married on 11/04/2017

Very helpful and professional.

Veronica

Married on 10/21/2017

This was my first and last stop out of four bridal shops. Michelle at Deborah's bridal was beyond amazing. Being my first time trying on dresses I was very intimidated. Michelle listened to everything I wanted and when I thought I knew what I wanted, she surprised me. She observed my reaction, likes and dislikes when I tried on different dresses. She then pulled one I would have never picked and fell in love. Michelle was beyond kind, funny and caring. I felt like a princess there. She worked with my budget, called me as soon as she got the delivery date and gave me all the instructions needed. I would recommend this shop and the sales person Michelle to anyone looking for dresses.

Jacklyn

Married on 07/30/2017

I had such a pleasant experience. Everyone was kind and helpful

Emily

Married on 04/22/2017

Deborah's Bridal made my Wedding Day on April 22, 2017 AMAZING!!! My mom got her wedding dress there over 32 years ago, so this place has such a special place in my heart. Deborah and her team were phenomenal in finding my PERFECT Dress. I came into my first day there with 6 dresses I wanted to try on. The 1st dress I tried on was the dress I thought I knew would be the one from pictures online, but little did I know that the odd dress out, which was Blush, and Lacey, both of which I did not see myself in, would be the ONE!!!! From the Moment I saw it on the hanger, to the moment I put it on, I knew I had found the ONE! Deborah and her team helped me find the ONE within 45 minutes. They listened to me and knew exactly what I was looking for.

Not only did they help me, but they help my mom, the Mother of the Bride, and my 8 Bridesmaids with all their dresses and alterations. The level of Professionalism and attention to detail at Deborah's is above and beyond and I cannot thank each and every one there enough for the wonderful job and the place you hold in my heart is so special.

Courtney

Married on 03/22/2017

The staff at Deborah's Bridal are amazing! They genuinely care about finding the perfect dress for their brides - and they helped me find mine! I would recommend them to any bride looking for a great dress at a reasonable price.

Amanda

Married on 03/10/2017

I ended up getting my dress from the sample section they have in the front. I still felt I got the experience of dress shopping even if that area was much smaller. I got a great deal and found the dress of my dreams! Plus, the girls were super helpful!

Amber

Married on 11/06/2016

Jennifer at Deborah's Bridal in Upland, CA was amazing! She was extremely helpful and polite, and walked us through our whole Bridesmaid dress selection for the whole group, and even helped us with buying vests for the Groomsmen. We didn't even have an appointment, but because we had seen her two weeks prior, she came to assist us again. Get there early so you can get her before anyone else does! She even gave us a great discount on our entire order.

Don't even bother asking for anyone else's help, because they won't be as good as her. Knowing how horrible most dress assistants are from personal experience, it was a relief to find someone so understanding and helpful. Jennifer is one of the greats! Thanks for making our bride smile, and having her be able to check one more thing off her list. Bridesmaids dresses done! :)

- Amber

Marissa

Married on 10/22/2016

Deborah's bridal was incredible! Huge selection of wedding dresses and incredible staff! Sophie assisted my mother and I today to help me find my dream wedding dress. I couldn't be more happy with the dress I chose! Everyone was so patient and willing to get me the dress that I truly dreamed of, especially Sophie! Can't wait until my dress comes in!! :)

Kristin

Married on 10/21/2016

I was so pleasantly surprised with their selection of wedding dresses! Almost every magazine cut out that I brought in, they had! I ended up falling in love with a particular dress and veil and purchased it on the same day to receive the 20% savings that they offered.
I didn't end up getting my alterations done as the quote I was giving was more than the price of the dress ($900)! I was fortunate to have a friend of a friend who's a seamstress do them for a fraction of the cost ($250).
In the end my dress was amazing! Thanks Deborah's Bridal!
Are you interested?
Send a message