28 Reviews
Recommended by 100% of couples
Quality of service

5 out of 5 rating

Average response time

5 out of 5 rating

Professionalism

5 out of 5 rating

Value

5 out of 5 rating

Flexibility

5 out of 5 rating
2 User photos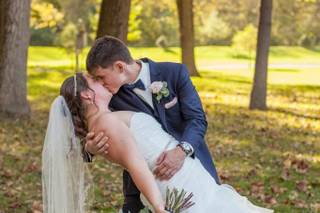 Katlynn

Married on 10/05/2019

Perfection!

Debra is amazing! My wedding day went flawlessly thanks to her. She has a solution and great ideas for anything you throw at her. I cannot have imagined my wedding day without her help, I have nothing but positive things to say about her. She ensures that you are happy, fed and hydrated and allows you to be 'in the moment' at your wedding and enjoy your guests. I was not approached with any wedding questions during my entire wedding thanks to Debra.

Audra

Married on 06/16/2018

I could not recommend Debra enough. We were on the fence about hiring a coordinator at first, but now my fiance and I would definitely agree it was one of the best choices we made. We were able to be fully present in the wedding and Debra made sure everything ran smoothly. She went above and beyond from the moment we first contacted her to help make sure every aspect of our wedding day was perfect. Having someone you know will take care of any issues that may arise, will make your day that much more enjoyable. If you're looking for a wedding coordinator or planner you must hire Debra

Jenna

Married on 12/16/2017

Debra made all of my wedding dreams come true! She took care of every last detail so my husband and I, as well as our parents could fully enjoy the magical day!

Are you interested?

Send a message

Laura

Married on 10/07/2017

Debra was very organized and helped us be able to relax. As parents of the bride we were very pleased with Debra's professional demeanor, her thoughtfulness and attention to details. She even ran to the store for last minute items that had been forgotten, by us, and was happy to do it! Debra fit right in and just felt like family, she is wonderful!

Mary

Married on 10/07/2017

I wish I could give more than 5 stars! I am so thankful to have met Debra she feels like part of the family. Debra is such an amazing person and she did so much to make my wedding run smoothly. She was extremely helpful in the planning stages and was always available when I had questions or needed someone to bounce ideas off of. Debra organized so much for us at the rehearsal she helped us decorate for the wedding, helped coordinate the ceremony and worked with my sister(she married us) to have a well organized ceremony. If none of the above convinces you that Debra is a must have resource and partner when planning your wedding then do it for the piece of mind that she gives you the day of. While getting ready for the wedding Debra coordinated the arrival of the stylists, cake, DJ, flowers, photographer and the groomsmen. She set up the flowers and cake when they arrived and made sure all of the place settings were ready for before the guests to arrived. All I needed to worry about all day was getting ready everything else just fell to the background. This doesn't sound like much but I live in Maine, my husband travels for work, my mom travels for work, my dad and father in law live in Indiana my sister lives in Washington and the maid of honor lives in Georgia planning this wedding was hard on all of us but Debra alleviated a lot of the stress. she also made it possible for us to enjoy the wedding and each other's company. Living so far away from everyone makes the time together that much more important. I am so glad that I hired Debra and I would recommend that if you are on the fence or not sure if you even need a coordinator that you do because it's well worth it!

Payton

Married on 08/26/2017

I can not imagine my daughter's wedding without Deborah! She took care of everything. The wedding day was perfect, no glitches! If there were, I didn't know about them! It truly was a stress free day! If I had another daughter getting married, Deborah would be my first call. She is absolutely priceless! Julie Miller

Payton

Married on 08/26/2017

Debra is amazing! I loved working with her and would recommend anyone who is getting married should consider using Debra as their wedding planner! She made our day perfect! She was always there to calm me down when I needed her to and on the wedding day she made everything run so smoothly that the day seemed just like a fairytale!

Ashley

Married on 06/04/2017

Debra seriously went above and beyond. Our day was absolutely perfect. She took care of everything and our day was exactly as we always imagined. She looked after so many details and even had some sweet surprises up her sleeve. I'm a Kindergarten teacher and invited my class to the ceremony, Debra had them all sit together in the back and on aisle seats so that they could all see me. :). So sweet. She kept us on track, even though we had some wild groomsmen and she also corrected various matters throughout the day. Because of Debra, my husband and I got to be 100% in the moment at our wedding.

Korey

Married on 05/20/2017

Debra was great to work with! She helped keep all of the stress and small things that came up away from me so I was able to enjoy my day for every second of it!!! She went above and beyond to keep me, my husband and immediate family very happy and having her there on our big day was one of the best planning decisions I made. :)

Leah

Married on 10/01/2016

Debra was wonderful! She made sure our day went off without a hitch and was truly a pleasure to work with. I'd recommend her to anyone who wants to make sure their day goes smoothly!

Wes

Married on 10/01/2016

Debra was great. Professional and responsive. Great to work with

Hillary

Married on 09/25/2016

We highly recommend Debra as a wedding coordinator! Debra was so wonderful and easy to work with. She asked questions to learn what we wanted our day to be, and helped us figure out what we were unsure of. She was prompt and clear in communication. She anticipated our needs on our wedding day, coordinated with vendors to make sure everything was in place, and made our day flow so smoothly. We so appreciate the personal attention and care she put into our day. We went into our wedding day with no worries because of Debra's work and support! I cannot imagine the day without her. I highly recommend Debonair Marketing & Events for your special day!

Allison

Married on 09/25/2016

We hired Debonair Marketing & Events for wedding coordinator services on the day of our daughter's wedding, and I can't say enough good things about Debra and her great work! "Day of" included a sit-down meeting ahead of time to discuss the wedding day, a planned timeline for the day, rehearsal the day before, and tireless coordination of endless details the whole wedding day. Debra is professional, thorough, responsive, detail-oriented, experienced and just wonderfully capable; I felt like we were in excellent hands from the moment we started talking. I cannot imagine what the day would have been like if I had tried to serve as coordinator. Turning things over to Debra allowed me and the rest of the family to be fully present and truly enjoy the wedding day. I'll always be grateful that we chose Debonair, and Debra, to manage one of the most special days in the life of our family.

Megan

Married on 09/17/2016

Debra was a life saver! A wedding coordinator is the best thing you can invest in to make your best day ever run smoothly! She remembered all the details and did everything I asked. You need someone to do all the final touches and make sure everything is in place so you can relax and enjoy your big day. I highly recommend Debra!

Debra was fantastic. We planned the wedding from another state, and consulted her for information first, which was very useful. We then decided to hire her to be the day-of coordinator. The venue had a behind-the-scenes coordinator, but it was very worth it to have Debra there as well. She kept track of many details I didn't want to worry about, and kept everything running smoothly.

Mackenzie

Married on 08/20/2016

Debra was a life saver on our wedding day! Not only did she make sure we stayed on time, but she also went out of her way to make sure we had a backdrop for our ceremony when we had to move inside due to rain. She's so helpful...highly recommended!

Meredith

Married on 08/13/2016

I really can't say enough nice things about Debra. She is organized, professional, and very clear about the services she is offering. She has a few different packages so I got one that included assistance with planning and her services on the day-of.

In the planning stages, Debra helped me through the decision-making process for several key components of my ceremony and reception. She also helped me wade through questions of etiquette--people do things so differently nowadays so in many ways these kinds of things are individual judgment calls based on the style, size, and formality of your wedding--but I felt like Debra steered me right. We also talked about various ways my fiancé and I could really personalize the day's experiences both for our comfort and to reflect our personalities. It was wonderful to have someone knowledgeable about trends and traditions to walk me through the possibilities.

On the day, Debra really stepped up and was the point person for all questions, handled any challenges or mishaps, etc., to the point that the day for my family and friends was all enjoyment and any little snafus were beyond my notice. You will not regret hiring Debra because you will get a great return on your investment: the process of planning will be de-mystified and you will have room to enjoy the experience rather than stress about the details.

Natalie

Married on 07/09/2016

Debra did such an amazing job making sure every part of my wedding day went smoothly. She answered every email, text and phone call super fast. She was way more than just a "day of coordinator." She was someone completely on my team from day one of meeting, and always had my interest at heart. She supported me when I struggled with other vendors, and stepped up when needed. She worked so hard the day of my wedding and I seriously could not have done it without her. She was there from when we started getting ready, ran every errand I needed her to, and was there until we left our reception. She worked to make sure every detail was perfect throughout the whole day. I can't say enough good about her!

Valerie

Married on 10/24/2015

From our first meeting, Debra impressed me with her professionalism and energy. In that meeting she asked what I wanted from a planner and I said I wanted a "bride advocate" - someone to be my advocate along the way. She accepted the challenge and fully delivered. The day after our wedding, my husband and I were reflecting on some of the great memories and he said "Debra, just WOW!...I feel like she is part of the family now!" which is a testament to how critical she was in ensuring we had a worry-free wedding day. She seemed to anticipate every need we had and somehow she used her planning magic to be in two places at once (or at least know what was going on at both places).

Like many brides on a budget, I thought, who needs a planner... I can do most of this myself. But, what you probably don't realize is that for you (the bride, or the mom), every decision you make about your wedding is probably an emotional decision. Are you going to be able to make the tough decisions right up to the end and keep your sanity? Hire Debra. Do you want someone other than your fiance, best friend, or mom to run things by or get an objective opinion? Hire Debra. Do you want someone to figure it out when something shows up in the wrong place? Hire Debra. Do you want someone to help you figure out your wardrobe malfunction 10 minutes before pictures are going to start? Hire Debra. Do you want someone to help ease your nerves when pictures are starting or you are preparing to walk down the aisle? Hire Debra!

Budget-wise, she is very reasonable as she has a range of package options from day-of coordination to planning the entire event. For the price of upgrading your place settings, or those few guests you don't need to invite anyway, you can get Debra! Based on the level of service we received, I feel like you will be getting a great value.

Cathy

Married on 09/26/2015

Debra was an absolute godsend. Her ability to listen to everyone's input then provide a solution that worked for everyone priceless. My husband, who is a hard sell, was the first to say, "Let's defer to Debra and do whatever she recommends."

Brooke

Married on 09/26/2015

When I met with Debra for the first time, there was an instant connection. I felt like a weight had been lifted off my shoulders. She tied all the loose ends together and made my wedding day and every day leading up to, go so smoothly. My entire family and I were so impressed with her professionalism and ability to get things done. She was a true God send!!! My day wouldn't have been as amazing without her!

Debra was excellent to work with! I actually performed the wedding but am also the uncle of the bride, so I was able to see her work with the family as well as me, as the minister. She was very responsive to our needs and exhibited excellent communication skills. She was able to handle all the details and was never overbearing. The day of the event went very smoothly, thanks in great part to Debra's expertise. She remained calm and pleasant, even when glitches happened. I would give her my highest recommendation.

Misti

Married on 05/17/2015

She kept everyone where they needed to be when they needed to be. I was the photographer. She let us know how long we had, found everyone and had them there when it was their turn. Very easy to talk to. She was awesome. I can't say enough.

Ashley

Married on 05/16/2015

When I first started planning a wedding, my fiancé and I knew that sticking to our relatively small budget wouldn't be easy. I thought that there was no way I could afford a coordinator. But in retrospect, I know now that I could not have made a better investment in working with her. Without Deborah, I would not have been able to enjoy my perfect big day!
Deborah met with me & my fiancé to discuss our plans and our vision for the wedding. Little did she know what she was getting into lol. From start to finish, Deborah was our savior. She took care of so many details. From contacting our vendors to researching linens for our sweetheart table to fielding many frantic emails from a stressed out bride, Deborah went above and beyond any expectations we could have had for her. She created a timeline for our big day & made sure our vendors and wedding party had copies. She made arrangements for our rehearsal dinner & ran several errands for us leading up to our wedding day. The day of the wedding, she brought breakfast & mimosas to the salon & then left to the venue to make sure things were all set.
The morning of a wedding is very busy for a bride & not having a hand in setting up our reception made me a little nervous. I provided Deborah with a list of décor and a vision of how I thought things would look and left her and my husband to make it happen. When I walked into my reception hall, I was BLOWN AWAY. It was more gorgeous than I could have even imagined. She did such an amazing job. After our ceremony, we left in such a hurry that we did not get our marriage license signed by our officiant. Deborah left the reception to track him down for a signature so that Josh and I could officially be married. Deborah allowed us to step back and actually ENJOY our day.
Everything went flawlessly, and what didn't, I was shielded from. I truly owe the beautiful memories of my wedding and reception to how well she handled everything & I cannot thank her enough.


Dianne

Married on 12/10/2012

Debra was fantastic in keeping everything running smoothly for our day. She took care of every little detail to keep the wedding day on schedule. As the mother of the bride, she handled things I would have not thought of. She completed tasks before I could even ask her to do so. What peace of mine she brought to me. I was able to enjoy the day totally. I am so grateful for her expertise.
Are you interested?
Send a message