21 Reviews
Recommended by 85% of couples
Quality of service

4.2 out of 5 rating

Average response time

3.9 out of 5 rating

Professionalism

4.4 out of 5 rating

Value

4.3 out of 5 rating

Flexibility

4.3 out of 5 rating
7 User photos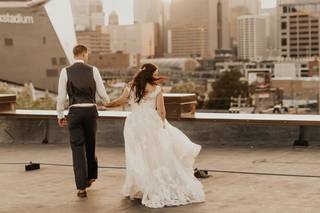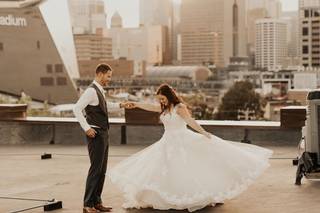 + 3

photos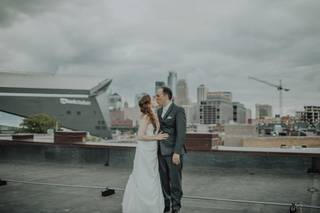 Jim M.

Married on 09/17/2022

Great Wedding Space in Minneapolis

What a gorgeous space to have our wedding. We really wanted to get married in a historical space with a lot of character and this was it! We were allowed to decorate the way we wanted and bring in our own caterer (Indian) since the brewpub didn't offer that.

We got married in early Fall and took pictures over at the Mill City ruins after our ceremony as well as overlooking the city from the rooftop of Day Block. I appreciated the flexibility and easy going attitude of this place - we had looked at a few older building spaces but this one really felt right! I'd recommend this venue to anyone!

Featured

Patrick K.

Married on 11/21/2020

Beautiful Space for Wedding!

We could not have been more happy with the way the owners handled the event center during COVID. The space is beautiful with tall ceilings, brink interior, and plenty of natural light. Although we had a smaller wedding the space was perfect for 30-150+. The space made for amazing pictures as well being very convenient for our guests to arrive and our caterers/bartenders to serve. They went above and beyond allowing us to move up our wedding date 24 hrs within 48 hrs notice. We recommend this space for any wedding/reception/event. (They also have great beer downstairs).

Maggie

Married on 09/23/2018

Simply Perfect

Day Block was the perfect location for our wedding reception. The staff was friendly, helpful, and professional. With our late September ceremony being outdoors the risk of rain was high. Day Block was great to have as an alternate ceremony location. They helped us make a back-up plan, setting our minds at ease. The space itself is beautiful, with its warm brick walls and large, picturesque windows. With our 150+ guest the room felt full but not crowded. One of my favorite things Day Block offered was the option to pick our own caterer. This helped to keep our reception unique and on theme (we had charcuterie boards with our Harvest theme). However, ordering late night pizzas from the facility was one of the best decisions we made. They were delicious and helped to keep the party going. It was also great having the venue so close to many great hotel options. We went with the Marriott, who provided a shuttle to and from the venue. Overall Day Block was the perfect fit for us and we couldn't have been happier on our big day!

Are you interested?

Send a message

Beautiful venue with multiple rooms that allows for flexibility. Prime location. Staff was great on day of lending a helping hand in whatever way to make sure event went off without a hitch!

Lauren

Married on 07/13/2014

This was a perfect place for my wedding reception! It was absolutely gorgeous! The balcony was great for guests to be able to take a break from the party and get some fresh air! I loved the huge windows and exposed brick walls! It was a beautiful venue for a beautiful wedding!

Absolutely OUTSTANDING! Barb is the day-of coordinator who is also the manager of the restaurant on the main floor (Spill the Wine) is such a joy to work with! She loves what she does and does it with such excitement and joy. They are flexible to creative ideas; for example, my husband and I had our first date at the state fair and so we wanted our food to be an elegant version of state fair foods, essentially, anything "on a stick" and the chef created a shrimp pup with wasabi for us, it wasn't even on the menu! Barb is great when it comes to responsiveness, sometimes I'd get an e-mail response within hours! She always acts like she's happy to see you and it was truely refreshing to find a place that used the word
"CAN", not "CAN'T". On another note, they don't require that you use their restaurant for the catering, it was just easier and absolutely out of this world delicious (not that we got to eat much on our big day)!! The only suggestion I have is get your conversations them in writing. There were some mis-communications between Barb and the building owner that caused us some stress so get it all down and/or make sure Barb gives you a copy of her notes from the conversation (in-person especially)

Day Block was a perfect place to have our wedding ceremony and reception. First off, I loved that Day Block puts its rates and calendar on its website so you know going into contacting them 1) what the price is; and 2) what days they have available. When we contacted them, the even coordinator Kassie was extremely helpful about getting us in to look at the space and answering questions.
The great thing about Day Block is how you could do exactly what you wanted for decorating, catering, alcohol, setup. They let you bring in your own caterer and supply your own alcohol and bartender. It really helped to bring the cost down to do a lot of things ourselves. The only issue is you need to do your own setup the day of the ceremony because they have events almost every day and so you can only get access on the day of your ceremony. However they were really great about letting us into the space really early (7:00 a.m.) the day of our ceremony and didn't charge anything extra.
Our event size was probably the max that the space should have. We had about 115 people and they were just able to fit in the small ceremony room and they were just able to fit the food tables, bar, buffet and dance floor in the other large room.
They have a lot of supplies there as far as tables and chairs and they even have a little bar to use.
Kassie the even coordinator was so good about responding to all of our questions both mine and my mother's. She also was there at 7am on the day of the ceremony helping us set up.
Also, fun note, dogs are allowed at the event center. Our dog was the ring-bearer.

Sarah

Married on 09/14/2013

They were super flexible the day before and day of and the space is soo beautiful. It needs little decoration - we hung lights on the ceiling and that was pretty much it. Price was reasonable and definitely one of the cheaper options in Minneapolis as we were able to bring in homebrewed beer and Pizza Luce. They have increased the price since we booked with them about a year before our wedding, so I'm not sure if the value is still there.
The size of the space was perfect for our wedding of 125. We had the ceremony in the large room, then a cocktail hour in the small room, while the large room was rearranged for dinner. I think any more than 140 people would be too many for this space. It was also about 70 degrees on our wedding day and the AC was able to keep up. I think if you were getting married in the middle of summer with warmer weather and more people there would not be enough room and it might be too warm. We really enjoyed having our wedding here, but keep the couple items I mentioned above in mind.

Sally

Married on 06/09/2017

We loved our wedding here. It had great character and allowed you to bring in any caterer and your own alcohol (big money saver). We had a few hiccups with the venue but was able to get it all figured out. The new coordinator, Cassidy, is very responsive! We had an amazing and fun wedding there!

Ali

Married on 04/24/2015

We used the Day Block Event Center for our wedding reception this past weekend, and it was wonderful!! We were looking for a venue where we could bring in our own caterer and alcohol, primarily so that we could have a food truck cater the event and save on the drinks bill. The venue fit our 120 guests comfortably and we did not have to do any reshuffling of the tables. The food truck parked in the back parking lot and used the stairs to ferry food up to the second floor. We were able to use one of the back rooms for the food service, so it was visually removed from the party, but still very accessible. The exposed brick and metal lent itself to minimal decorations and the tables and chairs were in such good condition that we didn't even use linens!! Day Block is within walking distances of several hotels, so it was easy for our out-of-town guests to access as well.

Liz

Married on 05/31/2015

Day Block Event Center is a DIY bride's DREAM! After looking at a number of venues in the Twin Cities, we couldn't find anything that beat out the cost, location and ability to customize the space to fit our needs. We were able to choose our caterer, bring in our own alcohol, and were even able to serve desserts made by my fiance's mother. The fact that tables and chairs are provided as part of the rental agreement was also a huge cost-saver. As a note, we had approximately 140 guests and found that it was just the right amount of people to fit the space for both a ceremony and reception.

Amanda

Married on 04/20/2013

The Day Block Building is so beautiful inside and is exactly what we were looking for. They were really flexible to work with and helped us figure out a ton of tiny details. You rent tables and chairs directly from them so it was really nice to not have to find and coordinate a separate party rental company. It is a great value right in Downtown Minneapolis. We held both our ceremony and reception here and our guests really liked not having to travel between events. I would recommend the Day Block Building.

I'm so happy I got married at Day Block! The event space is beautiful and the service is great. I got a ton of compliments on how amazing the food was too!

Laura

Married on 05/20/2016

Day Block was a perfect venue for our wedding! The exposed bricks and beams are beautiful - so many compliments! We used the smaller room as our ceremony room which worked out perfect for the size of our wedding, which was just over 100 people. We also used Day Block Brewery for or catering. Their food is amazing and it worked out great that the kitchen was right down the stairs, and their staff set up and took down the tables. The Day Block staff were all very nice and accommodating but not the most responsive to emails, which made my husband and I nervous at times. They don't focus on every detail until about a month before your wedding which had me worried in the months leading up to it. However, the event came together so smoothly and was absolutely beautiful and flawless on the day of! I would definitely recommend Day Block for both the reception and ceremony.

Lizz

Married on 10/18/2015

My husband and I fell in love with this venue – the location downtown, the exposed brick, and the original wood floors were all exactly what we had been looking for! The flexible space allowed us to host both our reception and ceremony for about 85 people in the same location without having to turn over any rooms, and the ability to use any caterer and bring in our own alcohol was an awesome cost-saver.

It is a beautiful blank slate kind of venue. They allow you to bring in your own liquor as long as you get insurance for it which saves a ton of money. Their catering pricing are reasonable but they also allow you to bring in outside catering. It can sometimes be hard to get them on the phone but once you get in email contact they will answer any questions you might have.

Molly

Married on 01/15/2012

They are a little slow to get back to email etc. prior to the event. But day of, I couldn't have asked for a more available and responsive venue. They were very flexible with us for set up and rehearsal space as well. It is a stunning location and a good value.

Day Block is a BEAUTIFUL venue and working with the location was flexible in many ways. It was a great value for what we were looking for and I appreciated that we were able to bring in our own alcohol and caterers (it was a factor in our decision to use the location). Because of the location's natural charm, there really wasn't a need to do much decorating.

The owners were flexible to allow us to come in a day early to set up and worked with me to respond to emails throughout my planning process (although there were usually delays in responses). My biggest point of frustration is that nothing was cleaned when we arrived to do our set up - floors were dirty and sticky, tables from a previous party were still set up - and it took several calls and requests to get floors mopped. We got it resolved, but not without feeling stressed through the process. I don't regret my decision to get married here, I just felt let down by the day of (/day before) management of our needs.

Miranda

Married on 09/07/2019

Beautiful Space

Overall the venue was beautiful. The exposed brick and view of the city were exactly what we were looking for! The space held our 110 guests easily, with plenty of space for everyone comfortably! The rooftop photos are AMAZING!!

Cons:
Our main contact changed a few months after we booked and so we ended up having to work with someone new. We were originally told we could get in the day before to setup, but that fell through and we needed to hire someone to setup day of for us. The Bobby and Steve's parking lot they advertise to rent is only available after 5pm during the week! Also if your having a summer wedding the air conditioners will not keep the place cool! The high was 70 degrees on our September wedding and the second floor was very warm!!


Samantha

Married on 06/02/2018

We were pleased with our experience hosting our wedding reception at Day Block Event Center. With its high ceilings, exposed brick, and beams from which to hang Christmas / Edison bulb lights, Day Block is gorgeous and trendy without feeling too stuffy. Its downtown Minneapolis location means it doesn't come cheap, and a lack of staff means you will need to either clean up yourself or hire someone to do it. But there are other ways in which Day Block was a money-saver. Chiefly, they don't charge you to bring in outside vendors, so we were free to save on a more affordable caterer.

Beyond that, there are many wonderful things about Day Block. We loved that it was located right above Day Block Brewing Co., both because we love craft beer and because the full bar downstairs meant guests could get any drink they wanted that wasn't available at our bar. The balcony and cocktail room meant guests weren't all confined to one space, and brought variety to the night. The roof made for an amazing place to take some wedding pictures with the Minneapolis skyline and U.S. Bank Stadium in the background. The Day Block staff we worked with, while not too flexible, were prompt & straightforward. In addition, the presence of a rentable parking lot nearby (through Bobby & Steve's) means guests don't need to scramble for street parking and put themselves at risk of a ticket. Overall, we enjoyed our experience hosting through Day Block and would recommend it to anyone for whom location is a priority.

Kathy

Married on 07/11/2015

Use a different vendor. I wish I could give zero stars. My daughter planned to have her wedding at Day Block Event Center. We paid the $5k six weeks before the wedding as contracted. Found out five weeks before the wedding that a noise metal festival was taking place right next to the building. Owner said he didn't know anything about it. I don't buy that. He has a responsibility to his clients to know what is going on next door esp for a wedding. He refused to refund a penny. We moved the event to Solar Arts. Yes, we lost $5k!! Did not acknowledge our letters, yet his contract stipulates noise requirements for the users! This is a music sample from that day....Do yourself a favor and use another vendor.
Are you interested?
Send a message