191 Reviews
Recommended by 100% of couples
Quality of service

5 out of 5 rating

Average response time

5 out of 5 rating

Professionalism

5 out of 5 rating

Value

5 out of 5 rating

Flexibility

5 out of 5 rating
138 User photos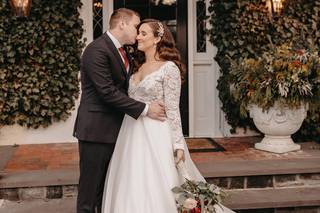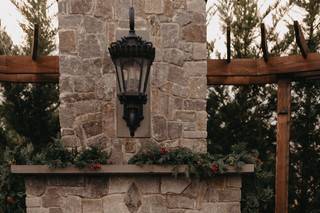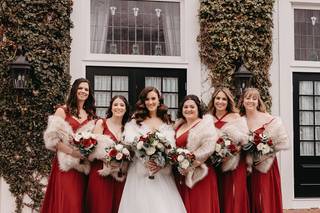 + 134

photos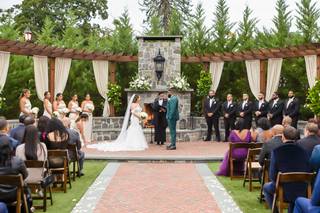 Featured

Kelly D.

Married on 06/10/2022

The best choice we made!

We got married at David's on 6.10.22. It's difficult to find the words to express just how amazing this venue is. David's exceeded all of my expectations and I am so thankful to all of the staff for providing us with an absolutely perfect wedding day. The first time we toured the venue I was taken aback by how beautiful it was. David's aesthetic really sets it apart from other venues. It is the perfect classic/vintage venue with modern twists. However, there is so much more to this venue than how breathtaking it is. The staff is phenomenal. We were so lucky to have Sarah as our coordinator. I can't thank Sarah enough for all that she did for us during the planning process and on our wedding day. She was there every step of the way, always very responsive and accommodating. Sarah made sure every aspect of our day went smoothly. She is truly great at her job and I was at ease all day knowing that she was there for us. I am so appreciative of all that she did for us! We also had a lot of compliments from guests on how friendly all of the wait staff and bartenders were as well! Every interaction we had with the staff was positive. Also, everyone raved about the food! Our cocktail hour, dinner, and desert were amazing. If anyone is considering David's as their venue, I highly encourage it. It was by far the best choice we made—my only wish is that I could relive the day one more time!

+ 3

photos

David's Country Inn's reply:

Thank you so much for the wonderful review, Mrs. DeLuca! It was truly a pleasure to work with you and we wish you and Max a lifetime of love and happiness!
-Sarah

Marissa J.

Married on 05/25/2023

Our wedding venue

We got married at David's Country Inn on 05/25/2023 and we could not be happier with our choice. This place is the most beautiful and perfect venue for a wedding! The entire staff was absolutely amazing and the atmosphere was spectacular! All of our guests raved about it after the fact and had a great time! Everything on our day went absolutely perfect and we are forever grateful for everyone there that helped!
Special shoutout to Sarah, Brenda, Hannah and Alex and everyone else involved for making our night one we will never forget!

Deanna M.

Married on 12/17/2022

Beautiful and Amazing!!

I was looking for a venue that was elegant and historic but not too rustic or farm, and David's was perfect!!! The cocktail space is amazing, my guests were raving about how beautiful the whole place was. The new ballroom is beautiful and sophisticated. There's just so many details that make the space feel special. Sarah was my coordinador and was so helpful leading up to it and the day of. Everything was so seamless and perfect! Everything ran so smoothly, I never felt stressed. There are so many beautiful photo spots both inside and outside. The food was great, especially the cocktail hour! My husband was happy they work with the local breweries and had craft beer available too. I truly cannot say enough good things about David's! I got married in December and it was the PERFECT spot for a romantic, cozy Christmas wedding.

Are you interested?

Send a message

Brittany H.

Married on 11/05/2022

The Best Venue Ever!

Our wedding day was absolutely perfect in every way, and so much of that had to do with David's. The venue is so unique - something that did not go unnoticed by our guests, everyone loved it. Each detail gives such a warm feel, and the staff is no exception. Sarah was beyond amazing throughout the entire wedding planning process. She was so responsive, no matter how far out our wedding was. The level of hospitality is unmatched - food and service the night of our wedding was impeccable. I cannot say enough great things about David's!! We are so thankful we chose to have our most special day here and will remember it for a lifetime.

Gary G.

Married on 09/30/2022

The most unique and lavish wedding venue in NJ

Our biggest day could have not been successful without the staff at David's Country Inn. We were looking for a venue that was rustic and that had character. The minute we walked into the venue, we knew our big day would be there. The food options were sooooo amazing, the outdoor area where we had our ceremony was romantic and and indoor venue is really rustic, vintage, but also modern. They recently did a new renovation after we did the original venue visit and It really made a huge difference. We were lucky to get the renovations for our wedding which really made us even more excited for the day of the wedding. As beautiful as the venue was, I think the partnership and the help from the staff is what really makes or breaks a wedding and they honestly knocked It out the park. They provided us with A++++ service from beginning to end but especially during the last month up to the wedding. I really have to give a huge thanks to our wedding coordinator, Sarah, as well as Brenda and Brian. I honestly don't know what we would have done if It wasn't for them. Till this day we still talk about how much they've helped us throughout that entire day. Overall, David's country Inn is like no other and if you want a unique look for you and your guest to remember, there is no other choice in the New Jersey area. Thank you for everything David's Country Inn.

Amanda S.

Married on 09/03/2022

Unforgettable Wedding

We had our wedding on 9/3/2022 and we could not have picked a better venue. David's Country Inn is an amazing venue that has so much character that very little decorating is needed to create the wedding of your dreams. Everyone we interacted with throughout the process (especially our coordinator Sarah ) was so helpful and answered allll the questions we had while planning. We used the Warren suite for both myself and my husband to get ready and it was so spacious and beautiful that all the getting ready photos look like they should be in a magazine. Literally nothing went wrong during the wedding, the outdoor ceremony was beautiful and I cannot say enough about the food. To this day, we still have people raving about the food and the general atmosphere. Do not think twice about booking David's, you will not regret it!

Brianna P.

Married on 09/01/2022

The Perfect Wedding

Everyone at Davids made our wedding the most incredible day. We could not have asked for a better venue & staff. David's made the process so easy for us and on the day of the wedding made sure everything went as planned. Everyone was so professional and helpful throughout the process. We worked directly with Hannah for most of the process and she answered every question promptly and was extremely helpful. David's is such a unique and incredible venue. The recent renovation makes it even more so. 10/10! The food was also incredible.

Emily S.

Married on 06/04/2022

The best venue.

I cannot say enough about David's Country Inn! Sarah was our coordinator and she was absolutely incredible throughout the whole process. All of the staff is also so nice and helpful. The venue inside and out is so beautiful, elegant, and the recent ballroom renovations are so gorgeous! The gardens are all so well kept and cared for. All of the food was amazing, from the delicious spread at cocktail hour to the Venetian hour at the end with specialty espresso drinks and desserts! Our wedding day was so perfect and seamless at David's. I cannot recommend them more, they do an amazing job.

David's Country Inn's reply:

Thank you so much, Emily! It truly means so much.
It was a pleasure to work with you and we wish you and Andrew all the best!
-Sarah

Mariana C.

Married on 05/13/2022

A completely dream

I will never have enough words to describe how perfect David's was. The new ballroom is breathtaking!!!! The place feels so comfortable and accommodating - it's like having a wedding in our house.
People still calling me to say how beautiful it was and also how delicious was the food.
David's holds up to 200 guests and in some point I had 240 invitations and they were so amazing trying to find the best solution to fit all my guests. I ended up with 160 and it was a perfect number.
A plus "thank you" for my bridal attendant that washed and dried my dress with a hair dryer after I got soaked during the Ceremony (yes, it rained for 5 minutes when I started walking down the aisle 😫 - they had to act fast and moved the cocktail hour for inside - a bummer but didn't change how great everything was).
Also bridal suite fitted my 5 girls and 11 guys in two different spaces, full of delicious food and great backgrounds for pictures.
I would choose David's another thousand times!!

+ 2

photos

Anne

Married on 04/24/2022

So unique and charming!!!

I got married in April 2022 and had the best experience with David's! Here are my top 4 reasons why y'all need to book this venue asap!

1) The venue itself is so unique, charming and beautiful. It is even more stunning after the ballroom renovations! We got so many compliments from our guests and so many great photos because there are a lot of picturesque spots all around.
2) The food was delicious and abundant. Again, we got so many compliments from our guests, especially on the lamb chops and grilled cheese/tomato shooters. We also chose to do the shake shack station at the end of the night which was a hit. No one went home hungry that's for sure!
3) The staff was amazing to work with! Hannah was our coordinator and she answered all our questions in a timely manner up until the day of the wedding. We did things like a package upgrade (from Ideal to Deluxe) and switched cocktail hour from outside to inside the day before, and all of these changes were handled seamlessly. On the day, Hannah and our maitre D also ensured we were taken care of. They had a sampler plate of all our cocktail hour food ready for us to scarf down after our photoshoot, they got us drinks throughout the night and even packed up all our decor and top tier cake all neatly for us to pick up the next day.
4) The value. You honestly get so much for the price. When touring other venues, we were floored by how much some other places were. In order to get within budget, other places offered to take things away. But not David's, we got everything we wanted and more and stayed in budget!

My only critique would be that it is not the biggest venue. During my whole planning process, I was so nervous that not everyone was going to fit. We invited 200 and had about 170 come. Everyone fit comfortably during cocktail hour and dinner, but there were definitely times that it felt a tad cramped on the dance floor. So just wanted to put that out there for any brides who may have a larger guest count.

Other than that, David's Country Inn was an absolute gem and we totally recommend!

Corinne C.

Married on 03/26/2022

The Most Perfect Day at the Most Unique Venue

Having our wedding at David's Country Inn was the best possible decision we could have made . David's is such a beautiful and unique space. Our guests were raving about the venue the entire night exclaiming how perfect it was and how good the food was (which is very important to me personally). We got ready in the Warren Suite, had the ceremony in the newly renovated ballroom, and had our cocktail hour and reception on site. The transitions were stress-free and the vibe of the day was exactly what we wanted. My husband and I just wanted our family and friends to have the most fun with us and that is what we got at David's Country Inn.
The most amazing aspect to me was how attentive the staff is. Special shoutout to Maggie who is the best bridal attendant I could have asked for. On the day of, when small things were going wrong, Maggie went to my bridesmaids to come up with solutions and did not come to me. By the time I learned of things that had gone wrong, Maggie and my bridesmaids already came up with the solutions. Once I saw this in action, my stress evaporated and I felt so relaxed because I knew I was in good hands. Maggie also took my decorations with no instructions and knew exactly what to do with them. She really helped my day come together.
Overall, David's Country Inn is a beautiful and unique venue specifically for the couple that does not want a generic hall. You will be taken care of here I can guarantee you that. I wish I could relive my day over and over again at David's Country Inn!

Christina D.

Married on 12/17/2021

You will not be disappointed with DCI!

Everything and everyone at the venue is amazing!. There is not one bad thing we could say about our experience with DCI. My husband and I loved everything about our special day. From the beautiful space, food, and fantastic service! Any type of stress you may have, check it at the door. They are extremely professional and efficient. They were communicative, accommodating and helpful. We did not worry about a thing leading up or on our wedding day. We had our ceremony and reception in the same ballroom and were shocked to see how quickly and beautifully everything was setup during cocktail our. Sarah and her team were truly amazing! All the reviews about how great DCI is are true. We received so many compliments day of and still continue to get compliments on our venue of choice. We got married in December and the venue was tastefully decorated with festive and charming decor. The venue has since been renovated and still maintains its elegant appearance. We hope we get invited to another event there so we can relive the experience and special memories we made at DCI!

Shawn

Married on 11/20/2021

A vintage venue with a modern touch

The moment my husband and I stood on top of the balcony in the ballroom, we knew it was our venue. Everything is so unique and beautiful. You will not find another venue like it - it is a perfect mix modern and vintage. With all that is included at the venue, it is well worth the price. The Warren Suite is a huge bonus and fit so many people while everyone got ready. Endless mimosas are never a bad thing. In addition, the food is absolutely delicious, and no other food at any other venue compares, especially on the actual day. The quality of the food was exactly the same as the day of the tasting. They are so accommodating, and our coordinator, Sarah is super sweet and made our day 100% stress-free. She is so easy to get in contact with and answered all of our questions quickly. We cannot rave enough about this venue, and every guest we have talked to has said it was the BEST wedding they have ever been to.

Katie M.

Married on 11/08/2021

Charm and Exceptional Hospitality

I would like to start out by saying thank you to Chris and Dan for all they had done for us! Truly great people to work with! From the minute I met with Chris, I knew my Wedding was in good hands (I mean who deals with a crazy bride asking questions for three hours the first time they meet!) Many venues wouldn't set up your wedding day details or accommodate your needs in a 'normal' year, let alone during Covid! We were originally supposed to get married on 5/15/20 and were lucky enough they had 8/23/20 available for us to still have our Wedding this year! One of the reasons I chose David's was their gorgeous greenery and architecture. I wanted to take many pictures outside, and August did not disappoint! Weather was perfect, the outdoor space is amazing and I couldn't have asked for a better crew than the people at David's Country Inn! If you are looking for a venue that doesn't insist you have at-least 150 people, a venue with charm and family owned hospitality, then I recommend David's Country Inn for your Wedding!

Tiffany

Married on 11/07/2021

Absolutely magical experience

This was the most amazing venue I could have ever asked for. Sarah and Brian were amazing and so attentive and so helpful with everything! I couldn't have asked to work with anyone better. The food was amazing. The atmosphere was beyond perfect. My guests could not stop talking about everything and how beautiful and delicious and perfect everything was. I would get married year after year here if I could just to experience it all over again! Absolutely magical!

Tracy B.

Married on 10/29/2021

Guests are still talking!

My Dad moved in with my step-mom when I was about 12 years old- not far from Main Street in Hackettstown. Since then, I knew I always wanted my wedding there.

So when the day finally came, I knew I had to call immediately. David's Inn is one of the most intimate, beautiful wedding venues I had ever seen (I'm in the wedding industry myself). I didn't want the basic large venue, with white walls that look like every wedding venue. I love the creeky floors, dark wood, and fireplaces- and I specifically wanted Halloween weekend. David's was so accommodating and was able to fit us in within the week for a quick tour (although not needed) and we wrote the check right then and there for our wedding. No other venues were looked at!

The pandemic hit immediately after our deposit. We had over a year and a half to plan, but it was nerve-racking. Luckily, Sarah and Hannah were with me every step along the way. Every question, concern was answered within 24 hours or less. Timelines were provided which made the process SO easy as there was no question when or what was due at what time. And when I say they will let you do anything to make sure your day is what you imagined- I mean anything!

My day was spent in the amazing Warren Suite (the groom got ready at my Dad's house to give us the entire suite) with all 11 of my bridesmaids, 2 flower girls, 3 additional family members getting ready there, and 3 mom's. We also had 5 hair and makeup people and our photography team. We had so much space, the girls loved being able to relax on the couches, or have a sandwich in the kitchen and that we weren't on top of each other. The food was great! Our get-ready photos are so cute because of the style of the Warren Suite! I also loved that I had my own private bridal room for my dress and photos before my grand entrance to my bridesmaids. Once the groomsmen were ready they were able to come over to the second floor and have a drink while they waited for us. There was no issue with spacing or set up or issues with the timeline thanks to the great layout of David's Inn.

Of course, we wanted the GORGEOUS outdoor area, but our wedding day was a monsoon. The entire staff worked to get the ceremony inside within a few short hours. I was nervous but it looked absolutely beautiful. Outdoors the chairs were removed, where we did our first look and the background photos are so unique and beautiful!

After the ceremony, during the cocktail hour, the staff flipped the room in ONE HOUR, ONE HOUR! to a reception area. Cocktail hour was a huge hit- everyone is STILL talking about it. ("Those tomato soup/grilled cheese shooters were insane!"). Our guests loved sitting in the other room with the fireplaces, walking around the front porch and their jaws dropped when re-entering the reception room to see how it had changed.

Also fun fact- we get compliments on our dinner selections all the time BUT, our vegetarian friend reached out separately to say how he always hates wedding dinners because the vegetarian options are so bland and boring or not cooked well. He said the pasta primavera was the BEST wedding dinner he had in a long time!

Hannah and the staff made sure Ryan and I never *not* had a drink in our hands, or food in our stomachs. We were truly treated like royalty.

At the end of the night, we had shake shack burgers laid out for guests on the way to the shuttles- a lifesaver before the after-party at the hotel!

Overall, I could never have imagined my wedding taking place at any other venue. To quote one of my friends, "that ceremony was one of the most romantic I had ever seen between the lighting and candles". Not a moment went by that we did not feel like the most important people in the world, and if you're like me and want to limit your decorations, David's Inn's beauty speaks for itself. Do yourself a favor and book it quickly- because you will not regret it and your guests will be talking about it for years to come! We were the party of the year!

+ 6

photos

Ann H.

Married on 09/18/2021

Amazing wedding day!

We just got married on Saturday 9/18/21. It was a perfect day! This venue was beautiful and the service was top notch. Sarah and all the staff were so accommodating and went above and beyond to make our day special. Our guests are raving about the food and beautiful character of David's Country Inn. This venue does not disappoint! Do yourself a favor and have your special day here. Everything was absolutely perfect here!

Lillian T.

Married on 09/18/2021

Great Venue and Team

Chris and Sarah from David's County Inn were a pleasure to work with as we were interested in a tented wedding at Rutherford Hall. They both took a genuine interest in getting to know us and helped us realize our vision for the wedding. Both are excellent at what they do, providing timely and effective communication. We visited the Inn a couple times; great outdoor patio and food to enjoy. Due to unrelated circumstances, we were unable to book. With of all the positives interactions and time spent we believe their efforts should be recognized. We look forward to working with them in the next chance we can.

Allie F.

Married on 09/02/2021

Unique, Amazing Value, Historic Venue

My fiance (now husband) and I walked into David's Country Inn and immediately knew we loved it. From the beautiful bar area, to the chandeliers in the ballroom, to the amazing wrap around balcony and the (what had been then) newly done outdoor area, we absolutely loved that it didn't feel like a traditional wedding venue and was historic in vibe.

Everyone at David's was extremely accommodating, especially as we had to change our date 3 times due to COVID. Dan & Chris were particularly helpful and made it as seamless as possible.

The food is literally AMAZING; I can't tell you how many guests complimented us on the food from the wedding and how much they loved it.

The venue in and of itself is beautiful as well; our photographers and videographers couldn't stop saying it was their favorite location to shoot at because of all the natural light and that pictures really show it! It's also amazing that they have so many different spots to shoot at (like the front porch the ivy wall, the bar, the ballroom)... it literally is the most unique location and I'm so happy we were able to get married here.

They made everything very easy for us from preparation to the day of. Brenda, who was our bridal suite attendant for the day, was wonderful, especially dealing with all of our family and our requests.

I highly recommend anyone getting married here upgrade to the Warren Suite -- it is TOTALLY worth it and was the perfect place to get ready and take all those photos.

There aren't enough wonderful things I can say about David's -- if I was going to get married again I would do it here.

Photo credit to @NikiPhillipsPhotography for the attached

+ 3

photos

Kaylyn

Married on 06/26/2021

Simply Amazing

Dan at David's Country Inn catered our wedding on 6/26/21 at Jacks Barn, he and his staff were so kind and exceptionally helpful from the day we met to the day of our wedding. Dan did absolutely everything he said he would and more despite challenges at the venue. Dan greeted my husband and I and checked on us constantly throughout our, day he just made us feel so comfortable and at ease. The food was fresh and was absolutely DELICIOUS, the carving station of filet mignon was the best I have ever had at any wedding and my guests were raving about the Mexican street corn as well as the macaroni and cheese! Dan executed a wedding as if it was for his own daughter, he went above and beyond for our wedding and I felt as if he treated us as his own family! I highly recommend David's Country Inn for your wedding and or any off premise catering service.


Jessica E.

Married on 06/19/2021

Best venue around !

I honestly can't say enough positive things about David's ! We were originally suppose to get married in May of 2020. Covid ruined our plans , but the staff at David's made me feel comfortable about rescheduling. Fast forward to our new date June 19, 2021, and I am STILL smiling from ear to ear. Everything was absolutely exceptional. My guests are still boasting to me about what a great time they had and how much they loved the venue. The forecast even changed last minute for my outdoor ceremony. Dan and Hannah made it happen for us in between the rain storms. I am sooo grateful for that! The staff was sooo sweet and there for us the entire night. A huge thank you to Dan, Hannah, Lisa, and especially Susan (who served me all my meals that day.. thank you so much Susan !!) My husband and I were blown away and will never forget the amazing wedding night we had. We hope to be invited back as guests for another wedding so we can experience their exceptional service once again! :) We truly love you all!

Chloe R.

Married on 05/22/2021

May 2021 Wedding

We had our wedding ceremony and reception at David's Country Inn in May 2021. We quickly fell in love with the beautifully decorated vintage (with modern touches) building, newly built outdoor ceremony space, and how much was included at an extremely fair (for NJ) price for a Saturday spring wedding. We spoke with the team at David's throughout 2020 and early 2021 about our concerns with Covid and they were always reassuring. Our venue coordinator was extremely helpful throughout the entire planning process. The day of our wedding, the team at David's took care of us in ways we didn't even know we needed!

Shelbie B.

Married on 03/27/2021

Such a magical spring wedding

The venue was an overall great experience, even though we had to reschedule our original date in September due to covid. We were very lucky to reschedule in March 2021. The support from Dan was fantastic, any questions we had he answered right away.
We just had our wedding this past Saturday and we couldn't have asked for a better day. The staff was very attentive and professional. All my guests keep raving about how beautiful the wedding was!
Thanks again to all the David's staff, we can't thank you enough!!

Amanda B.

Married on 02/08/2021

Ideal Venue Partnership During Pandemic

My husband and I got married at David's Country Inn on 8.14.20 and the experience was nothing short of perfect. Although the wedding did not go as originally planned due to COVID-19, the staff at David's made a clear and confident effort to make our wedding as special as they possibly could given the state's guidelines and boy did they deliver! Chris, Dan, and all of the other staff members showed us from day one that we were not "just another couple," but important members of their business and that they were completely committed to our day. The food at David's is nothing short of amazing. I wish we weren't so busy during our cocktail hour because the foods we picked tasted great, but were also clever concepts. During the planning process, Chris and Dan spent a ton of time answering our questions and ensuring us of their plan. I am so grateful that we booked at David's, especially during a time of uncertainty and hardship. Our wedding day could have gone a lot different, but the staff at David's made it a dream regardless of what 2020 has thrown at us. I HIGHLY recommend David's Country Inn for any and all weddings/events.

+ 13

photos

Lisa M.

Married on 01/23/2021

David's Country Inn is amazing!

When we first sat down and started doing research for our wedding there were a few things that stood out as priorities. We did not want a cookie cutter wedding, the look and feel inside the venue had to be amazing because we wanted a January wedding, and the service had to be exceptional. David's Country Inn delivered time and time again with all three of these priorities. I will talk about all three but first the service. From the first time we sat down with Debbie, to the nerve wracking phone calls with Chris as we navigated the Covid-19 nightmare, to final preparations and day of with Dan, the service was beyond what we could have hoped for. Their flexibility during these whacky times and their attention to detail was phenomenal. If feeling like you are the venue's number 1 priority is something you appreciate, David's will deliver. Second, the look and feel. Wanting a winter wedding was a choice we made early on not only because of the well known "off season" pricing but also our hatred and fear of sweating on our wedding day. Not a single drop of sweat was seen, mainly because it was a balmy 16 degrees out the day of our wedding. But when you walk inside David's the best thing, I can say is that it's so incredibly warm and inviting. It made us feel like we were in someone's home with all the little sitting rooms and multiple fireplaces, including one in one of the women's bathrooms (you have to see it to believe it). Then of course you have the bar. I can not quite explain it and pictures don't do it justice, it's beautiful. The place is wonderful in every way. Lastly the desire not to have a cookie cutter wedding. We have all gone to what we call "wedding factories". It's like the same show on repeat just with a different address. You will not be getting that dry filet here; the food options are as unique as the place itself. We had some specific requests including a special beer that they were more than happy to track down for us. Also, some of our guests that were attending had some serious food allergies. They took every measure to make sure everyone was safe. They were happy to accommodate us at every turn and in some cases went beyond what we asked for. One recommendation if you are booking with them, don't even think about not doing the Warren Suite. It's pricey but worth every penny.
Are you interested?
Send a message