Reviews
4.9 out of 5 rating
Quality of service

4.9 out of 5 rating

Average response time

4.9 out of 5 rating

Professionalism

4.9 out of 5 rating

Value

4.9 out of 5 rating

Flexibility

4.9 out of 5 rating
98%
Recommended by couples
5 User photos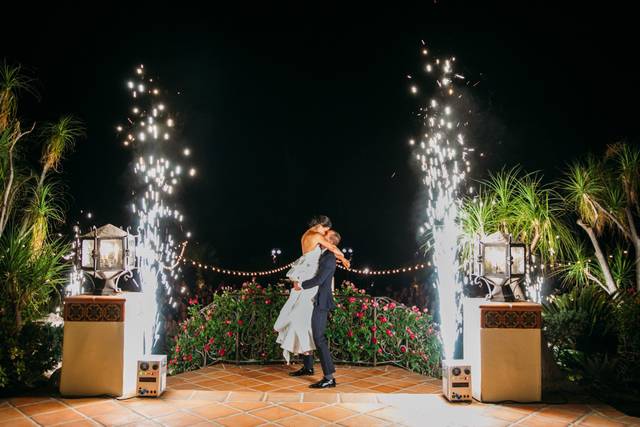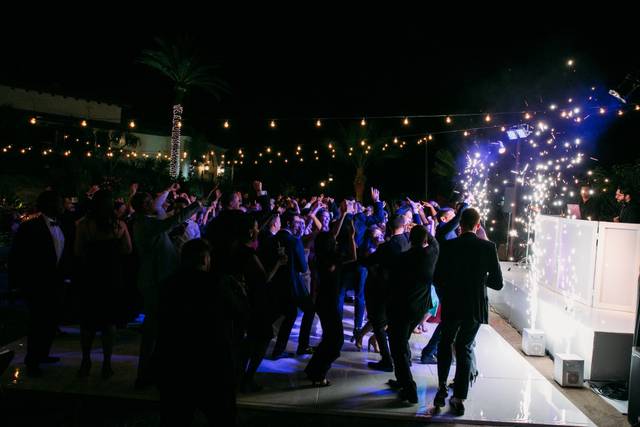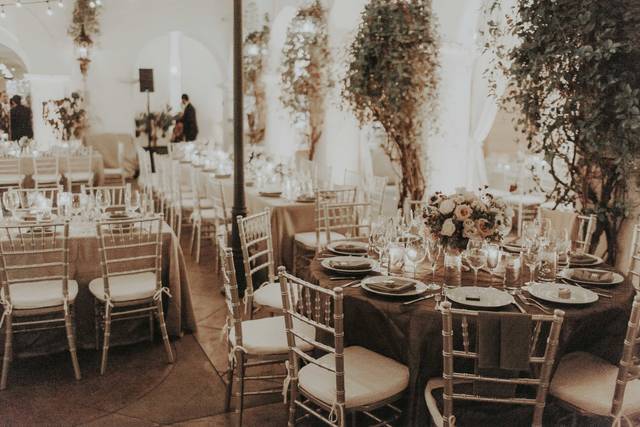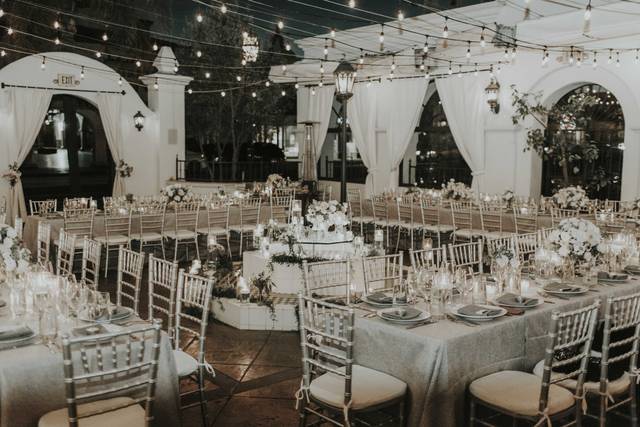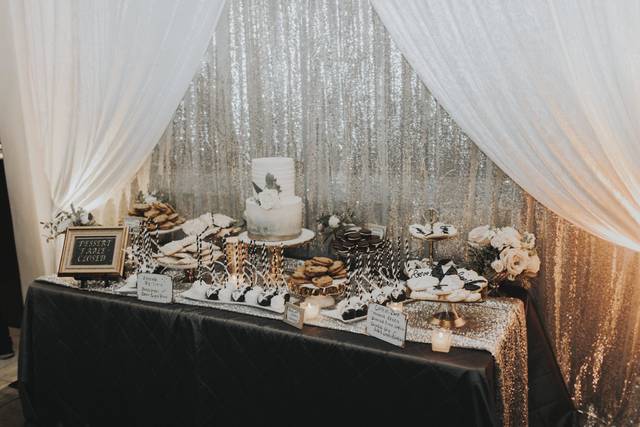 Adrienne M.

Married on 03/20/2022

Would recommend!

Omead and team did an amazing job with the lighting and sparkler fountains. We hired Dashing and DJ Maz and they did the best job at our wedding!

Michael

Married on 06/12/2021

DJ Omead was amazing for our wedding. He was very nice and cooperative with exactly what we wanted in terms of music and songs played. We were allowed to upload all the songs we wanted on a dropbox and he literally played exactly what we wanted with such a smooth transition. He made our night beautiful and perfect and I recommend him for any wedding. We had an Egyptian wedding, but a lot of English songs too. So to all Egyptians out there, Omead is the DJ to go for, awesome arabic/english music selection. On the Dashing events website there is a timeline where you can organize your wedding. I used this timeline for pretty much everything, for the photographer and the videographer, they make it so easy. I am very pleased with their service. Go Omead :)

Jeff P.

Married on 01/04/2020

Made life really easy for us

We had a terrific experience with Dashing Events, and would recommend them to anybody. They made the process very easy for us.

Omead was our contact, and he was very communicative and responded quickly for the most part. They have an online portal that we really enjoyed using, where we entered all the details, a-z, including song choices for dancing, ceremony, reception, (including must-play and do-not-plays), contact information for other vendors, order of events, et. al. And Omead spent multiple phone calls with me going over details, helping to reassure me that they had everything under control - which they totally did.

We had a Lebanese-American wedding, so we had a zeffeh with a live dance performance for the grand entrance of the bride & groom, and they worked with the dance group and figured out the timing for everything without us having to worry about it at all. And they did a great job of blending a mix of Arabic and Western music that kept both families engaged and enjoying the evening.

Their speaker set up was good and was clear enough that you could actually hear what the speaker / DJ was saying, which is not usually the case at most wedding's that I've been to in the past.

10/10, 2 thumbs up, 5/5 stars.

Dashing Events's reply:

Thanks so much for the flattering review Jeff...totally unexpected during these quiet times in the wedding industry. We're so happy to hear that you were very pleased with our entertainment...truly our pleasure!

Are you interested?

Send a message

Teaba

Married on 09/21/2019

Best. DJ. Ever.

Full stop - Omead and Maz are IT!!! We hired them for our Persian + American wedding a month ago and are STILL getting comments about how unbelievable DJ Maz was, as well as our live percussionist. Working with Omead throughout the process was an absolute pleasure - we changed our minds what felt like a million times and asked a lot of Omead, and he never missed a beat and gave us great pricing as well. Maz was an absolute banger - we had a completely full dance floor all night long. He listened to the crowd, and was great about following the flow to make sure people were having the best time. We also purchased sparklers through Dashing Events which made the event even more spectacular! If you need a DJ in LA, Omead and Maz are it. Done!!

Marina G.

Married on 05/04/2019

Hire them now!

I hired Dashing Events for our wedding and he was one of the easiest vendors to work with. Omead provided for us a DJ, Percussionist, lighting, drapery, and Photobooth. I had absolutely no problems with Dashing before the wedding or day of. Omead and his staff are professional, organized, and very easy to work with. The drapery and lighting made the room look so beautiful and the percussionist and DJ kept the party going until the very last minute! Overall I recommend Dashing to everyone I know and they will meet your expectations!!

Nima

Married on 03/30/2019

Mexican/Persian / American wedding

So my fiancé (now wife) and I were looking for a DJ to play Mexican/Persian/American music for our diverse wedding filled with people from all over. We did a lot of research to find the right person for the job and we were fortune enough to come across Dashing events which is ran by Omead. Omead is very professional, quick to respond to emails/text messages/ and phone calls. He is very structured and has a great foundation for creating a timeline for night full of fun for everyone. After Omead heard what we wanted he hooked us up with DJ Maz to get people on the dance floor and moving all night to great hits. DJ Maz and his tech were receptive to all our needs as well as the guests. They made the night happen with all kinds of cool music and entertainment. Dashing events knocked it out the park! Thanks to Omead/ DJ Maz and his tech (think his name was Andrew or Andy). Everyone had a blast!!!

Paimon H.

Married on 02/02/2019

Filipino/Persian Wedding

The DJ and musicians (Saxophonist and Percussionist) did amazing for our wedding! DJ Maz was high energy and kept the crowd engaged and dancing. There were even a few curve balls we threw him throughout the night and he adapted quickly and made it happen.

Everyone loved the music and were especially amazed at the saxophonist. He was able to play along almost every song that played, regardless of genre.

One of our favorite parts of the night was when the percussionist let us play during the dance portion. Everyone loved watching that and he was awesome!

Overall, Dashing Events exceeded our expectations and we're happy we chose them to be a part of our wedding.

Andrea

Married on 08/17/2018

Omead and the team at Dashing events were fantastic to work with for our wedding this past weekend! From day one, Omead was very on top of answering all my questions about draping, lighting and DJ. We ended up using them for draping and lighting and the results were gorgeous! Omead also followed up right after our wedding to ensure we were happy with all the results of their service. I highly recommend Dashing Events. Thank you for being a great part of our wedding! :)

Roujean

Married on 06/01/2018

My husband and I cannot begin to say how thankful we were to be able to work with the guys at Dashing Events. We hired them for our wedding after we heard raving reviews from another friend of ours (who hired them for their wedding).

Here are a few highlights:

- Their customer service is truly impeccable. They are incredibly organized with their communication. They are professional and understanding. When we needed advice, Omead would take the time to talk through everything with us. It was wonderful!

- Day of the event we had absolutely no complications. The DJ and MC were AMAZING. Our guests could not stop talking about how charming the MC was and how great the music was. It was perfect!

- Some things they provided for us: 1) A site that details the wedding events and corresponding music 2) Sample music for different genres 3) Mics and speakers 4) MCs and DJs that have a variety of music choices based on our event / desires 5) And much much more!

Without a doubt, we would hire Dashing Events again for any other event and we would HIGHLY recommend them!

Sassan

Married on 05/13/2018

Dashing Events is an AWESOME and TALENTED DJ vendor for Persian Weddings. Omead was our main contact; he was extremely easy to work with and was always willling to meet either over the phone or in person. We ultimately chose Dashing Events over all the other vendors because of Omead's honesty, humbleness and candidness. There are too many DJs flooding the market that were trying to win our business by "offering us the best price" or just being overly superlative in describing their services.

Dashing Events has a great digital brochure that shows you a portfolio of awesome ad-ones such as an instrumentalist, drapery, fog machines and a photo booth. Definitely order the photo booth, as you will get a far better deal than going with a vendor that only does photo booths.

On our wedding night, DJ Maz was running the show and all of our guests were raving about it. Very classy guy I tell you. Everyone was energized, jumping, and shouting. I'm pretty sure the dance floor exceeded it's weight limit for night - he was that great at motivating people to dance. Maz flows the music clean and smooth; no hard stops in between, so everything and everyone lives in this music bubble with no beginning or end. He has an eclectic taste of Persian, Arabic and American music and blends them seamlessly through the night.

Oh and one more thing, these guys have their lighting effects down. The ballroom was lit up and looked magical, and the best part is the dynamic light effects that syncs with the ebb and flow of the music.

What I appreciate the most is their constant follow up during the months before the event and their organization. They use this portal to keep track of everything; names of each member in the bridal party, songs for different occasions and the duration of each.

We love Dashing Events. These guys are the best. Very professional and they know they're stuff SOLID!


Sassan

Married on 02/18/2018

When planning our wedding, we knew that the most important decision that we will make is our DJ. The DJ can make or break the evening, and Dashing Events did not let us down! Omead was extremely professional and helped us with music choices and timeline. Most importantly, their online planning tool with music options helped us decide on the right songs for each part of the party. And when they didn't have a song listed, it was no problem for them to make sure it got added to the playlist for the night.
We had DJ Maz for our reception and the addition of the live percussionist (sax and drums) were a huge hit with everyone at the wedding. The dance floor was packed the entire night and every guest let us know how great the energy was on the dance floor. We strongly recommend Dashing Events for your DJ/Lighting/Music needs!


Wassan

Married on 10/06/2017

To start off with, I would simply say--Hire Dashing Events! They were amazing. My husband and I got married in Santa Barbara in October last year. The one thing we knew is that we wanted our guests to be on the dance floor the entire night. I was referred to Dashing Events by a friend who used them at her wedding, and I never looked back.

From the start, they were incredibly communicative. Omead was so easy to talk with, he laid out a plan for our wedding and gave me an overview of their services. He then paired me up with DJ Maz, who he assured me would be able to bring all the music, dance, hype that I was looking for to fruition. We had a wedding of 120 people, and we wanted to have a fun, lively party where everyone would be dancing and having the time of their lives--and Dashing Events totally delivered. I, the bride, was on the dance floor the entire night! Every time I went to go sit down to give my feet a rest, DJ Maz would play another amazing song.

Not only did they provide us with a DJ, but we also asked for a dumbak player. For those of you unfamiliar, the dumbak is a traditional Middle Eastern hand-held drum that gives a fun beat to the underlying music. The dumbak player was--AWESOME! He added such a fun element to our wedding, playing on the dance floor, weaving between guests as they danced, giving us a totally different flavor to songs that you typically hear on the radio. They played all the songs that we had requested ahead of time--which brings me to my next point. They have a great system for entering your requests. It's so easy, intuitive, and efficient. You simply write in the songs you want to play, you let them know what song goes for which part of the wedding (i.e. First Dance, Father/Daughter Dance, any special songs for your friends, etc). It went off without a hitch, and everything was perfect.

They also helped us with the lighting and drapery for our wedding. It looked beautiful!

Anosha

Married on 08/12/2016

This review is long overdue! Dashing Events is the real deal, they were in charge of lighting, photo booth and music for my August wedding. From the moment we first started communicating this Dashing Events, through planning and executing our wedding, they're professionals who know exactly what they're doing.

We had the pleasure of working with DJ Omead, as he came highly recommended by a colleague of mine. He was always available to talk and encouraged us and guided us throughout the planning process, he even referred me to our officiant - which turned out to be the greatest person ever!

I was initially incredibly concerned with the music and entertainment as our wedding was incredibly multi-cultural with people from every where in the world and every age range. I needed a DJ that understood that and could read the audience and there was never a quiet moment on the dance floor. He even made the non-Persians dance to Persian music. DJ Omead and Dashing Events exceeded our expectations, they even accommodated a last minute slideshow.

We are grateful that Dashing Events were a part of our wedding, and thankful to have had DJ Omead walk us through the process, it actually felt like him and his company really cared about us.

They have mastered the art of DJ-ing and know how to throw the best parties. I am going to recommend them to all of my engaged friends or anyone who is looking for the best DJs in LA. Affordable, personable, fun - does it get any better?! Thank you, DJ Omead and Dashing Events, for making our big day one to remember and for all the amazing work that you do. We truly are so grateful!

Katherine

Married on 03/05/2016

DJ O and his team did the uplighting, DJ/MC, and photo/video booth for my wedding a couple weeks ago, and let me just say, it was FLAWLESS!

Even before the wedding, DJ O and his team were quick to respond with quotes, questions I had, and even my lagging last minute changes. They had a website where we can request songs, set up a day of schedule, and even had a section for "Do Not Play" songs!

Dashing Events is a one stop shop for everything related to events. They are SO good at what they do because they are processional and reliable!
As a bride planning her wedding, the last thing I want is a vendor who makes me nervous about how the event will turn out. Dashing Events made me feel at ease and I was so happy with the results.

Will definitely be recommending them to all of my girlfriends for their big day.


Laura

Married on 10/17/2015

Oh my gosh..I don't even know where to start!! My Persian husband and my American self were in a unique situation when looking for music for our wedding. Expecting a 50:50 crowd, we decided to go in a different direction than the typical Jewish Persian wedding and hire an American band and a Persian DJ. When we told our coordinator about the decision, she told us there is only ONE Persian DJ we should work with in all of LA, and that was DJ Omead at Dashing Events!

Let me start by saying we have been to a lot of Persian weddings and seen a lot of Persian DJs. However, we have never seen a DJ that has read and amped a crowd quite like Omead. He is SIMPLY amazing...hands down THE BEST!!! We did a 'typical' Persian ceremony where we danced down the aisle and Omead NAILED the timing for all of our couples on their songs. People are still raving!!! He spent HOURS with us choosing our music and helped us make every decision along the way. During our reception, he did an AMAZING job complimenting and contrasting the band's sets, and EVERY transition was seamless. During one of the Persian dance sets he even mixed some of the Farsi songs with English songs - I have never heard anything like it!! It was INSANE!! Our guests were all going crazy!

Aside from keeping our dance floor packed until the minute our last song played, Omead did an absolutely outstanding job on the lighting for our wedding! We got married outside after sunset and he lit up the ceremony site so miraculously. It truly felt like a dream. All of the lighting/draping he provided for the reception exceeded all of our expectations! He made every vision come to life!! Also, our florist kept saying how impressed they were that his standard centerpice lighting was double pin spots!

Omead was an absolute asset to making our day a true success! Our guests are still raving about how aboslutely gorgeous out wedding was!! We cannot wait to work with Omead again somtime soon!! THANKS OMEAD FOR EVERYTHING!!!

I can't say enough about Dashing Events and Omead! Absolutely perfect from the lighting to the music to the emcee. Everyone was on point! Thank you Omead & Dashing! I absolutely recommend them!!!

Julius

Married on 08/29/2015

Dashing event was in charge of my wedding lighting on 08-29-2015. I have a entertainment and AV company as well which has been in business for 24 year. I trust in Dashing Events work so much that out of all the companies that I could've worked with I choosed Dashing Events. They are very good at what they do. Everything was setup hours before my event. My show was so flawless that to date everyone talks about how great everything looked. Omead looked so much into all the details that my photos and videos look so awesome because he choosed colors that worked well with them. If I could've give him more stars I would've. Thank you Omead for making my wedding so awesome and taking charge to run all my visuals and lighting.

I am very very impressed with DJ Maha who is an international DJ and the Photobooth! We had so much fun and it is all for the professionalism of Dashing Events. I am so happy we chose them. They made our wedding very special and memorable. The Photobooth was very modern and we got to choose the background and photo template and text.
DJ Maha was the reason I never left the dance floor! I highly recommend them!

Jennifer

Married on 08/15/2015

I spent a bit of time searching for the right DJ for our August 2015 Persian/American wedding, and I was thrilled to find Dashing Events! Considering that half of our guests had never before attended a Persian wedding, it was really important to me that our DJ that not just throw in the occasional American song, but really engage all guests. Dashing Events came through (and, indeed, completely exceeded my expectations). MC Tehran kept everyone thoroughly entertained (his Persian dance tutorial for our American guests was a riot), and DJ Maha kept the music fun and engaging. They were both true professionals, as were DJ Omead and Shannon (who handled the admin side of our contract). The team at Dashing Events understood what we were looking for, and they really delivered. I couldn't have asked for anything more. THANK YOU, DASHING EVENTS!

Dashing Events's reply:

It was our pleasure Jennifer. Congratulations again and thank you for having us for your wedding!

Michael

Married on 05/17/2015

Omead is absolutely the best and most epic DJ ever. He was easily the easiest part of our wedding set-up process. I told him to play some awesome hip hop dance music mixed in with Arabic music to keep people on the floor. He kept a full dance floor until we all got kicked out by the venue ... and our wedding was on a Sunday. People loved it so much they stuck around and decided to just skip work the next day!!

The percussionist was money! He played the tabla along with all the music and gave it a nice beat that kept everyone going. Photobooth was a HIT and now we have 1000s more hilarious pictures of all of our friends and family.

I would hire him again in a heartbeat, no questions asked!!

Armina D.

Married on 03/22/2015

Omead is such a pleasure to work with. From his user friendly website which includes a huge variety of music to his friendly personality he's just the perfect DJ to have for your wedding. I highly recommend Dashing Events to the future brides and grooms.

Ali

Married on 02/28/2015

We hired services of Dashing Events for our wedding on 2/28/15. D.J. Maha came over all ready to rock and roll. He told me that based on general trends usually only 20-30% of people in the party participate in dance floor :( That would have made only few people on the floor for our party. But I tell you when it was said and done, his choice of music brought everyone to the dance floor. We didn't have a single person sitting around the dinner tables. I was told by everyone who participated (majority of whom where Americans) that they had never been to a party as fun as our wedding. Everyone is asking me for a copy of wedding video and the list of songs played in the party to download and listen. They loved Persian music specially the Bandari ones.

Thank you Thank you Thank you D.J. Maha you are great and you created a memorable night for us even though we had no time prior to the reception to meet with you and discuss what we were looking for. I can't thank you enough. My wife and I are very grateful for the job well done brother.

I strongly recommend D.J. Omead and D.J. Maha for your parties. They did a great job and they are extremely courteous to the customers and want to ensure you are happy no matter what,

Thanks Guys.

Ali

Sina

Married on 01/17/2015

I cannot say enough about Dashing events! DJ O was our wedding DJ a couple weeks ago. DJ O is so professional, experienced, and great at gauging the audience and playing music that makes guests happy. One of our guests said " I can't think of one song that I didn't like" And neither could we! He did an amazing job with the lighting as well. (DJ AND LIGHTING?! It's a win-win!) We chose light pink uplights and we were really happy. We were both so relaxed and at ease during knowing that our DJ has everything under control. We were fortunate to have DJ O at my brother's wedding a couple years ago, so we had seen his work and loved him. There was no doubt that he would do a great job and be most reliable. And he went over our expectations. Especially if you are having a Persian-American wedding, he is the only DJ to consider! Worth every penny! Thanks DJ O and Dashing events for an unforgettable night!

The MC was definitely the highlight and all my wedding guests kept commenting to me on what a great job he did on the night.

Trying to organize a wedding in another country is not easy (as we live in Australia). Being able to complete our profile and preferences online was fantastic.

We received exceptional service and the professional staff were wonderful to work with! I would HIGHLY recommend Dashing Events to all my family and friends.

Mona

Married on 10/11/2014

DJ Omead was very responsive and wonderful to work with. He provided excellent entertainment and had guests on the dance floor all night.


Are you interested?
Send a message