Reviews
4.6 out of 5 rating
Quality of service

4.8 out of 5 rating

Average response time

4.7 out of 5 rating

Professionalism

4.8 out of 5 rating

Value

4.7 out of 5 rating

Flexibility

4.1 out of 5 rating
93%
Recommended by couples
22 User photos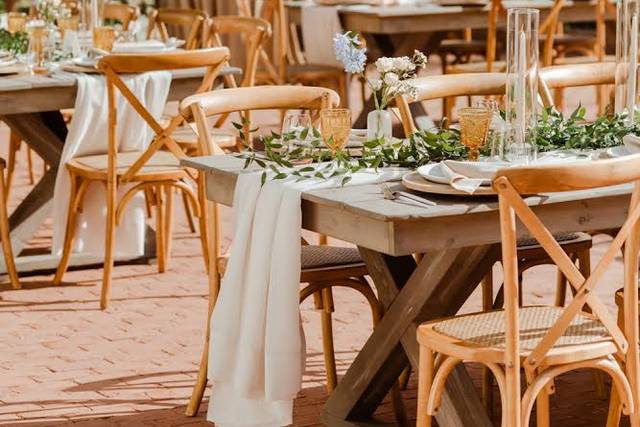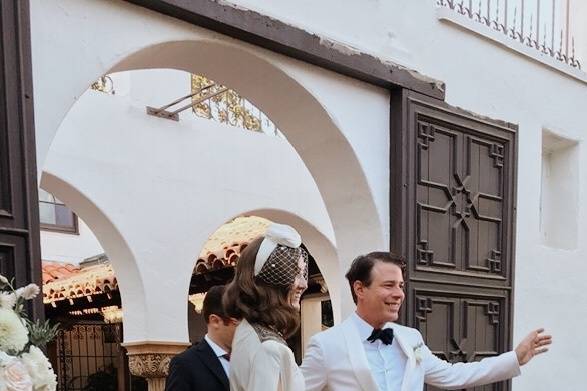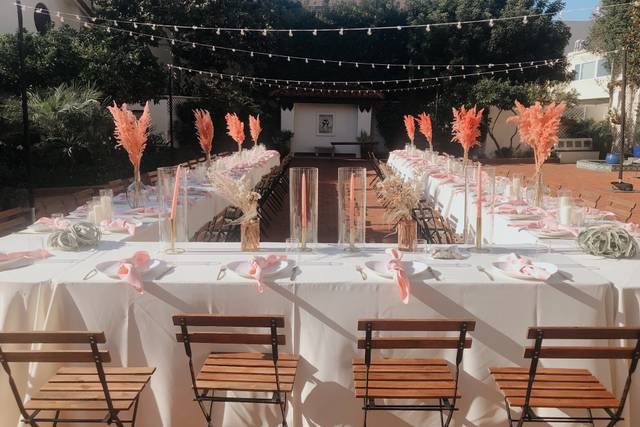 + 18

photos
Jessica S.

Married on 10/15/2022

Perfect venue

The Darlington House was our dream venue because my grandparents were married there 40 years ago, and it did not disappoint. It was the perfect day! I couldn't have asked for more, and the staff was wonderful to work with.

Cara M.

Married on 11/05/2021

Such a lovely place

Only great things to say about Darlington House! We rescheduled three times due to the pandemic, and the folks at Darlington House made it incredibly easy and stress free. The grounds are beautiful; it's very much like you're getting married on someone's supremely gorgeous and private estate. Carly was wonderful to work with and we can't recommend Darlington House enough.

Darlington House's reply:

Thank you so much for your kind words, Cara! We loved working with you on your gorgeous celebration (even if the wait was a little longer than expected)!

Andrew H.

Married on 05/08/2021

The best venue in Southern California

We could not have asked for a better venue. The place looked like out of a storybook, and our guests were wowed by it. The value and staff make this a steal as well. Highly recommend for anyone who doesn't want a cookie cutter wedding.

Darlington House's reply:

Thank you so much for your kind words, Andrew. We were so excited to welcome you as our first wedding back after the pandemic closure and the event was absolutely delightful for us as well.

Are you interested?

Send a message

Britt C.

Married on 09/13/2019

Darlington House magic

Our Darlington House wedding was magical and exceeeded our expectations. The house was built for entertaining, it has a perfect flow for wedding activities. The property is charming, expansive and luxurious, for an amazing price. Our floral bill was only for the tabletop because the property has gardens everywhere. Carly was our liaison and she was very patient, helpful and courteous.

Darlington House's reply:

Thank you so much for your sweet review, Britt! We are so happy that you made Darlington House a special part of your day.

Parastou

Married on 08/18/2019

Intimate, romantic garden wedding with lots of character!

Love, love, love Darlington House! It was the perfect setting for our wedding and can't recommend it enough.

Intimate and unique: We had 125 guests at our wedding on August 18 and the venue was a perfect size and fit for the elegant, intimate and warm wedding we envisioned. I didn't want the typical hotel ballroom wedding - this venue is the complete opposite, TONS of character! We planned each portion of our wedding in different areas of the venue so there was a beautiful flow and our guests loved moving from area to area.

Awesome photos: this venue has so many gorgeous backdrops that you will have such a great variety of photos. The beach is super close by so you can walk there during golden hour with your photographer and snap some awesome pictures.

Management: Carly was super accommodating with many of our requests and my frazzled bride emails, thank you, Carly! Volunteers there are very sweet and helpful. Thank you!

Don't let the 930pm end time put you off - we started early (3pm invite time) and six hours of event time was more than enough. We didn't feel rushed. We also had a Sunday wedding so that probably helped. We had an afterparty booked nearby and it was the perfect ending (if you need recs, just message me. I researched every option in La Jolla!).

Yes, the venue doesn't come with anything so you must bring in everything yourself BUT it's an opportunity to customize it exactly how you like it (trust me, you would end up upgrading chairs and what not and paying more at a hotel anyway) and all the wedding vendors in the area have worked there so they will know what to do. Ashley with Always Flawless Productions was our planner and she was amazing as she's planned so many weddings there, highly recommend her!

Cherry on top: it's a nonprofit, so your venue costs are going towards a good cause.

Thank you, Darlington House, for a beautiful, magical day!

+ 10

photos

Darlington House's reply:

Thank you so much for your kind review, Parastou! We are so happy that you chose Darlington House as the place to celebrate your beautiful wedding.

Brittany

Married on 06/29/2019

Perfect venue!

Darlington House was AMAZING. We couldn't have dreamed of a better venue for both our ceremony and reception. From the adorable upstairs for getting ready to the amazing outdoor space - the venue is gorgeous and we were so happy with everything.

Darlington House's reply:

Thank you so much for your kind words, Brittany! We are so happy that you chose Darlington House to be part of your special day.

Sara N.

Married on 05/18/2019

Stunning venue

After taking one look at Darlington House I knew it was the perfect location for our wedding day! I could not have pictured a more beautiful location for my wedding reception. All of our guests were raving about the the gorgeous courtyard, flowers and library and said it was the best weddings venue they had ever seen. We had 150 guests and a pretty large dance floor in the middle and we were extremely comfortable. Carly and staff did an AMAZING job making sure everything went smoothly. I cannot recommend Darlington House enough!!

+ 2

photos

Darlington House's reply:

Thank you so much for your kind words, Sara. We are so happy that you made Darlington House a part of your beautiful wedding day!

Lisa

Married on 04/12/2018

Amazing venue! Recently had my wedding at the Darlington House and couldn't have more more pleased with our decision! Carly was always happy to answer any questions that came up during the planning process and helped us feel at home in the venue during walk through with vendors. The location was amazing, especially if you're looking for more of a vintage feel. The beauty and uniqueness of the house made for gorgeous pictures and was topic of conversation throughout the night. Thank you Darlington House for an amazing wedding!

Darlington House's reply:

Thank you so much for your kind words, Lisa! We are happy to hear that you and your guests had such a wonderful event.

Care

Married on 03/17/2018

Darlington House was as beautiful the day of our wedding as it was on the day of our first walk-through. Stunning gardens, beautiful home. This venue appealed to all of my guests - regardless of age. During the cocktail hour, the older generation loved sitting inside by the fire while the younger crowd socialized on the patio. Easy space to entertain 160 people for dinner and dancing!

Kristen

Married on 07/16/2016

I am so happy that I chose this venue! I wanted a place for my guests that would be private, charming, and sophisticated- Darlington was all of these qualities and I still keep getting compliments from my guests.

Nicole

Married on 05/21/2016

As a wedding planner, there was no question that I knew that the Darlington was going to be the perfect fit when it finally came time for my big day! It didn't take much convincing for my fiance (now husband) to agree that it fit our laid back personalities, would be able to create the perfect private and historic ambiance, and provide us with the flexibility to make it our own. Their staff is so friendly, professional, and accommodating which I appreciate as a wedding vendor myself! The property is very well kept and I love that they recently renovated their back patio, it is so beautiful, lush, and green. I have a wedding there for a client this Friday and couldn't be more excited to work there again!

Nadia

Married on 05/06/2016

The staff at the Darlington House were very kind and accommodating throughout the entire planning process. The venue itself is beautiful and was just perfect for the look and feel that my husband and I wanted for our wedding. There was really no need to spend any money on decorations because the grounds are already quite lovely. They take great care of the site, and make sure that everything looks great on your special day.

Christine

Married on 11/13/2015


Hello, Our daughter, Stephanie and her husband Trevor Welsh were married at the Darlington House on Friday, November 13, 2015. Summer was so helpful and sweet, a big thank you to her. I had the pleasure of talking with Marie, Jan and Nanette on the night of the wedding and had to tell them how much we loved the property for the wedding. Our guests were very impressed with the house and grounds. I loved how we were able to utilize the areas for our needs. Just beautiful. I told the ladies that our wedding felt so unique and special to us even though I know there are weddings held there probably every weekend.
Thank you for opening the Darlington House to us. We enjoyed every minute of it and we will all be talking about the Welsh wedding for years to come!


Fondly,
Christine Huey



Darlington House's reply:

Hi Christine,

Thank you for your kind words! We are so happy you chose Darlington House to be a part of Stephanie and Trevor's special day. You all were wonderful to work with! Best wishes to you and the family!

Sincerely,
Your Darlington House Team

Melissa

Married on 08/16/2015

The Darlington House is amazing! From the start, they were very professional in making arrangements. They do this often and it shows...all of my vendors had worked with them previously which made planning very simple. And the night of the wedding was spectacular (5pm wedding with reception following). The rose garden is unbelievable at night. My guests were gushing about how elegant the reception was. I would recommend extra "up" lighting around the foliage...it really creates a magical feel. From start to finish, The Darlington House was a fabulous experience.

Darlington House's reply:

Hi Melissa,

Thank you for your review! We are so happy you and your guests enjoyed Darlington House! Wonderful to hear the planning was simple due to our amazing vendors. Congratulations to you and Marc!
-Your Darlington House Team

Tina-Marie

Married on 10/25/2014

Thank you to all the professional representatives at The Darlngton House for being attentive, mindful and devoted to the organization of my wedding. This venue was spectacular to say the least with existing twinkling lights surrounding the property. The venue is meant for a true fairytale romance. It was more than my guests could ever imagine. True to the 1920s era this properties positive energy creates a vibe that ripples through the grounds. I highly recommend the staff and The Darlington House for your gathering. The venues ambience is undoubtedly peaceful, breathtaking and has a flair for glitz and glamour. Rest assured your guests will remember your event if you host it at this beautiful property.

Darlington House's reply:

Thank you Tina-Marie for the kind words about Darlington House and our staff! You were a pleasure to work with and we wish you all the best!

-Your Darlington House Staff

Such a gorgeous location. Our wedding was at the end of March when the flowers were in bloom. Staff were very helpful and friendly. We highly recommend this venue!

Anthony

Married on 10/27/2013

BEAUTIFUL VENUE. IT MADE MY DAUGHTER'S WEDDING PERFECT

Taryn

Married on 09/28/2013

I found the Darlington House and fell in love! It was exactly what we were looking for. Romantic and Intimate it felt like we were getting married at a family home. All the staff was extremely helpful and friendly and because my fiance was in the military we also got a great discount. I wish I could get married there again!

Every single one of our wedding guests commented on how amazing this venue was! I wanted a destination feel for my wedding even though we live in San Diego and the Spanish courtyards were perfect!



My fiance and I wanted a wedding venue that was not a hotel and that had a lot of character. The Darlington House was the perfect choice. We had about 75 guests, which we thought may be too small of a wedding for the venue, but everything turned out better than we could have anticipated. We had the ceremony in the Egyptian patio, which has a beautiful water fountain Mrs. Darlington curated from Egypt (hence, the name of the patio). The cocktail hour was held in the Andulusian Patio, and the bar was located in the Library, which is the most charming and interesting rooms in the Darlington House. The reception was held in the Rose Garden, which had a great, charming ambiance and perfectly accommodated the size of our wedding.

The Darlington House required more planning and work as you would have to bring in all the vendors (they do provide you a long list of required caterers), but it was absolutely worth it. With the right vendors, all you have to do is highlight the natural and history beauty of the Darlington House to make it the wedding venue of yours dreams. One thing worth noting is that we hired valet service, which our guests really appreciated since there is no commercial lot in that area, and street parking is quite limited.

The venue is located in a residential area in downtown La Jolla, about a few block from the beach. Our wedding was on the earlier side (ceremony began at 3:30pm) as the municipal code would not allow outdoor noise/music after 10:00pm. The time restriction was not a problem for us at all, and our guests thought the venue was beautiful.

Lisa

Married on 10/05/2012

The Darlington House is one of my favorite venues in San Diego! I'm so glad I chose to have my wedding in such a beautiful, intimate space. Since my own wedding, I've been lucky enough to plan weddings there throughout the years and even attend a few wedding as a guest ;) It never gets old... I love the Darlington House :)

Darlington House's reply:

Lisa,

Thank you for the review! We love working with Wedding By Lisa Nicole and whenever we do, we know our clients are in excellent hands! Looking forward to another wonderful year -Your Darlington House Team

Monica

Married on 04/06/2012

Absolutely LOVE this venue. We couldn't have picked a more perfect place.

Artie

Married on 11/06/2011

What a perfect Venue for our special day... We still talk about how nice it was and professional everyone were. Thanks to everyone who helped us there...

Liliana

Married on 10/22/2010

This is a fantastic venue that demands respect. It is a historic home just a few blocks from the beach in La Jolla. If you are looking for a classy, romantic venue that will be the perfect background for your pictures, this is the place. Parking can be an issue and music must stop rather early but it is well worth it. In addition, proceeds help the elderly so you are helping a good cause. The staff is warm, helpful and professional.

Annaliese

Married on 08/07/2010

The Darlington house was a great venue....it really matched the look and feel we were going for. The staff is friendly and always open to having you come in and take a look and walk around. Emily, the site coordinator for events is super professional and is straightforward. The best part for me and my husband is that the money you use to pay for renting the place, goes to the "Social Service League" which houses low income seniors in the apartments right next door. So your money goes to a good cause...AND...they event make sure to tell you to claim it on your taxes!!

They were ver accomodating with timing issues and start time issues we had. Terry was very willing to accomodate and understood my concerns. Emily let us bring our stuff in a day early.There is a docent there that makes sure that people are complying with the house rules and kids dont break anything....This was actually really nice to have them there

There are a ton of rooms that people can gather in...we made one a babysitting room and the other room people used for drinking thier tea/coffee. The library housed the bar.....it was truly a nice set up and very unique

Tips:
your reception cant go past 10pm...so think about that.
and also they open the doors 30 min prior to your start time but your catering services/alcohol has to start at your actual start time not at that "30 min" prior mark
Parking might be an issue. It wasnt for us, but it depends on time of year and time of day.
Are you interested?
Send a message