23 Reviews
Recommended by 95% of couples
Quality of service

4.8 out of 5 rating

Average response time

4.7 out of 5 rating

Professionalism

4.8 out of 5 rating

Value

4.7 out of 5 rating

Flexibility

4.8 out of 5 rating
Awards
10 User photos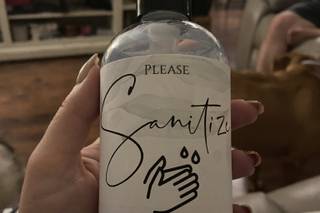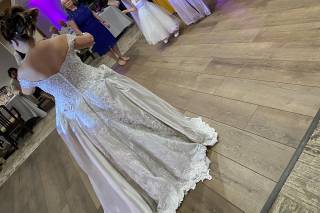 + 6

photos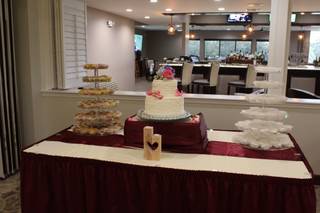 Featured

Leanna D.

Married on 10/17/2020

Wonderful wedding experience!

Robin and the staff at Cypress Run helped us to have an amazing wedding experience! From beginning to end Robin helped me by answering my endless amount of questions (especially in covid 19 times), and she was also there to bounce ideas off of which I truly appreciate. The bridal party was able to use the bridal suite to get ready with hair and makeup by Destiny and Light Hair and Makeup group, and they did an amazing job! The groom and groomsmen used the men's locker room to get ready which they enjoyed as well. For the reception the food and bar options were great, and I feel like there was good value for what you received. Robin and the staff executed my design layout and decorations just how I wanted them, and people have continued to mention how great everything looked and how nice the whole experience was. People said even with having Covid 19 guidelines to follow everything was very enjoyable and they felt comfortable. Guests have continued to rave to us about how amazing the food was and how much fun they had dancing all night with DJ Jose from Soundwaves Pro DJs! We also had a great experience with April with Endless Pose Abilities for our Photobooth, complete with covid cleaning practices. Brad Hall Studios for photography and videography were also great to work with. They were very thorough and helped us make an amazing timeline that really made the day run smoothly. All and all we couldn't have asked for a better wedding day and reception. We had so much fun and Robin and the staff at Cypress Run played a large roll in helping that happen by handling literally EVERYTHING! I am so thankful to all of them!

Cypress Run Golf Club's reply:

Thank you so much for the kind review Leanna! It was truly a pleasure working with you. All your planning and emails made getting your special day set and ready for you a breeze. We are so thankful to be a part of such a fun day and glad you had such a great time!

Linda

Married on 02/08/2020

Professional, accommodating, friendly,

Robin Creelman has been so incredibly kind and professional. She is readily available to communicate with and is so flexible and easy to work with. She keeps me calm and confident that everything will be fine. I couldn't ask for a better person to work with. Our wedding is in two months. I have complete confidence that it will be a smooth and wonderful day for us.

Cypress Run Golf Club's reply:

Thank you so much Linda! We are so glad to have you celebrate this special exciting time with us. We wish you all the best!

Katherine P.

Married on 01/20/2019

Our wedding day

So planning a wedding is super hard especially with two huge families coming together. There is so many decisions to make and options to go through. We had changed our minds so many times up until we visited Cyprus Run. When we went in they were going through renovations but I was sold just on the view alone! By the end of that visit we had negotiated food and bar pricing and we had our venue!! Any time I needed anything or had any questions Robin was available to me at all times and was SO good with our families (that were super eager to help with everything). Robin has so much patience and literally thinks of everything!! The day of our wedding was such a blur of excitement but what I do remember was getting to the venue and Robin sitting my new husband and I in a room to sit alone and eat our appetizers and have a moment to take in our wedding day before we went into the gorgeous room. That moment was a moment we will never forget thanks to Robin! Thank you for thinking of us as well as all our guests. The dim Christmas lights on the ceiling provided such a dream wedding scene I had no idea I wanted so much. The Biggest hit though was the FOOD! It's been a couple months since our wedding and people still bring up how good the food was! All in all Cyprus Run is worth it. They set up and take down everything and make sure you have a flawless wedding day. Thank you to Robin and the staff for being so reasonable and fair with pricing and making our big fat Greek wedding so special! We still get compliments on how elegant it was and did I mention how happy everyone was with the food??? 10/10 would recommend this venue and their team!!!!

Cypress Run Golf Club's reply:

Thank you so much for the kind words. It was a pleasure being part of your special day. I loved how eager your mom and family were to help. All the special touches you added to bring in your Greek heritage made the room really look amazing. All your hard work leading up to the day really showed. Thank you again for letting us be a part of your special day!

Are you interested?

Send a message

Dave

Married on 05/19/2018

I don't like giving 5 stars unless they were super and this group was 5 star + - As with any event something new occurs every 5 minutes but with a smile they made it happen - From Shawn (General Manager) to Robin, Tom, Chef, and entire staff Ann and I thank you for making our wedding a 10 star event.

Jerri

Married on 04/14/2018

We booked Cypress Run Golf and Country Club for a post-wedding party in July. We met and worked with Robin. She was very accommodating and kind. She went over the process with us and asked us several questions to personalize the whole event to our liking. She was very patient with us even with some changes and tweaks to the original plan. The party was awesome! The food was delicious and the whole place was decorated perfectly. She coordinated with all of the vendors for the party and we didn't have to worry about it. She took care of everything for us. The guests kept complimenting us with how the whole event went. This wouldn't have been possible if it weren't for Robin and the rest of her team at Cypress Run Golf and Country Club. I would definitely recommend booking Cypress Run Golf and Country Club for your events. They are very professional and just amazing.

Cypress Run Golf Club's reply:

It was such a pleasure working with you both! The theme you chose for your event came out beautifully. I hope we will see more of you in the future!

Francesca

Married on 03/05/2018

We fell in love the minute we met Tom. He is so accommodating and understands how perfect our day must be. We couldn't have picked a more perfect venue. I cannot wait to marry my best friend at the perfect place and celebrate with our families ??

Jaclyn

Married on 03/03/2018

Perfect from start to finish

My wedding at cypress run was so much more than I could have imagined! Cypress run was so flexible with everything! My wedding was stress free from start to finish! All my guests had such a great time and the food so delicious and everything was more than we could have asked for!!

Cypress Run Golf Club's reply:

Thank you so much! We loved helping you celebrate your special day! Your Christmas theme tuned out beautifully, you did an amazing job with all you decor. It was a pleasure putting it all together for you. Best wishes and many years of happiness to the both of you!

Nicole

Married on 03/11/2017

Its one of Tarpon Springs best kept secret! Tom has been so helpful and I can't wait to continue doing business with him

Sandee

Married on 12/12/2016

Working with Tom to get everything set up on short notice was fantastic. He made everything easy for us. He and his team were so professional and helpful on the day of the event. We'd go back in a heartbeat!!

Wanda

Married on 12/10/2016

We have always found them to be very professional and very prompt in responding to our requests. We would highly recommend Cypress Run for any special occasion.

Cheryl

Married on 12/06/2016

Tom and his staff could not do enough to make sure I and my guests were completely happy. Our room was set up beautifully overlooking the panoramic views of the golf course. The cocktail hour was perfect. We had three entree choices. All guests at each table were served at the same time, no matter which entree they had. Several people took doggie bags home! They kept the evening flowing beautifully, even during a medical emergency when the paramedics had to come for one of my guests. Thank you Tom and Cypress Run.

Alison

Married on 12/01/2016

We have always been very pleased with the service at this venue. Highly recommend!

Kelly

Married on 10/10/2015

We used Cypress Run Golf Course for both our wedding and our reception and there are not enough words to express how happy we were with them. From my first meeting with Tom right through the end of the evening, they went above and beyond to make our day the best day ever. Tom and Alex are both very well organized and helped walk my groom and I through the entire process, making it as easy relaxed as possible. They recommended many of the vendors we ended up using. On the day of, Tom and Alex and the entire staff were key to the day running so smoothly. All our guests noted how helpful they were and stated time and time again how great the staff was. Not only that, they were well within our budget and came in very close to the original estimate. Finally, the course itself is stunning and made for amazing pictures. Highly recommend.

Cypress Run Golf Club's reply:

Kelly,
I am so pleased that everyone enjoyed themselves and your kind words are so rewarding. You and Andy were so wonderful to work with and we at the Club were so happy to be a part of making your big day all that you expected and more. See you at the Club!

Sarah

Married on 10/03/2015

I can't begin to say enough wonderful things about Cypress Run as our wedding venue. Everyone there was very accommodating and willing to help in any way possible. We had our wedding outside by the waterfall which was fantastic. Our reception inside couldn't have gone any smoother. All of our guests raved about the food!! Gorgonzola crusted filet mignon was definitely a hit!! Tom, Alex, Duane, Roy and staff went out of their way to make sure that our special day was flawless!! If I could go back I wouldn't change anything...it was that perfect!!

Lacy

Married on 01/21/2012

From the taste testing, to the exceptional service from the owner himself, this place was exactly what I wanted for my big day. It was so spacious and so intimate, it felt truly as though everyone in my family was happy and I was surrounded by love and wonderful people, including the staff. They were all there when you needed them but were never in the way which was so nice. I just dropped all my decorations off a few days before the wedding and when I showed up made our grand entrance it looked magical. They have great grounds that look beautiful. I would recommend this place to everyone, they work with anyones budget. even My small one, and made me feel like I was getting a 30K wedding.

Having my reception at cypress run was definitely the best decision! Tom was such a help, extremely flexible, and his heart to SERVE the bride and groom really won me in my decision. Everything about that night was very memorable, and unique; compared to any wedding I've ever seen (also, what guests told us). Everything was absolutely perfect! I'm a very happy BRIDE!! I couldn't thank Tom and his team enough for making my night perfect!

Carie

Married on 04/14/2018

Thank you so much to everyone at Cypress Run for making our day so speical. We initially were working with Tom and Alex who were great with helping us plan everything. They where very helpful and made it a stress free process. A few months before the wedding Cypress Run brought in a new manager for speical events amd weddings. I was worried things were not going to go smoothly with things changing at the last minute, but Robin was every professional and helpful with everthing. The day was perfect and everyone had fantastic time. Also the food was delicious several people told me it was the best catered meal that they have had at wedding. Robin was so thoughtful and packed two meals and cake for us to take home after the wedding.
Thank you for everything,
Carie and Joe Ricardo

Cypress Run Golf Club's reply:

Thank you so much for letting us be a part of your special day. It was wonderful working with you! The two of you worked so hard and did so much yourselves. Your cake was beautiful and the centerpieces were amazing as were the rest of the decorations. It was so much fun doing all the set up for you. You are such a beautiful couple and we wish you the very best!

Mr. Tripoli is very helpful and accommodating! Great prices and beautiful venue! Only draw back is the layout and set up for the wedding venue. If you want the dance floor near the party room this is not the place for you!

Cypress Run Golf Club's reply:

Thank you so very much for your kind remarks. With our remodel we have installed a very large dance directly next to the dining areas with a direct view for all of your guests to enjoy. This works very well as the music is not right on top of you which is such a negative with some venues. Our Clients very much enjoy the flexibility this gives them. Again, Thank you for the opportunity to serve you.

Allison

Married on 01/16/2016

Our wedding reception at Cypress Run Golf & Country Club was all that we had hoped and dreamed for! The venue was beautiful and our experience was spectacular. It was very important that we created an unforgettable day for our friends and family to enjoy with memories that would last for many years to come. The food, entertainment, staff and overall experience was phenomenal. Special thanks to Tom Tripoli for working with us as well as our wedding planner every step of the way. We are very grateful and would recommend Cypress Run Golf & Country Club to any couple wanting a fabulous wedding with exceptional service and food.

The Ahns


Christian

Married on 11/14/2015

Tom at Cypress Run did a wonderful job giving us everything we wanted for our wedding reception. He was extremely flexible and worked very well with our other vendors, which helped the event run especially smooth. We couldn't be happier with how our reception turned out.

Cypress Run Golf Club's reply:

Thank you so much for your kind words. I must say that all of us at Cypress Run considered it an honor to serve both you and Anthony. Blessings to the both of you.

Tom Tripoli

Valerie

Married on 12/17/2016

I had my wedding here on 12/17/2016 and it was definitely a success. My only complaint is that some people got food that wasn't warm (including the groom and myself). He told me later that he went back to the club to see what the issue was after I brought it to his attention (after the wedding) and he realized a fuse was blown on one of the heating shelves. This was such a bummer for me as the bride because the food was delicious but obviously not as good cold. Looking back I should have said something at the time and I'm sure they would have corrected it, but I was just trying to enjoy the moment at the wedding. I also was upset that we were not offered the extra food from the people who didn't show. Again, I prob should have asked for it but I didn't realize the food was still made and it would have been nice if someone on the staff would have offered to box it up for me or offered the bridal party the option to have seconds. That would have been awesome. Tom did give us some of a discount due to the issue with the food temperature so that was nice. Other than those snaffus with the food I thought it was great. My guests who didn't get cold plates raved about how good the food was and everyone had such a good time. The ambiance was great and I like how there's only one wedding there at a time. It's more intimate and personal. Tom also is very involved in the timing and planning so there really is no need for a wedding planner if you're considering that. Overall I'm very happy with my wedding and if it wasn't for those food issues it would be 5 stars.

Emily

Married on 03/01/2014

My wedding reception was absolutely beautiful and everyone had a great time! The venue had plenty of room for my 120 guests. The bay windows in the dining room brought in some great natural light. Tom was so easy and enjoyable to work with. Great memories made by all!

Anna

Married on 01/27/2018

We had our wedding at Cypress Run on 01/27/18, to say I was disappointed with this venue - is a big understatement. The only reason I want to write this review, is to alert future brides who already paid deposits for this venue. If you are still deciding - pick another golf course, there are hundreds of those around, and you will probably have better experience. Management has changed, Tom is no longer there and as expected a lot was promised, but underdelivered. Wedding coordinator Robin is nice, tried to be accommodating but lacks the experience. She took notes during our final meeting and we went over all the details. On my wedding day: 1) the linens were wrong colors (she was able to find the right linens, but it was a lot of unnecessary stress). I brought all the centerpieces, vases, chair covers, sashes myself - staff gave me a major attitude because they had to set up the tables, did it all wrong and my bridal party had to put chair covers on themselves. 2) Ceremony site was bare!! They just brought an arch, set up chairs and did not even wipe the dust off the chairs!!! 3) When we went for menu tasting, I specifically said I do not want broccoli to be served with dinner - every single guest had broccoli on their dinner plates. 4) They "forgot" to serve champagne for our toast! We paid for the champagne, all they had to do is pour it in glasses. My guests were toasting Mr & Mrs with water. 5) Robin asked one of her service staff to carry my trail while I was walking to the ceremony, so he ripped off my veil right before I was getting ready to walk down the isle! Accidents happen I get it, but I did not have to deal with an attitude and eye rolls from the serving staff all day. Again, if you already booked this venue - make sure you have everything in writing to the smallest details and good luck.
Are you interested?
Send a message