Reviews
4.8 out of 5 rating
Quality of service

4.8 out of 5 rating

Average response time

4.9 out of 5 rating

Professionalism

4.8 out of 5 rating

Value

4.7 out of 5 rating

Flexibility

4.8 out of 5 rating
96%
Recommended by couples
65 User photos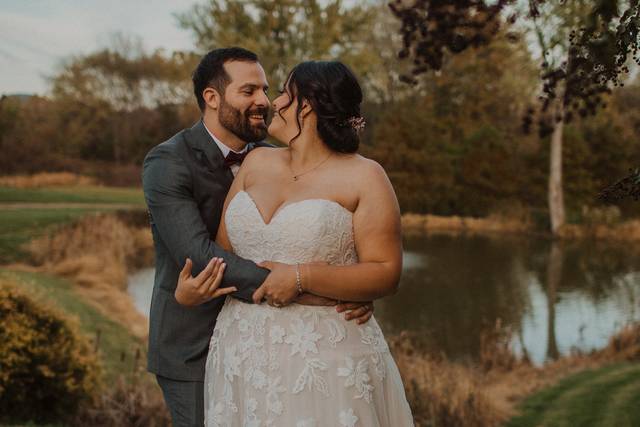 + 61

photos
Kate A.

Married on 03/24/2023

Wonderful Experience!!

I was very anxious about dress shopping as a larger-bodied bride. I was nervous about being judged in bridal salons, or having to essentially imagine what a dress would look like because the sample wouldn't fit on my frame. I feel SO SO lucky to have a shop like Curvaceous Couture so close by, because I didn't have to deal with ANY of those concerns. Making an appointment was super simple. As soon as we walked in the door, the staff was friendly and professional. My stylist listened to what I was looking for and pulled dresses that fit within my criteria. I had tried on dresses on two prior occasions, and while those experiences weren't bad, it was just a whole new world to have an entire shop full of dresses that fit me. I found a dress that made me feel beautiful and special. The alterations team did an excellent job customizing the dress to my body, and when something was a little off at my final fitting, they placed some more pins without complaint and told me to come back in a few hours to pick it up. When I returned, the dress fit perfectly. I would definitely recommend all plus sized babes check out Curvaceous Couture (especially in their gorgeous new space).

Shanae R.

Married on 12/30/2022

Absolutely amazing and personalized.

This was by far the best experience dress shopping I've ever had!!

Samantha

Married on 11/11/2022

Best shopping experience!

The owners and everyone who works at Curvaceous Couture make the shopping experience SO amazing! As a plus size bride I was worried about walking into a salon and not being able to fit into everything I wanted but at Curvaceous Couture most of the sample sizes were big on me which was so nice! They knew exactly what I wanted in a gown and the stylist picked the first dress I saw when I walked in (without knowing I saw it) and it ended up being my dress! Every time I came back for fittings and everything the whole team went above and beyond. I am so thankful a store like this exists and I could not be more happy with my dress!

Are you interested?

Send a message

Aisha B.

Married on 10/22/2022

Best dress shop for curvy and plus folx

I was VERY nervous to try on wedding dresses. All of the staff were so kind and helpful. Sharee was the best! She was attentive and pulled dresses that were exactly my style. The dress selection there is unmatched and a plus that my bust was supported in every single dress. They made the process easy and I chose my dress that same day!

Barbara D.

Married on 07/02/2022

Fabulous experience

I wound up buying my dress from another store, but wanted to write a review of Curvaceous Couture because I had such a good experience. I felt comfortable and had a great time with Jazzy as my stylist. She wanted to know about my vision for the wedding and pulled dresses that matched that. The salon has a great, welcoming atmosphere, and I also appreciated their covid precautions.

Rana R.

Married on 11/06/2021

Amazing! Thank you so much for your help

I wound up working with Jazzy during my visit! She was wonderful. She listened to what styles and looks I liked and pulled a handful of dresses for me to try on. From there we made our way to the one I wound up falling for. She was so helpful and kind. Offered great feedback and never pressured me in any direction to buy. The alterations team here was also wonderful! They did a great job on my dress and were very quick as well as precise. Thank you for such a wonderful experience!

+ 2

photos

Rebecca

Married on 10/31/2021

Amazing Experience!

This place is amazing! I heard trying to find a wedding dress can be very stressful but Curvaceous Couture made the experience wonderful and stress free. They have all different types of dresses from styles to
price point. I live over an hour away and it was worth the long drive. All the staff is extremely warm, welcoming and charismatic.

Julie V.

Married on 10/23/2021

5 star resort service

I cannot recommend Curvaceous Couture enough, they bring the family feel with the professionalism it takes to run a bridal shop. Specializing in plus size they embrace your body image and make you feel like a queen. They communicated with me so efficiently throughout the whole process. I will miss being able to see them every couple of months, they are now family to me.

Jessica M.

Married on 10/16/2021

Great experience

Had a great time picking out my perfect wedding dress. Staff are friendly. Work is quality.

Brittany B.

Married on 10/10/2021

Above and Beyond

As a plus size woman in the area, I've had Curvaceous Couture on my radar since before I met my fiancé. I had planned on dress shopping later in the year when I saw their social media posts about a Sample Sale and figured it would be a perfect time to go in so this past weekend I went in with my best friend.

Long story short, I ended up visiting them both Saturday and Tuesday. Both times I felt so welcomed and even though I was terrified as a large bride, I felt beautiful and never for a second was made to feel like there was any shame in any part of my body or the journey that I'm on with my weight. I felt like I was talking to friends and I appreciated that they listened to my concerns, addressed them, and really seemed to be respectfully caring in the process.

I couldn't recommend them highly enough and I'm
so glad I said yes to the dress here!

Gerquita A.

Married on 08/15/2021

8.15.21 Bride GerQuita

I loved my entire experience with this boutique. Everyone was professional and caring and helpful! I'll always recommend!

+ 2

photos

Janine D.

Married on 06/05/2021

They had a huge selection of dresses to choose from

It was great seeing so many options for plus size. The whole store was geared towards plus size not just a small section of the store. Everyone was so nice and helpful. It was definitely worth the 1 1/2 hr drive.

Aiyana

Married on 09/12/2020

I love this store!

I had a wonderful time finding my dress at Curvaceous Couture today. The store is beautiful and the staff was amazing! Every dress they suggested I try on was gorgeous, and they had a great variety of styles to choose from.

Lynn W.

Married on 02/15/2020

Perfect Wedding

My Wedding Planner referred me to this business for my dress and the experience was great along with the customer service.

Lizzy H.

Married on 11/23/2019

Best decision ever!

As a full figured female I found myself dreading wedding dress shopping. Truly dreading it. My Mom had her mother of the bride dress before I had even tried a bridal gown on. Fast forward through a few less than positive experiences and I decided to give Curvaceous Couture a visit. I have never felt more comfortable and confident in my own skin as I did with the women who helped me find my gown. The energy is positive, the staff is friendly, and the options are endless. I found the gown of my dreams on my first visit and would suggest this to any full figured woman looking for a positive experience!!! You will not regret shopping with Curvaceous Couture!

Meghan

Married on 11/02/2019

Wonderful Staff and Exceptional Collection

Made a last minute appointment about a week ago when I had an unexpected evening off. The staff was so accommodating in giving me an appointment and then staying late when my appointment ran late. I had looked at other dresses and their selection was nothing like I had seen anywhere else! Great dresses at all price points and my consultant was just so nice! She provided some pointers when looking that I had not considered before and was just so knowledgeable! You're totally in good hands here! Highly Recommend!

Katie

Married on 11/01/2019

Perfection!

There are not enough words to show my appreciation for this store. I was so nervous going wedding dress shopping because of my size and worry of not finding something that fit me and made me feel beautiful. This was the first and only store I went to. They listened to me and let me put on the only dress I knew I wanted to try and we immediately knew it wasn't the right one. After a few more dresses picked by friends and my mom, the stylist brought out the perfect dress for me. We all fell in love and I was so happy with it! I love my dress so much and I looked amazing on my wedding day!

Sam

Married on 10/19/2019

I would recommend this plus size dress shop to anyone! I thought I would have a hard time finding a dress or even bring able to try on dresses being plus sized. I'm a fairly bigger gal and I had no problems at all! Their sizes are very inclusive! Everyone there was completely professional and above all expectations. I found my dress here and it was my first time being at a dress botique. I even bought my gorgeous veil and crown. Even though it was a sale week the prices were more than generous. If you're a plus sized bride you must come here! Thank you for helping me find The Dress!!!!

Paulette

Married on 10/12/2019

I love, love, love this salon! Their main focus is on the brides with curves but all sizes are welcome. The salon is owned by two sisters Yukia and Yuneisia and they are every bit of how you see them on their show. I purchased my dress there with Yuneisia BEFORE they got their TLC show Curvy Brides. She was a pleasure and joy to work with and she helped me find the perfect dress for me! The price was fabulous too.

If you are looking for a beautiful salon that offers an amazing gown shopping experience for all brides regardless of their size please visit this salon. You will have a great selection to choose from and will receive friendly and personalized attention.

Danielle L.

Married on 10/06/2019

Dress of My Dreams

While visiting a friend, she recommended we try Curvaceous to find my wedding dress. I was initially concerned about finding a wedding dress at a size 16w with an hourglass shape. But I found my dress and it was the easiest piece of the whole wedding planning process.

Cheryl B.

Married on 10/05/2019

My dream dress

After trying several shops and feeling very discouraged I found curvaceous couture!! My engagement time is short so unfortunately I did not have time to order a dress. However the salon worked with me in creating everything that was on my wish list to ensure that my day would be perfect. They went above and beyond to make me happy. This was by far one of the best experiences I've ever had. The salon owners treated me like I was family and gave me their honest opinion to ensure that I picked the perfect dress.

Brittany H.

Married on 09/28/2019

Yesssssssss

Where do I start!?! These ladies had me looking out of this world!! I was so glad my sister recommended me to this salon because they had everything you could want as a plus size girl. This was the second place I had been to for trying on dresses and little did I know that I had found the one. It took me a while but I finally made the decision since Im in decisive. They really took care of me and gave me the royal treatment and making suggestions that were valuable in the end.

For my fitting, it went ok. I did feel a little rushed since they were dealing with another troublesome bride but one of the shop owners noticed my uneasy feeling as I was about to leave. She assured me that we should go back into the dressing room to make sure I was 100% satisfied. She ended up suggesting some under garments that smoothed out things in all the right places and then my dress looked perfect! I left feeling so satisfied. I got sooo many compliments on my dress and it fits me just like I wanted!

Natyla M.

Married on 07/26/2019

I love my dress

The dress is gorgeous and it was just what I was looking for.

Lael

Married on 06/01/2019

I was dreading dress shopping until I found Curvaceous Couture!

I was dreading wedding dress shopping before I discovered Curvaceous Couture. I was even thinking of having a dress custom-made for me to avoid having to go to a store that didn't have a good selection in my size (size 18 in regular clothes at the time). At Curvaceous Couture I ended up having so many beautiful choices there were at least 3 dresses that were my top choice - it was hard to choose THE one. The staff was professional, friendly and fun. The shop is set up according to your budget so you aren't looking at (and falling in love with) dresses out of your budget. Speaking of budget, I flew to Baltimore to go to Curvaceous Couture and I feel that even with the added expense of travel my dress was still a great value. I got so many compliments on my dress at my wedding and I only wish I could wear it for another occasion! (I should note that I lost 40 pounds before my wedding and since I don't live in Baltimore I had my alterations done in my own town.) I can't reccomend this boutique highly enough!

Emily S.

Married on 05/25/2019

AMAZING selection and service

I LOVE THIS STORE! Amazing and helpful staff, wonderful tailoring, and nice service. Jazzy was my consultant and she was flawless! She was quick to read my facial expressions and body language when I loved or didn't like something, and had plenty of suggestions for dresses for my body type. I don't love trying on clothes but I LOVED coming to this store any time I had a fitting. These ladies are the real deal and I love everything about this place. My perfect dress was inside, and for such a reasonable price! Drop by, you won't be disappointed!!
Are you interested?
Send a message