73 Reviews
Recommended by 100% of couples
Quality of service

5 out of 5 rating

Average response time

5 out of 5 rating

Professionalism

5 out of 5 rating

Value

5 out of 5 rating

Flexibility

5 out of 5 rating
66 User photos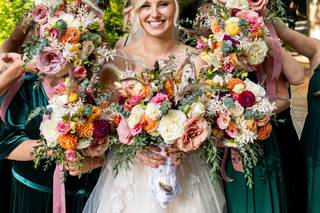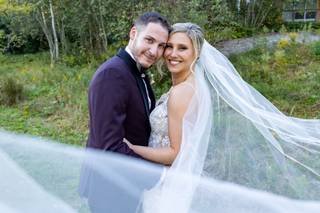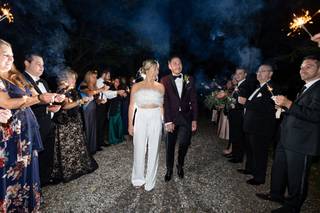 + 62

photos
Amelia H.

Married on 09/24/2022

The absolute best!

I wish I could make this a 20/5 star review, that is how happy we were! We first met Gabby and Marcia during our engagement photo session. Gabby's energy is palpable! She will do anything to get shot and we got some incredible ones! We were so excited to have them both back on the wedding day and they were incredible. Our families and bridal party also could not stop talking about how amazing they both were! Gabby even helped me steam my skirt before we walked out. The photos they both got were absolutely perfect, their excitement will keep you smiling all night. They are so hard working and creative, I promise all the photos will be amazing! I wish I could put more eloquently in to words how absolutely amazing they were but the absolute best!

+ 4

photos

James M.

Married on 09/17/2022

Pick CT photo group!

One consecutive compliment my wife and I keep getting about our wedding was our photographer! Mike and his team went above and beyond for us. All of our guests and other vendors loved him. They made things light and easy and fun. Everyone loved how prepared they were and knew everyone's names asking for everyone by name and even learning and remembering family members names. It was a very personal touch we highly recommend CT photo group!

William M.

Married on 05/21/2022

Mike and Gabby were Outstanding

Mike and Gabby were amazing to work with. They're incredibly talented, fun to be around and help strike a perfect balance between taking control and moving everything along if you want them to or just letting you set the pace and dictate everything on your special day. You're going to spend a LOT of time with your photographers, especially if you do a first look so you really want them to be easy-going, fun people and they absolutely are.

Most importantly though, the photos are fantastic. They're really great at what they do and we ended up with about 900 incredible photos. They also delivered a small handful of some of the best photos within a day or two of the wedding which was great.

Don't even hesitate to book these guys. There's a reason that every review on here is great and even their worst review was someone in 2013 saying that they did a great job so they probably clicked the wrong button. Hire them right now and give yourself one less thing to worry about. They're the best.

Are you interested?

Send a message

Meghan K.

Married on 03/04/2022

Incredible experince

I cannot say enough INCREDIBLE things about Mike and Gabby!!!! They were so amazing from the start and captured moments I could not believe until I got my wedding photos back. Every photo was better than the next and had me screaming for joy. They captured every detail with beauty and perfection.

Not only were my wedding photos everything I could have dreamed of, but CT photo group was the best decision I made. They made me feel comfortable from the start and I would love to get drinks with them one night. They not only made my husband and myself feel like a friend but also our guest too. After the wedding everyone kept saying how amazing they were and how they were always there to capture a special moment for them.

What impressed me the most was they were able to capture my whole family. I have ten nieces and nephews so I could imagine how hard it must have been to get that photo, but they were patient the whole time and they got it. And it is beautiful!

In addition, Gabby and Mike work so well together! They were constantly in sync and communicate with each other every second. I would recommend them to everyone!!!! The best part of CT Photo Group was they made you feel like a friend and not just a customer. Thank you!

Nicole V.

Married on 08/20/2021

Amazing, professional, personalable and well skilled photography

WOW! Mike and Gabby provided unbelievable service and did an amazing job at taking our wedding photos. From the engagement shoot to the last photo at the wedding, they made everything 100x easier and more enjoyable. Mike and Gabby know what they're doing and will get you through your photos with ease and grace. I have never met more professional people who absolutely love what they're doing. We cannot express how amazing it was to work with CT Photo Group. I can't wait to use them for all of our professional photos here on out. I am so happy we booked with them!! Thank you so much CT Photo Group for making our day that much more special. YOU GUYS ARE AMAZING!!!

Kelly L.

Married on 08/18/2021

Wedding Photography

CT Photo Group was fantastic to work with for the entire process! Both Mike and Gabby were very responsive and flexible. Gabby was our on-site photographer and she was incredible! Everything we wanted in a wedding photographer. She was fun to work with and also quick with photos while capturing everything we wanted - which left more time for fun with our guests! Highly recommend this studio to anyone.

Brianna A.

Married on 06/12/2021

Hands down the greatest humans!

First off, I have to say Mike and Gabby were both extremely professional while also having so much fun with us and all of our guests! They were so helpful the entire day with making sure we were able to still have fun with our guests but also get the photos we wanted !!! Not only did our pictures come out absolutely incredible but all of our guests were nonstop complementing how incredible they were! We just got our photos back a couple days ago and every single one of them was flawless! Going through the entire album brought me back and made me truly relive the entire day! I am so grateful for them capturing every important, special, and funny moment so that we both can remember them forever. Thank you so much Mike and Gabby !!!!!

+ 9

photos

Megan L.

Married on 06/04/2021

Stunning!

CT Photo group did an AMAZING job at my wedding June 2021. Mike and Gabby were such a pleasure to work with and put up with all of my husband & his groomsmen's craziness. They were genuinely excited about the shots they were taking, and their enthusiasm was contagious. And, I have to say, the results were GORGEOUS. They know exactly how to capture all the moments of your day beautifully. Photos came back quickly -- within 3 weeks -- and we had teasers just a week after the wedding! I loved that the package included a free album for my husband & I, and it was extremely high-quality and professional. Mike was also very helpful in answering all of my questions on what sizes to order for different prints.

We also used a videographer from them and that came out great as well!!

I cannot recommend CT Photo Group enough! You will not be disappointed and will have beautiful photos to remember your special day!

Jennifer C.

Married on 03/09/2021

What can I say?

What can I say about CT Photo Group. They were great! They walked us through everything and seemed to always be there to capture everything! We just got our pictures and they are BEAUTIFUL! I never could have imagined anything as beautiful as we got! We are so happy with the pictures and we don't know how we will be able to narrow it down for the album or choose just one for the thank you card! Mike and Garrett, we can not thank you enough for capturing all the magic of our special day!

+ 15

photos

Brittany P.

Married on 11/22/2020

The best photographers around

Where do I even start with CT Photo Group? They're absolutely amazing. When I first got engaged 2 years ago I did an extensive search for the perfect photographer, and I found Mike. Mike went above and beyond for our engagement pictures and wedding day. My husband and I can confidently say, stop researching a photographer and book with Mike. Our wedding day ended up being pretty cold but that didn't stop Mike from getting down on the frozen ground to capture the best shots. We got to meet Gabby on our wedding day as second photographer and we're so impressed with how well she and Mike worked together. There wasn't a sing hiccup on our wedding day all thanks to them. Ontop of that the turn around time for our pictures was impressive. Thank you Mike & Gabby for making our wedding dreams come true, even with COVID barriers.

Jessica P.

Married on 11/14/2020

Professional AND Talented

We are so happy with our choice of photographer for our wedding day! Mike and Gabby were fantastic! We really could tell how much experience Mike has had in the industry and they both had great energy to keep up with my large bridal party and partying family. Professional, talented, and such nice people! I highly recommend this team for your special event.

Amy L.

Married on 10/04/2020

Doesn't get better than CT Photo Group

I can't recommend Mike and CT Photo Group enough. They did a fantastic job on my engagement shoot, providing me with the amazing pictures that we'll cherish forever. They were incredibly accessible and helpful in dealing with adjustments required by covid regulations and took a lot of stress out of the re-planning. My wedding photos came out better than a could have imagined. Thank you CT Photo Group!

Brianne A.

Married on 06/10/2020

Amazing Experience

We booked CT Photo Group a year and a half before our actual wedding. We met with Mike to decide if he was the right person to take our engagement and wedding photos. From the minute we met him, we instantly liked him. He made us feel very comfortable and showed us a variety of his work. His portfolio spoke for itself and we felt confident in our decision to go with CT Photo Group. Once we booked him, we waited about 6 months until our engagement photos. He accommodated us by taking us to two separate locations we wanted. The pictures came out beautiful. He is amazing at lighting (and back lighting) his subjects. We were beyond happy with our engagement photos, not to mention the quick turn around in getting them back to us. Fast forward 12 months to our wedding. We had the pleasure of having Mike and Gabby for photography, and Garrett for videography. The three of them fit in so well into the evening. At times we even forgot they were there because they are so talented at blending in and allowing you to experience the day for all it's worth. Once we got our stunning wedding photos back, we were shocked to see that they got so many candid's and angles. We felt comfortable while they were posing us for the formal pictures. They are literally the three nicest people and their personalities make you feel like you've known them forever. On the same note, they also went beyond and above what you would expect your photographers to do. It was extremely cold and windy on our wedding day. In addition, I was pretty sick. The three of them did their best to keep us warm (wrapping us in blankets between shots) and escorting us inside to get warm before we came back out for more photos. Gabby was especially kind to me, handing me tissues throughout my whole first look, because I was not feeling my best! Despite how lousy I felt, the pictures do not show that at all! They made me look like a superstar, even though I was not feeling it. I could not have asked for a better photography/videography team. They are patient and accommodating. They understand the importance of the day and are 100% reliable. I would not hesitate to recommend them to anyone. Thank you Mike, Gabby, and Garrett for everything you guys did for us. We appreciate your work and cannot express our gratitude enough for the amazing way you captured our day. Thanks!

Alison

Married on 06/06/2020

Very happy

My husband and I had the best time working with Mike from CT photo group. He made us feel so comfortable and at ease during our engagement and wedding photos. We are definitely not naturals in front of the camera, but he made it easy and fun! We were really impressed how the photos came out. He has a great eye for picking the right backdrop and framing the shots. We were very happy with our decision!

Liana

Married on 11/16/2019

Best Photographer Ever!!!

Words cannot express how pleased and happy we hired Mike for our wedding photos. Mike did everything to capture the most beautiful moments of our special day! He will forever be a part of our family! Any photo shoot in the future I am going to him! You need to hire him I cannot express enough what an amazing experience we had! What Mike can do with lighting is beyond romantic and incredible. Amazing service and I highly recommend.

Molly A.

Married on 11/09/2019

The Best Wedding Photographer

The first conversation we had with Mike we knew we had to hire CT Photo Group for our wedding! He was responsive, professional and flexible every time we met to discuss wedding details. He recommended a great spot for our engagement photos that turned out amazing and his office is located on the same property that our venue was making him insightful of all the best spots for us to take photos! He was time conscious for us as well as we had discussed our pictures are important but we also wanted to spend as much time with our guests as possible eating and dancing! My bridesmaids were impressed of Mike's professionalism remembering the entire wedding party, parents and grandparents names which made it much easier when taking pictures and the groomsmen had loads of fun taking carefree pre-ceremony pictures with Gabby. We cannot thank Mike and Gabby enough for capturing our day, our personalities and everyone's energy perfectly!

+ 6

photos

CT Photo Group's reply:

Thank you Molly, you and Alex were amazing to work with! Thank you for letting us be part of your day.

Jennifer

Married on 10/25/2019

CANNOT Recommend These Guys Enough

After my first meeting with Mike, I had such an amazing feeling about him. He was able to work with me on pricing, but also showed me samples of a prior wedding to fully convince me he was perfect for us. The day of the wedding, he and his assistant came and were so relaxed. They grabbed a bunch of secret shots of my dress, my shoes, etc that I had ZERO clue about as I was getting ready myself. The entire day the two stuck to a schedule, sometimes strayed just a bit bc of craziness, but everything flowed perfectly! They were truly professionals when it came to capturing lighting and specific photos they had in mind. And they had our list of "must have" photos memorized (it seemed). They remembered EVERYONE'S names we had mentioned, AND they always kept us on track when it came to grabbing those people. Mike and Garrett were so much fun to work with! They were funny, laid back, and just great guys. I am So excited about getting our photos because I KNOW they did an amazing job! They kept telling us "this is such a beautiful shot", "this is going to look amazing", so it really set our mind at ease knowing they had it under control and felt good about it- this way we felt good too! Definitely get these guys to shoot your wedding! They do amazing things!!

Jo-Ann A.

Married on 10/06/2019

Absolutely Wonderful!

I cannot begin to tell you how pleased we are that we chose CT Photo Group to do our wedding. Mike is very professional and was always available with any questions or concerns. He captured every detail of our wedding. Our album is more beautiful than we could have ever imagined. I would highly recommend him.

Brittany W.

Married on 05/26/2019

Perfect, Easy, Fun, Magical

Mike and Garrett are the absolute best!!! They are extremely professional, fun, nice, talented, and the list goes on! Honestly, we couldn't imagine working with anyone else. Our wedding was the best day of our lives and Mike and Garrett were a huge part in making it the perfect day. Working with them was effortless. Thank you Mike and Garrett!!!

Tyler A.

Married on 02/11/2019

Thank you, CT Photo Group!

Mike and Garrett were the best photographers we could have asked for. They helped our day run smoothly and made sure things were going as planned. Throughout the planning process, Mike was always available to answer any questions we had. We just got our pictures back and we are absolutely thrilled with how they came out! We will be recommending CT Photo Group to all of our friends and family. Thank you to Mike and Garrett for capturing our day!

Beth A.

Married on 11/24/2018

Great wedding photos from CT Photo Group!

SO happy we chose CT Photo Group and Mike Evans to photograph our wedding! From the first meeting we had, we knew Mike would be perfect for the style of wedding we wanted... relaxed, flexible, fun, and willing to work with our ideas. The morning of the wedding, Mike was at the venue before us, getting organized and ready so that when we arrived, he was ready to go! Pre-ceremony, ceremony, and reception shots were amazing and Mike and his assistant were on point the whole time. Our families were amazing at how Mike remembered everyone's names right away, and how inconspicuous he was throughout the whole event. Never did we feel that the photos interrupted moments, yet looking back at the pictures, all of the moments we were hoping to see were captured perfectly! Highly, highly recommend CT Photo Group!

Cynthia

Married on 10/20/2018

Best decision we made for our wedding

The moment we met Garrett, we knew he was the perfect lead photographer for our special day. He was a combination of laid-back and professional that made it easy to work with. Garrett helped us tailor our team to our needs - which ended up including 2nd photographer (Catherine) and videographer (Dave).

Despite the long day, Garrett arrived bright and early in a good mood and kept it up taking nearly 2000 photos between candid and posed! Besides being complete professionals and keeping on track of the day's schedule, everyone was extremely friendly and nice throughout the process from the initial planning meetings all the way through coordinating receipt of images and video after the wedding. The best part is we received everything back from the video to the photos in less than a month! We couldn't have asked for a better team to have captured our day and I would highly recommend CT Photo Group to every couple getting married in the area.

Lindsey S.

Married on 09/29/2018

Absolutely amazing!

They are beyond the best of the best! Amazing quality and they really care for you and your wedding, would recommend a hundred times over!

+ 3

photos

Jean

Married on 08/11/2018

What a wonderful experience! Mike Evans was patient, kind, professional, creative, and dedicated to capturing all of the special moments from our wedding; we couldn't be more pleased with how our photos turned out! We were supposed to take outdoor photos and have an outdoor ceremony, but needed to rearrange at the last minute due to rain. Mike talked with us through some indoor options and was very flexible and helpful in organizing new plans to take our photos. Everything turned out perfectly! Would highly recommend!

Tamara

Married on 06/29/2018

My husband and I chose CT Photo Group as our wedding photographer. We worked with both Mike and Garrett on our wedding day and we could've have asked for a better duo. Mike is a genuinely kind professional. He made sure to answer all my detailed questions and went through the timeline of the day with me in detail (to calm my type A personality). Mike helped my wedding photo vision come to life. Garrett made sure to capture all the photos my Pinterest heart desired. Event more than that, Mike and Garrett helped create a relaxed environment the day of the wedding. Their expertise shined through, as they guided me with the wedding photo list and wedding photo timeline. They even made taking extended family photos enjoyable. I have a huge extended Italian family and having family photos was so important to me. Mike and Garrett helped ensure this process went smoothly and timely.

I would like to thank Mike and Garrett for all their hard work and dedication to our wedding. You made this experience so wonderful and I am beyond thankful.

I would highly recommended CT Photo Group for your wedding or special event. They will make sure your experience is enjoyable and help your vision come to life through photography.
Are you interested?
Send a message