93 Reviews
Recommended by 95% of couples
Quality of service

4.8 out of 5 rating

Average response time

4.8 out of 5 rating

Professionalism

4.9 out of 5 rating

Value

4.6 out of 5 rating

Flexibility

4.7 out of 5 rating
94 User photos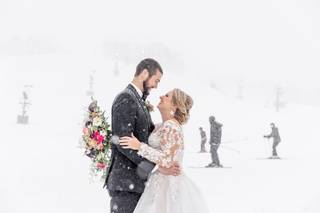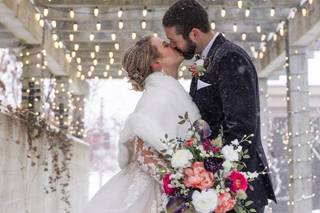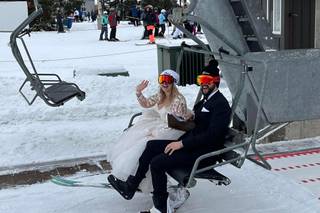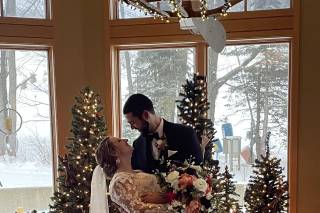 + 90

photos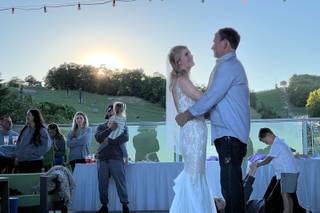 Lindsey M.

Married on 01/27/2023

Perfect Snow Globe Wedding at Crystal Mountain!

I would recommend Crystal Moutain to everyone! We had our Wedding Ceremony in the Northern Lights room and then a private dinner with our bridal party at the Thistle Pub afterward! It was truly magical and so special. The team at Crystal Mountain for facilitating events is awesome! They are so helpful with questions, concerns, and are very prompt in their responses. They are very communicative about how to make the process of planning with them easy and seamless. They made my day from first contact all the way to "I do" just wonderful! I'm so grateful to Crystal Mountain for the best day of my life!

Kara F.

Married on 06/18/2022

Best Decision Ever

While planning our northern Michigan wedding from California during the pandemic, we knew we'd have to take a risk by booking a venue without visiting it. We're SO glad we picked Crystal! They were absolute pros from beginning to end - completely clear and responsive during the planning process, kind and accommodating to all our guests' needs as the date got closer, and absolutely lovely on the day of, from the chair lift operators to the dinner servers and everyone in between.

Best of all, when we finally visited Crystal we were super impressed by the whole resort. Comfy accommodations that our family and guests loved, tons of fun activities, and a gorgeous backdrop for our wedding at the top of the mountain! In the end, it was a fabulous experience for a totally reasonable cost. If you're on the fence - do it!

Sonya W.

Married on 05/20/2022

Amazing wedding experience at Crystal Mountain Resort!

I am so glad I had my wedding at Crystal Mountain, not only for the beautiful location (Northern Michigan is charming), but also because of the professionalism and diligence of the wedding team at the resort. Even before we signed a contract, the staff at Crystal Mountain were always available to answer any calls or emails with the thousands of questions I had about wedding planning. They never got fed up with me, but were always extremely kind and helpful. In addition, the resort communicated very well within their departments (food, coordinator, set-up) so that everything was exactly how I wanted it to be for the wedding day (this took a lot of stress off of me for the wedding day because I knew I could trust the wedding team to get everything done while I was getting married). Since I was planning the wedding by myself (no other family helped me), I appreciated the help of the Resort staff. Overall, the food was delicious, the event spaces were beautiful, and the people were friendly!

Are you interested?

Send a message

Jayce H.

Married on 01/21/2022

Wonderful Winter Wedding!

My husband and I got married at Crystal Mountain last month and it was perfect! The resort itself is beautiful and we were so happy to have our guests spend the weekend at such an enjoyable place. Working with Stephanie and Molly was great. They were very helpful and were always accommodating to our many requests. The wedding day itself went incredibly smooth and all of our guests complimented the food and service that was given. All of the staff were extremely friendly and made sure that our experience was perfect. The food is the best food I've ever had at a wedding and they have so many options. I would recommend Crystal Mountain to anyone looking for a beautiful northern Michigan wedding destination!

Kaitlyn H.

Married on 08/21/2021

Simply Amazing.

Our wedding at Crystal mountain was PERFECT. They know how to manage weddings and worked with us on bringing our wedding dreams to life. We created a wedding weekend experience from a welcome reception on Friday, to wedding on Saturday and breakfast on Sunday - all at the resort so we could walk everywhere! I had zero stress in knowing that they could handle everything and it was truly amazing!!

Kokie Z.

Married on 06/05/2021

Best day ever

Our experience having our wedding at Crystal Mountain was flawless. They worked with us as we postponed our wedding due to covid, and made sure all the plans were perfect. The staff during the event was SO fun and accomodating. I wish we could have a wedding there every weekend!

Katrina P.

Married on 02/20/2021

Amazing wedding event at Crystal Mountain

Crystal Mountain was so great to work with! I did a very small elopement very last minute(only a month of planning) and from day 1 they were so responsive and made me feel like my wedding was the most important event of the day. I would love to give a shout out to Carmen and Stephanie who are great to work with and made my day so amazing. The food was catered through them and everyone loved it. They brought it straight to us and picked everything up so seamlessly. I also needed extra things the day of and they were able to bring it no problem.

A beautiful place and wonderful people to work with, I would highly recommend using them.

Kristi A.

Married on 03/10/2020

Perfect in every way!

Planning a wedding during a pandemic was extremely difficult. But the staff at Crystal Mountain were very helpful and worked with us along the way. They kept us informed on the ever changing rules and regulations and gave us new options and ideas to ensure our wedding was perfect. Our ceremony was at the top of the mountain and the fall colors were at their peak! I am glad we changed our date from the spring to the fall, it gave me a little more time to plan and the colors were breathtaking. Our reception was in a beautiful tent and the service staff was amazing and attentive. The food was hands down the best! (I still have people telling me how good everything was!) We felt like royalty! I plan to come back every year for our anniversary as Crystal Mountain is like home to me!

Tiffany

Married on 10/26/2019

Would have been the perfect day if it wasn't for COVID

Due to the restrictions and executive orders in the state of Michigan we were unable to continue planning our wedding at Crystal Mountain. Although we are extremely sad we did not get to experience our day here Crystal Mountain was exceptional to work with. Stephanie, especially, was fantastic. She answered all of my hundreds of questions and went above and beyond to make any of my crazy ideas come to life. Carmen, also communicated with me when things were not looking like they were going to go as planned. She worked with us in this unfortunate event to make sure we were satisfied at the end of the day and of course wished us the best of luck. If you are thinking about booking this venue I highly recommend as you will not be disappointed. We will for sure be back to Crystal Mountain!

Shelby

Married on 09/28/2019

Perfect day

The perfect wedding! We had our reception on the Mountain Top Deck with the most gorgeous weather possible. Our guests loved riding the ski lift to the top. The food was amazing, I received many compliments on our appetizers. Stephanie Gray and Carmen Kott were very professional and super responsive with emails. Wish we could do it all over again! It was the perfect day. They also kept us very organized which helped a lot. It was like having wedding planners without having to pay for one.

+ 2

photos

Mackenzie

Married on 09/27/2019

Perfect venue

I loved Crystal Mt as a venue. It was beautiful and the planning process was easy. The day of staff was wonderful and it was a lovely place for our guest to stay. Wish we could do it again. Thanks Crystal Mountain! Photos below taken by Lux Light Photography and Melissa is incredible!

Jilleisa B.

Married on 09/21/2019

Wedding Planning with Crystal Mountain

Thus far, working with Crystal Mountain in coordinating our wedding has been fantastic. Their team is extremely responsive, professional, and easy to work with. My fiance and I are planning our wedding from across the country to have it in Michigan where we grew up, and we wouldn't be able to accomplish this without their help.

Sarah G.

Married on 09/19/2019

Perfect venue with amazing views!

We chose Crystal Mountain because it had everything we were looking for: mountain top views for our ceremony, outdoor reception close by, and the option for lodging for our guests. Our wedding party booked two Mountainside townhomes, and Crystal Mountain made sure they were next door to each other. This made it so much easier to keep everyone on track with our schedule and no one had to go back and forth to get their personal items.
Carmen was the first person we talked to at Crystal Mountain. She was so incredibly informative and responsive to our emails. When we checked out the venue, she was so friendly and easy to work with. She is a big reason why we chose Crystal Mountain because we knew it'd be easy to work out details with her. Our coordinators at Crystal Mountain were equally as helpful and made our entire day seamless and carefree. Special thanks to Stephanie for being so responsive and for putting up with our millions of questions!
I highly suggest taking the ski lift up to the ceremony on the mountain top. Everyone kept telling us how unique, peaceful, and scenic the ride was! All of our guests are still talking about the beauty of our wedding. It was definitely a hit and we have no regrets at all about choosing Crystal Mountain for our wedding!! Highly recommend!

+ 7

photos

Kimberly B.

Married on 09/13/2019

Best Wedding Venue Ever!

Crystal Mountain was everything we could ever hope for and so much for! We had several guests from out-of-town, out-of-state, and even out of the country! Everyone loved the scenic ceremony location and incredibly fun reception! Our guests continue to tell us what an amazing time they had and how much the venue blew them away! The food was amazing, the rooms/condos/cottages were UNREAL, and everywhere we went the staff were incredibly friendly and welcoming. I can not recommend this venue enough. If you want a beautiful venue to capture all that Northern Michigan has to offer - look no further!

Mike C.

Married on 09/07/2019

Stress Free Wedding Planning!

Crystal Mountain is as perfect as wedding venues get! Thanks due to Carmen Kott and Stephanie Gray, our seasoned planning experts, all of our wedding planning was a breeze. The sit down, plated food tasting was a very nice surprise and having the chef come out for questions was even better! If you need reservations, ask for Carissa Smith, she is a true expert and is understanding when it comes to questions.
We compared Crystal Mountain to many other venues in the Traverse City area and if you are wanting friendly and detail oriented, don't even bother looking elsewhere besides this venue!

Erinburton

Married on 08/31/2019

Best experience ever

Our wedding was absolutely stunning. The mountain top ceremony has beautiful views for miles, and what an experience for our guest to ride a chair lift up to it. The staff were very helpful start to finish. Everyone was very helpful and attentive to myself and all my family and friends

Kylea C.

Married on 08/24/2019

Everything I hoped for and more...

The staff at Crystal exceeded my expectations. From the early stages of planning up to the big day, our experience was nothing short of perfect. Carmen, Stephanie and their team are extremely professional, attentive and helpful. They helped create my dream wedding and I am forever grateful! I would recommend Crystal Mountain a million times over.

Amanda A.

Married on 08/17/2019

Perfection!

Crystal Mountain was a dream! We blindly chose Crystal Mountain while living out of state. After signing a contract We did a tour in the winter & it was hard to imagine what it would look like come summer. One word "WOW!" Not only is it gorgeous- they are so hospitable! Professional! Organized! Everything you could ask for.
Carmen is on point with everything & super responsive, easy to communicate with! Stephanie was amazingly helpful in making the events flow smoothly. I was so stressed the day before & their team melted all of that away! Totally worth it!

Hannah B.

Married on 08/03/2019

Amazing Experience All Around

Crystal Mountain exceeded our expectations! We felt SO taken care of by each of the people we worked with: Stephanie, Samantha, Carmen, and more! By the end of the wedding, we felt as though we were working with a team of really good friends. They helped us troubleshoot problems on the day of and were so professional. Our guests LOVED riding the chairlift to our ceremony space (truly, people were going crazy over it) and the permanent tent is such an upgrade for Crystal Mountain. We hung lovely chandeliers and bistro lights and it looked magnificent. Overall, we were so impressed by our experience with Crystal Mountain and we'd highly recommend them to anyone looking for a northern Michigan wedding venue.

Chelsea J.

Married on 06/29/2019

One million stars!

I would give Crystal a million stars if I could! Every penny was worth it because we had the most perfect day. From the very beginning, Carmen was so helpful and accommodating with getting us booked in! She was wonderful. Then, Stephanie was a rockstar in planning our wedding! Everyone was so accommodating to special requests-and we had a lot! From a special dual plate, to adding in different wines to the packages, they were willing to do whatever it took to make our day special! Even the girl at guest services helped us book some last minute condos when our airbnb didn't have AC! All across the board, I would give Crystal all the praise! The organization, friendliness, professionalism, hospitality, and genuine care for their clients is impeccable. THANK YOU TO CRYSTAL for our dream wedding!

Lauren D.

Married on 06/15/2019

June 15 wedding

The Crystal Mountain team was amazing! They were so friendly and accommodating. They made planning a wedding as simple as possible and even allowed us to use their wine distributor to get wines that they usually don't carry.

Elizabeth C.

Married on 06/15/2019

Wonderful!

We had what all couples fear - poor weather leading up to and the day of our outdoor wedding. Crystal's staff did a fabulous job helping us form a plan in case of poor weather, which we ended up using for our reception. Everyone we worked with was amazing from start to finish!

Taylor

Married on 06/08/2019

AMAZING from start to finish!!!

I cannot say enough good things about how incredible Crystal Mountain and their entire team is!!! From the food, to the event spaces, to the staff, every detail of our wedding was meticulously cared for. Carmen and Stephanie helped our planning go so smoothly, I never worried about any details! We had so many compliments on how wonderful the cabins and hotel rooms were for our guests! We stayed in the cabins at Crystal for almost an entire week, and the entire stay was a dream. We had our rehearsal dinner in the Bee Room at the Thistle Pub, and the food and staff were amazing! I want to give a special shout out to Joel and the bartender at the Thistle Pub, as they were PHENOMENAL in all ways for the entire wedding weekend! Our wedding ceremony was on the Mountain Top, and our ceremony was in the Northwest Territories ballroom. Our guests LOVED the chairlift up the mountain, it was so much fun! The views were absolutely breathtaking. They were also great at accommodating our guests who were unable to ride the chairlift. Our ceremony was absolutely gorgeous, and our reception was amazing! It was the best food I have ever had at a wedding, and they were phenomenal with accommodating our special requests. I am so happy that we chose to get married at Crystal Mountain, as they gave us a dream wedding weekend!

+ 5

photos

Jordan

Married on 02/22/2019

We attended crystal mountain for our wedding weekend. The food was amazing. The staff was very friendly and accommodating. Everyone had a great time.

Extremely accommodating and very organized. Everything was ready to go exactly as planned.

Kelly

Married on 10/13/2018

Crystal Mountain has it all from lodging, rehearsal dinner space and ceremony and reception!

We had our entire wedding weekend at Crystal Mountain and it could of not been more perfect! Carmen helped us find the best location for us from the rehearsal dinner, a welcome reception with a bonfire for all our family and friends as well as the ceremony and wedding reception. Samantha was a huge help through the planning process answering any questions we had and both Samantha, Emily and Sharon helped see everything through on the day of to make sure our day was perfect! Our guests loved being able to stay right on-site and the variety of rooming options was great for everyone to pick what was right for them. Thank you to Crystal Mountain for making our wedding weekend the most stress free and fun weekend we could of imagined!
Are you interested?
Send a message