Reviews
4.8 out of 5 rating
Quality of service

4.8 out of 5 rating

Average response time

4.8 out of 5 rating

Professionalism

4.8 out of 5 rating

Value

4.8 out of 5 rating

Flexibility

4.8 out of 5 rating
96%
Recommended by couples
Awards
129 User photos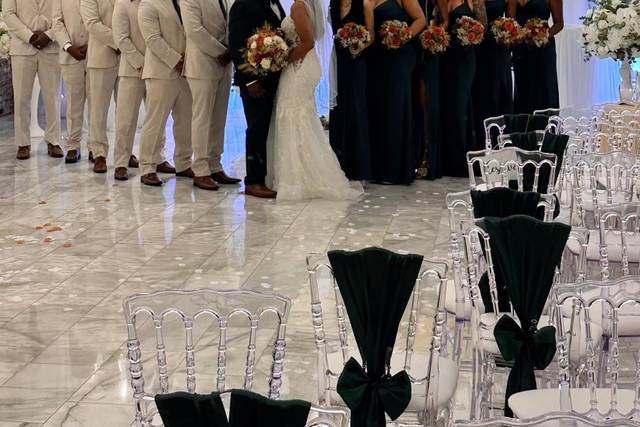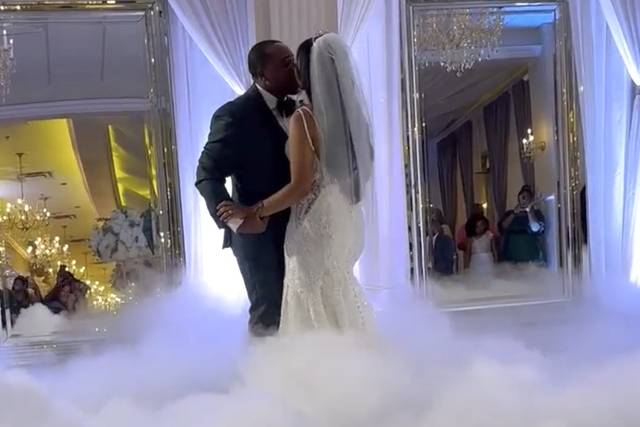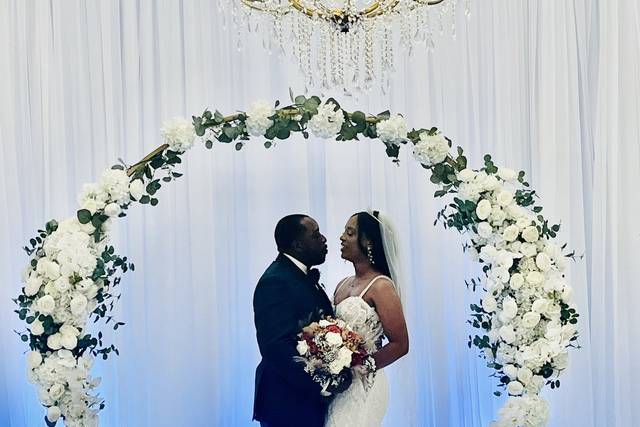 + 125

photos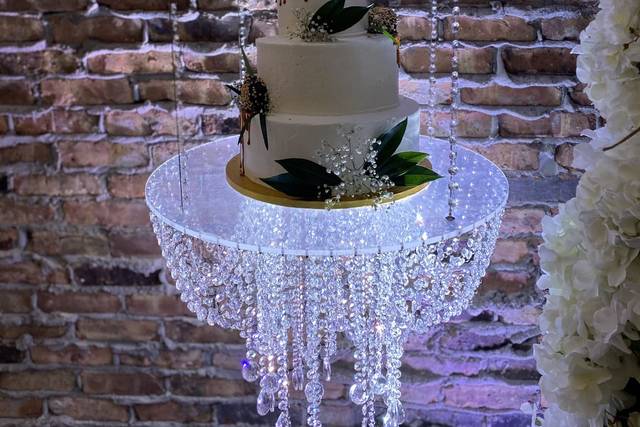 Jeliah M.

Married on 11/16/2023

Beautiful!

I have to say, this venue has to be the best bang for your buck HANDS DOWN. My hubby and I knew we were in the right place from the moment we toured this place. Jordan was our day of event coordinator and everything about this sweet soul was perfect. She helped us so much the day of our event as well as the rest of the team. From the decorations, the bar tenders, to the other staff and the total execution of our dream wedding this place and their people will always be in our hearts. I'm so grateful. I'm truly amazed. A few pics to show.

+ 2

photos

Valencia

Married on 10/07/2023

Amazing from start to finish

In the beginning we were dealing with Cat, she was friendly, instantly she knew exactly what type of wedding we wanted, and the venue itself is immaculate. Later on, we learned that Carlee would be our day of coordinator. I was a little nervous, because cat was such a driving force as to why we decided to go with Crystal Ballroom. But I cannot stress enough how the entire Crystal Ballroom team made my wedding day and absolute breeze. Carlee was on top of each and every fine detail inside and out. I didn't have to worry about vendors showing up on time, music, the flow of the ceremony and reception, Carlee was all over it! To this day, my family, and ask me about Carlee because of how attentive and graceful she was. I cannot recommend the Crystal Ballroom team enough! The venue and all of what is included peaks your interest, but the team is what seals the deal. I cannot be any more happy.

+ 5

photos

Kendreina W.

Married on 07/22/2023

Crystal Ballroom St Augustine

I would highly recommend the Crystal ballroom the experience was great i wanted elegance and got exactly that . Everyone was so helpful my coordinator was Danielle and she was the best always there if you have a question always there if u need reassurance, she was very patient and explained everything thoroughly the ceremony and reception was flawless if you are in doubt don't be you will not regret going with the Crystal Ballroom St Augustine

Are you interested?

Send a message

Karina M.

Married on 06/23/2023

Made our vision come to life!

The Venue is simply amazing and breathtaking!
It's worth every dime you spend. Kat will work with you every day to make sure your special day is worry free and create a payment plan that suits your wallet. She was extremely patient with us and very professional. Our wedding planner, Danielle, IS THE BEST!!!! She kept everyone calm every step of the way, and reminded us to take it all in & that it was OUR big day. She worked around the language barrier with my family. Danielle is definitely someone we would invite over for drinks some day. Lol. I highly recommend the venue and the staff. Thank you Crystal Ballroom!

+ 12

photos

Kari R.

Married on 03/18/2023

A dream come true

My wedding was on March 18th, 2023 at 6:00pm. My wonderful wedding coordinator, Kat, was the most incredible person I could've ever asked for to help me get through this day!!! She helped me from the VERY beginning to the very very end of our wedding day.
Everything was absolutely perfect because Kat made that possible. She saw my vision (I must stress, I am NOT creative in any way) and made it come to life. From each individual flower, candle, fabric piece, lighting, little memorabilia, and behind the scenes magic, she made it all happen. This venue was a dream. My team was a dream. I truly cannot thank y'all enough for EVERYTHING you did for us and especially me. I was a hot mess express since the moment I showed up on our wedding day! hahah
I cannot recommend TCB enough. They will help you, guide you, and make everything as seamless as humanly possible.
Kat, you deserve everything beautiful and wonderful in life. From the bottom of my heart, thank you so so so much.
Much love to The Crystal Ballroom.
Yours truly,
Kari and Dylan Bailey

+ 4

photos

Rachel T.

Married on 02/19/2023

A bride's dream come true

Getting married at the Crystal Ballroom was like a magical dream come true! From the decor, bartender, to the most amazing wedding coordinator! I am so thankful for Alyssa (the coordinator) making sure the day was absolutely perfect! The Crystal ballroom offered all sorts of beautiful things in their package to really make your special day POP and were outstanding with any questions I had throughout the whole process. 10/10 recommend!

+ 10

photos

Amie

Married on 11/10/2022

It was amazing and I wish I can re live this day, I had my wedding the day of the hurricane and everything still came together wonderfully

I would say the best thing about booking my wedding at Saint Augustine's Crystal Ballroom was my coordinator Jordan!
She made sure everything was perfect and that I was OK because I was very stressed out because of the hurricane and she just kept me calm, she was also very sweet and kind and determined to make sure that our day was perfect!

Tangela W.

Married on 09/10/2022

15 year vow renewal of Ivory & Tangela Warren

4 hours ago
NEW
Crystal Ballroom Saint Augustine is fabulous! From start to finish Nicole (coordinator) and Alyssa (banquet manager) pretty much catered to our every need with a huge smile. Both of them help made my 15 year vow renewal extraordinary! 10/10 recommended

+ 3

photos

Jasmine T.

Married on 08/28/2022

Amazing!

Crystal Ballroom helped to make my day AMAZING!! Kat, truly made my experience one to remember. The day of the wedding was everything and more!!

Brittany G.

Married on 04/23/2022

Amazing, fantastic, stunning

I am behind on leaving this review. I have so many amazing things to say about Crystal Ballroom and the staff; I don't even know where to begin! I will do my best not to write a book! lol :)
I viewed 10 or more places but Crystal being in the top 3 before I involved the Fiancé now hubby. We both spoke with Kat and she was extremely helpful with answering tons of questions since I knew NOTHING about weddings. The team was absolutely amazing throughout the entire process. Felt like they really cared about my vision for our big day. We brought our own center pieces and some décor and it was set up perfectly. Kat introduced me to Gloria the Florist onsite, she was another perfect fit for my vision and I cried happy tears seeing my vison come to life on our day. Everything was PERFECT. If something went wrong, I never knew it nor did our guest. All of our guest had an amazing time. Crystal Ballroom St. Augustine is absolutely stunning, an amazing team to work with.

+ 5

photos

Chaya

Married on 09/29/2021

Amazing and Beautiful!

You will not go wrong choosing The Crystal Ballroom. Kim was our event coordinator and she was absolutely amazing. Our wedding went off-schedule. She and all the CB staff made the day go so much smoother than I thought. She is one of the reasons our day was everything that we wanted it to be! We had an American and Indian wedding in the same day. Also, it is absolutely gorgeous!! Our pictures couldn't have turned out more perfect. All the staff go above and beyond for everyone and help with anything they can. We love CB so much and plan to have our future anniversary party here!

Linda

Married on 09/01/2021

Extraordinary Beautiful

Omg I can't asked for a better place to celebrate our wedding, pur guests was so amazed with the decor and the spacious atmosphere.

Thanks so deeply to Kim our coordinator.

Nicole B.

Married on 07/31/2021

Perfect Venue- Wow!

We opted to have a brunch wedding on a Saturday at the Crystal Ballroom and couldn't be happier with our decision. My husband and I were struggling with location and ideas until we spoke to Kat. She made every part of the process seamless. By my second conversation with her I felt I had made a new best friend. She was very responsive and very clear about what to expect, etc.

The staff here is amazing. We were fortunate to have Jordan as our day of coordinator and WOW! Jordan falls nothing short of exceptional. I truly felt like she was a second MOH. She was precise and detailed to every aspect of our special day. I had a moment with my dress and she came to the rescue like an angel like she was part of the crew. My friends and family couldn't stop talking about how great she is and how lucky we were to have such an awesome coordinator and I agree! There wasn't a thing out of place and the bridal suite my goodness was so beautiful. 🤩

The ballroom truly makes you feel glamorous and even our family thought we had spent a fortune (we didn't) because of how beautiful and detailed everything was from the decor, entry way and suites! The staff is super friendly and attentive. They setup/broke down our buffet, had servers for the bar and even rescue crew when my cake was botched by the bakers delivery service. They quickly stepped up and fixed my cake even though it was no fault of theirs and you couldn't even tell we had a disastrous moment. We were so lucky to have such amazing crew!

I would highly recommend the Crystal Ballroom!

Natasha C.

Married on 05/15/2021

Absolutely Magical

My Disney cruise wedding had been canceled twice due to COVID, and I was frantically looking for a "land" alternative that could accommodate me within a three month timespan. Having spent more than a year already working with the Disney Fairytale Weddings team, I had high standards and expectations when I walked into the Crystal Ballroom St. Augustine, and let me tell you, my goodness did they deliver. We initially met with Kat who toured us around the venue and she never skipped a beat answering the almost nonstop questions that we had. Kat was extremely helpful and always easily reachable with the 500 more questions I threw her way over the three month time span, and ALWAYS had a positive upbeat attitude. Most people would think that moving from a cruise wedding to a land wedding is easy, but since the cruise included every type of vendor we would have needed, we were starting from square one when we booked the Crystal Ballroom. I can't even tell you the amount of patience Kat had helping us find vendors, but she has this magical sense of calmness that radiates through her and into everyone she speaks with. Just when you think something is a big problem, Kat found a way to talk you off the ledge and make you realize it's not a big deal at all. Fast forward to weeks before the wedding when we really began to work with our event coordinator, Jordan, who is literally a godsend walking this earth sprinkling her magic everywhere. Im sure I stressed her out by not knowing my music choices, and literally changed it all hours before the wedding, but you would have thought we had everything sorted and in place for months with how efficient she ran the day. You want to talk about being catered to? Jordan ran to find my flats when my heels were killing my feet, she problem solved a way to fix my dress by pinning me in it when the top wouldn't stay up, she grabbed my (now) husband's favorite drink from the bar so he could finally just sit and eat, and countless other things that really made our day so special. If you're looking for that Disney level service, then I highly recommend the Crystal Ballroom in St. Augustine especially because of Kat and Jordan. The decor was absolutely stunning and I can't even begin to say how many of our guests commented on the attention to detail in every room. I even had guests comment that our wedding looked more gorgeous than ones they've been to that had a whole year to plan, instead of our three months. And if that doesn't make you believe in the power of this team and venue then I'm not sure what else you could possibly be looking for, because It. Was. Incredible. We had the most gorgeously beautiful day of our lives and keep joking we'll just make it an annual event! I promise you will not go wrong having your wedding here and it will be the most magical day of your life.

Rena T.

Married on 04/11/2021

Beautiful venue; beautiful location; top notch service!

We struggled finding a beautiful affordable venue until we came across Crystal Ballroom in World Golf Village. Their planning and assistance was top notch from start to finish. Every member of the team was very kind and professional. You can tell that they all really enjoy working there, and why wouldn't they? The decor was immaculate, the ballroom is beautiful, and the service is top notch!

Courtney H.

Married on 02/06/2021

Exceptional service, beautiful venue, personalized to your desired vision

Crystal Ballroom was a wonderful reception site for my wedding on 2/6/21! From when I first started working with them in April 2020, to the actual wedding day, I was guided and cared for the entire time. As mentioned by others, Crystal Ballroom offers wedding packages offered at prices you cannot beat anywhere else in the area; you bring the catering, alcohol, wedding cake, DJ, and Crystal Ballroom provides literally everything else. So many of my guests told me and my husband how beautiful the venue was and how impressed they were by the service and the fun time. During the planning phase, I mainly worked with Kat, Heather, and Jordan. All three were very friendly, professional, helpful, and understanding. Jordan executed the actual reception and she was phenomenal! She reduced the stress of planning the reception by 90%. While other brides I knew have been expressing worry and stress about planning and executing their receptions, Crystal Ballroom just had a detailed form I filled out about 2 months before the wedding, and they used my form to plan out everything for me. And it all turned out even better than I could have dreamed of myself! Jordan in particular had to rearrange our table layout with less than a week's notice before the wedding, and then rearrange it again two days before the wedding, and she did so with no trouble and did it perfectly. My husband and I went across the pond to take pictures, and a thunderstorm appeared out of nowhere. Thankfully we huddled in the World Golf Village hallway with our photographer and videographer for shelter as we tried waiting for the storm to pass. Jordan, who we had seen only 30 minutes prior busy making sure the reception looked top-notch before guests arrived, drove her car to where we were located and ran out in the rain to help us get back as dry as possible to Crystal Ballroom. She even brought an umbrella and a rain jacket to keep me dry. I really cannot say enough good things about Crystal Ballroom. I loved the great pricing, the location, the scenery, the beauty of the Crystal Ballroom, the personalization I got to choose, the flexibility to get my own vendors, the photobooth, and the excellent service from every employee. My last recommendation is: GET THE PHOTOBOOTH. It was one of the best investments we made for the wedding. Crystal Ballroom offers it as an additional item upgrade, at first I was hesitant but it was a HUGE hit with our guests. You get to print as many copies of the pictures as you want. We had our guest book right next to the photobooth, and guests filled our book with both beautiful and hilarious pictures. The photobooth offered my most treasured keepsakes from the night. It is SO worth the additional cost.

Tan

Married on 12/27/2020

Wedding Reception

Beautiful location!! Very friendly and professional staff.

Patricia M.

Married on 09/19/2020

WOW!!! Totally recommended

When I got engaged, I knew I wanted to elope. However, my now-husband's family was against it, so we decided to plan an actual wedding.
The Crystal Ballroom St Augustine was the DREAM VENUE I didn't even know I wanted.
Our 09/19/20 wedding was SO BEAUTIFUL, and I cannot thank the CB team enough. Carolina and Alyssia (I think I'm misspelling her name. Sorry) were my dream team the day of. Our guests had the best time ever, but one of the biggest things I took with my that day was some of the guests coming to me to tell me how great the staff was and how when they got there, Carolina greeted them and told them where to go and everyone felt especial.

Alyssia made my bouquet, and I absolutely loved it!! She was with me while I was waiting to go down the altar, and when I told her I was from Venezuela, she said "I will be right back." She came back with this beautiful bracelet with my country's map on it, and I was trying so hard not to cry. The gesture was so appreciated, and I will always remember that.

My experience was a 10/10. I don't have anything negative to say. Things didn't go 100% percent as planned, which is expected, but the CB took care of everything and to me, the day was perfect!

Sapphire H.

Married on 07/31/2020

Superb Venue with Incredible and Professional Staff!

Crystal Ballroom St. Augustine is an amazing venue! They provide a beautiful ceremony/cocktail hour/reception space, decor, florals, day of coordinator (with first level up package), bartender, food manager, set-up/clean-up, and excellent customer service. You bring your own caterer, alcohol, DJ, officiant, cake, and extra entertainment if you choose. Your first interaction will most likely be with Kat as she will walk you through what the venue can offer you and help guide you through what best fits your vision for your wedding. She is absolutely the sweetest person and super professional! She's available for questions even after you book. If budget is a huge factor like it was for us, follow their social media platforms to make sure you're aware of their deals. We were able to afford this venue because of a special they were running that we saw on Facebook. Once you've decided to book, you'll then meet with a member of the design team about 3 months out from your wedding. We met with Carolina who was very knowledgeable and helped us to design an aesthetically pleasing wedding. About a month out, you'll shift to the day of coordinator if you choose the package that includes this option. Honestly you should choose this option because our wedding was so smooth because of Jordan (DOC). She walked us through any concerns especially due to Covid, made sure the set up was how we wanted it to be on the day, and made sure the day ran exactly how we wanted. Jordan was absolutely incredible and I'm super grateful that she was our coordinator. So check out the Crystal Ballroom St. Augustine, you won't be disappointed!

Crystal Ballroom St Augustine's reply:

Sapphire,

Thank you for the amazing review! It was an absolute pleasure being apart of your event throughout the entire process. Your wedding turned out stunning based on the designs you selected with Carolina. I wish nothing but the best for the two of you and am so blessed to have been your day of event coordinator!

Jordan K.
Your Crystal Ballroom Day of Event Coordinator

Kamille A.

Married on 07/26/2020

Our fairytale dream wedding has come true

When my husband and did our tour of the venue, we knew right there and then that we wanted to get married here. I was looking for a place with a classy, elegant, and fairytale vibe. Crystal ballroom definitely made my fairytale dream wedding come true. We went with a Cinderella style wedding and they blew our minds when we saw it all put together on the day of our wedding. It wasn't an actual Disney wedding like I always dreamed of doing, but this came pretty darn close to it. Everything was beyond perfect. The staff, the decor, the event coordinator, everything was well planned out and well taken cared of so that by the day of our wedding, all we had to do was show up, say our "I Do's" and enjoy the party. My husband and I didn't have to lift a single finger on our wedding day. Special shout out to Kat for being an extraordinary person to call and ask questions day in and day out, as well as choreographing our first dance. Another shout out to Jordan, our day of coordinator, she made our wedding day stress free! She was amazing with keeping us on time and allowing us to enjoy our day. Shout out to Carolina, our designer for the decor, everything was absolutely beautiful!!! Shout out to Gloria our florist, the bouquets were gorgeous!!! If you're looking for a one stop shop with a classy, elegant wedding, look no further! These ladies at Crystal ballroom will definitely take care of you! Also, everything was reasonably priced. We definitely got our money's worth. The only thing that they don't include is catering for food and drinks (alcohol, soda, juice) but they do have ice and water. Other than that, this is the perfect place. Wouldn't have it any other way.

+ 13

photos

Crystal Ballroom St Augustine's reply:

Kamille & Cannen,

Thank you so much for allowing us to host your special event! You could truly see the joy on your faces throughout the entire night. I was so honored to be able to be apart of your wedding. Best wishes to you two and congratulations again!

-Jordan, your Day of Event Coordinator

Launtrice B.

Married on 05/16/2020

Very helpful

I met with Pavel today and I Loved the venue, the decoration, and the customer service.mI am looking forward to having my wedding there next year.

Shayla

Married on 02/20/2020

Dream come true

I never was the little girl to dream of her wedding day, but this venue and team definitely made my day absolutely amazing! It was stunning! My cousins actually booked their wedding the very next day! Everyone was so impressed. I cannot say enough of the team working there. They make sure that you are 100% happy and satisfied. Thank you for making my day, a day that I will never forget!

Moji

Married on 02/02/2020

Everything was so elegant and magical.

Crystal Ballroom was my first and only venue we saw for our wedding. From the first moment I stepped in the venue, I fell in love with how good the venue smelled and how nice and professional all the staff were so we booked the venue at the same night and we were so happy to find Crystal ballroom. Our overall experience was excellent and stress free.
I would recommend Crystal Ballroom to everyone who is looking for a full packaged venue and stress free wedding. THANK YOU CRYSTAL BALLROOM FOR THE MAGICAL WEDDING NIGHT AND OVERALL EXPERIENCE YOU MADE FOR US AND OUR GUESTS.

Stacey

Married on 01/18/2020

Stress free wedding!

The Crystal Ballroom St. Augustine team made our wedding so easy and stress free (shoutout to Pavel, Kat, Jordan)! The venue is beautiful. The fact they provide all the decor, bartender, food manager service and more just made it so simple. They're very responsive leading up to the wedding. At the end of the reception, they put everything on a cart for my mom and it was ready to go home. She said closing up was a breeze! If I could change one thing, I wish we could have gotten into the bridal suites more than 90 minutes ahead of the ceremony. Thankfully we stayed at the Renaissance next door so it wasn't a huge deal. I am so happy we chose Crystal Ballroom. ❤️

+ 2

photos

Tomorror C.

Married on 01/01/2020

Nothing Short of Amazing

My first interaction with the Crystal Ballroom staff was nothing short of amazing and every interaction since has been nothing less than perfect. Can't wait to get married there!!!
Are you interested?
Send a message