59 Reviews
Recommended by 98% of couples
Quality of service

4.9 out of 5 rating

Average response time

4.9 out of 5 rating

Professionalism

4.9 out of 5 rating

Value

4.9 out of 5 rating

Flexibility

4.9 out of 5 rating
38 User photos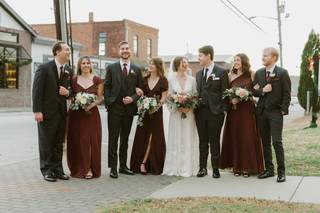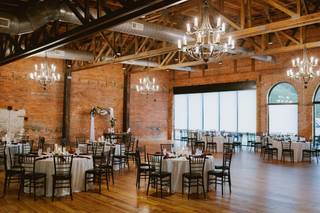 + 34

photos
Amanda T.

Married on 08/14/2021

Great venue!

Cross and Main was an absolutely gorgeous venue. Its rustic charm made the perfect backdrop for our wedding.

Briana A.

Married on 04/20/2019

Amazingly beautiful venue & customer service

This venue is beautiful, well taken care of, and just a dream come true. If you want your industrial, southern rustic chic wedding visions to come true, get married here! Katie helped us sign our contract, but Summer eventually took over and helped us the rest of the way. Both were so professional, so kind, so understanding of my concerns. I recommend this venue to everyone!

Heather

Married on 03/30/2019

We fell in love with Cross and Main , when it was the Boondocks, the moment we stepped inside! We knew from that moment that was where we wanted to get married. We held our wedding reception at Cross and Main in September, where Katie made sure that every thing was on track. She helped make sure our vendors knew where to set up and greet them when they arrived. She answered all of my questions and called me back every time I called, even though it was a lot!! Cross and Main is great and Katie makes it even better!! The space was beautiful! We used the vintage bar as one of our bars at the wedding, which was a nice addition. I love that the rental included tables, chairs, the bar, cart, and bridal suite, since not all venues include these necessities. Katie was flexible to our needs the day of and responded to any changes that needed to be made. Highly recommend Cross and Main! Thank you Katie!

Are you interested?

Send a message

Christina

Married on 10/06/2018

Perfect Venue!

We searched high and low for the perfect venue and nothing compared to the beauty of Cross + Main. We instantly feel in love with the exposed brick, hardwood floors, large windows and the simplistic elegance that the space had to offer. We hardly needed any decorations aside from flowers because the rooms spoke for themselves. Summer, the venue manager, was absolutely AMAZING in terms of making sure every aspect of the day was perfect. She really went above and beyond to fill in any gaps that day, from helping us time aspects of the event, to keeping me sane, she made our experience at Cross + Main that much better. I can't recommend this beautiful venue in the heart of Youngsville enough! Your guests will have the most amazing time and you will receive the most UNFORGETTABLE pictures. I am forever grateful that I will be able to look back on my day and say that I have zero regrets about where I chose to marry the love of my life!

Cross and Main's reply:

Thank you Christina!! It was a pleasure working with you and James on your special day. I enjoyed each of our meetings to work on the little details of your wedding day from start to finish. Everything came together perfectly and you were a stunning bride! I loved seeing James smile ear to ear as you made your way down the aisle. Best wishes to the two of you and thank you for the wonderfully kind words. It was my goal for you to relax be able to take in every second of your wedding day and enjoy it all.

Mae

Married on 09/30/2018

Cross + Main was our dream venue, and we couldn't have picked a better place for our wedding. We worked with Summer who exceeded our expectations. She was incredibly supportive in my wedding planning stress, and made the day run smoother than I could have imagined. The venue is gorgeous with multiple accommodations (both decorative and practical). We did a "flip" so we could have our ceremony and reception in the large room, and it was handled flawlessly and more quickly than anticipated. We can't recommend Cross + Main enough for being a perfect venue, not only for looks, but for providing an amazing experience!

Leah

Married on 09/22/2018

Dream Wedding - Absolutely Stunning

My husband and I had our wedding here in September 2018 and I can say it was an absolute dream. I'm so so SO glad we chose C+M as it was the perfect venue - I couldn't imagine having it anywhere else. They gave us a beautiful wedding, our guest couldn't stop talking about venue all night. When you first walk in through the rustic wooden doors, you are immediately greeted by beautiful dark hard wood floors, stunning exposed brick, wooden beams, and gorgeous chandeliers. As you walk into the space you'll see the floor to ceiling windows that face Main St. and allow for ample natural light to filter into the space. The largest room (Riddick Room) has a very open air feel and is where we chose to have our ceremony. My husband and I both went to NC State, so, needless to say, we both fell in love with the exposed brick. The smaller room (Winslow Room) also has wonderful exposed brick with a small bit of the old walls still on it in a lovely light teal color. We chose to host our cocktail hour in the Winslow Room. C+M also has a bridal suite area for getting ready and a smaller "Groom's" area for staging pictures. C+M offers use of their antique furniture pieces throughout their venue and these give a cohesive look to the space. Most of note to us were a wooden wagon cart (used for a cook bar), a vintage bar, farm table (used for our sweetheart table), and a stunning salmon settee. For formal pictures there are plenty of options to suit all styles!! I wanted a green space, so we drove about 7 minutes down the road to Joyner Park which features old hardwood trees and a lovely stone wall (it was very easy to get to the park). There is also a green space about a block behind C+M along Cross St. and a very cute little white house that can make for stunning pictures as well. For a more rustic look, you can pose along the store fronts on Main street and at the various murals throughout the town. Summer was great to work with and her team handle our reception flip with ease - everything was set up with plenty of time to spare and in the correct places. Throughout the planning process Summer was very easy to get in touch with and responded very promptly to any questions or concerns we had (cannot say the same for other venues we toured). Summer made the process very easy and was accommodating to our work schedules. HIGHLY recommend this venue!!

+ 6

photos

Matthew

Married on 06/22/2018

Katie was so helpful! Gorgeous venue and great price!! You will be in love with this venue. Best decision we made while planning our wedding.

Amanda

Married on 06/02/2018

Choosing Cross + Main was one of the best decisions I made for my wedding! The space is absolutely beautiful and Katie is incredible! Katie was so supportive in answering questions and offering guidance. Having to move my wedding inside last minute due to weather made me nervous, but it went so smoothly. Katie is so positive and made me feel so at ease on my big day! People raved about the look and feel of the place and I have so many beautiful pictures to treasure! THANK YOU!!!

+ 2

photos

Brooke

Married on 05/26/2018

Everyone was SO easy to work with! The response time was super quick, and they worked to accommodate any of our needs. I would highly recommend :)

Lauren

Married on 04/14/2018

I have nothing but positive things to say about Cross + Main. Not only is it absolutely STUNNING, the staff is absolutely incredible. From our first tour of Cross+Main, I was completely blown away by Katie. Admittedly, when we visited Cross+Main, I was completely over looking at venues - I went by request of my mom. Growing up in Wake Forest, I had driven by Cross+Main, formerly the Boondocks for a lot of my life, and never once considered wanting to get married there. Cross+Main was the last venue we visited. Our visit was spectacular. It was spotless, the ambiance was amazing and Katie was very organized and had great information for us. As a bride planning a wedding, I really liked that the venue came with beautiful Chiavari chairs, tables (round, long and cocktail) and a beautiful bar! Some of the other venues that we toured did not include these things, and the cost of rentals adds up very quickly! I also liked that there were only two options for catering and that highly reviewed "Rocky Top Catering" was one of them. As an indecisive girl, sometimes less choices are better for me! Immediately after our tour, Katie emailed me all of the information I needed to know to make an informed decision about the venue, including catering menus and recommended vendors. Little did she know, we had already made our decision! Right after leaving the tour, we all agreed that it was the perfect place for our wedding - we were so right! The process was seamless - Katie was always very responsive to our emails and all of our many questions. She even emailed me one time to pass along an article that she thought I would like because it had some of the designs I had shared with her! How thoughtful! I am so glad that I picked Cross + Main as my wedding venue and would recommend it to any bride!



Kristi

Married on 01/14/2018

I have nothing but positive things to say about Cross+Main! Choosing Cross+Main as the venue for our wedding was the first vendor we decided on, and it was my favorite decision, by far. I probably researched every wedding venue in the triangle (and surrounding) area and ended up touring six. From the moment I walked into Cross+Main I knew it was the one! The history of this restored building has so much natural charm and beauty that you simply cannot find in newer venues in the area. The high ceilings, chandeliers, large windows, exposed brick, wooden church pews and bar, vintage couches, wooden cross, bridal suite, grooms suite, and cocktail space are just some of the reasons I loved the space. A great plus is that the venue has plenty of tables and (chiavari) chairs for you to use that are already included in the price - the chiavari chairs are a luxury that many venues in the Raleigh-Durham area don't include in their pricing. Another thing to note is that C+M does not have required food and beverage minimums that other venues do have - making catering much more flexible. I also can't say enough good things about Katie, C+M's event manager. It was incredibly important to me, as a bride, that I connected with my vendors and that I felt like they cared about me, not just my money. From the moment we met Katie, she was incredibly thoughtful and helpful in making our day unique and special. She was responsive and went above and beyond in helping us coordinate with vendors - she also allowed us to partake in the "bury the bourbon" tradition on-site and surprised us by keeping the Christmas greenery up through the beginning of January for our wedding when I told her how much I loved it. On the day-of, Katie ensured that everything venue-related was taken care so my husband and I had no worries. Everything about my experience with Cross+Main was beyond my expectation and I highly recommend the venue to any other bride looking to have a memorable (and affordable!) day!

Kelsey

Married on 12/10/2017

From the second I walked into Cross and Main, I knew this was the place for my wedding. Our budget was limited so we didn't see many extravagant venues, but Cross and Main absolutely blew us away -- it was the most gorgeous place with exposed brick, beautiful floors, massive windows with natural light and plenty of photogenic places for the Instagram photos we knew our guests would want. Katie, our venue contact, was unbelievably kind and warm. She answered our panicked questions with ease and calmed us on a weekly basis. She had an incredible vision, and impeccable organizational skills. I would get married here all over again if I could, but I'm pretty happy now :) Can't recommend the venue highly enough!

+ 4

photos

Cross and Main's reply:

Kelsey, Thank you for your thoughtful feedback! You and Alex are such a joy! We loved working with you two and enjoyed seeing your artistic vision come to life! We wish you all the love and happiness in the world and hope you two are enjoying married life in NYC! Take care and we hope to see you again soon!

Lee

Married on 12/09/2017

I can't say enough about Cross + Main and their staff. We came across them after our previous wedding venue didn't work out. Katie with Cross + Main was so flexible with our needs. She was so accommodating with my husband with what we wanted and offered advice and suggestions to make the planning process smooth. I'm a bride that emails a lot and asks an obnoxious amount of questions and Katie never complained. She was so patient and helpful and truly helped us have the wedding of our dreams. We are still getting comments from guests about how amazing and unique the venue was. Cross + Main is timeless, classy, romantic, and just perfect!

Cross and Main's reply:

Lee,
It was so fun working with you and Bryan! Your wedding day was gorgeous and your style was elegant and classy! So thankful for your kind feedback and we hope that you and your new hubby are enjoying married life so far!!

Marlee

Married on 12/02/2017

We just got married here December 2 and have to say that it was an amazing experience. The whole process of navigating having our wedding at Cross+Main was a joy to do with Katie. Not only was she was very responsive, but she was so kind, patient, and gracious in helping us when we had lots of questions. The venue itself was beautiful and we received so many compliments from guests about how much they liked the space. It really doesn't require a lot of personalized decorations b/c the venue is already so beautiful! But its enough of a blank slate that you can still do some personalized decorations. Also, we had a rather large wedding and Katie made sure to help us have a floor plan that suited our size while still having a dance floor. We did a "flip" for our wedding b/c we wanted a traditional style ceremony in the large room and the reception in the same space and she assured us that her team could pull it off and they did! So we got the best of both worlds (in our opinion) :) I would definitely recommend Cross+Main to others b/c it was just an all around amazing experience! Thanks Cross+Main for helping us host one of the most special days of our lives!

Keesha

Married on 10/28/2017

I have my appointment to look at this venue tomorrow and I feel like my mind is already made up!! Katie promptly returned my call and set up my appointment in the same week. She has sent me everything I need to be prepared for the tour tomorrow. I've visited their website at least 3 times a day to spot out things I may have missed before. I am super excited and cannot wait to put this together!!

Kayla

Married on 10/14/2017

Being the bride who was planning her whole wedding by herself and from 3 hours away, Katie made everything so easy for me. She was whiling to text, call, or email when I need anything. She made me feel so special when she even called me on her vacation to help a nervous bride calm down regarding catering. The place was so beautiful and our guest loved it there. Katie was there the whole wedding just in case we needed anything. If you are ever looking for a nice rustic venue for a wedding ceremony and reception I would HIGHLY recommend Cross and Main. Im so glad my husband suggested this place instead of doing an outside wedding that I have always dream about. Because my wedding was everything I wanted and even more.

+ 3

photos

Kiara

Married on 10/13/2017

Had a magical wedding night at Cross + Main. The place alone is well worth it with it's beautiful industrial/chic look, but Katie is also absolutely wonderful and a pleasure to work with!! Would abslutely recommend!!!

Joelle

Married on 07/01/2017

Cross and Main is an amazing venue! Katie is wonderful to work with and was always available to answer my questions and offer suggestions to making the venue our own. I love that the venue is like a blank slate in which you can create your own beautiful ceremony and reception space. We received many compliments from our guests about our choice in venue! Thank you for being such a huge part of our special day!!

Codi

Married on 05/28/2017

There was no better place for my now husband and I to have had our wedding. Cross+Main made our day that much sweeter. From day one, we were pleased with the communication and passion that Cross+Main had to make sure our day was everything we wanted it to be. Katie was such a blessing to work with. She's helped so any couples with their weddings and yet worked on such a personal level. She wasn't just our event manager, she was and is today our friend. She took a lot of stress off of a stressed bride. I'm so, so thankful and joyful to have had our wedding at Cross+Main. It was perfect. Thank you for everything, Cross+Main.

Molly

Married on 04/13/2017

Cross + Main was perfect for our wedding. They were flexible with the two day event we wanted - helping us find a way to rent the space without breaking our wallet. The space itself has been maintained so well & was absolutely stunning! We got so many compliments on how pretty our wedding was, but we did very little decorating, letting the building speak for itself. Katie was a breeze to work with - answering our questions before we even had a chance to ask on our tours & following up on our emails in under 24 hours every time. She was detail oriented and focused on meeting our needs for the event - thinking of details we hadn't considered and making sure the space had what we needed. It was absolutely excellent & the company was quick to get security deposits back to us after the event, which to me shows that they are focused both on service & follow up. It is all about the details and this venue and Katie really embrace ensuring you have the best venue possible for your event. I'm just looking for an excuse to host another event there now!

Cross and Main's reply:

You are so sweet Molly! Thank you for your feedback! It was lovely working with you and Trevor and seeing your wedding vision come to life! Hope to have you back at Cross+Main soon!

Meredith

Married on 04/08/2017

Cannot imagine having my wedding reception at any other venue! Cross & Main is a beautiful, unique and clean space that was perfect for entertaining our large crowd. Katie (venue coordinator) responded immediately to all of my emails and was more than willing to go out of her way to help us with anything we needed. We are thrilled that Cross & Main was a part of our wedding day!

Cross and Main's reply:

Meredith,
We loved working with you and Matt! Thank you so much for your feedback and we are so grateful to have had your reception at our venue! We hope you both take care and come back again soon!

Rachel

Married on 03/04/2017

From our very first visit to tour the venue, to our grand exit at our wedding reception, Cross+Main was the perfect place for our southern chic wedding reception. Cross+Main offers an incredible space with gorgeous environment, superb event planners to work with, and everything is done with a great amount of ease and professionalism. I would choose Cross+Main over and over again for my wedding, it was perfect!

Cross and Main's reply:

Rachel, we so appreciate your kind words and loved hosting you and Jonathan's reception at Cross+Main! You both were such a joy to work with! We wish you all the best in your marriage! We love you!

Lauren

Married on 10/09/2016

Matt and I were supposed to get married October 8, 2016 at an outdoor venue, but hurricane Matthew put a stop to that plan. The Boonedocks was so accommodating and helped us change the wedding to that Sunday. It was the perfect venue and our wedding day was perfect. The staff was so accommodating and treated us so wonderfully making sure we had everything we needed for the wedding day and an hour of rehearsal time the Friday before the wedding. You can't go wrong by choosing the Boonedocks. The level of professionalism by the staff is unmeasurable! They saved our wedding and provided the perfect atmosphere for us and our guests!

Thank you to The Boonedocks staff,

Lauren B Hilliard

I have yet to have my reception at the Boondocks (our wedding is 6/11/16) but I must comment on the incredible experience I have had thus far. Originally we had our wedding booked in November 2015 and were thrilled to be having our reception at such a beautiful venue. Sadly, my fiancé's brother passed away unexpectedly and we knew that our November date was too soon after his passing. We picked out a new date that worked for both of our families, and when I contacted Teri at Boondocks about our situation, she was incredibly helpful. She was so kind and understanding, and was so very willing to help us. We were able to get our new date without any worries or stress. For that I am grateful, but I am especially grateful for the sincere condolences and kindness sent our way by Teri and the Boondocks. I would recommend this venue in a heartbeat because not only will you be having your ceremony/reception at a beautiful location, but you will also be working with a staff who are invested in making your dream day the best possible day. They are genuine people who treat their bride & groom as real people rather than wallets, and that is the main reason why I recommend the Boondocks. Teri and the Boondocks were a bright spot in our dark time, and we are thrilled to be spending our special day there!

Update - We had our reception at The Boondocks and it was incredible! We received numerous compliments on the venue. As we had many out-of-town guests, they all commented on how The Boondocks captured the charm of the South and North Carolina. Because the venue itself its gorgeous, it did not require elaborate decor. The venue speaks for itself and provides a wonderful atmosphere. Katie was so kind and sweet. We loved working with her! Many thanks to The Boondocks for hosting our dream reception!

Cross and Main's reply:

Thank you so much for the kind words. We were so happy to serve you guys in this very small way. We are looking forward to your event and hoping for joy and love to fill your hearts.

Boondocks Events is a fantastic venue, run by fantastic people! You will not regret booking your party here. Katie was super helpful and accommodating, and made the craziness of wedding planning much easier by being prompt and quick to respond to any questions I had about the venue. I highly recommend Boondocks Events!

Cross and Main's reply:

Thank you so much for your feedback! We are so glad your event was wonderful!
Are you interested?
Send a message