105 Reviews
Recommended by 100% of couples
Quality of service

4.9 out of 5 rating

Average response time

5 out of 5 rating

Professionalism

5 out of 5 rating

Value

5 out of 5 rating

Flexibility

5 out of 5 rating
2 User photos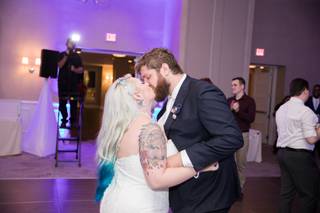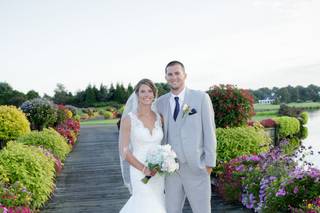 Megan G.

Married on 06/04/2021

Very recommended!!! An absolute need for your wedding day!

Bill was an absolute joy to work with! Went above and beyond to make sure everything went the way we envisioned. Super friendly, helpful and always answered any of our concerns/questions in a timely manner! Made sure to capture all the important parts of the wedding/ reception. Had me crying all over again watching the ceremony video! Love being able to rewatch the day over and over again! If you need a sign to hire a videographer for your wedding then here it is!! Very recommended!

Creative Video of Delaware's reply:

Thank you Megan, you guys were a pleasure to work with. It was a honor to be a part of your big day! Bill, Creative Video of Delaware

Jessica

Married on 06/07/2019

Couldn't be happier!

My husband & I knew we wanted a videographer from the beginning, but we weren't sure we'd be able to find one for a decent price that did great work. Well thats exactly what we got when we hired Creative Video of Delaware! It was truly a pleasure to work with Bill & Joy. They had great communication throughout the process. We just recently received our DVD and are in love with it. Everything was put together so beautifully. It is something we will treasure forever!

Creative Video of Delaware's reply:

Thanks so much for your kind words. It's easy to work with such a fun couple whom obviously love each other. Thanks again, Bill and Joy

Heather

Married on 05/10/2019

Beautiful video!

My husband and I got married in May 2019, and we had a great experience with Bill as our videographer! He spent time with me over the phone (since we weren't local) to discuss what we hoped to get out of our video and he was attentive, responsive, and easy to work with. Bill was great the day of, and even our photographer commented on how easy he was to work with! We received YouTube videos as Bill edited them, which was great to be able to see before the DVD! We received the DVD 4 months later, and we really enjoyed watching it. He did a great job of capturing the day and including all the important moments, and then at the end he including a shortened video of all the major highlights, which was so much fun to watch! We loved everything about our experience with Bill and would recommend him for sure!

Are you interested?

Send a message

Shannon H.

Married on 04/07/2019

Yes, You will Watch Your Video Over and Over Again, and here is why...

I will admit it was my fiancée that REALLY wanted a videographer, I was on the fence thinking "I'll remember this day just fine, what are we going to do with a video? Watch it once or twice?". Well, I was completely wrong and so thankful we booked Bill and Joy at Creative Video of Delaware. Your wedding day goes by SO FAST, and we have watched our video so so many times. I reached out to three different vendors for quotes and samples, and Bill was by far the most affordable, responsive, professional, and his samples were right on par with what we were looking for. He had a nice mixture of different types of weddings, locations, venues, same-sex, and you could tell he takes pride in his work. Some of the most notable experiences that stood out to me were - how easily Bill worked with our other vendors (Photographer, Hotel staff, DJ), you would have thought these guys had all worked together for years, it was seamless and non-intrusive. Bill made sure to capture all the little details, which we appreciated - he arrived early, got shots of the venue, my dress hanging, shoes, and rings - it just makes the whole package. He was already working before I even realized he had gotten there! Bill also did a great job of breaking out our video into different chapters that makes it easy to see just certain parts. Besides just your ceremony, cocktail hour, and reception, Bill added sections for getting ready, guests arriving/being seated, the readings, the speeches, and my personal favorite is the "highlights" reel that captures the whole day and key moments that were special that you don't have to hunt and search for throughout the DVD. Also to note, we received sample links to key parts of the wedding before the full DVD was complete, which was so fun to watch on our honeymoon and send to our parents. We only had a certain number of hours booked with Bill and I told him to leave when he felt our time was complete, and at the end of the night, there was Bill capturing our final song and all of our guests dancing. I said "Bill you are still here?!" His response was "you all are having so much fun, I couldn't leave". That is a true testament to the work and quality Bill puts into his job. I think the highest form of any review is that I would recommend them to friends and family and would 100% recommend Bill and Joy and Creative Video of Delaware to future couples.

Creative Video of Delaware's reply:

I am overwhelmed with the review you just posted. It keeps me motivated to always continue to do the best I can. Thanks again, Shannon and Danielle

Margaret D.

Married on 11/21/2018

An awesome wedding video

We had a wonderful experience working with Bill and Joy for our son's wedding in August, 2018. My husband and I thought they were very professional - we knew they were there in the church and at the reception but never felt they were in the limelight. The video was awesome. Every time we watch the video, we relive a beautiful day!!

Creative Video of Delaware's reply:

Thanks so much for your kind words Mrs Delaney. You are our 100th review and we couldnt have asked for a nicer one. Best Bill and Joy

Jennifer

Married on 10/27/2018

The best choice we could have made!

Between wedding planning, the day of the wedding, and the entire video editing process, I was in contact with Bill Stidham for about a year and 8 months. Throughout this time, Bill answered my emails in an extremely quick and professional manner, and was fully open and receptive to exactly how I wanted my video to turn out. Throughout the entire process, especially on the big day, Bill and Joy were friendly, accommodating, excited for us, and hard working! The Keepsake package gave us everything we wanted for an insanely amazing price, so choosing Creative Video of Delaware was a no brainer!
On my big day, Bill and Joy shot together from various angles to ensure that every special moment was captured. Bill even brought his own step ladder to film all of my guests dancing from an aerial view... how incredible!!! I whole heartedly recommend Bill and Creative Video of Delaware for any special day that you want documented!

Creative Video of Delaware's reply:

You are to kind Jenn. It was a pleasure and honor to work with and be a small part of your big day. Thank you!

Kellieann

Married on 06/16/2018

Bill and Joy did a fabulous job with our wedding video!!!! I am so happy that we decided to get this service for our wedding day!! They made a great team and captured all of our favorite parts! Highly recommended

Nickole

Married on 05/05/2018

Creative video of Delaware were amazing to work with leading up to my wedding and on my wedding day! I would highly recommend hiring a videographer to capture your day. With a whirlwind day you will forget about some moments, and now I can watch my wedding forever! Bill and his wife were there and I didn't even know it. Bill was very fast with response on email and patient even when my wedding was delayed a hour! Thank you to the Stidham's!!

Creative Video of Delaware's reply:

Thanks so much for your kind words Nickole. It was a pleasure and a honor to be part of your big day. Enjoy the memories !!! Bill and Joy Stidham, Creative Video of Delaware

Judy

Married on 10/13/2017

Bill was wonderful to work with. From our initial meeting where he went over all the package options through the delivery of my video, Bill was a gem to work with. The wedding packages were affordable and the work was immaculate. Having worked with many photographers, videographers, production and press in the past, the quality of Bill's work truly reached my expectations. Not only was Bill very professional while working with us during the planning phase of our wedding, but he maintained the same level of professionalism and responsiveness with our other vendors.

Having watched the video now, I can appreciate how much footage he got during the wedding because truthfully, it seems like he moved in the shadows since I hardly remember seeing him during the wedding. I only remember speaking to him and Joy at the very beginning and then at the end which is a quality I looked for in my vendors. I didn't want vendors bugging my husband and I throughout the night so we could actually enjoy our wedding day. The level of detail in the presentation of the video exceeded my expectations. There were photos I forgot he had taken of us and our rings. I loved the presentation!

The quality of the video was amazing. Bill took his time with editing and kept us involved throughout the process to ensure he got our approval prior to finalizing the video. It was a pleasure working with Bill and Joy and I would welcome the opportunity to work with them again for future events.

Creative Video of Delaware's reply:

Thank you Judy, it's couples like you that make us love what we do

Kristi

Married on 09/16/2017

Creative Video of Delaware was such a pleasure to work with as our wedding videographer! I was hesitant about a videographer in the beginning and now I couldn't imagine not having one. The memories captured on the video are priceless! Bill and Joy were so easy to work with, very knowledgeable, and offer affordable packages. My husband and I gave Bill highlights of what we were looking for and he knew exactly what to do. I would highly suggest Creative Video for a beautiful wedding video with memories you will cherish forever! Thanks Bill and Joy!

~The Rowe's

Creative Video of Delaware's reply:

Thanks Kristi, You guys were great to work with anf helped make our job that much more enjoyable

Kellyann

Married on 07/29/2017

Bill and his assistant were phenomenal from the start! From the start, Bill corresponded with me promptly both by phone and email. Bill called me before the big day and went over every little detail with me to ensure everything was perfect. Bill arrived at my house before I was even there! The video of my wedding turned out stunning! Everyone remarked on the quality of the sound, images, and layout. I highly recommend Bill and his team to anyone :) Thank you!!

Stacey

Married on 07/22/2017

Bill and Creative Video of Delaware filmed my wedding on 7/22/17. They were extremely professional and a true pleasure to work with. They were extremely flexible and low maintenance. They got amazing footage from the wedding and were super quick in putting together a truly fantastic video. Bill and his team stayed the entire night even though my wedding ended up going later than expected. I cannot thank them enough for the effort they put in and the video truly reflects that time and effort. I would highly recommend Creative Video of Delaware!

Amanda

Married on 07/15/2017

Bill was a pleasure to work with, he was very professional and always responded to my e-mails in a timely manner. I highly recommend Creative Video of Delaware to capture all of your wonderful memories of your wedding day. We LOVE our wedding video and have watched it several times since receiving it.

Stop thinking. Just book him. Bill was amazing. Quick response time, reasonable pricing, great creative eye, and an all around nice guy. He went above and beyond by coming to our first look (last minute addition at a different location) and catching all of the special moments. He missed the first few words of our best man's speech because my dizzy dj messed up and told him the wrong timeline. Literally only missed a few words but he came up to us during the event to apologize. I really wasn't worried about it. He even took it a step further by staying for additional time and catching everything down to the sparkler exit. We originally budgeted for him to be gone well before the end of the reception but he stayed any way. We had a youtube video of the first look before we left for the honeymoon! I cried .. loved his song selection and was very impressed with his videography. Be like Nike and just do it!

Creative Video of Delaware's reply:

Thanks you Amanda for your kind review. You guys were great to work with. Your reaction to the 1st Look video made it all worth the trouble. Hope to see you at a wedding soon. All the best, Bill and Joy

Jennifer

Married on 10/07/2016

Bill and Joy were wonderful to work with! They were extremely flexible and reasonable, and created a wonderful final product. I didn't really give them any instruction or specific things I was looking for, and what they made was beautiful. They started sending me links of portions of the video less than a month after our wedding, and we had the completed DVDs within 2 1/2 months. I highly recommend them!

Creative Video of Delaware's reply:

Thanks so much Jenn. You and Steve were great to work with and have a wonderful family. See you at a wedding soon!

Mallory

Married on 09/24/2016

Bill was super accommodating and provided us with lots of options. He responded quickly to my emails and was able to schedule our calls around my schedule. He captured every detail I wanted! The video and audio quality of our dvd is excellent! It's very clear and I can hear everything. I was worried about not hearing my part of the vows since I didn't have a microphone, but the microphone hooked up on my husband picked up my voice, too. Thanks Bill!!!

Sandy

Married on 09/23/2016

Creative Video was AWESOME! Professional, friendly, prompt, reliable, all around perfect! Beyond happy with results, I don't think they missed a single guest, caught all the perfect moments and created a keepsake of my daughter's wedding that pictures simply cannot provide.

Carrie

Married on 07/30/2016

Creative Video of Delaware was such a pleasure to work with. Bill was so patient from start to finish. I was unsure about things during the planning process and Bill made me feel totally comfortable with the decisions I made. He and his wife were able to capture every special moment of our big day. In addition, Bill went above and beyond and was kind enough to provide still shots from our reception as we did not have many photos of our guests. I would highly recommend Creative Video of Delaware! You will not be disappointed.

Julie

Married on 06/11/2016

Bill was awesome; he arrived early and was well prepared. He even thought to try a new microphone specifically for outdoor ceremonies and it sounded so wonderful on our video. The dvd he prepared was awesome; we love that it offers a menu option to select what section we want to watch or watch it all. He did a good job of blending the 2 camera angles into a perfect video. We were a same-sex wedding and he was very willing to video for us with no hesitation at all. Highly recommend!!!

Shannon

Married on 05/29/2016

We used Bill at Creative Video of Delaware for our wedding at The Waterfall in Claymont on 5/29/16. My husband and I had gone back and forth about whether or not we wanted to hire a videographer due to our tight budget. I can definitely say that hiring Bill was one of the best decisions we made regarding our wedding! His prices are very reasonable for some one on a tighter budget. From day one Bill was so easy to work with. We chatted on the phone about what the wedding day schedule was like and I felt completely confident and at ease with everything! On the day of the wedding Bill was able to capture every moment from our arrival, pre-ceremony, ceremony and reception! After the wedding Bill kept us updated on the production of our video and let us know as soon as it was complete. He even sent us our ceremony and first dance clips before the video was finished! We couldn't wait to get home to watch our video! We were amazed at how much he captured throughout our day! It was so nice to be able to watch parts of the wedding that I didn't get to see (groomsmen walking in, introductions, etc.) and relive that day all over again. We've already watched our video 3 times with different family members and every one has LOVED it! The personalized case is a beautiful touch. I am so glad that we will always have something to watch to remember our special day! Thank you, Bill!

Beth

Married on 05/07/2016

Bill was so awesome and easy to work with! I made the call and had all the information I asked for within an hour! He was easy to get in touch with and was efficient in responding. I was contemplating getting a videographer but it was the best decision I made and would recommend Creative video of Delaware and Bill to any future brides!!

Jess

Married on 05/01/2016

We were unsure initially during the planning process if we would be able to have a videographer as part of the budget. After a quick search, Creative Video of DE popped up and I reached out to Bill via email. He was so prompt in getting back to me and very understanding and flexible regarding our budget and worked with us to have the best package possible. I immediately felt comfortable with him and trusted him completely. His years of experience put my mind at ease and I knew I didn't need to worry about a thing. He was always prompt with email responses and was direct and kind with his feedback. The day of our wedding Bill and his wife were wonderful. They were timely, professional and captured the day beautifully without being in the way of the guests or the process. Our DVD is breathtaking and honestly brought me to tears. It was so nice to relive the actual movement and flow of the day and the editing Bill did was great! I'm so glad to have had the intimacy of our wedding captured by Bill......being able to see our family members smiling, and all of the hugs, kisses, laughter and dancing it's just priceless. If you are unsure about whether videography is worth it or too over the top definitely work it into the budget, it's so worth it and trust me after the fact you will be so happy to have it to cherish. We can't thank Bill and Creative Video enough for capturing our day so perfectly...... we will always cherish what he did for us.

Rachel

Married on 04/30/2016

My husband, myself and my family loved working with Bill and Joy of Creative Video of Delaware. In the initial stages of the wedding planning process, we were contemplating on if there was a definite need for a videographer but people kept telling us that we'd regret it if we didn't and they were right! From the initial emails to the phone call we had with Bill to plan out our day, everything just went smoothly. When Bill walked into my family's house, he worked along side our photograher seeminglessly and it was perfect. We didn't even know he was there during the wedding and reception. A preview of our video was posted right after. We couldn't believe how fast we saw footage of our wedding day! It was so exciting! We received our DVDs quickly and my husband and I watched it right away! It was put together so nicely and couldn't believe all that was captured. We then had a viewing party with our friends and family and everyone just loved it! Everyone was laughing and truly enjoyed every minute. Thank you Bill and Joy for creating such a beautiful video for us. We highly recommend Creative Video of Delaware to anyone getting married. It is truly worth it and they are so reasonable with many options. The day goes by so fast, we couldn't imagine not having this footage to look back on. Thank you again!!!

Creative Video of Delaware's reply:

Thanks so much Rachel! Your so right my wife and I didn't have video and I can hardly remember any of the day. Pictures are great but nothing brings back the day like a video. Hope to see you at a wedding soon, Bill

Richard

Married on 04/23/2016

Bill did a great job from start to finish. He was prompt in responding to all of our questions and was a pleasure to work with. I would highly recommend him for any couple looking for a wedding videographer or for any other occasion.

Bill was great to work with. We didn't decide to do the video until 2 weeks before the wedding, but because a relative was performing the ceremony we decided we wanted a video. We found Creative Video at the last minute and were very happy. The video gave us exactly what we wanted. We went with just one camera and we are able to hear every word of the ceremony perfectly. Bill was very responsive. He emailed me back right away every time. I highly recommend them.
Are you interested?
Send a message