241 Reviews
Recommended by 98% of couples
Quality of service

4.9 out of 5 rating

Average response time

4.9 out of 5 rating

Professionalism

4.9 out of 5 rating

Value

4.8 out of 5 rating

Flexibility

4.9 out of 5 rating
25 User photos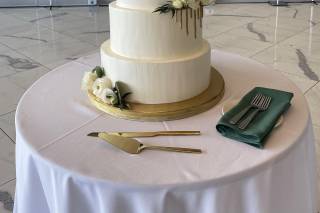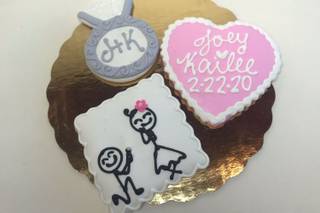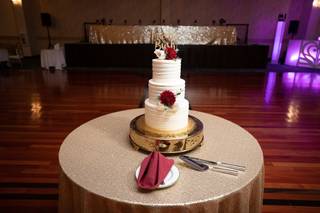 + 21

photos
Veronica

Married on 09/16/2022

Flawless!!

Our wedding cake was a dream come true! It was just what I had envisioned and more. The flavors were on point and we had quite a few people ask us where the cake was from!

I highly recommend this bakery!

Fun fact: they give you a free top layer cake for your 1 year anniversary which is such a sweet compliment.

Creative Cakes's reply:

Wow thank you for the kind words! We were honored to be part of your day. We look forward to hearing from you for your anniversary cake and congratulations!!

Fiona C.

Married on 10/09/2021

The best wedding cake you will ever taste!

We are so happy with our experience after using Creative Cakes for our wedding cake and desserts! Becky was a joy to work with! The overall price point was extremely reasonable. We opted for a more simple style, but they offer all sorts of wedding cake styles from small to large and simple to very lavish, but one thing that doesn't change is how good the cake tastes! We also ordered a cookie tray and it was perfect for our group. The drop off experience and set up went smoothly and I was over the moon when I saw the cake at our reception - it was perfect. Highly recommend!

Creative Cakes's reply:

Thank you again Fiona for your fabulous review - you are so kind and it means the world to us that you were so pleased!

Brittany S.

Married on 07/31/2021

They'll be our cake place forever now

Working with creative cakes was awesome. because of covid we did a zoom call to design the cake. They have foam cake tier rounds so you can really visualize how the cake will look! I was able to individually design each layer. And there are so many cake and filling options! All my guests cannot stop raving about the banana cake. Many guests have told us its the best cake they've ever had! I'm pretty sure my family expects this cake at all future events! so yummy!

Creative Cakes's reply:

Thank you so much Brittany! Congratulations again. We were honored to be a part of your special day!

Are you interested?

Send a message

Kathryn P.

Married on 10/24/2020

Gorgeous Wedding Cake

We were extremely happy with our wedding cake from Creative Cakes! They took a rustic farmhouse cake design that I had sent them and made the design look exactly like my Pinterest photo. The staff was very friendly and pleasant to work with! I added on a rental stand at the last minute and the staff could not have been more helpful! I am so glad we used Creative Cakes to design our dream wedding cake!

Creative Cakes's reply:

Thank you for the kind words, Kathryn! It was our pleasure to make your dream a reality! Don't forget to order your free 1-year Anniversary cake next year :)

Maya

Married on 10/10/2020

Perfect Cake!

Our 4 tier wedding cake turned out beautifully, thanks to Creative Cakes! I sent them a picture of the cake I want and they did it the same in addition with so many creative ideas that I loved!

The staff were very responsive, friendly, creative, and professional especially Becky whom I enjoyed working with!
The taste was beyond amazing as they have so many filling options and all of our guests enjoyed the taste!

We are so happy that we chose Creative Cakes for our wedding! Highly recommended!!!

Angel A.

Married on 10/01/2020

Beautiful & Delicious Wedding Cake!

I'm so happy that we went with Creative Cakes as the bakery for our wedding cake. We got married this fall, and we were in the middle of scrapping our original wedding plans for something more intimate. There were a lot of moving pieces to keep track of already, and I was hoping to find a company that would be reliable and easy to work with. The work you guys do honestly speaks for itself and the staff is amazing to work with. We worked with Emily to go over options and to discuss what we were looking for. We received a COVID-friendly to-go tasting platter and narrowed our flavor down to a chocolate cake with raspberry mouse filling along with the horizontal/rustic buttercream icing. I tried it with my sister—because my husband lived out of state—and we had the hardest time coming to a decision because all of the flavors were just that delicious. The cake arrived to the venue on time and was decorated beautifully. We had ordered flowers and a topper online to be placed on the wedding cake upon arrival. When I saw the finished product as we walked in, I just remember thinking how it turned out better than I imagined. I can't thank your team enough!

Also, can we just talk about how they thoughtfully provide a fresh, complimentary cake on your first wedding anniversary! Yes please, no need for the frozen, year old wedding cake here lol


Creative Cakes's reply:

Hi Angel,
Thank you so much for the kind review, we are so happy to hear how much you loved your cake and the experience! It was a pleasure working with you & don't forget about your complimentary anniversary tier next year!

Jasie

Married on 09/19/2020

Couldn't have been better!!!

My now husband and I went to one place to sample cakes, and we were instantly sold. We were able to get a bigger cake with more details/decorations than we were expecting because they were priced so well. And because it ended up being two tiers instead of one, we were able to get one in my husband's favorite flavor, and one in mine.
We had to change our venue cause of covid and they were super great about it.
People kept telling my parents all night that it was by far the best wedding cake they'd ever had, and I completely agree. My husband and I have been craving it ever since we finished it! We definitely won't be waiting until our one year anniversary to get more from them!

Alanna G.

Married on 09/18/2020

Perfect wedding cake!!

I LOVED my wedding cake! They did such an amazing job and were so easy to work with and very accommodating! It was an all around perfect experience from the initial cake tasting to the designing to the set up and then taste of the cake! Would 10/10 recommend!!

Kerry S.

Married on 05/16/2020

Literally amazing cake!

Creative cakes is where it's at! Their cakes are gorgeous and delicious. The staff is extremely helpful and accommodating. Love this place!

Katrina A.

Married on 04/05/2020

Covid wedding

Creative Cakes is an incredible bakery to work with! Becky has been so patient with all of the changes to our wedding due to COVID. She was very quick to answer any questions I had, gave her feedback for my design and definitely delivered on our day! Everyone loved our cake and said they're excited to try our cake in April. I can't say enough wonderful things about Creative Cakes and I will recommend them to everyone! I can't wait to see their design for our April wedding cake!

Creative Cakes's reply:

Thank you so much Katrina for the wonderful review! You made our day. We are looking forward to April too!

Leslie F.

Married on 02/02/2020

Best decision ever was to use Creative Cakes

Not only was our wedding cake beautiful the flavors and cake itself was delicious. I will be using Creative Cakes again! All of our guest asked for seconds cant wait till our First anniversary when we get a fresh tier all for our self's lol

Creative Cakes's reply:

Thank you so much for the wonderful feedback! We can't wait to make your anniversary tier and help you celebrate your future events. Congratulations!

Paige

Married on 01/11/2020

Delicious Cake, Beautiful Execution

From the wedding cake tasting to the real thing, Creative Cakes did an amazing job! We had an Art Deco theme, and they delivered on our vision. The cake tasted amazing and all of our wedding guests loved it! I highly recommend Creative Cakes for all of your baking needs. Thank you!

Creative Cakes's reply:

Thank you so much - we LOVED the Art Deco theme and being a part of your special day! Come see us again!

Sagith G.

Married on 11/09/2019

Sagith and Zaneta

I would highly recommend creative cakes! They were very easy to communicate with, verified all details, and the cake was amazing!!

Shannon M.

Married on 09/28/2019

It was an amazing experience

They did our wedding cake and did an amazing job. The detail on our cake was so beautiful. I will recommend them to anyone and everyone! Everything was exactly how we wanted it.

Ankica J.

Married on 09/01/2019

So delicious we got 2 cakes!

Through our venue package we had a handful of cake vendors to select and work with. Creative Cakes was the most flexible, creative, and the MOST delicious. We ended up getting our grooms cake with Creative as well.

They even made sure to have extra packaging and materials for the top two tiers we were going to be using for our second ceremony the day after our first wedding.

Guests kept asking me what exactly the flavors were and the baker - they absolutely loved it. And as the bride and groom, I made sure we got pieces as well. Completely enjoyed their service and attention to every detail.

Bridgette L.

Married on 08/25/2019

Beautiful and Delicious

The cake was a huge hit. Everyone loved it. It looked beautiful and tasted amazing.

You can customize each tier the way you want with no extra charges.

Erin E.

Married on 08/25/2019

Beautiful cake, amazing flavor

Our wedding cake turned out beautifully and was better than I could have ever hoped for! They were extremely responsive to my emails and so sweet on the phone. Best wedding cake ever!

Creative Cakes's reply:

Erin, it is so good to hear you loved your wedding cake. I told our decorators I hope you love it as much as I do! Congratulations!

Ryan M.

Married on 06/29/2019

Beautiful Job on the Design!

Our cake looked exactly like we imagined it would! We used flowers from our florist and the decorator placed them for us that day. The delivery was great, they were easy to work with and called us, a few months out to make sure we had the correct number of servings! We only got to taste the cake when we cut it the night was just too busy, so we are looking forward to our free anniversary cake! The bite we had was yummy!

Lamont P.

Married on 06/29/2019

My Wedding Cake

Highly recommend Creative Cakes. Their staff and cakes are the best.

Barbara

Married on 06/15/2019

Delicious Choices

Creative Cakes made a 6" chocolate cutting cake for photos and two sheet cakes- lemon chiffon and atomic cake. We decided to go with the sheet cakes because we wanted to give our guests two memorable choices and both cakes are super delicious. The light airy lemon chiffon layers balanced well with the fresh lemon curd and not too sweet buttercream. The atomic is a family favorite with a layer of chocolate cake, banana cake and white or yellow cake. It then has fresh strawberries, bananas, chocolate, and real whip cream, Guests raved about both!
Becky was very easy to work with and delivery included set up of the cake on our cake stand and placing of our topper.
Would definitely recommend them and thought their prices were competitive.

Sara S.

Married on 05/26/2019

Their cake is soo good!

We scheduled a cake tasting with them, and were able to try a bunch of different flavors of cake, fillings and frostings. All of the flavors were delicious, but we decided to go with a chocolate cake with raspberry filling. We went with a small cut cake and sheet cakes. They give you a gallery of different picture examples to look through to get ideas on how you want your cake to look. They also take a look at your Pinterest board, if you have saved ideas on there. They are quick to answer emails and phone calls. I am already craving more of their cake!

Creative Cakes's reply:

Thank you so much Sara - we were honored to be a part of your special day! We hope to share many more celebrations with your family...Best to you!

Fran, Creative Cakes

Alyson K.

Married on 05/10/2019

Best Wedding Cake!

We used Creative Cakes for our wedding and it was amazing! We were able to have 4 different flavors and our guest could not stop raving about how amazing it was (especially the banana)! The taste test was so fun and they were so helpful in helping with our design, doing a mock up and calling the week of to confirm all the details. We even get a special cake for our one year anniversary! Would highly recommend Creative Cakes for your wedding needs!

Samantha

Married on 04/12/2019

Delicious Cake!

I LOOOVED my cake. It was delicious and beautiful and if you couldn't ask for more they will give you a fresh cake for you 1 year anniversary!

Molly M.

Married on 04/10/2019

Amazing Sweets Table!

Creative Cakes was one of the recommended vendors for the venue my husband and I chose for the wedding and we are so happy we went with them! Super easy to work with and they were able to fit everything we wanted into the package our venue offered. We are not big cake fans so we wanted something different for the wedding. Creative Cakes but together an AMAZING sweets table for the wedding! They called to check in on a variety of things throughout the process and gave solid advice and recommendations for desserts. They put in a lot of work to make it look great and taste great! The cookies and donuts they provided were so delicious. Highly recommend them for cakes and sweets of any kind!

Emila B.

Married on 03/02/2019

So happy with our wedding cake!

Creative Cakes made our wedding cake in March, and it was both beautiful and delicious. In our tasting, we were encouraged to go with an untraditional choice - one layer of banana cake between two layers of chocolate - and it was a huge hit. More than one guest told us is was the best wedding cake they've ever had. I can't say enough about how beautifully the cake was decorated - it was exactly the look we were going for, and we couldn't have been happier.
Are you interested?
Send a message