Reviews
5.0 out of 5 rating
Quality of service

5 out of 5 rating

Average response time

5 out of 5 rating

Professionalism

5 out of 5 rating

Value

5 out of 5 rating

Flexibility

5 out of 5 rating
100%
Recommended by couples
2 User photos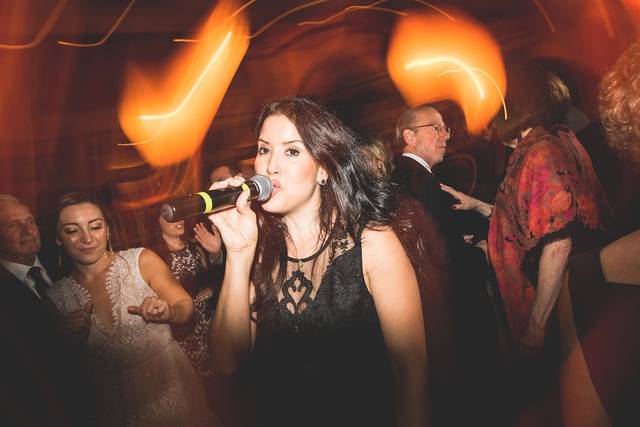 Featured

Lindsay R.

Married on 06/25/2022

Kim Sozzi was Incredible

We absolutely LOVED working with Kim! Kim and the band did an incredible job and kept our guests dancing all night long! I love how they come out onto the dance floor and interact with guests. They played hit after hit and we could not have asked for a better experience!

Creations Music's reply:

We loved every minute of your wedding ! thank you for having us.
Wishing you a lifetime of happiness and we cant wait to see the photos from your wedding
Best
Kim Sozzi

Nicole S.

Married on 09/17/2022

Incredible Band!

Kim was amazing to work with from the very beginning. She was very responsive and always had a positive attitude, even when I through a curveball at her 4 weeks before my wedding. Kim went above and beyond and watched a recording of our dance lessons to make sure the band knew what we were planning on doing. The night of our wedding Kim and creations exceeded our already high expectations. They brought the party and kept it going all night long - our guests never left tje dance floor. If you're looking for an amazing band - Creations is it!

Oren C.

Married on 09/12/2022

Great Band for the Perfect Wedding

Kim and her band gave us 110% to create the party of our dreams! Kim is a true professional who spends a lot of time before the day to make sure she understands our kids' playlist, bends over backwards to learn new songs (she played both sets of parents' wedding songs) and was easy to work with from start to finish. She has such a warm and friendly presence and at the same time is a great talent who really knows how to keep the party going. Her company provided all the music from quartet for ceremony to cocktail duet, full band for reception and after-party DJ. Very highly recommended!!

Creations Music's reply:

We loved working with you and your family and truly enjoyed being a part of such a special wedding!! the wedding was PERFECTION !!!
thank you for putting your trust in us!!
Best,
Kim Sozzi

Are you interested?

Send a message

Taylor S.

Married on 09/10/2022

The best!

Kim & her team at Creations Music were incredible at my wedding!!! In the months, weeks & days leading up to the event, she was responsive, provided great suggestions for songs & always shared such excitement for our event. It made us feel really special. And she did NOT disappoint the night of!!! The band brought the energy all night long - no one wanted to leave the dance floor! I would use her team again in a heartbeat!!!

Mary M.

Married on 07/30/2022

If you want the best!

Where to begin?
The band showed up 2 1/2 full hours before the event- such a confidence booster for this nervous mother-of- the- bride! Speaking with Kim before the guests arrived brought calm and clarification of the night's events.
The string quartet was a perfect presence for the pre- ceremony and ceremony - not too soft, not too light- - just right.
For reception time, the Creations Band
announced the parents, bridal party, the bride & groom, and the special dances and toasts with volume and accuracy.
The epitome of the celebration was the 4 hours of reception music. The Creations 9 piece band performed phenomenally.
They played from our chosen favorites song list and respectfully minded our Do Not Play list, too. Mother and Father of the bride were ecstatic to hear Frank Sinatra and
Van Morrison and the bridal couple and their friends loved The Killers and the Jay Z
finale of the night. The guests embraced the lead vocalists when they joined the dancing on the floor! To top it off, there was a surprise addition- a singer from American Idol joined the band for our event!
We are still reminiscing about the wedding- and much of the credit goes to The Creations Band!



Alyson

Married on 07/10/2022

Best Band!

Absolute Perfection! The band kept the party going!! Songs were perfect for all the different ages! Lively and upbeat. Amazing! Highly recommend.

Susan R.

Married on 06/25/2022

The absolute best experience one could want!

Kim is the nicest easiest person to talk and work with from beginning, during and even after your event. My guests were blown away by her band and this was the third wedding I made and first time we used Creations. I cannot say enough amazing things about her whole band they made my daughter's wedding!!!

Nicole B.

Married on 10/02/2021

Creations Music Was The Best!

Creations Music came highly recommended to us and they did not disappoint! The amazing band leader was accommodating and professional and so energetic. He immediately got everyone up and dancing! The band themselves were extremely talented, and our dance floor was PACKED the entire night! The singers nailed our first dance song which was so impressive and the instruments and other band members were amazing. I would definitely recommend them to future brides!

Lauren

Married on 07/23/2021

Wedding Band

Kim and the Creations Music team truly made our wedding dreams come true! When we started planning our wedding in 2019, music was a very important part of the big day. We both have lively groups of friends and family and knew that our wedding music would set the tone for the night and our band did NOT disappoint. They got the party started from the minute we walked out and kept the momentum going even through dinner service with popular ballads that had our guests singing at their seats. The range of music and vocals from the band was so impressive and got every guest up on the dance floor. Our night was capped off by jumping on stage and singing "All the Small Things" while all our guests cheered on. To this day, friends and family comment on how AMAZING our band was and how it really made the night so fun.

Leading up to the big day, Kim was extremely proactive and organized, reaching out to us to set up calls and walk through the day of schedule. She offered suggestions when we needed and really helped make planning the music so easy.

Thank you Kim and Team!

Natalie H.

Married on 05/01/2021

Highly recommend!

The Wedding venue my husband and I dreamt of finally became available six weeks before the Wedding we had already planned. We were now going to get married on a beach and wanted to find a guitarist to give us the relaxed vibe we were going for. The venue referred us to Kim and told us we were in good hands. Moments after our first conversation, she sent us a video of a guitarist, Dan, that fit our vibe and he exceeded our expectations. He was incredible!! All of our family members and random guests having dinner nearby were amazed by how talented he is! We definitely recommend Creations Music and their guitarist Dan. He added to the relaxed beachy vibes we were going for. Couldn't have been happier! Can't wait to use you guys again for another event :)

Josh L.

Married on 10/09/2020

Park Avenue ROCKS!!! Can't recommend highly enough!

When planning our wedding, I told my now wife that as long as we had an amazing band, I would be happy and we would have an awesome wedding. When we first heard Kim's Park Avenue band, we knew they were the one! Park Avenue did not disappoint. From an extended horah which kicked off the night with a bang, to a rock band section (think The Killers, Blink182) that ended with me crowd surfing, Park Avenue was the absolute BEST!! We cannot thank you guys enough for keeping everyone on the dance floor the whole night, and leaving the crowd wanting more. I can't recommend a band more strongly than this one!

Creations Music's reply:

Thank you so much for having us at your wedding! We wish you a lifetime of happiness !! You guys were such a pleasure to work with ! The wedding was insane and the crowd definitely did not disappoint

Brianna R.

Married on 09/09/2020

Amazing band!

The best badn! They had everyone dancing the entire wedding, the dance floor was never empty! They made the wedding!

Amy L.

Married on 09/01/2019

Best Wedding Band!

It's been a week since our wedding and we still can't stop talking about it! Kim Sozzi and her band were the BEST band to make our party so amazing! I have received so many compliments saying the band was amazing! Playing both oldies and new hits the play list could not be beat! She worked with us throughout the whole process and followed through beyond our expectations! Thank you Kim and the band at Creations Music! We would recommend them to everyone!!! My only complaint is that the night went by too fast!

Dana S.

Married on 08/14/2019

Did not stop dancing for hours!!

Kim and her band were absolutely incredible, they worked with a wonderful curated playlist and added a few songs that I wouldn't have chosen but fit the vibe perfectly. From 80's ballads to 2000's rap they truly pulled off every genre and truly made the crowd go wild. I should also note is was a destination wedding with a lot of moving parts and the band went off without a hitch, Kim knows what she is doing and is a real professional! Thank you again for making our day and night so unforgettable.

Creations Music's reply:

It was such a magical wedding in every way! We loved being a part of your wedding!!
we cant wait to see you at another event!

Wishing you both a lifetime of happiness!
Kim & The Creations Team

James W.

Married on 05/19/2019

The best, period....

If you want the best, they're it. Kim's dad, did my wedding 20 years ago and 20 years later did my daughters first communion party. They have a NY vibe that can't be replicated and bottom Line they are down to earth, dependable and are in lock step with you the whole way. I love them and will continue to use them.


Creations Music's reply:

so amazing to be a part of your daughters communion and to play your wedding song again!! Thank you for having us!


Christina

Married on 11/16/2018

Creations kim sozzi band - best wedding band!

Greg and I want to thank you for making our wedding AMAZING. Our one year anniversary is approaching, and we still cannot believe how lucky we were to have you guys at our wedding. One of our top priorities was the band and making sure that our guests were on the dance floor all night. From the day we booked Creations, Kim assured us we had nothing to worry about and they got it. You guys exceeded our expectations and made our wedding night the absolute best! We could not have imagined our wedding without you guys! We had SO many people reach out to us after the wedding telling us how incredible you guys were and needed your information! One of my best friends called and booked you guys the day after because they had to have you at their wedding. Thank you Kim and Creations Music again for the best night of our lives! We can't wait to see you at future events!!!

Jennifer

Married on 11/03/2018

Completely blown away!!

I have to say that I am absolutely blown away by the band Creations who played for our wedding reception last weekend. From the amazing music played that had everyone on the dance floor all night, to the amazing and talented musicians, to the volume it was played at (not to high not to low), to the incredible vocalists, to the lead singer, Kim, performing all of our special dances live and perfect, to the amazinggggg personalities and amazinggggg kindness and amazingggg enthusiasm I can't even say enough about how happy my husband were AND still are. Literally no one wanted to leave the dance floor all night and when the night was over no one wanted the music to end!!! Kim, your smile lights up the room... and your voice is just flawless. Your website says, "we ensure a sensational experience styled just for you of energy, emotion and flawless execution," and you did just that!

Melissa

Married on 10/21/2018

Touch of Soul

We LOVED having Touch of Soul at our wedding. We had a piano and flute at the ceremony and they did a fantastic job with the songs we picked. The pianist continued to play during the cocktail hour and then an 8 piece band performed at the reception. The lead vocalists were amazing. Guests literally came up to me throughout the night to tell me they felt like they were at a concert since the band was so incredible. They learned our first dance song perfectly - we even got to practice our dance with them while we took pictures during their sound test. Kim Sozzi is a true professional - she promised me an amazing band and MC that would get the guests up dancing all night, and that's exactly what we got. Couldn't have asked for a better band or a better night. I would 100% book Touch of Soul again for an event!


Kara

Married on 12/16/2017

Everything about my wedding turned out amazing and a huge part of that was due to Kim Sozzi & the Creations! Having seen them at a prior wedding, it wasn't hard for me to make my band decision in choosing Kim. I got married on December 16th, 2017 and Kim was one of the first vendors that we locked in. Initially we decided on an 8 piece band, but we had upped the number to 10 for the big day and it was just incredible. All of my friends & family raved about the band all night and the next morning.
They were accommodating to our requests and learned a few songs for us at our requests, but they really are so talented and their song list is super vast! We also had given a list of songs we didn't want played and they were definitely not played. The music for ceremony and cocktail hour were perfect too.
There wasn't excessive communication between hiring the band and the wedding day, aside from completing a bridal info sheet and then a phone call to go over it and discuss any reviews. My now husband and I had a few requested "must play" songs and they hit them all. I definitely look forward to recommending the Creations to my not yet married friends, so that I can see them again and again! Thank you Kim for everything! You rock!


Creations Music's reply:

Such an amazing wedding !Thank you for having us!

Mark

Married on 12/16/2017

Creations Music nailed it at my daughters wedding. They helped to create a vibe so good that the dance floor was filled
all night long. And, my guests kept telling me so!

Jared

Married on 12/02/2017

My wife and I first discovered Kim Sozzi and her band about 5 years before we got married. At the time, my girlfriend (now wife) and I were at our first wedding together where Kim and her band played. It was the most INCREDIBLE band and party we had ever seen at a wedding. The dance floor was always packed with people of all ages, and the flow of the music / party could not have been any better. We pretty much decided that day we knew Kim Sozzi had to play our wedding. But, we also knew we had a few years to think it over, and would go to many other weddings where we be able to see what else is out there. Over the last 5 years we have been to over 20 weddings, all over the country (California, New York, Michigan, DC, Boston, Brooklyn, Arizona, Pennsylvania, Seattle) where everyone had hired "the best band", some flown in from other states because they were so good. And many of them we're very good, if not great. BUT none of them had that wow factor and energy that we felt when we saw Kim Sozzi and her band play that 1st time. After meeting with the top wedding band agencies in New York City, and hours and hours of internet research it was settled. That 5 years ago our instincts were right and we had to get Kim to do our wedding.

I am not sure I can put into words to express exactly how great Kim and her band were at our wedding. But, as all of our 230 guests said their "goodbyes" and "thank you's" to my wife and I after the wedding, every single one of them told us how amazing they thought the music and the band was. Kim even got a few new clients at our wedding who decided that night they needed her to play their wedding as well. Our wedding was the incredibly fun dance party we had so badly wanted it to be, and it is all thanks to Kim. There is no question in my mind that there is no one better to have play any wedding or affair of its kind.

Amanda

Married on 10/14/2017

We hired Creations Music immediately after seeing Kim at two other weddings (we had to move fast to secure them!) I cannot say enough positive things about both the experience leading up to the wedding and the wedding itself. The band absolutely crushed it, and every single person who attended raved about them. They know how to start a party and keep the energy alive all night. Leading up to the wedding, I didn't have a ton of time to meet or talk through things due to work, but Creations Music is a well oiled machine. It is SO nice to not have to worry about it and just trust that the music is going to be amazing!

Caitlin

Married on 10/07/2017

When we first hired Kim and Creations Music for our wedding, we knew they would be fantastic. But they truly exceeded our expectations. From the start, Kim was so much fun to work with - always enthusiastic, accommodating, and responsive. She fulfilled all of our little requests - even doing a specific version of our first song (and absolutely nailing it). They are so talented and play the MOST fun variety of music. All of our guests were raving about it and we are all still sore from dancing so much. Kim and her band helped make our wedding day the best of our lives. We couldn't be more impressed and grateful!

Creations Music's reply:

Thank you so much for the wonderful review ! We loved every minute of your wedding ! I love my job even more when I see these reviews ! Wishing you and Kevin a lifetime of happiness !!

Allison

Married on 09/30/2017

We had Touch of Soul as our band for our wedding reception and LOVED them!!! Kim was great to work with and she did an awesome job working with us and the band in advance to make the evening perfect. It's really helpful that Kim is a music artist (and a perfectionist) so she really understands the creative details needed to make your wedding reception an incredible experience. The band was so much fun, super talented, had great energy, and really managed the flow of music to the crowd all night long. I think most importantly they made it feel personal and it wasn't a random mix of songs that could have been at anyone's wedding. I spent most of the night on the dance floor with everyone else at the wedding! :) Also Kim's string trio for our ceremony was amazing too - highly recommend!!! Our wedding could not have been more perfect and I feel so lucky to have worked with Kim and Touch of Soul. I wouldn't think twice about booking them!!!

Jessica

Married on 08/19/2017

WOW- two weeks later and my feet still hurt from dancing. I could not have asked for a better experience, my guest even demanded an ENCORE, to which Kim and her band happily obliged for the most epic rendition of SHOUT i have ever heard. From the second we met Kim, we knew she was going to make our wedding. She is easy to work with, very responsive, and listened to our suggestions- the mix of music for both the older and younger crowd kept everyone on the dance floor ALL night. She even played two songs with my husband on piano and guitar. She kept the dance floor packed ALL night and people did NOT want to leave, even after they stopped playing. People are still talking about what an amazing band they are- everyone was sore at brunch the next day from dancing so much! Thank you Creations and Kim for exceeding expectations, somehow getting a passive bride on stage with her husband (still can't believe it!) and giving us the best night of our lives!!
Are you interested?
Send a message