60 Reviews
Recommended by 99% of couples
Quality of service

4.9 out of 5 rating

Average response time

5 out of 5 rating

Professionalism

5 out of 5 rating

Value

5 out of 5 rating

Flexibility

5 out of 5 rating
41 User photos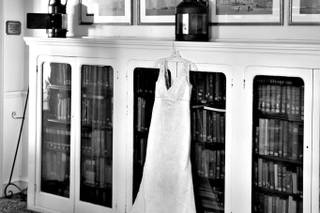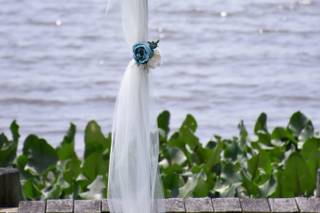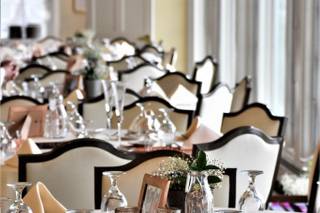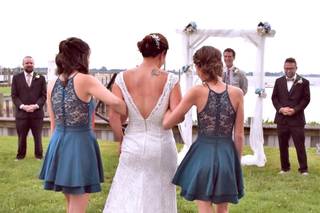 + 37

photos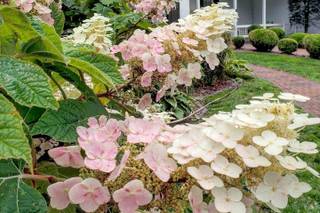 Featured

Misty E.

Married on 07/04/2020

Best Wedding Venue on the water


We got married at the Corinthian Yacht Club this past June and it was absolutely spectacular! We absolutely loved this venue! We were searching for a venue that was entirely on the water but intimate as well and this was the only one we came across. I strongly believe you won't find anything like it. All of our guests were blown away. The mansion itself is so beautiful and there are a million spots to take amazing photos. We loved this venue and had no regrets. Meg the event coordinator was super friendly ,very responsive ,and was there to help with every detail! She & her staff were an absolute delight to work with! It took away so much stress knowing they had everything under control. I can't begin to describe how accommodating they were. We were thrilled with our choice to go with The Corinthian Yacht Club of Philadelphia. Definitely book this place for your wedding you won't regret it! I'd give them 10 stars if I could!

+ 3

photos

Dawn F.

Married on 06/19/2021

Happily Ever After

If you want to have your wedding at a place that will care for you like family, this is the where to have it! Everything was flawless! Food was delicious and the view spectacular. Really can't say enough about this lovely venue.

+ 3

photos

Susan S.

Married on 05/29/2021

Wedding on May 29th

My wedding was at the Corinthian Yacht Club on May 29, 2021. Cannot rave enough about the venue (spectacular views), food was delicious and best of all dealing with Danielle who was professional but friendly and down to earth and was diligent with answering all my questions and taking care of every detail promptly. Jim and I are very happy we chose the Corinthian Yacht Club for our wedding. Highly recommend!

Are you interested?

Send a message

Patricia H.

Married on 12/12/2020

Absolutely Awesome

2020 wedding moved to 2021 and we were forced to change our venue because of Covid. The Corninthian Yacht Club of Philadelphia made all the hectic changes so much easier and stepped up to provided a perfect outdoor option with so much flexibility. And the inside is fabulous as well. The views are gorgeous, the sunset is perfect and I can't begin to say enough about their coordinator. She talked me off many a ledge and made every single thing run perfectly. I showed up from the church to an absolutely beautiful reception that was perfectly laid out, perfectly timed and as my daughter said, it provided her the "best day of her life". The banquet staff provided delicious food and worked with me on my changes I needed up to the last minute. They could not have been more accommodating. And so incredibly affordable. I only have one daughter, but if my husband isn't careful I'll have my second wedding there ;)

Melissa

Married on 10/03/2020

Beautiful venue!

Due to the circumstances of 2020, we were pretty much forced out of our original wedding date and venue. We found the Corinthian Yacht Club and immediately decided to change everything to have our wedding here.

The venue itself is absolutely beautiful. I loved that we were able to use the whole property for our guests to enjoy. Everything was perfect.

Meg was so helpful from beginning to end. She answered all of my questions in a timely manner and was so easy to work with! She took so much stress off of me and made the day absolutely amazing.

I'm so glad we decided to replan our wedding and have it at the yacht club, would definitely recommend!

Bernadette D.

Married on 09/26/2020

Absolutely Amazing!!

Due to covid we had to reschedule my wedding 3 times. Meg was absolutely amazing and went above and beyond to make me feel calm and comfortable throughout the whole process. We finally got married on Oct 22, 2021. Everything was beautiful, the food was great, and they treat you like family. I highly recommend!!

+ 7

photos

Angel H.

Married on 08/22/2020

amazing experience

I am in the process of planning my wedding at the Corinthian Yacht Club. The sales rep Meg has helped me so much with any questions I've had and responding almost immediately. She also has allowed me to stop by whenever to show my family members the place! couldn't ask for a better person helping me with my big day

Stephanie P.

Married on 08/21/2020

Our DREAM wedding!

As soon we saw this outdoor space (way back in 2018), we knew this is where we wanted to have our wedding! Danielle effectively communicated, quickly responded, and answered all questions. She even allowed us to visit the venue multiple times! 2020-the year we have been looking forward to- became worse than any "wedding nightmare" I have had. Our date was postponed. Danielle genuinely cared for us and gave us the hope to keep planning for the new date! Normal wedding planning was accompanied with COVID requirements and additional worries. The staff at the CYC had everything on their end organized and planned to move forward. I cannot thank the staff enough for all the work they put in to make our day perfect! Everyone loved the food and raved over the views all night long! Our families and friends said that night was exactly what they needed during these crazy times. Thank you CYC for allowing us to have our DREAM wedding!!

Kathleen F.

Married on 04/17/2020

Beautiful venue for an outdoor wedding!

After we had to cancel our original wedding plans b/c of COVID, we found Corinthian and it was exactly what we were looking for! The water and sunset provided a beautiful backdrop, and there was plenty of space for people to spread out and feel comfortable. Meg was amazing to work with - super accommodating and flexible, and made us feel at ease throughout the whole process (especially since we rescheduled everything in about a month!). We had an awesome experience and would definitely recommend this venue!

Melissa

Married on 10/12/2019

Absolutely beautiful!

I can't say enough about how perfect this wedding venue and staff are! Danielle and Greg were absolutely amazing to work with - so friendly and down to earth, very organized and prepared for any question or concern you might have. They did just about everything for us and made the day totally stress free! The venue itself was absolutely beautiful! The view by the river made for the perfect ceremony and the sunset could be seen from inside during dinner and it was just spectacular. The food was delicious, the wait staff was incredibly nice... I could go on and on. The best decision of our wedding, by far!

Corinthian Yacht Club of Philadelphia's reply:

I am humbled to receive such rave reviews! You and your families were so delightful to work with that your day was wonderful for all of us too! At one point Danielle was watching you both dancing and she said to me "look how much fun those two are having, isn't it a lot of fun to work a wedding where everyone is enjoying themselves so much?" I couldn't agree more! I hope to see you both again and soon!

Vanessa R.

Married on 05/11/2019

Excellent wedding venue!

Everyone was blown away by our venue. The food was amazing! The service was outstanding and the venue itself, so beautiful! We could not be happier!

Roseann

Married on 05/11/2019

Absolutely Perfect

The venue is beautiful. Recently remodeled while keeping its old fashioned elegance. The view from every window leaves you speechless - the river, the skyline, the sunset ! The food perfectly prepared. The staff worked tirelessly all evening while smiling until the last guest left. There are no words to describe Danielle who worked alongside the staff the entire night. She is a dynamo. She and George (the manager) answered every question (there were many), they responded to every call and e-mail (nervous mother so there were many) and made helpful suggestions and offered calming support. Could not ask for more. The venue, staff, food, management - even the weather was perfect (Danielle probably demanded it).

Suzanne

Married on 04/27/2019

Perfect venue for our perfect day

I will try not to be too effusive so it sounds believable, but we truly had a perfect day here. George was with us for the pre-planning and completely exhausted himself on the day of our event to make sure there were no wrinkles. He coordinated with us to get the decorations right, answered all of our questions over the year of planning and was flexible on basically everything he could be flexible on. The costs were completely reasonable and the venue was gorgeous. Would 100% recommend if you have a wedding that isn't too large for the venue. Fantastic outdoor spaces as well!

Kati

Married on 09/29/2018

September Wedding

We had the most amazing experience with CYC. From the moment we walked in we knew this was the perfect place for our wedding. The venue itself is gorgeous and littleknown. We are still getting compliments on what an amazing wedding and venue we had.

There was a change in leadership during our planning period and though that was initially a concern, Danielle did an excellent job managing through that change and keeping track of what we had talked about. She was there every step of the way and whenever I called or emailed her she responded promptly. At our wedding and rehearsal, she was very proactive and made sure everything went seamlessly.

Overall, I can't name anything that I was dissatisfied with. The only thing I will say is that I probably wouldn't have a wedding of 100+ there, ours was about 90 which was perfect. Also, I'd suggest that anyone with a large bridal party get ready elsewhere since the bridal/groom suites are a little tight.

Amazing venue, amazing people, and we are forever grateful for all of the effort they put into our special day.

Alisa

Married on 09/15/2018

Fabulous service and day-of!

We fell in love with the Corinthian Yacht Club (CYCOP) the second that we saw the property, and booked our wedding right away! The grounds are gorgeous and we had our ceremony on the dock and reception outside. Danielle handled all of my (very many) questions with patience, and everything went smoothly. They were great at handling all our requests and flexible with our needs. I could not recommend Corinthian more!

+ 11

photos

Teresa

Event on: 07/09/2017

I cannot heap enough praise on the people of The Corinthian Yach Club. My guests needs and wants were immediately anticipated by a staff that was professional, personable and friendly. The chef prepared food that was fresh and simply delicious. The omlets were light and fluffy, the salmon moist and the flank steak tasty and tender. Even the Eggs Benedict, a risky dish in my experience, was wonderful!
The venue is a classic. Right on the Delaware River and in great repair. The restrooms were clean, modern and comfortable. In my option The Corinthian Yacht Club is an excellent value and a fantastic place to host a bridal shower.

Heidi

Married on 06/03/2017

Two weeks before my wedding, I found out that Greg, the venue's built in coordinator, had quit. I thought the wedding was doomed! Danielle to the rescue!! Danielle is Greg's replacement, and although not as laid back as Greg, she was 1000% as competent. She was completely on top of things, down to the smallest detail that I thought only the bride would notice or care about. Danielle cared just as much as I did which was wonderful! I felt so reassured having somebody listen and take notes so that she could be sure the event would carry out as I envisioned. The night couldn't have been more beautiful. I wish I could figure out how to share pictures along with this post. The venue is a hidden gem, and unlike SO many other venues in this area, you don't have to pre-select a cookie cutter wedding. In fact that's why I chose Corinthian! The wedding is all your own, you choose your vendors, you choose how and where and in what order things are done, the menu is completely flexible, etc. Plus open bar. Huge plus. I can't recommend this place highly enough and am so fortunate that I happened upon it!!

Amanda

Married on 04/01/2017

We had our wedding here on April 1, 2017 and it was absolutely perfect! I know this venue has nothing to do with the weather forecast but being April 1st we were nervous about the cold and rain but it was perfect. We were able to get married outside and in the exact location we wanted. The general manager Greg was great. Professional, quick to get back to me and made sure our day was everything we told him we wanted it to be. The staff was friendly, attentive and very helpful in anything and everything everyone needed. They decorated the venue for us with the things we were able to drop off a week ahead of time. And they did a perfect job. The food was on time, hot and excellent. The bar service was great as well. I would highly recommend this amazing wedding venue to everyone I know. EVery guest I spoke to told me how wonderful of a job we did picking the venue, even my uncle who is a huge critic of EVERYTHING! If you want to get married on the water and want an affordable place this is the place to go! Top notch service, flexible & friendly for a great price!

Susan

Married on 01/07/2017

This was an excellent venue - everyone that attended my daughter's shower raved about the food, the view, and the overall ambiance. I would book it again for another event. Greg and staff were wonderful to work with.

Katie

Married on 09/24/2016

If you're looking to do a beach wedding without having to go to Jersey, this is the place to do it. We had actually gone to a wedding here in 2011 and as soon as we pulled up to take the tour, we just knew it was perfect for our wedding day. Greg and the Staff of CYCOP are AMAZING!!!!!

Tracey

Married on 09/10/2016

My husband and I are very happy we chose the Corinthian Yacht Club to host our ceremony and reception. The location is absolutely beautiful and we received so many compliments from guests on the delicious food and unique atmosphere.

Lauren

Married on 09/09/2016

This venue was wonderful and Greg and the staff were completely awesome, helpful and professional. My husband and I are so happy to have found this beautiful venue that helped us fulfill our "beach/starfish" themed wedding in the landlocked state of PA. Thank you so much!

Marcus

Married on 08/27/2016

The Corinthian was absolutely amazing! This place really is a gem, and the staff were all incredibly helpful and accommodating to our needs. I highly recommend you go down there and take a look at what they have to offer. We also had a strict budget to stick to and Greg worked with us on our true must-haves and was able to cut out some of the unnecessary expenses in order to make it work.

Maureen

Married on 06/11/2016

I would definitely recommend if you want an outside, beautiful venue and a price you can afford. Greg was the absolute best with planning. He works with any budget. I had so many unnecessary questions because he had everything under control. I told him what we wanted and he ran with it. He was never pushy, always took time with me. I did eventually stop asking and calling him because of my confidence in him and his team. He was fun to work with. I was a local, lived across the street so I know the place well - but never in my wildest dreams would I ever imagine that I could pull off a wedding that my friends, family and co workers would continue to tell me was perfect and the best wedding they were ever at. The food and drinks were awesome and it didn't help that my DJ rocked too... But I knew when I met Greg and his team that it couldn't go wrong. Thanks everyone at the CYC of Philadelphia for making our day perfect - we highly recommended :-)

Amy

Married on 06/04/2016

My husband and I had our wedding reception at the yacht club on Saturday and everything was amazing! If you are looking for a non traditional wedding venue this is the place to have your wedding! Greg and the rest of the staff were absolutely incredible! Between the view, huge amount of outdoor space and staff the venue was flawless! Highly recommend this venue!
Are you interested?
Send a message