66 Reviews
Recommended by 98% of couples
Quality of service

4.9 out of 5 rating

Average response time

4.9 out of 5 rating

Professionalism

4.9 out of 5 rating

Value

4.9 out of 5 rating

Flexibility

5 out of 5 rating
11 User photos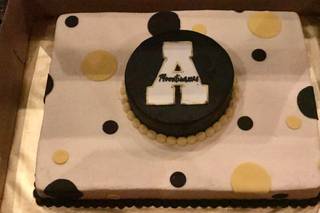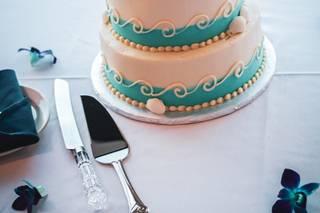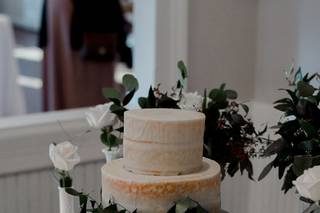 + 7

photos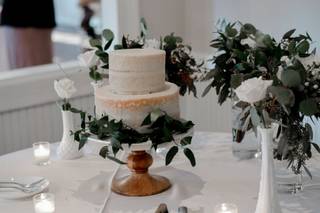 Ivey B.

Married on 02/09/2022

Very helpful

Best cake in town. Laura was super sweet and accommodating.

Amanda T.

Married on 08/14/2021

Laura is the best!

Laura is an incredible baker and made selecting our cake one of the easiest experiences of planning our wedding. She was able to quickly guide us from unspecific desires to a concrete plan. We also didn't require any convincing that the cake was delicious. One taste had us both agreeing this was the best cake we had ever had. Her services were also beyond reasonably priced, making this selection a slam dunk and an incredibly easy recommendation.

Janet M.

Married on 07/18/2020

Delicious and beautiful

We were so happy with Confectionate Cakes! From the tasting to the big day, they were easy to work with, professional, and delivered a fantastic product.

Are you interested?

Send a message

Taylor T.

Married on 06/21/2020

Recommend to me!

Being that I am a pastry chef and was forbidden to my own wedding cake i had to find someone who do my wedding cake with perfection. I firmly believe that we have. She kind, and accommodating. Within the first appointment we knew what we wanted our cake to look like. We also knew by the end of that appointment that she was the perfect one for the job!

Confectionate Cakes's reply:

Thank you so much, Taylor! It was such a pleasure meeting you two and figuring out your dream cake for your wedding.

Karen A.

Married on 11/02/2019

Beautiful and tasty

Reasonable price, beautiful cake and very tasty. Huge hit. Thanks

Rachael

Married on 10/20/2019

Amazing!! Laura is the best!

My family has known Laura for as long as I can remember. We have had her cakes at every important function and she always nails it! Her cakes are seriously delicious and always beautiful. We loved our wedding cake and continue to get compliments on it! Thank you Laura!

Brianna

Married on 09/28/2019

Beautiful and delicious

It was a perfect low icing two tier cake with fresh flowers , cake was beautiful and ready when we had agreed. No complaints at all!

Donna M.

Married on 04/20/2019

Delicious, fun, awesome cake!

Planning my beach wedding remotely was a handful, but Laura at Confectionate Cakes made the wedding cake planning completely stress free! She happily accommodated all of our flavor requests, took care of the custom cake topper that I had shipped directly to her, and decorated the cake in a fun yet elegant beachfront theme. It was perfect! And the taste! Everyone raved about the cake. It was completely gone by the end of the night. Laura's buttercream icing is hands down the best! Pick Laura for your cake needs, and you won't be disappointed!!

Confectionate Cakes's reply:

Thank you so much, Donna. It was a pleasure to do this cake for you. I'm so glad everyone enjoyed it, but specially glad you and Randy were happy. I wish you two a wonderful life together.

Riley

Married on 03/23/2019

Piece of Cake!

Laura was helpful, flexible, and super fair with her pricing. She took the time to meet with me for an initial consultation and then was so kind as to bring the cake samples to my work so I could easily take them home for me and my fiance to try. This cake is truly the best I have ever tasted, my husband and I ate a little bit every night of one of the leftover layers. Seriously so rich and decadent. We can't wait to dive into our anniversary layer. Great experience, would recommend Laura to any brides I know!

Confectionate Cakes's reply:

Thank you so much, Riley for taking the time to do a wonderful review. It was my pleasure working with you. I wish you two all the best.

Kathy

Married on 03/10/2019

Cake was everything we wanted

The cake was excellent. It was not only beautiful but was highly complimented by the guests. It was a tasty work of art.

Confectionate Cakes's reply:

Thank you, Kathy. It was a pleasure. I live doing what I do, and with wonderful couples, it makes it that much better. Many blessings to you both.

Jacqueline

Married on 10/19/2018

Beautiful... TASTY cakes!!

My husband and I chose Laura to make our cake early on in our wedding planning. She really did take the description in my head and create my dream wedding cake! When I saw it for the first time in my reception, I was in awe! My guests couldn't stop complimenting the beauty... and the TASTE!!!

Confectionate Cakes's reply:

Thank you, Jackie! It was such a pleasure to work with you and Kamlesh. I wish you all the best in your lives together.

Lizzy

Married on 09/01/2018

So helpful

Not only was our cake delicious, it looked great. She was very accommodating and understanding when I needed time to decide or make changes!

Confectionate Cakes's reply:

Thank you, Lizzy. It was a pleasure. My job is easier getting being able to work with wonderful couples. I wish you a lifetime of happiness.

L'erin S.

Married on 07/27/2018

My wife and I came to Laura in a time of desperation! After searching for months and going to what seemed like a million cake tastings we had settled on someone who was booked and paid for. Without warning, our CONTRACTED cake person closed her cake business and we were back to square one. When we met Laura she assured us she could get our cake and cupcakes done in time, with the design we wanted and the almond flavor we had already had our hearts set on. She even offered to set up our cake table with the tulle and lights I had already purchased at NO ADDITIONAL CHARGE!!!! Her demeanor was pleasant her cake and cupcakes were delicious, and she was such a joy to work with! We loved our cake so much that we removed our top layer from the freezer just a week later and ate it (so much for waiting until our 1 year anniversary).

Viveca

Married on 06/02/2018

Confectionate Cakes are the best!! Laura made my wedding cake with the fresh strawberries. All I can say is "It was Awesome". My guests absolutely loved it!! She was on time to set up my cake and the table looked beautiful. If you need a specialty cake and want it to taste and look good, get a cake from Confectional Cakes and you won't go wrong! Thanks Laura!!

Kelsey

Married on 10/14/2017

Our wedding cake was absolutely delicious. Every person at the wedding raved about how good the cake was- people said it was the best they have ever had at a wedding. It was so moist and Laura is able to make you any flavors and combinations you can possibly imagine. Laura was also so helpful during the planning process - giving us anything we needed to help us during our tastings or when we changed our minds multiple times. The prices were also VERY reasonable.

Confectionate Cakes's reply:

Thank you so much Kelsey. I love working with wonderful couples as you two. I wish you both many blessings and the best in your future together.

Briana

Married on 10/07/2017

We had the pleasure of having Laura make our cake for our wedding. We told her exactly what we wanted, and she customized everything to our liking. We had three different flavors. Every layer tasted terrific and moist! We would recommend Confectionate Cakes to anyone in a heartbeat! Thanks again for everything, Laura!

Confectionate Cakes's reply:

Thank you so much! It's always such a pleasure to get to work with a wonderful couple. Many blessings on your life adventure together. All the best, Laura

Stacie

Married on 07/01/2017

Laura's cakes are beyond delicious! Her cakes have that homemade taste we were looking for with the professional designs you'd expect from a place that has a whole team of people working on it. Our venue got warmer than it should have, but our cupcake tower and top cake withstood the heat and still tasted amazing!! Working with her was fun and easy and we would absolutely call her again for future cake needs!

Confectionate Cakes's reply:

Thank you for your kind words, Stacie. Working with great couples like yourself, makes my job more fun and enjoyable.

We just returned from our cake tasting and selection. Laura made this process a "piece of cake for us". We gave her a picture of what we wanted and she kept it right on our price point and added the baby's breath cake topper for us. Laura seems to be down to earth and is a like-able person. We are very much looking forward to our end product and believe from our experience that it will be what we have envisioned. Thank you Laura!

Confectionate Cakes's reply:

Thanks, Cathy! It was a true pleasure meeting with you and Chris!

Shannon

Married on 04/08/2017

OMG! Not one thing would I change about our wedding cake! Laura was exactly what I was looking for - a professional with ideas and suggestions. We taste-tested and consulted with 4 other different vendors - they all had good tasting cake, liked my ideas and said "sure, we can do anything you want" or "sure, we can make it that way". Laura was the 5th vendor (best for last unbeknownst to me!) - she took my ideas, turned them on their head and came up with the vision I had really wanted but couldn't put into words! And, she was the only one that actually took out colored pencils and paper and drew the cake of my dreams!!! I knew right then, she was the one. Now, on top of that, she had THE MOST DELICIOUS CAKE of any we tried. I mean moist and full of flavor and fresh ingredients. We had a 3 tier cake - each one different & personal to our likes - bottom was a dark chocolate cake with a mocha buttercream filling, middle was a strawberry cake with strawberry buttercream (both with fresh strawberries throughout), and top was a vanilla bean cake with lemon curd and lemon buttercream. I'll say it again - OMG!

Confectionate Cakes's reply:

Thank you SO much! And thank you for allowing me to make your beautiful cake. You two were a dream to work with. I wish you many blessings in your future together.

Casee

Married on 03/04/2017

Laura was super easy to work with and makes a delicious cake! All we had to do was describe what we were looking for in a design and she had a color drawing completed in minutes! We had to add on 25 extra people about 2 weeks before the wedding and that was not a problem either! Thanks Laura!

Nicole A.

Married on 02/05/2017

Absolutely the BEST cake in the triangle! From our first meeting, we knew we just had to have Confectionate Cakes! Extremely easy to work with, amazing flavors, and they know what they are doing! No tasting fee, and we were able to try different combinations of flavors to get the exact flavors we wanted for our cake! We had an idea of what we wanted our cake to look like, and Laura brought it to life! The cake looked amazing and even tasted amazing! There were no slices left! People still tell us that it was the best cake they've ever had at a wedding. We can't wait to get more cakes from her for anniversaries and birthdays! Book Confectionate Cakes. You won't be disappointed!

Confectionate Cakes's reply:

Thank you, Nicole and Robert! You two were such a great couple to work with and it was truly an honor to be included in making your special day wonderful! I wish many blessings to you.

Morgan

Married on 01/28/2017

Book Confectionate cakes!! First, the cake tasting was so fun and delicious. It really was so easy to pair our favorite flavors together! Next, designing the cake was so easy and it was everything I wanted!! They were so flexible with every part of the process and we are so happy with our decision! A lot of cake vendors made you pay for the cake tasting and they gave you either too many options or not enough that it was very difficult to make a decision. With Confectionate Cakes, this was not the case. They also were very accommodating to my budget and made sure to give me options with the design to best suit my dream plus what my budget would allow. I really wanted a small cake even though I would need a big one to feed all the guests. Most bakeries quoted just a bigger cake and would not accommodate the design I wanted. Confectionate Cakes had sheet cake made in the back for the majority of the guests so that I could have the cake I wanted. There are so many more examples of how wonderful they were - but hopefully you get the point! Lastly, all of the guests ranted about how good the cake was: white velvet cake, fresh strawberries, and white chocolate buttercream, and said they never actually enjoy wedding cake and they LOVED ours!

Confectionate Cakes's reply:

Thank you so much, Morgan. Your "sweet" words are greatly appreciated and it was my pleasure to help make your day less stressful and you be able to have your dream. Wishing you all the best in life....Laura

After contacting numerous bakeries in the Chapel Hill / Raleigh area, our phone conversation with Laura (owner of Confectionare Cakes) instantly made us feel she was the one we wanted to work with. Her cakes are amazing! Very moist, and the layer filling options we selected drew rave reviews from our guests. Her 'Biscoff Cookie Cream' filling in particular was a favorite of ours'. Laura was very easy to work with. At the last minute we realized our guest count was going to be around 50 more than we had expected. Laura handled this change with ease. Laura also made an incredible grooms' cake - very detailed 3 dimensional cake which included a replica of the "Old Well" on the UNC-Chapel Hill campus, along with a depiction of a particular fraternity house and the UNC logo. We very highly recommend Laura with Confectionare Cakes. Working with her was an exceptional experience.

Confectionate Cakes's reply:

Thank you so much! Wishing you all the best for a healthy and happy new year!

Laura makes the best cakes. She is really easy to get a hold of. I do think word is starting to get out on the street though because people are booking her over a year in advance. If you want an awesome cake both in taste and looks get the cake from Confectionate Cakes.

Confectionate Cakes's reply:

Thank you! I'm truly thankful to have such wonderful brides....and grooms!

Ariel

Married on 07/08/2016

Finding Laura was such a blessing! We had tried so many cakes and felt that many of them were dry or just not good enough for our wedding day. We set up a tasting with Laura and were blown away! Everything we tried, we loved and we ended up having one cake flavor throughout our 3 tier cake, but two different kinds of fillings because we could not decide on just one! We brought picture of what we liked and Laura sketched a cake and tweeked it until it was exactly what we wanted! On the day of our wedding, it was beautiful and tasty! We could not have asked for more!

Confectionate Cakes's reply:

Thank you!
Are you interested?
Send a message