59 Reviews
Recommended by 99% of couples
Quality of service

4.9 out of 5 rating

Average response time

4.9 out of 5 rating

Professionalism

4.9 out of 5 rating

Value

4.9 out of 5 rating

Flexibility

4.9 out of 5 rating
10 User photos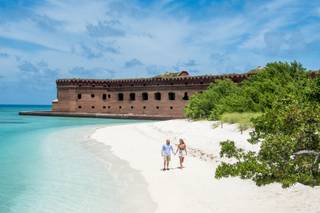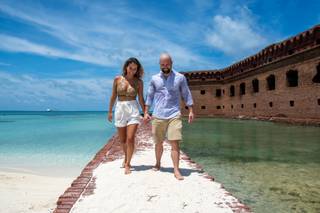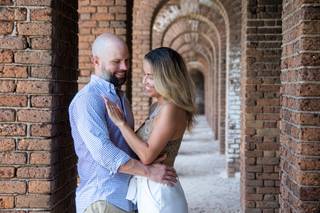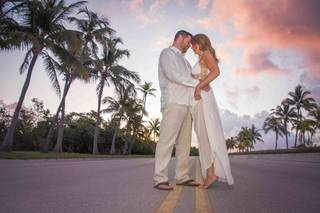 + 6

photos
John P.

Married on 12/06/2021

Amazing, wonderful people who really love their work!

Ok... full disclosure, I bought a ring with no time spent thinking about how I would actually purpose. I mean the hard part was done, right? So I'd hoped. Like many other guys, I wanted to make the moment special and the gesture memorable, but without all of the added theatrics. The problem for me, everywhere I searched online and every article I read seemed to hover somewhere between way too cheesy or just way too lame and cliche.

So, after spending the last few months under quarantine, my fiancé and I decided to take a staycation and drive down from Orlando to Key West. A great idea, except for the fact that we're a bit impulsive and planned just three days out... a real problem for a guy with a ring and no clue on how I was going to pull off being romantic, thoughtful and spontaneous! Especially when the later don't always coincide.

Nevertheless, as we're laying in bed thinking of things to do while in town, a quick google search pulled up some of Michael's photos taken at Dry Tortugas National Park. My fiancé gasped... "Aw, how special? I wish we could take pictures like that" and fellas the light bulb completely went off! We finally agreed on a day trip to Fort Jefferson (Dry Tortugas). The day was set and the plan went into motion.

Knowing time was almost non-existent, I waited until she feel asleep and emailed Michael at some ridiculous time at like 1am. My e-mail literally said "Hi, I'd like to purpose during a day trip to Dry Tortugas. We're going to be there in three days, sorry for the short notice. I saw your photos and LOVE them. Please help!"

The next morning Michael texted me, in full stealth mode... "Hi, call me asap to discuss your trip". A short phone call later, I was sold! This guy knew EXACTLY what he was doing. In less than an hour, he helped me plan the most incredible proposal ever! Ok, I'm a little biased but everyone else seems to agree also.

In short, Michael and Rosa secretly followed us during our day trip to Fort Jefferson. They thought through ever little detail and even convinced the pilot of the small sea plane that we charted to let us sit in the front two seats so they could take pictures behind us. Once we landed, we walked around aimlessly for 15 minutes or so, until I saw Rosa and Michael and gave them the cue. I dropped down and one knee and the rest was simple... After the deed, they followed us for the remaining time we had on the island and gave us some of the most beautiful photos I've ever seen. I'm not sure which she was happier about, the pictures, or the proposal.

Michael and Rosa are amazing, wonderful people who really love their work and it shows. Michael, Rosa... update your resumes... and be sure to add in proposal planner and magician! With our deepest appreciation, Thank YOU!

Terry H.

Married on 02/14/2020

Great special day

We had an awesome experience and would recommend this vendor to other couples.

Shannon A.

Married on 11/02/2019

Perfect ceremony

Michael helped turn this into the best ceremony!!! He kept it short, but provided some very meaningful passages and comments. He rolled with our humor, and made it exactly what we wanted. Thank you so much Michael!!!

Are you interested?

Send a message

Erica

Married on 12/01/2018

Laid Back and Sincere

Low key, laid back, and lighthearted.
Exactly what we wanted. Michael did a fantastic job.

Melissa C.

Married on 11/07/2018

Excellent Service. Our day was Perfect!

We were married on November 7th. On Smathers Beach. It was beautiful. It was worry free. We arrived on Key West Via Bubba's Pampered Peddlers. (bicycle ride). All we had to do was get ready at the hotel and Conch Concierge took care of everything. It was perfect!

Becky

Married on 07/21/2018

Michael and Rasa were fabulous!! They were flexible and accommodating so we could make our wedding personal. They gave us the wedding of our dreams! Rasa showed us a few of the pictures and they were beautiful! We can't thank them enough!!

Kerrie

Married on 06/05/2018

Conch Concierge is absolutely the way to go! You will not be disappointed! I can't say enough good things about them or give them enough stars. I highly recommend the sunrise ceremony- the sun rises on Smather's Beach. Yes, it was very early (6:38)- but the beach was so private and peaceful at that time. Another perk to having it so early is you avoid the heat/humidity that comes later in the day. Also, I didn't have to be nervous the whole day leading up to the ceremony. It was over super early and I still had the ENTIRE day to enjoy my wedding day. Rasa took the most AMAZING pictures I could have ever imagined- they both made our day so special and took so much time and attention to detail. And how could I not mention that the price is fabulous for what you get in return! I could not have imagined a more perfect experience.

Debra

Married on 05/14/2018

As mother of the bride, I highly recommend Michael and Rasa for your wedding event. They went beyond all expectations making sure that everything went according to my daughter's adventure themed destination wedding to Dry Tortugas in spite of weather delay and having to do 2 ceremonies! Michael made the process so unstressful in an otherwise stressful situation of weather interfering with original plans to fly out to Dry Tortugas on their planned wedding day. It resulted in a impromptu ceremony at our Bed & Breakfast under a covered lanai with beautiful natural garden setting. Rasa's creativity of re-arranging furniture and her professional artistic eye went to work with setting the stage for this to happen NOW (since the couple's marriage license was to expire the next day), all the while with German guests of honor looking on! Everything about the ceremony, the vows, the photography, and Rasa's beautiful bridal floral arrangements, it went so beautifully well! However, my daughter's dream of having the wedding at Dry Tortugas was still her heart's desire. With Michael's desire "to please", he said maybe we can make that happen! He immediately got right on it, making all the arrangements with the Seaplane Adventure checking to make sure they had an opening the next day with weather improving. He scheduled everything again; the limo driver to the airport; the provisions even taking their extra "day off" to do it all over again! The ceremony at Dry Tortugas was once again performed and this time every bit of as personal and memorable as the day before. Both Rasa and Michael truly went above and beyond to make sure that my daughter's special day was every bit and more than she could have imagined! I am so grateful to both of them for making my daughter's wedding such a success and making her dream come true. I know it would not have ever happened without them! It was worth every bit and then some!!
Debra





Shauna

Married on 03/21/2018

Michael & Rasa far exceeded our expectations. We eloped from Michigan & are so thankful we chose Conch Concierge, our ceremony was perfect! Beautiful words, beautiful beach, beautiful & kind people thank you Michael & Rasa.
~Shauna & Nathan


Sara

Married on 03/07/2018

Better than I imagined. Very meaningful ceremony for just my husband and I.

Carrie

Married on 12/20/2017

Michael made our ceremony very special for ourselves and guests. We have been to many other friends' weddings that are not religious based and the ceremony always seemed very short or lacking heart/emotion. Michael had some very beautiful readings and our guests really enjoyed the sand blessing and conch blowing. It made the ceremony feel very special. If you are going to splurge only anything be sure to add photo time, the pictures Rasa created are amazing and everyone is commenting how well they turned out. We are very happy with our decision to work with this team and hope we can visit again for a vowel renewal in the future sometime.

Olga

Married on 12/02/2017

We had Michael officiate our wedding and found him last minute because our previous vendor cancelled a month before our wedding. It was meant to be! we loved Michael you can tell he loves what he does and he made our ceremony truly special! Thank you!

Nina

Married on 11/30/2017

There are not enough wonderful things to be say about this company. They made my destination wedding beautiful and a dream come true. They were always accessible, friendly, and personable. The ceremony was wonderful, and the photographs were magical. They are amazing!!! You will not be disappointed!

Hillary

Married on 07/25/2017

Professional, accommodating, an absolute joy of work with... whatever you have in mind they will deliver in an experienced, yet sincere, manor.

Cheryl

Married on 07/23/2017

absolutely amazing and fun experience

Michael and his team were very professional, fun and helpful. My bouquet was customized to my preferences and the photographer took some really great shots.
We decided to do a beach side wedding on Smathers Beach in Key West Florida. The arches were beautiful I let them know my favorite color was turquoise so they incorporated that into the arches. They also had rose petals and star fish lining the walkway.
I would highly recommend them to anyone interested in a meaningful ceremony, they made the experience wonderful.
Cheryl & Pat Giese Married 2015

Adriana

Married on 07/14/2017

Michael and Rasa did a fantastic job on our wedding day on 7/14/17. They are wonderful , flexible and great professionals. We were so happy with their service, had a memorable ceremony and the photos are absolutely fabulous!!! The bouquet I chose from their website was stunning. We were in awe when we saw it. If you want great service for your event, look no further. Michael and Rasa are the best in Key West !

Caroline

Married on 04/28/2017

Michael was our officiant, and he was absolutely amazing! Being from Miami, we didn't have a chance to drive down to meet him in Key West until the week of our wedding. We spoke a few times on the phone and communicated by email, and we were at complete ease with him and his ideas! Our guests loved him as well, and we all loved his personal touches to the ceremony with the conch blowing and signing ceremony!

Chase

Married on 04/09/2017

Conch Concierge Photography (Michael V. & Rasa) was easily the best professional photography company I could have chosen for my needs. Absolutely everything you want in professional photographers plus so much added value makes hiring Conch Concierge Photography truly priceless.

I hired Conch Concierge Photography of Key West for a surprise engagement proposal in January 2016. It was short notice and I was very unorganized with my ideas for the proposal when I first discovered Conch Photography. They were so patient and helpful in answering all of my questions and concerns about the big day. Speaking with Michael gave me complete confidence in their suggestions and their professional knowledge.

In regards to their quality and experience, I couldn't think of anyone else in Key West that I would rather hire for Professional Photography like engagements and weddings. Every photo is worthy of purchasing and they captured moments of my beautiful bride to be that will be cherished for decades by all of our friends and family. We all agree that Conch Concierge really went above and beyond anything that we could have imagined in regards to keeping these memories forever.

The Conch Concierge Photo Team is the team you happily hire and by the end of working with them, you consider them friends that you hope to find a reason to work with again. Michael and Rasa aren't just experienced photographers but incredibly nice, thoughtful and caring people that anyone would be lucky to have as their photographers for their own personal and special moment. Worth every hard earned penny and then some. Thank you Michael and Rasa.

Carol

Married on 02/25/2017

Michael was absolutely wonderful! Professional and serious when needed and lighthearted when appropriate. Very meaningful ceremony.

Jennifer

Married on 08/25/2016

Michael Vernon is the absolute best!!! We were so pleased with him--his demeanor, his personality-we felt like we had known him for years. He helped make our special day even more perfect. I would recommend him a million times over--he is a true professional and exceptional guy!

BOOK MICHAEL AND RASA FOR EVERYTHING YOU NEED!!!! :) This dynamic duo was absolutely amazinggggg!!! :) They were so helpful and even found time in their busy schedule to marry my fiancé, Stephen, and myself THE DAY AFTER WE CONTACTED THEM!!! :D I can't say enough things about their amazing service <3

Yulia

Married on 05/20/2016

What a beautiful job to bring happiness to the people! Michael and his wife Rasa are the ones who were meant to do this. From the first "hello" they surrounded us with the good energy and stress-free atmosphere. I could feel that they truly care about our special day and sincerely want to make it unique and unforgettable. Lovely ceremony and only positive emotions!

Charles

Married on 04/23/2016

Michael & Rasa are incredible people. They made our wedding completely awesome and stress free. They were excellent with all the ideas/organization and walked us through the entire process going above & beyond. We'd recommend them in the highest regard to anyone looking to get married!

My husband and I were recently married by Michael. I cannot express enough how wonderful him and his wife Rasa were. We happened to be running late and they were still so kind and helpful. As anyone who's been married knows the last few minutes are the most stressful. Rasa also helped me fix my as where my husband didn't know how to. Michael was also helped with husband with his tie. They were so friendly and professional from the beginning all the way to the end. They are so good as what they do and you can tell they really enjoy their job! They both did a wonderful job with photos to capture the moment just right. I feel as though I could never thank them enough! They would be my first recommendation to anyone!

Sheradee

Married on 02/16/2016

I can not say enough good things about Michael and Rasa, When I booked my wedding through the travel agent, Michael called me within hours, he stayed in contact with me for several months leading up to my arrival to FL via cruise ship. The day of the wedding he was in constant contact with myself and fiance as we were arriving at port. We asked him to do something extra for us and my fiance did not want to see me in my dress before arriving at the beach. Michael made it happen by coming to port and picking up my fiance and then coming back to the ship after taking him to the beach and picked me up. Michael went above and beyond our expectations and everything went smooth and was wonderful. Rasa did and amazing job on our photos and captured all the moments for us. These two are just amazing at what they do and I would recommend anyone and everyone to them. Just great people. They made our day special and stress free.
Are you interested?
Send a message