132 Reviews
Recommended by 97% of couples
Quality of service

4.9 out of 5 rating

Average response time

4.7 out of 5 rating

Professionalism

4.8 out of 5 rating

Value

4.8 out of 5 rating

Flexibility

4.9 out of 5 rating
24 User photos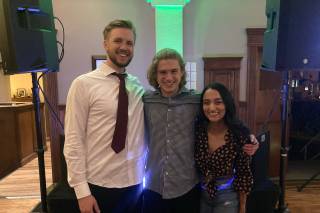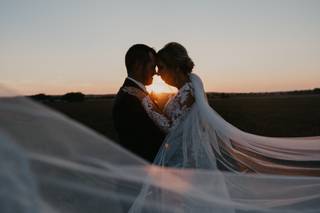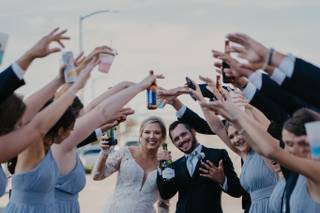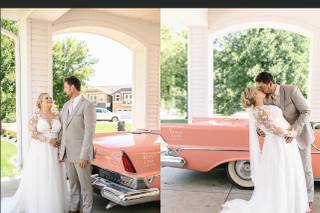 + 20

photos
Featured

Vortex S.

Married on 09/25/2021

Team Unforgettable

If you're looking for service excellence, you are in the right place. This Team made the night incredible and we had some quirkyness to work around. Sarah, Owner Complete Sioux Falls, made everything simply relaxed and just had us all the way. DJ Kyrin & Cathyliana offered tons of ideas on what would be appropriate and fun for our wedding guests' style and knew when to kick it into next level. They easily managed to keep our party going when we had to step out to visit guests around the property and finished our evening with a blast of fun. This was not our first experience with Kyrin and it won't be the last! Photographer / Owner Jennifer, Complete Lincoln NE, captured unforgettable. And I never dreamed the pictures could turn out so unique and perfect. We were so very lucky. How to thank this group of effortless professionals in a simple paragraph, I don't have the words and I wish I had them all working for me as FTEs. Ours and our family's hearts are and will continue to look back on this event, smiling. Thank you. ~NickNSandra

Samia

Married on 10/22/2022

DJ and Coordinator

Kaden was hands down the best DJ we could have asked for. Throughout the weekend and after the wedding, our family and friends are all in awe of how interactive, creative and helpful he was an felt like part of the family and support system in the planning and hosting. Due to our ceremony being online, we were having difficulties and Kaden was a great help while also doing such an amazing job on multicultural (South Asian American) aspects of our wedding/ceremonies. If we ever have a party in Sioux Falls again, we will be hoping for Kaden!

Tricia M.

Married on 09/24/2022

Absolutely fantastic!!

Brandon, the DJ, was fantastic. His equipment was perfect for the outdoor wedding and he kept the reception going with lots of energy. Becca the photographer was very artistic and got some really fun & great shots, very mindful of what the bride wanted. She was lots of fun. The videographer, Ryan, was also lots of fun ~ we're eager to see his work 🤍 The photo booth was run expertly and the guy kept everyone involved and having fun! Fabulous staff, and we are very grateful!

Are you interested?

Send a message

Brooke S.

Married on 09/17/2022

Very Helpful and Friendly!

Complete Wedding helped me with photography, DJ and videography. They all worked together and with us to help make our day go smooth! They helped us throughout the entire process and our day wouldn't have run as smooth without them!

Brittany T.

Married on 08/20/2022

Amazing Dj

Alaina did an amazing job! She was full of energy, very personable, and all around a great time. I had multiple guests comment how great she was. I would highly recommend her!

Ashley K.

Married on 08/20/2022

Complete Wedding + Events

Both my photographer and DJ were always quick to respond when I had questions prior to the wedding, as well as other coordinators with complete wedding + events. Noah, our DJ, played all our song requests and also suggested things through out the night to make the party as fun as possible. Cailyn, our photographer, did a great job getting all the photos we wanted and more! Neither my groom or I love taking photos but she had great ideas for poses.

Morgan C.

Married on 08/06/2022

Excellent!

Alaina was absolutely amazing! I knew when I met her over a year ago at a bridal showcase that she would be the perfect fit with our rowdy crew. And I was right. She was extremely attentive and thankfully able to make a few last minute changes for us. I had so many people come up to me stating that they thoroughly enjoyed her energy and spunk! She was quite literally the perfect fit for a perfect night! I will recommend her over and over to anyone that is looking for a DJ!!


Anndrea A.

Married on 05/07/2022

Wedding 5/7/22

WOW I dont think there are enough words to describe my experience with Complete Weddings + Events Sioux Falls. THIS COMPANY IS ABSOLUTELY AMAZING. They exceeded any and all expectations I had for my wedding day. Aside from marrying my husband, booking with Complete was the best decision I could have made for my wedding.

We booked photography, DJ, day-of-coordinator and a photo booth. Kyrin did a SPECTACULAR job of matching us with the absolute perfect Complete team member that matched our vibe.

DJ: Alaina is an absolute MASTER GURU when it comes to DJing a wedding. Not only are her skills absolutely amazing because of her attention to detail, access to amazing jams, and flexibility, but her easy-going personality made Alaina an absolute superstar at my wedding. She's one of those people you meet for the first time and say to yourself, "yep, she's my new best friend!" I did not want the night to end because we had such a blast! Leading up to the wedding, she was accessible and even offered tips and ideas for our day-of music. She didn't miss a beat when it came to any of the music that day, and our ceremony and reception were flawless because of her! Caden also teamed up with Alaina on our wedding day, and he is an absolute blast too. He got people on their feet, and kept the energy up the entire night. He was cordial and personable to all our guests and just an absolute joy to have around the entire night.

Photographer: we matched with Becca and I don't think we could have had a better photographer to fit our personalities. She went out of her way to make sure we were comfortable the entire day and was so, so flexible with constant changing of plans. Her attitude through the entire wedding day was absolutely amazing. She brought creative ideas and let us have fun with our own, and she was open to anything we wanted to do that day! Taking pictures in the middle of the street with Becca is now a core memory of mine, and I can not wait to see how they turned out. Looking at her portfolio, I had full confidence going into the day that no matter where we went, Becca would make us and the photos look incredible. She is absolutely amazing and such a professional.

Day-of-Coordinator: Initially, I didn't know what a DOC was, or if we even needed one. After having one at our wedding, I cannot recommend enough that a bride have one. And if you hire Courtney Thorpe like we did, rest assured that your entire day will be nothing short of incredible. Courtney is a lifesaver and an absolute beast when it comes to all things wedding. In the planning stages, she brought ideas and created my entire wedding timeline, which was executed perfectly. During the day of, she was on her game and paid attention to the small details we would have never even thought of, like keeping track of our marriage license to make sure it got signed, moving our cars to the venue and she even organized our bridal suite so it was perfect for us to come back to at the end of the night. Whenever we needed something, Courtney was right there with a solution. She was quick thinking on her feet and calm as a cucumber when any hiccup arose. She coordinated with vendors and made sure we were as stress free as possible. My wedding would not have been what it was (the best day ever) without Courtney at the helm.

Photo booth: you can't book a wedding with Complete without booking a photo booth. This was AMAZING! All of our guests had a BLAST with the taking pictures, and each one got a photo strip as a wedding favor. Unlimited photos and unlimited fun! Our attendant, Ashley, was so sweet and attentive and everyone loved her. The book of photo strips will be lnt of my favorite momentos from our wedding day, and Ashley did such an amazing job putting it together for us.

Overall, Complete was a game changer when it came to our wedding experience. They took care of every aspect of the day and made us feel so special and supported and well cared for. I can not recommend this company enough to anyone planning a wedding or event... They are Complete EXPERTS! BOOK THEM!!

Hannah V.

Married on 10/09/2021

Ashley- photographer and Brandon- DJ

Both vendors did great! Brandon did great and Ashley was amazing! Both made the day so special :) Brandon played great music that was fun and easy to dance to, and even showed off a few of his moves! Ashley reminded me to breathe and enjoy my day. Can't wait to see her finished work! Our contact at CW&E was easy to reach and flexible!

Taylor M.

Married on 10/08/2021

Fun & Memorable

We hired a videographer and DJ from Complete Weddings and Events and I would do it time and time again! Kevin the videographer was absolutely amazing and always seemed to be in the right place at the right time and I am saying this without even seeing the final product of the video yet. But I just know that it will be good because he was everywhere all the time. As for Jadeon and Kyrin, they held up their promise of keeping people on the dance floor. My guests keep saying how fun the reception was and that was because these guys nailed it with the music. Highly recommend Complete Wedding and Events.

Heather G.

Married on 09/19/2021

Great DJ Service!

We highly recommend Tim from Complete for your DJ services! Tim was great to work with including meeting on a couple occasions prior to our wedding day, along with keeping our guests engaged throughout the reception. We had several comments from our guests on how great Tim was with all the games and music selections. Also, as a bride, I found it much more calming that Tim checked in with me before each transition to something new, like an announcement, game, cakecutting, etc.

Jordan N.

Married on 07/24/2021

AMAZING! There were great

Jaden did an amazing job at our wedding, he kept people on the dance floor all night. We have received so so many compliments on the music that Jaden was playing and just how great of a job he did. I would absolutely recommend him to my friends and family!!

Tara K.

Married on 05/29/2021

Felt like Family

Jaden was absolutely the best! His energy and charisma really lit up the room and had everyone out of their seats and on the dance floor. We would recommend him for any event

Haley A.

Married on 04/30/2021

Amazing!!!

My wedding would not have been the same without my DJs, Tim and Josh. My guests unfortunately weren't quite in the mood for dancing, so my DJs saved the day by playing interactive songs and games with the guests so everyone would still have a good time. They were also both out on the floor dancing with us every chance they got! If you are going back and forth about spending the money on a DJ service, DO IT! Complete was so fun and easy to work with!

Kimberly K.

Married on 03/27/2021

Wedding dance

Everyone was so great. The wedding dance went smooth and everything went as planned

Terri P.

Married on 02/10/2021

So Flexible. Last minute changes were smooth as silk.

Our DJ was the best!! He kept the reception packed until the end. He did an amazing job of playing music to meet everyone's genre's. Grandma and Grandpa had as much fun as the wedding party. So glad we booked Complete Weddings and Events.

Breanna W.

Married on 01/03/2021

Amazing Wedding Day

Complete weddings + Events was so professional throughout the entire process. They seriously made planning stress free. I highly recommend them.

Olivia P.

Married on 10/10/2020

Absolutely amazing!

Our wedding dance was AMAZING!! Tyler kept the dance floor full all night long!! & our photo booth was so much fun! Our guest really enjoyed themselves! Complete Wedding & Events was so easy to work with! You wouldn't regret booking with them

Lorenzo B.

Married on 10/10/2020

Dj Jaden and Everyone was awesome

Jaden was awesome!!! We couldn't be happier with how the night went, he fought thru a microphone issue at the beginning but didn't fold under the pressure!! Thanks again everyone was Awesome!!

Laura P.

Married on 10/03/2020

Wonderful!

Great price and great quality service!

Kara S.

Married on 09/26/2020

So supportive and flexible!

Both our DJ and Photographer were so great. They rolled with all the Covid related changes and were so helpful. As the parents of the bride this was one vendor we just didn't have to worry about.

Jecelyn

Married on 09/26/2020

Awesome! Jaden was amazing. Our dance floor was packed all night!

Our dance was so much fun! The music was upbeat and great to dance to. DJ was super to coordinate with and attended to our every need!

Alexa S.

Married on 09/05/2020

Amazing Experience

Definitely recommend for DJ and Photo Booth! We along with our guests had a great memorial experience!

Brett N.

Married on 07/18/2020

Amazing and accommodating company

Tyler was extremely accommodating, due to one of our bridesmaids having a family emergency and not being able to be at the wedding, he made sure we were able to zoom with her so she could do her speech. They made sure to play any and all music we liked, they made the games fun, but also short and sweet, so our guests could enjoy the dance. Our photo booth lady was wonderful also! She made sure everyone was getting pictures taken, and we ended up not having enough sleeves for our book, the photo booth was such a hit lol. We cannot thank complete weddings, and the staff enough. You've all helped make our wedding day more than we could have ever imagined!
Thank you all again!
The new Mr. and Mrs. Nuffer

Colbi

Married on 07/18/2020

Awesome!!!

Our DJ, Matt, was awesome! Very easy to work with! Super flexible with any changes, even on the spot changes! Couldn't have asked for a better company to work with!
Are you interested?
Send a message