43 Reviews
Recommended by 95% of couples
Quality of service

4.7 out of 5 rating

Average response time

4.8 out of 5 rating

Professionalism

4.7 out of 5 rating

Value

4.7 out of 5 rating

Flexibility

4.8 out of 5 rating
46 User photos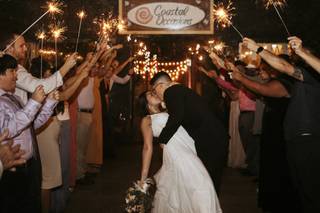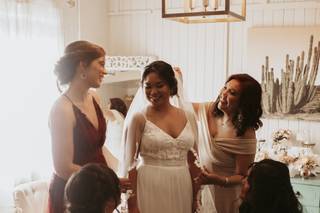 + 42

photos
Bethany

Getting married on 11/11/2023

Ambre was so personable and professional. She was extremely helpful with making our vision a reality, despite all of our last minute changes. The venue was the perfect site for a coastal setting. Couldn't have asked for a better experience!!

Aria L.

Married on 04/16/2022

Best day of my entire life!

From the planning, details, and communication this venue and their staff were beyond anything I could have expected. Our planner Natalie was AMAZING! She made sure every detail was covered and we didn't have to worry about anything at all. The venue was beautiful and the burning of sage before the event added that little touch we loved. I highly recommend using this venue and all it has to offer! If we could do it again, we would. Thank you so much again for making our day one we will never forget!

Liory

Married on 11/09/2018

Awesome venue and staff. Love, love Ambre Goff my planner. She is amazing. She always responds in less than 24 hours with any silly question I might have. Always accomodating and giving you ideas and/or advice when you are not sure how to do something. I still have a couple of months until my wedding day and so far they have been excellent. I am sure my reception will be flawless. I can't wait to see how beautiful everything will be.

Are you interested?

Send a message

Jennifer

Married on 09/01/2018

Absolutely Gorgeous in every way! Katie went above and beyond to make our night very special!!! She is an amazing person!!! Very vintage and the natural greenery just makes it even more than we can describe! There are not enough words to describe the amazing staff and how Thankful I am for everything they did for me!!! I would recommend Coastal Occasions for any one looking for a stress free wedding! Definitely worth more than 5 stars!! Planning a last minute wedding didn't stop or effect how hard they worked to make my dreams come true!! Thank you all, especially Katie!!!

Jessica

Married on 05/05/2018

Our wedding was a true fairytale! We got married on Cinco de Mayo and if you are from the area we had Tacolu cater it which was amazing! The fact Ambre was even able to get them to do it is stil beyond me! The amount of compliments we have gotten just dont even stop! Everything was stunning! It's a true hidden gem! Like many brides we do most of the planning ourselves and even my husband can't stop talking about how amazing the day was. I love telling my clients when they ask how the wedding was and all I can say is "perfect! Just perfect!"

+ 7

photos

Ashley

Married on 04/07/2018

Coastal Occasions truly is a hidden gem. Ambre is the absolute sweetest and an incredible person to work with. She made planning my wedding a breeze. Despite some rain, everything went off without a hitch! Our guests can't stop talking about what an incredible venue this is.

Laura

Married on 11/11/2017

I'm still so emotional after my PERFECT wedding at Coastal Occasions last weekend. From the very beginning Ambre and her team were a dream to work with- she even moved our ceremony location 20 minutes from go time because of the weather; from flowers, to food, to DJ, to photographer we used all preferred vendors and were beyond impressed with each and every one! If I could Do it all over again I wouldn't change a thing! Thank you all so much for making our night the best dream I've ever had!

Keri

Married on 11/05/2017

Ambre is absolutely amazing! The whole reception was a buzz about how fabulous of a job she did and everyone can't stop raving how beautiful and wonderful the wedding was. Thank you thank you for making our beautiful day the best.

Liz

Married on 11/04/2017

My husband and I got married in November 2017 (late to the game in writing the review!) We worked with Ambre and her team at Coastal Occasions. There's no way that words can do justice to the devotion and passion that Ambre has and our complete and utter happiness with her services! She was incredibly attentive and responsive, incredibly flexible in terms of what our vision for the wedding was, and had amazing affordable contacts and vendors. There was not a single vendor she referred us to we were less than thrilled with, plus she coordinated all of their efforts seamlessly! We didn't have a single glitch or issue and I can genuinely say our wedding day was 100% worry and stress free! Ambre has a passion for her job that is hard to find these days and is incredibly infectious. Her services are worth every penny and then some!!

+ 6

photos

Melissa

Married on 10/14/2017

From the very beginning of my wedding planning, Ambre and her team at Coastal Occasions were a God send. I planned my Florida wedding while living in PA and NYC and only had a chance to visit the area once, five months before the wedding. Starting with our initial phone appointment, Ambre was flexible to provide what I wanted and excited to do it. She also kept me up to date and on schedule with several phone appointment over the months of planning. She coordinated and planned a beach ceremony and a reception at her intimate garden/villa style venue for 50 people. She also helped me find an amazing florist, DJ, and bakery. On the day of the wedding, she worked hard to do our rehersal the morning of the wedding. Then right before the beach ceremony, our nightmare cenario happened. It rained! Ambre never flinched. She jumped right into action. Realizing that the radar showed the rain would clear, she came up to my hotel room, gave me and my bridesmaids a pep talk, and hurried to coordinate the re-setup of the ceremony ( the setup had torn down due to the rain). Our Dream beach wedding still happened and we are so grateful for how she handled it. For the rest of the evening, Ambre and her team worked to provide a wonderful reception including an icecream bar for our guests. You can't go wrong with Ambre! She's #1 in Jacksonville Beach for a reason!

Brandi

Married on 10/07/2017

Ambre was so helpful in making our special day amazing! She was so easy to work with and knew exactly what we wanted.

Susan

Married on 09/23/2017

Exceptionally professional, friendly and accommodating. Due to Hurricane Irma, our original wedding reception location on the beach in PV was damaged beyond use. We had one week to find a new venue. Katie & w/ Coastal Occasions heard about our dilemma and came to the rescue, literally. She and Ambre were absolutely incredible to work with to make my daughter's wedding reception a dream come true. Excellent attention to every detail & with communicating. Delightful! A charming venue draped in vines and aglow with candle light, hanging lights the sounds of a water fountain, two fireplace mantles, and an antique distressed table for gifts. So much personality, which resembles an Italian villa. Absolutely beautiful, especially for an evening gathering. It was a perfect evening! We are so thankful for our experience and highly recommend this venue

Viola

Married on 04/21/2017

Ambre and Tara created my dream wedding, and assisted me with finding the perfect vendors. I wasn't even stressed on my wedding day because I knew I was in good hands. The venue is just as beautiful in person as it is online, and they helped create such memorable and precious moments that me and my family will cherish forever.

Megan

Married on 01/28/2017

The venue site at Coastal Occasions is so gorgeous, but what really makes this place special is the wedding coordinator, Ambre. She knows her space and how to make it look unbelievable. Not only was she my point of contact throughout the entire planning process, she recommended all my amazing vendors. I don't know what I would've done trying to plan a destination wedding without her help. We knew we found our match upon first meeting. Ambre is a calming and reassuring presence yet also fun and eternally positive. Her true worth comes during the day of the wedding, where she is there to coordinate every minute and problem solve if anything goes wrong. She was able to make my vision of an elegant candlelit reception come true. My breath was taken away when I first saw it. The venue is just too gorgeous for words--so chic. You can dress it up or down. We had a black tie wedding and this venue fit in seamlessly, adding a little personality where it was needed. We were able to fit all 80 guests comfortably and had plenty of room for tearing it up on the dance floor! Though it was chilly outside, we were comfortable in the venue with 2 standing heaters. In fact I asked Ambre to turn one of them off because we were working up a sweat dancing! I would happily recommend this venue and Ambre to anyone. Much love from Megan and Robert!

Katie

Married on 11/11/2016

This space is absolutely to die for. Not to mention how Ambre goes above and beyond for you. If I could do it over again I would use this venue again!!!

Amber

Married on 10/28/2016

This was the perfect venue for me! I always dreamed of dinner and dancing with string lighting. I loved the idea of the outdoors, but was nervous about having an outdoor wedding in Florida. This venue is perfect for couples who want to bring the outdoors in. Everything was set up so beautifully and Ambre went above and beyond anything I expected her to do, including officiating the wedding. Everything was perfect!

Sara H.

Married on 04/10/2016

Ambre was amazing

We got married on 04/10/2016 & it was everything we ever wanted all thanks to Ambre. She is a wonderful, kind, caring woman & very attentive to every detail you want. Ambre made our dream wedding come to life & we couldn't have been happier choosing Ambre with Coastal Occasions. However, now that Ambre is unfortunately NOT associated with this beautiful venue, I cannot & will not refer anyone I know to use the "new Coastal Occasions. I tried to call (thinking Ambre was still there) for a quote about using Coastal Occassions for my son's Graduation party (2019) & the lady I spoke to was not very nice, way over priced & I didn't like the way she spoke about Ambre. It was very upsetting to me because we knew Ambre was the best. I wish Ambre was still owner of Coastal Occasions.

+ 16

photos

Kathleen

Married on 03/12/2016

Our wedding was absolutely beautiful & we have Ambre to thank for that! She was so full of energy and ideas, and so easy to work with. Thanks for the perfect day Ambre!

Katie

Married on 03/05/2016

Ambre was the best part of our special day. She was so professional, courteous and genuine. She truly made us feel like we were the most important people in the world. She was great to work with, and always knew what to do at any point in our planning process. We never felt rushed or pressured to make any sort of choices and she always gave us several options to choose from regarding any decision we needed to make. There were several times where other vendors fell short and she didn't hesitate to step in without even being asked and correcting the problems right on the spot. Our wedding would not have been as magical as it was without her running the show! She is great!!

Rebecca

Married on 10/10/2015

I cannot quite express how grateful I am to Ambre at Coastal Occasions! My wedding day was perfect from start to finish, largely due to this wonderful lady. Ambre's work is above and beyond, and she makes it her mission to relieve you of all worries on your big day. She is so giving with her time and expertise, and her venue is so charming you hardly have to dress it up. Best of all, she cares about making your event the best it can possibly be. You can't beat the quality and value of the experience at Coastal Occasions. Thanks, Ambre!

Rachel

Married on 10/03/2015

Ambre was an absolute delight. Not only did she handle almost every single detail, she made me feel completely at ease the whole experience. The reception was stunningly beautiful. I wouldn't change a thing.

Amanda

Married on 08/21/2015

I got married in Max beach on August 21, 2015 and honestly couldn't have done it without Abrea. She was absolutely amazing! She took over a few weeks before the wedding and she worked well with all my vendors, she listened to know what I wanted and provided it all at a very low cost. Hands done highly recommend her at coastal occasions for any event that your planning. I can't say enough about how she saved me at my most special time and make a beautiful day special for both me and my husband! Thanks so much Abrea, you went above and beyond your call of duty. I am so lucky that I found you and appreciate all you did for us. I hope that you contact her, because she is the women that got it all:)

Natalia

Married on 05/01/2015

My wedding was a huge success! It was everything I wanted it to be and more. The venue is absolutely adorable, we had so many people tell us how beautiful everything looked. The perfect vintage venue. the venue has so much to it already it's almost like you don't need much decor. the wedding coordinator is absolutely amazing she truly does above and beyond to make you happy and no matter what issue arrives will answer with it's ok we will figure it out, we will make it work. She answered any questions I had promptly always. I highly
Recommend this venue to any bride, we chose the beach ceremony and everything was simply stunning! So extremely happy with the outcome of everything!!

Coastal Occasions coordinated my daughter's wedding. Ambre did an excellent job! She was affordable and the venue was absolutely perfect! She did all the set up, take down, tables, chairs, linens were all provided. She even set up and took down the ceremony at the beach location where the vows were exchanged. Her communication skills were great and she had a way of making you feel special and calm. In a word...excellent!

Amy

Married on 03/13/2015

Ambre Goff was an absolute savior in our whirlwind wedding planning! We chose our wedding date of March 13, with only 30 days to plan it. We wanted to have a "real" wedding which our friends and family could celebrate with us, and which we could honor our love and our long term relationship as well as give my children a leading role in our union (which they had been begging us to do for 3 years!) A week into the planning, I knew it was too much for me and could not see how it would come together without being a complete mess. John (my fiancé) started trying to find a wedding planner, and stumbled across Coastal Occasions. I had a fear of hiring a wedding planner (too many bad stories I've heard), but after meeting with Ambre, I knew I had to take a risk and even if she was not reliable, her venue is beautiful and it alleviated my stress of a rainy wedding day, as we could shift everything to this venue and it would still be lovely.
What we got over the next 3 weeks, was a level of dedication and personal effort and involvement which far exceeded our expectations. Ambre took our small, choppy vision of what we wanted, my color pallet and a few pictures off of Pinterest, and with little direction from me... implemented everything I could have asked for or dreamed of for this event. I would get frequent "do you like this?" texts from her (of which sometimes it wasn't "just right") and she would keep moving with the idea until it was "the one"! I never felt overwhelmed by her or that I was an annoyance to her, when I could not get back to her on something she was working on. She was undeniably patient, in every situation, yet kept things always moving.
On our wedding day, she made sure everything was perfect, everyone was where they were supposed to be, and that John and I were happy. The ceremony and reception was breathtaking! It was the most intimate, wonderful day of our lives, and we absolutely could not have done this without Ambre.
Are you interested?
Send a message