86 Reviews
Recommended by 98% of couples
Quality of service

4.9 out of 5 rating

Average response time

4.9 out of 5 rating

Professionalism

4.9 out of 5 rating

Value

4.9 out of 5 rating

Flexibility

4.9 out of 5 rating
1 User photo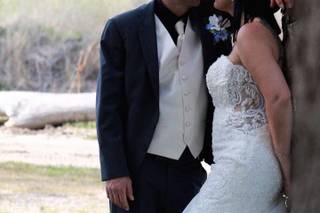 Claudia P.

Married on 03/03/2023

Such a great experience!

I joined my future daughter-in-law, her mom, maid of honor and a bridesmaid on what we thought would be the first of several shopping excursions. Turns out we just needed the one trip!

Christine is amazing! The selection of dresses was incredible and the care and thoughtfulness that she puts into every appointment makes each bride feel like the most important girl in the world. Definitely worth the long drive to Vermont.

Annika B.

Married on 02/24/2023

Comfortable Environment with Excellent Dresses and Service!

I just got my prom dress today and I had never been to this place before. One of my friends recommended it to me and I'm so glad that she did. The environment is extremely welcoming and organized, we were greeted by Chris and we had the whole place to ourselves. The section of dresses in my size (12-14) had quite the selection and I was able to find a dress I was comfortable in. Chris had very good advice along with tips and tricks that were very helpful. Overall the experience was amazing and I would definitely go there again! Highly recommend!

Rita

Married on 11/09/2019

Wedding gown shopping for a plus sized woman could be a nightmare but Christine's private, personal service was amazing. my daughter found a gown after having every detail and style of every gown explained included the different types of fabrics. I will be going to get my Mother of the Bride gown for sure. thank you Christine.

Are you interested?

Send a message

Kalaa

Married on 09/21/2019

I went to four other bridal shops before making an appointment with Christine. She walked us through what to expect with what we were looking for. She took in account of my opinion but also added her opinions and helped me come out of my box and find my dress! Don't wait and book an appointment here before anywhere else. Christine doesn't mess around.

Morgan

Married on 09/07/2019

Morgan - I said Yes to the Dress!

I had the most genuine experience at Christine's Bridal and finally said yes to the dress! I had been to two shops before I found them and had started to become discouraged in my hunt for my wedding gown. As soon as my mother and I walked in, Chris made us feel right at home! She took the time to explain the different silhouettes to me and never made me feel rushed. She helped us understand the different styles and fabrics, and there were many to choose from! Finding THE dress with Chris was an amazing experience that left me feeling confident and beautiful. I wish I had gone to her first! I would very highly recommend going to Christine's Bridal! I can't wait until my wedding when I get to wear my perfect dress from Christine's Bridal to marry the love of my life. Thank you so much - Morgan Johnston


Allison

Married on 07/27/2019

Amazing Experience!!

I said, "Yes to the dress!" At Christine's bridal and I could not be happier. I originally was going to order a dress online and I'm SO thankful that I chose to go see Chris! She made the whole morning dedicated to finding my wedding dress. The dress I left with and fell in love with was NOTHING like I was looking at online. She was determined to make me comfortable and find the dress of my dreams. It's very safe to say she succeeded! Would recommend this bridal shop to anyone that is in need of a dress!

Caulista B.

Married on 06/22/2019

Most magical and best experience of my LIFE!

I honestly cannot even put into words what Christine did for me. She accommodated my very last minute appointment, my time crunch, my personal style, my zillion questions... Chris made finding my dream dress one of the best experiences of my entire life! She was so caring and wonderful to my bridal party, and she searched high and low until she found my perfect dress. I cannot say enough good things about christine and my entire experience. Choosing any other Bridal shop would be doing yourself an injustice. Chris is an incredible woman who is making dreams come true and you absolutely need to experience it for yourself. Christine if you see this, thank you for being my fairy godmother and making me feel like a princess! 👰🏻😍♥️

Erica

Married on 06/08/2019

Christine's Bridal was an amazing experience! This was the only place I went to get my wedding dress. She was extremely nice and explained every type of dress and fabric to me and my group. She worked with me to find out what kind of dress I would love. She also helped me find the veil, tiara, and a little jewel belt to go with my dress! She's an amazing person! Can't wait to go back for bridesmaids dresses and tuxes!

Kathryn

Married on 05/18/2019

I wish I could give Christine's Bridal more than 5 stars. Christine helped to get me in at the very last minute for a one-on-one bridal appointment because my mother decided to come to town at the last minute. I knew then that Chris and Christine's Bridal was going to be something special! She made the day of my appointment a day with my mom that I will never forget. I know nothing about dresses, but she sat us down and told us all about styles, fabrics, and what shapes look best on what body types. She made me feel so calm during what I thought would be a very overwhelming and likely discouraging experience. She was incredibly thoughtful, listened to our concerns and to what we liked, and made us feel so at home at her shop. I am so thankful that I chose Christine's Bridal to be my first try at wedding dress shopping and I can't wait until I can wear my dress again! I HIGHLY recommend Chris to any bride of any size.

Stacey

Married on 12/27/2018

My visit to Christine's Bridal exceeded all expectations!! Who would have thought in the little town of Hartland Four Corners, Vermont you would have found a bridal dress shopping experience that could compete with Kleinfeld's from "Say Yes to the Dress". The staff was knowledgeable, congenial, supportive and invested in my happiness. Not only did I find a dress that was fabulous (designed by Christine!!), it was also at a fabulous value. This is wedding heaven for us curvaceous ladies!

Mikki

Married on 10/21/2018

Chris the owner made my experience one I will never forget! Her dresses are absolutely stunning and she made it so easy for me to find the perfect dress so quickly by listening to everything I was saying about each dress! The fact that she could talk me through everything and teach me so much about each style and material made what I thought was going to be a long, exhausting, and awful journey so quick and simple! She knows her stuff and she designs the dresses so it's something you cannot get anywhere else! I would highly recommend to any of my friends or family to go to her first. You won't get the quality, honesty, knowledge, and patience anywhere else like I did with her. I cannot wait for my big day just so I can show off this beautiful dress. Thank you so much Chris! I will be sending anyone I talk to your way!

Kelly

Married on 10/20/2018

I was very apprehensive to look for a dress. I am not a size 2 or 4 or 10. I'm a bit larger and I have grown to hate shopping because there's never anything I like in my size. I was terrified that I wouldn't be able to properly try on dresses, be embarrassed and would leave disappointed. Chris not only put my fears to rest when I spoke on the phone with her but then she proved she and her shop "had the goods"! From her knowledge of the bridal dress industry, her pleasantness and her ability to really listen to what you like and don't like, the total experience was a treat. She gives you her undivided attention. She closed the shop while showing me dresses so I wouldn't be self conscious - she didn't even answer the phone. One of the best parts was every dress zipped!! The prices are very reasonable and there's a great selection. This is the first shop I went to with the thought that I'd get some ideas of what I would like. I never dreamed I would say "Yes to the Dress" in one day having only been to one shop but I did!!!! If you're looking for a wedding dress, I HIGHLY recommend starting at Christine's Bridal first and I bet you won't have to go anywhere else, too!!

Taylor

Married on 10/13/2018

Christine was awesome she taught my group so much about wedding dresses and took the time to make sure I found the perfect dress, very amazing selection of jewelry and dresses! had a very good experience trying on wedding dress for the very first time

Patricia

Married on 10/12/2018

I can't say enough positive things about Christine's Bridal. From the moment I walked in I felt special. I really wasn't sure what to expect but when every dress she had me try on fit I was ecstatic! Chris was knowledgeable and very sweet. She made me feel like a princess. It was a memorable experience. And I got my "wow" dress. Thanks so much!!!

Jordann

Married on 10/06/2018

I had an amazing experience at Christine's Bridal! She was kind and really helped me find the perfect dress for my wedding. She has really unique and fun dresses compared to other bridal shops in the area! I would def recommend to a friend!

Agnes

Married on 09/21/2018

I had such a lovely experience looking for my dress at Christine's Bridal. The customer services was wonderful; I truly felt my vision and ideas were hears, which of course was important. This was my first experience trying dresses on and I learned so much throughout the process. Had I not found the perfect dress at Christine's Bridal, I would have left feeling so much more confident going forward in the dress search thanks to the expertise. Lucky for me I did find a gorgeous dress, and I would recommend Christine's Bridal to all brides-to-be!

Tiffany

Married on 08/10/2018

First off she gave us such a warm welcome when we first arrived traveling from NY. She made us feel right at home. She made me feel special in every dress I tried on and asked for my opinion on everything. She asked the other people I brought with me as well but made sure to let them know that my opinion was the final one. I love my dress that I chose and can not wait for others to see it thanks again

Emmy

Married on 08/03/2018

I said YES to my dress at Christine's Bridal and I had an amazing experience. It was my first stop on my dress hunt and was planning to go to another shop after visiting Christine's to make sure I had the right dress. I did not need to go anywhere else because Christine not only found me the perfect dress, but she also explained the different styles and fits of all the dresses I tried on. We found what worked best on my body and what fit in my budget. She was so knowledgeable and professional. I would recommend this shop to anyone!

Amanda

Married on 07/07/2018

If I could give more than 5 stars I would! This had to be the most enjoyable experience I have had shopping and given that this is one of the most important events to shop for, I was thrilled. I am a plus size woman and the idea of trying on wedding dresses frightened me. Working with Christine, I found it easy and as if I was working with a friend. She made me feel special and like I mattered. At the end of it all, I said yes to the dress and I couldn't be any happier. I'd recommend anyone looking for a wedding dress to go here, especially if you are plus size and want to feel beautiful.

Julie

Married on 06/30/2018

She was really great to work with! I loved the tuxes we got, and my husband was so happy he got to have camo! She was accommodating for the changes I wanted to make last minute, and everyone looked fantastic in their tuxes! Couldn't have asked for a better place to get them from! Thank you again!

Megan

Married on 06/23/2018

I had the great pleasure of working with Chris today picking out my wedding dress. She was incredibly kind, patient, knowledgeable and honest. I never once felt rushed in making my decision, nor did I ever feel as though she was just out to make a sale. I am so glad I was able to "say yes to the dress" with Chris and I can't imagine having gone anywhere else. I would highly recommend Christine's Bridal for wedding dress shopping and look forward to going back to look for accessories and bridesmaids gowns.
Every gown was amazing in quality and price and Chris knew every aspect of each gown and was able to help pick out the greatest dress in the world.

Rebecca

Married on 05/19/2018

I have to say that I went into bridal gown shopping with reservations. It was my first time trying dresses on, I knew what dresses I had seen online that I liked and I knew what I didn't like. But I soon realized all of that goes out the window when you start trying them on yourself. When I first got to Christine's Bridal we were greeted by the owner herself, with a measuring tape around her neck and a smile on her face she got down to business right away. We took our shoes off, donned some of Chris's finest fluffy slippers, and after a couple of quick measurements we started learning. Chris is extremely knowledgeable, and the first thing she did was to teach us all about fabric, fit, style and construction. I didn't realize until then how much I didn't know! But she walked us through it all with confidence and caring, and let me tell you, 2 hours flew by so fast!!! There were so many dresses in so many styles, and all of them beautiful! And the best part was that I could actually fit into nearly every dress she brought out, and some were even roomy!!! That was a refreshing change from almost every other shopping experience I've had as a plus size woman, and it certainly made it a lot more enjoyable than I had expected. Never once did I feel out of place, uncomfortable, or self-conscious. Not only was it fun and educational, I found the most beautiful dress for my big day and we even got a discount for paying up front! Christine's is definitely the place to go, especially for plus size women. The selection spanned every type of dress imaginable, sizes and styles flattering for every body shape, and prices for every budget. Thanks Chris!!

Cynthia

Married on 04/15/2018

Chris was absolutely wonderful!! After 3 other bridal shop visits my previously very disappointed daughter I were extremely pleased with the knowledge and recommendations provided at Christine's bridal, none of which was mentioned at previous shops. We found THE dress in under 2 hours and truthfully went a completely different direction than was my daughter's initial intent. And she is and will be beautiful. We will most likely be back for mother-of-the bride and attendings dresses. Thank you Christine!!!!

Hilary

Married on 03/29/2018

Hands down the BEST experience ever. Christine's Bridal is a wonderful plus size shop. I am a bigger girl and it's very hard for me to find clothes that fit right, especially dresses. Chris made me feel so comfortable and beautiful and confident, she didn't make me feel fat or ashamed of my body. Each dress I tried on was beautiful and they all fit, they adjusted to my and my body and that's what they are made for, to fit every big beautiful curvy bride. Im a sparkle girl and she did not disappoint, there was so much sparkle and different styles, anything from simple and elegant to blinged out and gorgeous. I had so much fun. Definitely the place to go!

Amanda

Married on 02/17/2018

I had the most wonderful experience at Christine's Bridal. Chris is very friendly, professional and knowledgeable. We were greeted at the door with a handshake and shown out with a beautiful gown and a hug. She devotes her time 1:1 to her brides during their appointment. She was great about only showing me gowns in my price range so I didn't fall I love with something I couldn't afford. Her inventory is beautiful, well made and competitively priced and it is made for real ladies not models! I've never worn anything off the rack before, but Chris put me in the dress I purchased and it slid on like a glove. I am so appreciative for her help and I'm so glad I found Christine's Bridal and trusted the reviews. Chris made choosing my dress the least stressful part of wedding planning (something to be said when you choose a gown a month before the date.) I would recommend Christine's Bridal to anyone without hesitation!
Are you interested?
Send a message