19 Reviews
Recommended by 86% of couples
Quality of service

4.2 out of 5 rating

Average response time

4.2 out of 5 rating

Professionalism

4.2 out of 5 rating

Value

4.3 out of 5 rating

Flexibility

4.4 out of 5 rating
4 User photos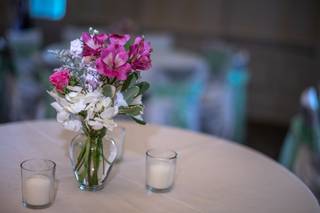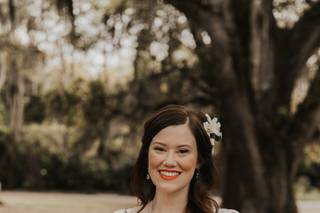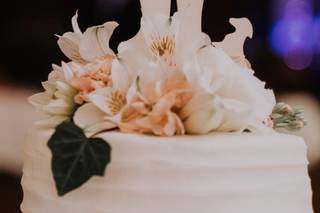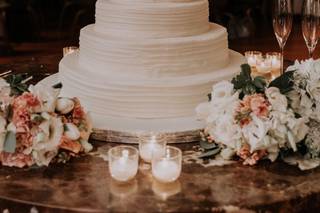 Maggie

Married on 03/29/2019

Beautiful arrangements

Absolutely beautiful flowers and arrangements. I highly recommend Christina! I gave her my budget and preferences, and she gave me back a word document with descriptions of each item, and then 3 different options with prices to choose from. Everything looked exactly as I had imagined!

Christina was a great florist to work with especially since I was an out of town bride from New Jersey. I sent her photos of what I wanted, and she pinned it right on the dot. She even went the extra mile and found higher quality hydrangeas, made sure I approved the color even though the cost to her would be more. She values quality, which is great being that she worked with my budget. I couldn't decide on extra flowers for tables, but she gave me enough time to make my final decision. I highly recommend Christina for brides who want a personal touch with their flowers.

Jillian

Married on 03/15/2013

I would highly recommend Christina to anyone looking for a florist.

I orginally planned on having peonies as my main flower in my bouquet and centerpieces but quickly found out that they weren't going to be available this season in time for my wedding so I had to order garden roses as my backup; apparently peonies aren't the most reliable flower each season. Since I planned my wedding from another state and ordered my flowers online, I didn't get to see them until two days before my wedding. Half of the roses I received looked horrbile, causing me to find a vendor near by to replace them. Chrisitina came highly receommended by the JW Marriott and helped me replace the roses in one days notice! The flowers were exactly as she said they would be if not prettier! She was above and beyond helpful during my time of need!!!



Are you interested?

Send a message

Sally

Married on 07/20/2012

I was very happy with Christina. The bouquets were exactly what I wanted and were even bigger than I was expecting. She communicates through e-mail, which I loved because as a busy out of state bride that was easy, direct, and quick. Her prices can't be beat.

Janel J.

Married on 12/11/2010

Christina gave me my dream wedding flowers and decor on a small budget! She was so flexible and professional - would recommend her services to everyone!

Ashley

Married on 10/16/2010

Christina was wonderful to work with!! We emailed regularly about the flowers and when she needed clarification or had questions called to confirm with me beforehand. I really appreciated her attention to detail! When the flowers arrived on my wedding day they were absolutely beautiful and so fresh. Also they lasted the entire evening without ever looking sad and wilted! Everything came out beautifully and flawless! I would highly recommend!!!!

Teye

Married on 05/30/2010

Christina did a wonderful job and her work was flawless. I found a bouquet online and she mimicked it identically for me. She made beautiful cylinder floating arrangements that were much nicer than I expected. She's easy to work with and does great work for a fantastic value.

Jane

Married on 05/08/2010

Christina did an amazing job on all of the flowers for my wedding. Her bouquets were beyond my expectations and looked just like the photos I provided. She made everything beautiful!

Adrienne

Married on 04/09/2010

Christina did an excellent job decorating my church and reception venue. SHe worked within my budget to create a truly exceptional design and was very easy to work with.

Julia

Married on 12/01/2007

Fabulous. My only disappointment was that the boutonnieres were a bit bigger than I wanted. The corsages, tussie mussies, bouquets and arrangements were pure perfection. Christina is a doll and I highly recommend her. She loves what she does!

Kristina

Married on 02/10/2012

I would recommend Christina to the budget bride who would have considered DIYing flowers but doesn't want to be bothered.

We had a VEEERY strict budget and I wasn't even sure that Christina (or any other florist) could meet it, but she did. Last minute, I was going to do our own centerpieces (simple roses, mixed with candles in stemmed holders) but because it was a destination wedding, and I failed to order the flowers on time, I had to hope that Christina could do our centerpieces on one day's notice! Well she did :-) There was some uncertainty because we already had the vases and I had to guestimate the size of the opening so that she could create an appropriate sized bouquet to be dropped in. It ended up working out "alright", but that's not her fault, it's our fault for failing to prepare well on that aspect.

Christina also prepared our bridal party bouquets/bouts/corsages, which were all gorgeous. She delivered them to our hotel within a few hours of the wedding so that they would be fresh, and was very flexible about our payment method (allowed credit card, cash, or check) which I found surprising but thought was great because all I had on me was a check!

All in all, we would recommend her, especially for the budget conscious bride and groom.

Maggie

Married on 06/04/2011

Christina was great - my flowers were beautiful and budget friendly. She was really flexible and added a bunch of things last minute. Loved her!

Esther M.

Married on 04/05/2020

Love the floral arrangements at my daughter's reception

Christina was recommended to me by my stepdaughter. I was thrilled when she accepted the job inspite of the reception being on a very busy Mothers Day weekend.
The arrangements were gorgeous. Christina followed closely what I'd requested and envisioned for the reception room. My one disappointment was that she was not present at the reception for me to thank her personally. She had to be at another venue.
I highly recommend her to anyone wanting a spectacular floral arrangement no matter the occasion. 5 stars from me!!!

Amanda

Married on 05/28/2017

Two of my friends used Christina for their weddings, and highly recommended her. She was easy to work with, asked the right questions, and helped guide me in how to get the floral look I was going for within my budget. She took a little while to respond during the planning part, but that was fine as nothing was urgent. And then the week/day-of she was very responsive, and flexible when we added on/changed some small items. The flowers came out beautiful and I am very happy with the services, and the great value.

Amanda

Married on 10/20/2013

Flowers were not a priority for us on our wedding--we wanted minimal flowers for centerpieces, and relatively basic flowers for the wedding party. Christina was recommended as a great florist for "budget brides" so we hired her for our event. The flowers were beautiful, we received many compliments, and they lasted well into the next day. We had issues pinning on the boutonnieres and corsages because they were wrapped a bit tight for the pins provided, but they did the trick through the ceremony and pictures. Our bouquets were beautiful and the centerpieces were stunning.

Audrey

Married on 11/01/2008

As soon as we were half way through with our interview I knew Christina would be an awesome florist for our wedding! She just had an incredible passion or floral design; I got the feeling that this isn't something Christina had to do to survive. The whole reason why she does wedding flowers is because it's what she loves to do. Textbook wedding vendor for me anyway! She knew where I was going with my vision and took off! After all the other florists I talked to told me I couldn't get tulips (my fav flower) she said she could! Her prices are incredible too! The flowers the day of were beautiful! The only thing is I thought some of the arrangements would be fuller and there would be more flowers to them. However, I do not have another florist to compare her too so I don't know if that's normal for the flower industry or not.

Amy

Married on 05/23/2009

Christina makes beautiful arrangements and has great prices. I was happy with what I received, but there were some issues I had with her.

She substituted flowers without letting me know. I paid $$ for tulips in my BM's bouquets and they got cheapie snapdragons instead. I didn't get as many peonies as promised in my bouquet either, and that was disappointing.

One of the biggest snafus she made was that I gave her my great-grandmother's rosary to put in my bouquet. She put it in ANOTHER bride's bouquet a week before my wedding. Thankfully, we got it back, but I was so so bummed that I didn't have this in my bouquet. It caused so much stress to me and my family that this was in another girl's hands. I'm just glad we got it back. :(

Josie

Married on 09/27/2008

Disaster doesn't even begin to explain it. Her son dropped the keys to the car containing my flowers down the hotel's elevator shaft and had to call a locksmith, her assistant blew smoke in my mother's face and was walking on banquet table to install our fountain arrangement while guests were arriving. She was cheap, but so were the flowers -- I didn't even carry my bridal bouquet, and we didn't use any of the boutaineers because they were so hideous. The corsages for the mothers were huge and too big to safely pin to a nice dress without making it tear. She said she had trouble getting the flowers I asked for -- maybe with better planning she's a better vendor.

Irene

Married on 04/28/2011

............................................................
Are you interested?
Send a message