51 Reviews
Recommended by 100% of couples
Quality of service

5 out of 5 rating

Average response time

5 out of 5 rating

Professionalism

5 out of 5 rating

Value

5 out of 5 rating

Flexibility

5 out of 5 rating
8 User photos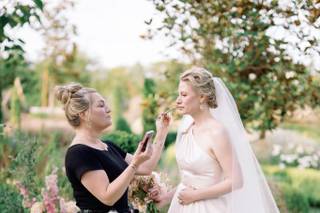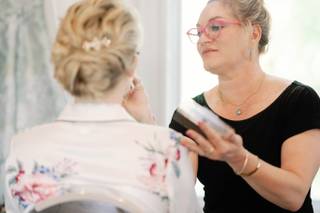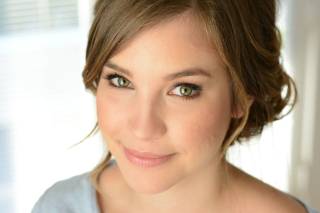 + 4

photos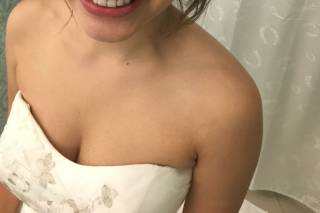 Samantha W.

Married on 06/17/2022

My Own Fairy Godmother

If you are still looking for beauty services for your wedding, do yourself a favor and stop looking now - book Christi! I booked Christi for her bride-only hair and makeup service and it was worth every penny. She was my personal fairy godmother, hovering by my side throughout the day. Not only is her artistry spot on as she captured this perfect blend of the "I'm not wearing any makeup" makeup look mixed with timeless elegance, but she made sure that look lasted throughout pictures, ceremony, and more. Christi has a "magical tool belt" that she wore all evening and if the wind blew a hair out of place…BAM! Christi was right there with hairspray to fix it. My groom smudged my lip color…NEVER FEAR! Christi immediately touched it up. She even went as far to bring me water to make sure I was staying hydrated whenever there was a moment to spare. I can't say enough good things about Christi. She is talented, supportive, easy to talk to, has the biggest heart… Even my family and other vendors were impressed with the quality of her service and professionalism. Treat yourself on your special day and book Christi. You'll be glad you did.

Amber E.

Married on 10/02/2021

Absolutely AMAZING Experience!

Christi is far more than just a hair and makeup artist. Let me explain the reasons why.
1. Christ is 100% there to make you look and feel however you want! She repeatedly told me that she was there to enhance my natural beauty, and was open to my ideas for how I wanted to look on my big day. I wanted a natural, subdued look, and she was all about it! At my trial she was thoughtful, flexible, professional, and so sweet! Right after my trial she emailed me her thoughts about the few adjustments we should make, and she was totally receptive to my thoughts, as well.
2. Leading up to my big day, she sent me a document with our hair and makeup schedule in a clear, very organized fashion that included information about how to prep for our hair and makeup sessions. I was able to simply share that document with my bridesmaid, which was one less thing I had to figure out and manage!
3. The day of. Not only did Christi make my hair and makeup look absolutely gorgeous and natural, but she was seriously a lifesaver. She stayed with me during the beginning of the photos and made sure myself AND all my ladies looked fresh and beautiful. She carried around a bottle of water and made me drink it at random intervals. Right before the ceremony started I was very very nervous, and Christi made me take deep breaths and reminded me how beautiful I looked and that this was going to be amazing. Her calming presence during that time was literally the only thing that got me down that aisle.

I can't say enough about Christi. She is SO sweet and SO kind and literally, all she cares about is making sure you feel absolutely beautiful inside and out on your wedding day. Who wouldn't want to work with someone like that?!

Katie

Married on 07/13/2019

So happy with the experience

Christi was wonderful, and did an amazing job on hair and makeup for me and the bridesmaids. We got a ton of compliments that it was the best they have seen.

Are you interested?

Send a message

Laurel

Married on 06/16/2018

I wish I could give Christi 10 stars. She was phenomenal and made me look and feel like a supermodel on my wedding day. When I first started researching hair/makeup artists, I tried to find a budget option, but after a trial with Christi, I knew there was no contest. She is worth every single penny. Her style is light, flawless, and classic - perfect for weddings. The airbrush makeup and individual eyelashes really set her looks apart for me (as well as her flawless application of high-end products). Her hair styling was also on point and very comfortable to wear all night. Her studio for trials is adorable and the trial is actually a really fun experience, not just one of the million wedding planning tasks that need to get done. She takes gorgeous pictures at the trial and those got me extremely excited and completely confident about my look for the Big Day. Finally, my hair and makeup were done at 12:30pm on my wedding day and by 1:00am, it all still looked flawless (see pics) - and we did not hold back on the dancing and partying. I didn't have to blot my face once and the makeup did not BUDGE. Thank you, Christi!

+ 3

photos

Alex

Married on 03/18/2017

First of all, Christi is just a wonderful person. She is so friendly and interested in you as a person. I went to her for a trial session a few months before the wedding and loved my look, as well as meeting Christi. The day of the wedding, she came out to our hotel to do the makeup and hair for me, my sister (maid of honor), my mom, my aunt, and my cousin, and did the hair for my cousin's daughter (junior bridesmaid). She was so accommodating and relaxed, even though we had to switch rooms in the morning, we were still able to remain on schedule and she calmed me down when I was worried about having to switch. We had a little four year old (flower girl) running around the room, but Christi just went with it and we all had such a great time getting ready--and just as important, we all looked beautiful!!! I would choose her all over again in a heartbeat.

Kris

Married on 11/11/2016

Christi Reynolds is absolute perfection! I have had the pleasure of seeing her in action as a bridesmaid in multiple friends' wedding and when I got engaged, I knew I had to have her as my beauty guru for my wedding. Working with Christi is similar to hanging out with your best friend who just happens to be an amazing make-up artist.

During my bridal trial, Christi took the time to understand the look I wanted to go with and the amount of make-up I was comfortable wearing. She did something that I found very unique and asked that I come to my bridal consultation with my make-up done how I would normally wear it. Christi truly took the time to understand the beauty vision I had. For the wedding, I had six bridesmaids, a mother-in-law and my aunt who wanted their hair and make-up done. Christi found Treja McClish out of Sonoma County to assist with hair and make-up. I implicitly trust whomever Christi recommends.

On the wedding day, Christi and Treja were a delight to be with. Not only are their hair and make-up skills on point, they effortlessly fit in with the group of ladies that were getting ready that morning. Christi made me laugh and feel special that whole morning. It honestly felt like hanging with a dear friend whose make-up and hair skills created the best bridal version of myself.

Rob L.

Married on 08/04/2016

Christi you are absolutely AMAZING!! I knew from the moment I met you and even more so after my trial session you were the one. My Daughter, Mother-in-Law and all my bridesmaid's and myself looked BEAUTIFUL!! You kept to the timeline and you were a joy to work with and you know exactly what I(we) wanted I am so very grateful. I have already told everyone that you are the one to use. I know that this is not the only or last time i will come to you...but i know that there will be other times in my life i will need you. Again Christi, thank you so very much everything.

Sincerely,
Linda Lerman (Stripe) :-)

Lisa

Married on 11/28/2015

Christi was absolutely AMAZING and made me feel like a total princess on my wedding day. She kept me at ease throughout the entire process, from our first booking meeting and all the way through my wedding day. I told her I wanted to look natural and I wanted to be me and she took the time to get to know me and understand my personality, the theme of my wedding and every detail in between in order to create the most perfect look. I look forward to continue working with Christi in the future for more than just my wedding day look!

Alicia

Married on 08/15/2015

Christi is amazing and an absolute delight to work with! I could not be happier with how my hair and makeup turned out for our wedding earlier this month. I have never felt more beautiful than on my wedding day. Christi made sure I was calm throughout the day, which is not easy on one of the biggest days of your life! I opted for the full-day bridal experience, meaning Christi stayed with me until after our ceremony. I am so thankful I did! Christi was there to do any last minute touch-ups before the ceremony and right after. I was worried I was going to ugly cry during the ceremony (tears streaming down my face) and it was such a comfort knowing Christi was there to fix anything before our wedding pictures and reception. She even left me with a little bag of lip gloss, blotting paper, and other essentials for the rest of the evening. I highly recommend Christi's full-day bridal service!
Not only did I look amazing, but she also made my ladies and the moms look stunning too. Her hair stylist (for the moms, bridesmaids, and flower girl), Kayci, did a fantastic job giving each lady a beautiful and unique updo that worked with all of our looks.

Christi did my hair and makeup for my wedding day in May of 2015. She added two assistants and took care of a total of 24 hair and makeup services for the big day! I am not your average California bride and was not looking for beach waves and natural makeup as I am ALL about the drama and Christi more than delivered my vision. My favorite moment with Christi was when it was time for the "Dad Reveal" with my father. My dad and I shared a good cry when we saw each other but to my surprise Christi was just as invested in the special moment. She couldn't hold back the tears and I cherish the pictures of myself laughing and crying at the same time remembering looking at her and saying, "Oh, Christi!! Are you okay!?". I truly felt like I was sharing a moment with one of my longest friends. Christi made me look like I had never balled my eyes out after seeing my dad and I truly felt that I looked the best I ever had. She stayed with me after the ceremony, pinned my hair from down to half up half down, and did touch ups during family photos! Christi is the real bridal dream. I promise you she will exceed all of your expectations!

Jessica

Married on 01/10/2015

I'll start by saying I am a wedding photographer. I've photographed nearly 500 weddings, so it's safe to say, I've seen the good, the bad, and everything in between when it comes to hair + makeup services for your wedding. I've spent the past 6 or so years working with Christi, and when it came time to hire a stylist for our wedding, it was no question. We had to have the best. Our wedding took place in Jacksonville, Florida. We flew Christi out to Florida, because we simply had to have the best!

Before we secured a definitive date for our wedding, we contacted Christi to make sure he was available. We contacted her over a year in advance, as we know she books very quickly.

If you're reading this, you might be wondering why? Why am I so amendment that Christi is the best a bride can have?

First, Christi is extraordinarily professional, she will respond to your emails, calls, concerns, questions...and she'll do it quickly!

Unlike most MUA + Stylists, Christi will be with you for the entire day. She will touch you up in between photos and before you head down the aisle! That kind of service is rare. But Christi really cares about her Brides! She's not off to another wedding, YOU are her bride for the day. She will also have make certain you're on schedule...a detail so many other artist do not concerned enough about.

She also did my bridal party. One of my bridesmaids is getting married in two weeks and she has said multiple times how bittersweet it was having Christi do her makeup. She was spoiled with makeup perfection and by comparison, the artist she is contracted with just doesn't make her feel as flawless.

Christi has a calming nature and will help you feel at ease during the tense moments of the day.

Finally, Christi holds herself to a standard you don't find very often. She demands perfection of herself and will not be satisfied until you are in love with your look.

She is worth every single penny!

Colleen

Married on 12/29/2014

OMG! Christi is an angel, a dream, a superstar!!! Not only she made me and my ladies beautiful on my wedding day, she also helped me be a bride-chilla - as in no stress at all! She is super responsive and would reply to my email messages even on her vacation (my wedding was around the holidays). She extended her services and provided more - she really is not just a hair and make up artist, it felt like she is one of your bridesmaids, MOH, mom, fairy godmother all rolled into one. I could not have been happier! I would hire Christi again and again, if I have events that I need to be dolled up for. But most importantly, she made me feel as special as a bride should feel. I could not stop raving about her to my friends!

Christi is so amazing to work with! Over the past year I have met with Chrisit several times and she was always so accommodating and made me feel right at home. I visited her studio downtown for my engagement session, she also met me onsite for a boudior shoot and then onsite for my wedding day. She was always so prepared and never came empty handed. For any beauty needs I highly recommend Christi.

Hannah

Married on 07/26/2014

Booking Christi was one of the BEST decisions I made throughout my wedding planning process! Christi is SO easy to work with and so much fun to be around! She is very responsive, punctual, and makes you feel like the most important bride on her calendar! Most importantly, she is sheer MAGIC with makeup!! I love getting all dolled up but I had never had my makeup professionally done before my wedding day and, let me tell you, no girl should go without professional makeup on her big day! It is the ultimate pampering experience and if you book Christi I guarantee you will look like a movie star! I still looked like me but in the classiest, softest, most romantic and beautiful way! I know it gets expensive and makeup is an easy thing to have a friend or relative do for you but trust me, it is worth every penny and MORE! One last thing about the amazing Christi, she really wants you to be happy and will change whatever you want changed if you are not completely in love with your look. Don't be afraid to tell her if you want anything just a bit different because she can literally do ANYTHING with makeup and she is happy to make any change for you (she treats you like a celebrity!). If you are a bride and have the opportunity to book her, TAKE IT! You will not be disappointed, you will love her and you will LOVE your look!

Danielle

Married on 04/24/2014

Christi was probably the most amazing part of my wedding besides the groom of course! Her services are by far the BEST! I was skeptical about spending extra money to get my hair and makeup professionally done because of added cost, but it is SOOOO WORTH IT WITH CHRISTI! I chose to have her stay up until after the ceremony so she could touch-ups for pictures. I had some drama at my wedding, and she not only kept me gorgeous, she was my therapist as well! She kept me sane and calm! She really does care about YOU as a person. She is the sweetest person ever and her skills on makeup and hair are absolutely amazing. LOVE HER!

Kimberly

Married on 11/23/2013

Christi is more than just a wonderful artist, I now consider her a beautiful friend! She was so professional, fun, sweet, and informative. In addition, she was very flexible as I changed everything I wantef after our practice run and sweet Christi didn't even blink an eye.
Christi styled both my make-up and hair as well as my maid-of-honor's hair and make-up.
I felt absolutely beautiful all day. Everything stayed on and in place even with an abunsance of happy tears and agressive dancing. Not an easy feat I must say!
I would recommend Christi's services to anyone. Also, take advantage of her practice run...so worth it.
I looked forward to working with Christi again and hope to take some make-up lessons from her as she is such an awesome resource.
Thank you Christi! You're the greatest!

Kimberly

Married on 10/04/2013

Christi is the most talented make up artist ever! I have gained weight and KNEW I would not look beautiful for my wedding. I have a big scar that was the final straw regarding a wedding day fit for a princess. Not only was Christi unable to completely cover my scar, I was SO beautiful I never noticed the extra weight! Forget feeling like a princess, I felt like the most beautiful queen in all the kingdom!

Christine

Married on 09/21/2013

Christi is the SWEETEST person ever and is very professional. She was very accommodating with my busy schedule and when I almost gave up trying to meet up with her for a trial run, she made it a point to make sure she found a good time for the both of us. Her work is impeccable and she really tailors it to what you want (I went for a very natural look, as I don't normally wear a lot of make up). I have never felt more beautiful than I did on my wedding day! Of note, Christi agreed to help me on my wedding day even though it fell on her own anniversary; for someone to put aside their own celebrations to help others is truly a sign of someone dedicated to their work. For that I have to say, "THANK YOU!"

I finally found someone who makes me look beautiful without looking too over done! I love Christi and will never have my makeup done by anyone else for an event. She is simply AMAZING!!!!!!!!!

Christy was amazing! Everyone looked beautiful. I will be using here services again.

My fiancé and I decided to travel to So. Lake Tahoe to elope with just the two of us. Even though our friends and family wasn't going to be there, I still wanted to look my best. I held on to Christi's number and e-mail address for over year. After researching other make-up artist in the Sacramento area, I felt Christi was the best choice for me. I'm so glad I held on to her information, she does such great work. I've never felt more beautiful, and who doesn't want to feel and look great on their big day. Christi has such an amazing spirit about her. She was friendly, kind, professional and her studio was clean and very beautiful inside. She explained to me what she was doing and why she was doing it, I learned so much while getting my make-up done. She made me feel comfortable. It was as if we've been friends for a long time, she's so talented and has a great personality. If I ever need my make-up done professionally in the future, she will be the only person I'll go to. She is honestly one of the best make-up artist in the Sacramento area. 5 stars for sure.

Alli

Married on 07/26/2013

Christi is fabulous!! She did the makeup for all the ladies at my wedding, including my mom, bridesmaids, and flower girl. She also found a wonderful hairstylist to do our hair too. Both were very easy to work with, very responsive to my emails and professional, and had great ideas when I had trouble coming up with my own. I really can't express how beautiful everyone looked on my big day!! Christi's makeup was very natural and light, just what I was looking for. Christi also did an amazing job covering a large tattoo on my back. She hadn't really done any tattoo coverage before, but she was willing to try it at my trial run and it came out great! The coverage was perfect on the day of the wedding, you couldn't see my tattoo at all, and the makeup lasted all night. You can't even tell I had makeup on my back in the photos. Both girls were really flexible - one of my bridesmaids decided on the day of the wedding that she wanted her hair and makeup done too. They were able to work her in and we were (mostly) still on time. I highly recommend Christi and her hairstylist (Kayci Stoots) for any event!

Sara

Married on 07/06/2013

I can't imagine having anyone else do my makeup for my wedding. Christi was professional, on time, bursting with positive energy, and most importantly, an extremely skilled makeup artist! I had nine bridesmaids so Christi brought an assistant. The two of them worked their magic to have all of us, including my mom and mother-in-law, looking gorgeous for the wedding. She was patient and worked very well with our other vendors (photographer and hair stylists). She definitely added to the happiness of my wedding day.

I had Christi do trial makeup for my engagement photos to see how I liked the look of airbrush makeup on my skin. It makes for flawless skin in photos - after that I booked her for my wedding! Christi really listened to how I wanted to look and made it happen. My mom and I went back once before the wedding for one more trial, and Christi went above-and-beyond. She was so flexible (we ran into traffic on the way over and she had to stay late), and when we told her we were going out to dinner that night, she even put some makeup on my friend who came with us! We were so happy with her work, we looked great, and had a fun girls night. Once you do a trial with her, you won't want to go to anyone else! A+!


Emily

Married on 06/21/2013

I'm jealous of all you brides out there who still have your wedding day ahead of you, complete with the chance to spend a full morning with Christi's talent, charm, and hilarious good company.

For my wedding day, Christi worked her magic on me, my bridesmaids, and all the mothers of my party. We felt beautiful, confident, and bubbly the entire day, and everyone, including the folks who hate getting their pictures taken, smiled easily for the camera.

Christi perfectly executed my vision of natural, light makeup with a touch of drama in the eyes. I've never felt more gorgeous as I did that day, and I've become a complete and total narcissist since the pictures were delivered, staring at cheekbones, eyelashes, and eyebrows I never realized I had.

For my hair, Christi brought along a ridiculously talented assistant named Michelle Chiquet who gave me the most magnificent updo I have ever seen—on my head or anyone else's. Working from a collection of about 5 inspiration photos, Michelle sculpted my hair into a piece of art—a tumble of curls, somehow weightless but never budging for the entire night. Pure perfection.

Christi's talent is rivaled only by her sparkling personality and sharp sense of humor, which kept me cracking up with each delightful email communication, and kept all my bridesmaids giggling and ready for the party on the morning of. Seriously: the girl will not only make you beautiful, she'll make you LAUGH.

The only downside to hiring Christi is that sad, fluorescent-lit, Cinderella-at-12:01 moment of staring into the hotel mirror, sweeping off your gorgeous face and taking all bagillion-and-one bobby pins out of your gorgeous hair. But fear not, because a few weeks later, your pictures will arrive and there you'll be, laughing and glowing and even more beautiful than you remember, with a face that you can admire and drool over forever, all thanks to the work of an über-talented, professional little pixie named Christi.

Jennifer

Married on 06/08/2013

She was amazing! I felt beautiful and not too overdone which I was worried about. She made me and all my bridal party comfortable, we all loved her!
Are you interested?
Send a message