39 Reviews
Recommended by 100% of couples
Quality of service

5 out of 5 rating

Average response time

4.9 out of 5 rating

Professionalism

5 out of 5 rating

Value

5 out of 5 rating

Flexibility

5 out of 5 rating
44 User photos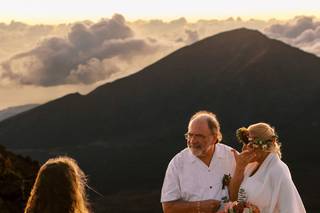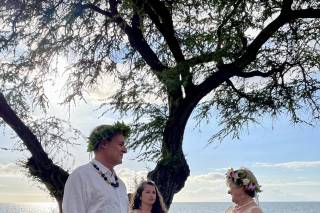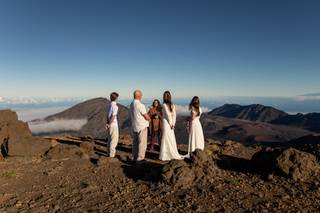 + 40

photos
Jamie S.

Married on 09/25/2022

Chrissy's vibe was just right from the start...

From our initial zoom introduction, Chrissy gave off the most peaceful and love -filled vibe. She really listened to us and got a feel for us & incorporated "us" beautifully into our magical ceremony.

Danelle W.

Married on 09/10/2022

Highly recommended, She created the perfect ceremony for us.

Chrissy was great with making our ceremony unique and specific to our wishes. She listened perfectly creating a very well thought out script that was personalized and perfect. She was great at communicating options with us. And she did a fantastic job with the delivery day of. I highly recommend.

Kat M.

Married on 06/04/2022

Chrissy is the BEST of the BEST

My husband and I hired Chrissy to perform our ceremony in Maui at Lahaina Loft. The ceremony was more than I could have ever hoped for - not only was it personalized for us, but the way that Chrissy delivered and the traditions she brought forth were absolutely beautiful and unforgettable. I cried basically the whole ceremony - in a good way! I am so happy we found Chrissy, and so happy we had a wonderful spirit like her to join us in marriage. We cannot recommend her enough - she is truly special.

Are you interested?

Send a message

Rui X.

Married on 05/20/2022

The best decision I have ever made for our wedding

Chrissy gave us the best ceremony and best moment. She had a phone call with us to listening to our stories. And everything we told her was written into the scripts, which made our ceremony so unique and beautiful. We both appreciate her giving us the this beautiful memory that we will remember forever. Best decision I have ever made. And trust me, Officiant is the most important vendor for your wedding. And you can't go wrong with Chrissy

Rose S.

Married on 02/19/2022

Chrissie is a gift from the Gods.

Chrissie made our wedding ceremony joyous yet serious, spiritual yet playful. She wove so much of what we had discussed into the ceremony so it was a one of a kind and very personal. We loved the Hawaiian song and traditional blessings. We can't imagine anyone better. She truly has a gift and knows how to make the ceremony memorable beyond our dreams. She told us that anything happening around us outdoors during the ceremony was meant to be part of it bringing its own meaning. So when the whales breached with joy just off shore we were ecstatic with that blessing. She said it was a joyous blessing of our union but we believe she has such a pure and kind soul, that she somehow was the blessed one and passed this on to us through the ceremony. She is wonderful and such a delight. A voice like an angel. Thank you Chrissie. It could not have been more wondrous and beautiful. Rose and Peter.

Karl G.

Married on 02/09/2022

Wonderful!

Although we have been together for nearly twenty years and have two wonderful children aged 14 and 16, we finally decided to make things official and get married in one of our favorite spots in the world, Maui. Being unfamiliar with the practical and legal requirements for getting married we decided to have a local person with lots of experience help with our plans that included logistics of the ceremony itself, required documentation, and adding a proper Hawaiian flavor to our big day. Are we ever glad that we got Chrissy Kapoor of Maui Ceremonies to help!

Chrissy informed us of the various certificates, sent suggestions for possible formats, helped with logistics and provided us with a ceremony that mixed traditional North American with traditional Hawaiian that we will never forget! We had our two teen-agers involved and at the end of the ceremony there was not a dry eye to be seen on our very special spot near the top of the Haleakala volcanic crater. Chrissy suggested times, locations and dress for the occasion that went without a hitch above the clouds at "The House of the Sun" on a magical day. Thank you Chrissy for your outstanding professional and personal contributions to a very important day for us.

Elizabeth T.

Married on 11/23/2021

Pure Magic

We chose to go with Chrissy at the recommendation of our photographer & were blown away by our ceremony. Choosing to go with a custom ceremony, we met with Chrissy via facetime for an hour leading up to the ceremony, getting to know eachother and sharing a bit about our story. She put together a beautiful transcript highlighting our preferences, weaving as in answers to a questionnaire about eachother that we provided. Without a rehearsal, things could get awkward but she put us completely at ease & was full of light - she truly is a minister of love. Don't hesitate!

Robert M.

Married on 10/08/2021

Blissfulness above the clouds

Chrissy exceeded our expectations. The way she was able to connect our journey as a couple to nature, truly magical. We felt safe with Chrissy. She listened and delivered a custom ceremony tailored to us. Mahalo.

Chris T.

Married on 06/23/2021

Perfection!

Chrissy was genuine, thoughtful and took the time to really get to know the relationship that my wife and I have before our vow renewal. She was on-time, respectful, and most of all, heartwarming throughout the process. I would recommend Chrissy to anyone looking to get married or renew your vows in Maui!!!

Jason R.

Married on 04/29/2021

Elopement Ceremony in Maui

We couldn't be happier with our choice to work with Chrissy. We knew we wanted a ceremony that was unique to us and our beliefs. After an introductory call we knew she was the one. During that call we immediately felt like she got us and put all our anxiety at ease. Chrissy then helped us figure out the perfect location and timing. Figuring that out was a little tricky since we were Eloping during COVID, but wanted family to be able to watch on a live stream. At one point Chrissy, our photographer, and videographer coordinated to solve the location and schedule. She went above and beyond to make sure we had everything we were looking for. We then had an hour plus conversation with her where we felt she really got to know us and what was special about our relationship. She then was able to craft a ceremony that felt truly us. If you are looking for a tailored ceremony that is only meant for you look no further than Chrissy. She'll make your day unforgettable like she made ours.

Lexa G.

Married on 04/02/2021

Warm, friendly, simple ceremony!

I loved working with Chrissy as our officiant, she answered my questions regarding the ceremony and had plenty of options for me to choose from in our narrow budget. I appreciated the energy and love she put into our ceremony it was genuine, kind, and unique to us!

Jerry M.

Married on 07/12/2019

Ceremony @ Makena Cove, Maui

Chrissy was so easy to work with on a short notice! We had to contend with the fire in Kihei and she let us know that no matter what we will get married no matter when or where, we did have our ceremony exactly where we wanted! If anything we would tell everyone to do it the same! Mahalo Chrissy, Mollie & Jerry Karlik

Kelley M.

Married on 07/04/2019

Married on Haleakala in Maui at Sunrise!

Chrissy was the officiant for our elopement on top of Mt Haleakala at sunrise on July 4th - and she did an AMAZING job. Chrissy is really down to earth, and really listens to what we had to say, and what meant most to us. She incorporated what we wrote in our pre-ceremony questionnaire, and what we spoke about during a 60 minute phone convo with both of us a few weeks before the wedding, when preparing a custom ceremony. We picked the passages that meant most to us, customized our ring exchange, wrote personal vows and Chrissy filled in all the rest to a T! Chrissy was a champ, meeting us at dawn and climbing to the top of Haleakala for the sunrise. We arrived around 5am, she waited patiently as we took pictures, and then so perfectly performed the most special and meaningful ceremony we could have ever imagined. After the ceremony, she emailed us the whole thing in writing, so we could read, and reread, and keep all these words close to us on this new journey together in marriage.

I'd recommend Chrissy to anyone looking for a personal, special touch, with someone very grounded. This wont be your typical cookie cutter ceremony, it will be from the heart. Hands down one of the best decisions we made!

+ 3

photos

Danielle S.

Married on 07/04/2019

Everything you need in an officiant!

Chrissy was everything we were looking for in an officiant. She was helpful, down to earth, easy to work with and a really nice person. Our ceremony was small but fairly unplanned and she was able to accommodate all of our last minute changes and requests as well as provide some really great suggestions which made our ceremony that much more special. I would absolutely recommend her to anyone looking for an officiant. She fit right in with the vibe of our ceremony and we are very grateful she was there to bring us together. Thanks Chrissy!

Lisa

Married on 07/03/2019

Exactly what we were looking for!

Chrissy was exactly what we were looking for in an officiant! She was helpful, down to earth, and a very kind human being. We were not very familiar with the island of Maui, we told Chrissy what we were looking for in regards to location, and she suggested the most magical location – exactly what we had in mind. My husband and I were both nervous on our wedding day, and she made us feel relaxed and at ease. It will be a day that we will never forget! I would recommend her in a heartbeat to anyone looking for a wedding officiant. Mahalo Chrissy!

Andeea D.

Married on 06/22/2019

Amazing Ceremony

We could not be happier with Chrissy! She was perfect for our small ceremony. We did not know the island, as we had never been to Hawaii prior and were planning our wedding there. She went over all our beach options and knew all the ins and outs that we could not have done ourselves. She was also very open to our spiritual experience we wanted to have captured and had plenty of options for the ceremony! Really I can not say enough good things about her! Thank you again! Namaste!

Dean A.

Married on 05/13/2019

Excellent!

Chrissy was a delight to work with in preparation and added special touches to our ceremony with personal sayings & a poem. Everything was planned well for us and the location she picked out was fantastic!

Teri G.

Married on 04/24/2019

We couldn't have chosen a better officiant to perform our wedding!

Our experience with Chrissy was completely professional. We loved the mixture of what words we chose for our ceremony mixed with hers! She made us both feel very comfortable and at ease.

Tom M.

Married on 04/03/2019

Peaceful. Sincere. Spiritual.

I was particularly pleased with her sense of serenity. The ceremony is remarkable in its simplicity and attention to love and peace.

Jode M.

Married on 03/30/2019

Chrissy was an absolute DREAM celebrant.

Chrissy was the most perfect celebrant for our ceremony. She made our small event feel so special, and even though we weren't able to meet her beforehand, she made us feel instantly comfortable. Only knowing a few things about us, Chrissy managed to create a ceremony that felt so personal and unique to our relationship, and helped us create a truly unforgettable experience. Thank you so much Chrissy. We're forever grateful.

Zoe K.

Married on 03/17/2019

Such a personal ceremony not at all standard!

We got the custom ceremony package. Chrissy started by calling us and asking questions like how we met, why we picked the specific venue, what was the significance of that date, and who would be attending. We also had to fill out a questionnaire separately with questions like what we think marriage means, what qualities we love about each other, and what we look forward to in the future together. Since we chose to have a small intimate wedding with only family, she suggested doing a "ring warming" where the rings are passed around before the ring exchange to each guest so they can hold them and silently send us blessings. It was such a nice touch! I had never seen that before. She also sent us a copy of the ceremony script after the wedding as a keepsake. We were very happy with the ceremony and Chrissy services!

Aubrey A.

Married on 02/26/2019

Chrissy was an amazing officiant for our wedding in Maui!

My husband and I both love love love her! Her vibe was perfect & calm for a sometimes chaotic day. She did an amazing job of connecting everyone together and bringing intimacy to the ceremony. She was very professional and sincere. So happy she was part of our special experience in getting married on the beautiful island of Maui. Couldn't have asked for a better officiant! Thank you so much, Chrissy! We will cherish this memory for the rest of our lives

Angela S.

Married on 12/11/2018

Magical Memories

Words could never express the extreme gratitude that we have for Chrissy Kapoor. We contacted her just a few short weeks before our ceremony in Maui and within that limited period of time she created a ceremony that was absolutely amazing. It was exactly what we asked for and even more. Her willingness to go the extra mile to make that day sacred and special will never be forgotten. We highly recommend her to anyone who is considering a ceremony in Maui. You can rest assured that she will take your ideas, thoughts and wishes and turn them into something magical. It was quite literally the most beautiful day of our lives and we owe it all to Chrissy!!!

Stef

Married on 11/26/2018

Haleakala Sunrise Wedding

We held a sunrise wedding on Haleakala this past November and Chrissy was our officiant. She was very accommodating considering sunrise at Haleakala is quite the adventure!
Chrissy did a wonderful job incorporating our requests and adding the loving words we shared about each other. If you're getting married on Maui, I would definitely recommend her.

Lauren

Married on 08/15/2018

My husband and I had a crazy idea - we wanted to elope in Maui, at sunrise, on top of Haleakala. We had never been to Maui and didn't know where to begin. We stumbled across Chrissy's website and after reading her bio and talking with her on the phone, we instantly knew that this was the person we wanted to marry us. It was the absolute best decision we could have made. Saying Chrissy was amazing is a complete understatement. She made the entire process incredibly easy and even scouted the most breathtaking location for us. If it wasn't for her, we wouldn't have had the wonderful ceremony that we did. I can't say enough nice things about her. If you are wanting a stress free, beautifully written and delivered ceremony, then Chrissy is your person. We are so thankful to have had her as part of our special day and we hope that others get to experience the same amazing feeling that we did, when she married us.
Are you interested?
Send a message