Reviews
5.0 out of 5 rating
Quality of service

5 out of 5 rating

Average response time

5 out of 5 rating

Professionalism

5 out of 5 rating

Value

5 out of 5 rating

Flexibility

5 out of 5 rating
100%
Recommended by couples
4 User photos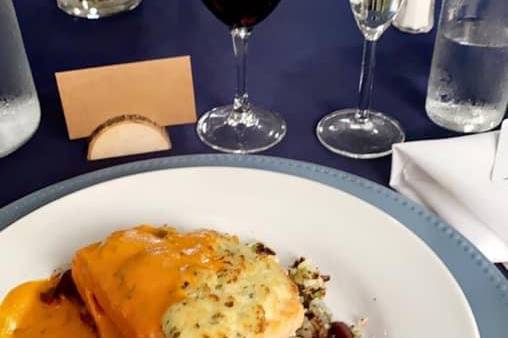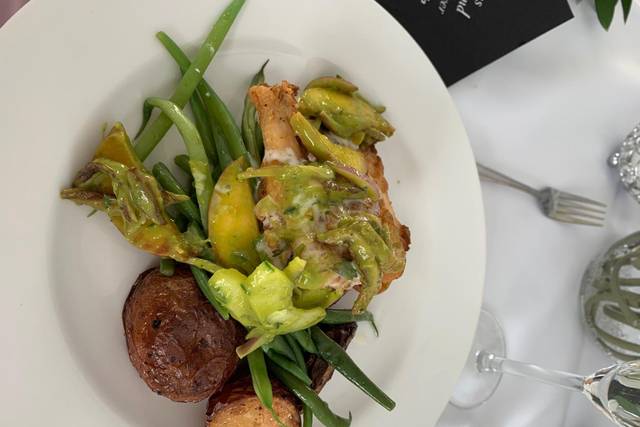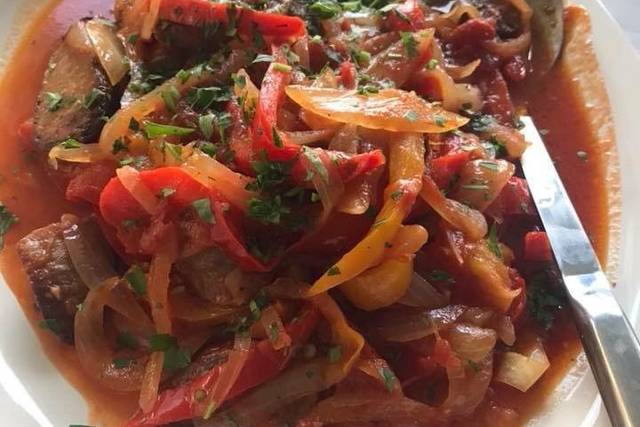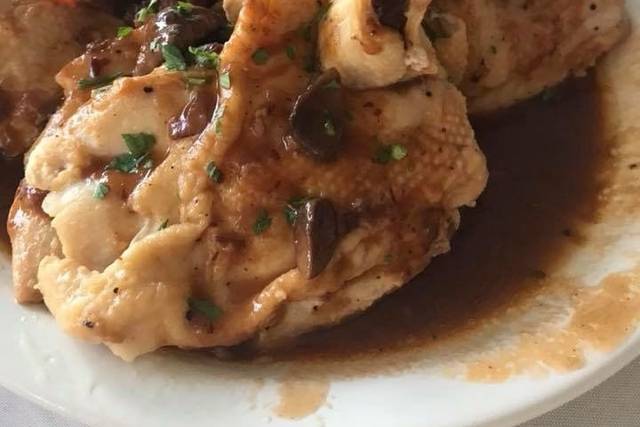 Featured

Kelly

Married on 04/04/2020

Food you will dream of forever.

I cannot say enough about how amazing John is!!! We had ALOT of struggles due to venue changes and then Covid and then replanning the wedding multiple times. John was very supportive and flexible and a dream to work with. And that's honestly an understatement. Not only is John amazing to work with but the food…. I cannot tell you how happy alllllll of our guests were!! Mark and I knew how amazing it would be from our tasting but our guests were ecstatic. The Mac & Cheese and Prime Rib were the BIGGEST hit! I drool thinking about it still after the fact. If you book Chowhound, know that you are getting the absolute best food and the best caterer you could ever work with!

Chowhound Gourmet's reply:

Thank you so much Kelly! It was a true joy cooking for you and the families. I was so impressed how you and Mark handled all the obstacles leading up to your special day

We wish notihing but the best for you guys !!!

John

Joe A.

Married on 11/12/2022

Best decision we made!

Chowhound catered our wedding and it was the best decision we made for our night. The staff was incredible and worked seamlessly to make everything perfect and we got so many compliments from our guests and how friendly and professional all of the servers were.
But, the highlight was the FOOOD! I don't know how John and his staff do it. Our venue did not have an onsite kitchen, so we were nervous about the quality of dinner being compromised - somehow it was even better than on our private tasting day. Every single guest plate was plated beautifully and tasted perfect, which we know because I think every single guest told us how amazing their dinner was.
We highly recommend the tomato bisque for any occasion, truly was the highlight of our dinner and by far the best bisque/soup we have ever had.

Thank you to the entire Chowhound Team!

Chowhound Gourmet's reply:

Thank you so much Joe!

I am fortunate to have such an incredible team . I will be sure to let them know

We wish you guiys the best

John

Zachery

Married on 09/10/2022

What More Could You Ask For

First off, the entire experience with John and his crew was amazing. The tasting, the logistics of everything…all of it…amazing. I'm not really one to leave reviews, but, I have to for Chowhound. We had some weather challenges with our wedding, but John and his crew worked it all out. Having a wedding in the country, in a barn is especially challenging and from someone who used to work in the industry, I am always highly skeptical of chef's/caterers abilities. John far exceeded all of our expectations. We had nothing but awesome comments on how delicious all the food was. The prime rib—amazing. Thanks John and staff for all your hard work and delicious food! - Z

Chowhound Gourmet's reply:

Hi Zachery

I really appreciate you taking the time out to give Chowhound a review . And thank you for all the wonderful compliments. I am so fortunate to have such a great crew!

We wish you guys all the best
John

Are you interested?

Send a message

Chuck B.

Married on 07/30/2022

Amazing Team, Fantastic Food, Exceptional Service

5 stars does not do John and the Chowhound team justice ! They were unbelievable. It started with the initial conversations with John last year and the tasting where we decided to go with one of his packages but John was so excited to allow us our own personal flair and touches. We chose several of his amazing appetizers but also offered one of our own items (bacon wrapped dates, stuffed with chevre) and OMG they were all a hit. For the main meal we again asked for some custom options that all fell within John's original package along with an amazing Risotto station and I cannot tell you the number of compliments we received. We also added a late night snack (POUTINE for my Canadian roots) and the team executed this flawlessly.

Lastly, the 'day of' service team and team leader were exceptional, they consistently checked in to make sure we were happy, and operated at a level I have not experienced before.

I can't recommend John and Chowhound more if you are looking for a fantastic caterer ! Thanks so much for all your hard work, it helped make our event a huge success !

Chowhound Gourmet's reply:

I am absolutely humbled by this amazing review! And I am so proud as an owner that I have such an amazing team !

Chuck , we wish you guys nothing but the best

John

Stacy A.

Married on 07/09/2022

10 out of 10

We could not have picked a better caterer, hands down! From start to finish to finish John & his team were incredible to work with. And the food....well the food was absolutely amazing! We raved about the food at the tasting, but I swear it was even better at our reception! Our guests have been raving about the food as well!! Please know if you chose Chowhound Gourmet you are getting the BEST of the BEST! Thank you John & team for making this part of our wedding planning the easiest!


Mia G.

Married on 05/21/2022

WOW! Chef John and his team...Incredible!

Our wedding day catered by Chowhound Gourmet was absolutely INCREDIBLE from start to finish and exceed every possible hope we could have had.

We catered cocktail hour appetizers, a plated meal (three food options) and rented china for +160 people at the Packard Proving Grounds in Shelby Twp, MI. Not having a kitchen onsite was no issue for the Chowhound Team and not only was the food hot and fresh, but beyond delicious! The service staff was kind, thoughtful and professional - we received so many compliments not only on the food but the service too from guests. We hear so many stories of couples not eating on their wedding day and it was the complete opposite for us - the Chowhound team made sure my husband and I were served first on our big day. Chef John is one of the kindest and genuine vendors out there and a true joy to work with. We LOVE Chowhound Gourmet!!

Chowhound Gourmet's reply:

HI Mia!

Thank you so much for taking the time to write our team a glowing review! I am so fortunate to have a passion filled team that truly cares.

May the force be with you guys !!!

Amy J.

Married on 02/05/2022

Delicious food, wonderful staff

Food was absolutely amazing, and John was so easy to work with, even with last minute changes that we wanted to make! Would absolutely recommend them and use them again for other special events!!

Chowhound Gourmet's reply:

HI Amy!

Thank you for taking the time to give Chowhound Gourmet a review. Thank you for the wonderful compliments. I am grateful that I have an awesome team that loves what they are doing.

We wish nothing but the best for you guys !

Very best
John

Jorah H.

Married on 10/30/2021

Excellent (vegan!) food and even better service

Working with John was such a joy. He answered endless, very detailed questions leading up to the wedding, was so willing and able to provide a vegan menu that was very budget-friendly, and even coordinated a non-alcoholic beverage station for us. Not to mention, the food was SO delicious! Despite the fact that we were planning from another state, John was responsive and attentive, and his staff were friendly and fast--they even wiped down and meticulously packed up another vendor's dishes at the end of the night. We certainly would recommend working with John and his team at Chowhound Gourmet!

Chowhound Gourmet's reply:

Hi Jorah!

Thank you for taking the time out to write us a review! And wow, thank you for all the compliments. I truly have an awesome team that I am very grateful for!

We wish nothing but the best for you guys

John

Patty H.

Married on 08/07/2021

How Does He Make THAT Good of Food?!

John is INSANE. Food was our #1 non-negotiable splurge, and we didn't even end up "splurging". After receiving an estimate, we agreed to go to a tasting thinking that there's no way we'd get the quality of food we wanted in that price range. But HOLY CRAP were we wrong. We really don't know how he made so much food, all of it tasting like it came from a high-end restaurant, hot, and appeasing to every palate in the place. John, thank you, thank you, thank you.

Kelly G.

Married on 04/18/2021

LOVED Chowhound Gourmet!!

John at Chowhound Gourmet came up with a perfect menu and his crew served us everything with smiles on their faces. Food was absolutely delicious! :))

Melissa C.

Married on 10/10/2020

Best wedding food ever

John and his team are amazing. The food was excellent and the service they provided was top notch. He was flexible with some last minute changes and made planning my 3rd wedding due to covid a breeze. He offers a trial to couples and I promise if you give him a shot you won't be disappointed.

Chowhound Gourmet's reply:

Hi, Melissa!

It truly was an honor! And thank you so much for the kind words!

Nothing but the best to you guys

Sincerely, John

Eden M.

Married on 10/10/2020

Amazing Food + Friendliest Staff!!!

Chef John at Chowhound Gourmet is amazing!!! When we found Chowhound on WeddingWire and read the reviews and researched their menu options online, we knew that we really wanted to try them if at all possible (we were very late to the game finding a caterer due to covid). Unfortunately when we reached out to John he told us that his team was already booked for our date and sincerely apologized (not his fault, of course!!). We asked him to put us down in his book in the event the schedule opened up due to a cancellation because of Covid. We thought it was a long shot, but it was worth asking. Turns out it wasn't that long of a shot because the event did get canceled (which totally sucks), but super lucky for us! We were ecstatic when we received a call from John about 3 weeks later saying he opened up. We set up a phone consultation with John and started planning out the menu! He came up with such a delicious menu for us based on what we told him we liked!! We did the prime rib, baked cod, roasted veggies and potatoes, and grown up mac n cheese. I told John that I loved soup and would prefer to have a nice fall soup served instead of salad before dinner, and John made this amazing Butternut Squash Bisque with an assortment of delicious garnishes. It was amazing!! The ceremony and dinner took place in our home, so the chef and server were super flexible moving around the kitchen and living room (and to the garage off the kitchen where the prime rib was being carved.. not the original plan but they needed more space and were able to adapt to a better arrangement that worked out for them!!). The server, and I forget her name, was an absolute angel. She was sooo, so so so sweet. She took excellent care of all 21 people sitting down for dinner. Before dinner even started, she and the chef prepared togo boxes for a few family members who attended the ceremony but were hesitant to join for dinner due to being in closer proximity with others (again, covid). They were so happy!! Once the dinner was done, she so kindly wrapped up all leftover food and stored it in our fridge (labeled the boxes and dated everything). She helped to serve the cake. She did the dishes!! Once the wedding was over, the groom and myself literally had zero cleanup to do with food. It was so nice.

One of the nicest gestures of the whole catering service had to do with our pup (and also our flower dog), Phoebe. Although there was no chicken on the menu for us, Chef John prepared her one unseasoned chicken breast with unseasoned veggies. It was her special day too and we wanted her to enjoy a special meal, and Chef John delivered. He REALLY delivered. She didn't finish all at once... but trust me, she did lick her bowl clean by the time dinner concluded.

We literally couldn't have done the day without them. Once we were luckily and finally able to hire John, the process couldn't have been more smooth. The phone consultation, menu tasting, finalizing details, and execution of the event, was all perfect. We can't thank John and his team enough for the amazing service they provided to us, our pup, and our guests. Our guests, and us, were raving about the food for days. One thing people always remember about weddings was if the food was good or not. Chef John and his team made sure that the food was unforgettable in the best way possible. Thank you so, so much!! We OBVIOUSLY recommend them to anyone looking for catering services for their event.

Chowhound Gourmet's reply:

Hi there!

Thank you so much for the amazing review! It was so thoughtful of you to go into such detail . Truly grateful for your all your words!

I can not tell you how fortunate I am for my amazing crew! They are the best!

Nothing but the best to you guys & of course Phoebe :)))


Wanda L.

Married on 05/30/2020

Excellent Food and Service

A++ 🤗 From the first phone called to the last drop ate by my guest. I called John on a short notice for a wedding reception during the Covid-19 Pandemic and he responded with open arms and delivered on his word. Fine dining quality with service attendants at a unbelievable price. Food was amazing and the staff was perfect for my outdoor wedding. 100% recommend if you need a caterer for "any" event!!

Chowhound Gourmet's reply:

Hi Wanda!

Thank you so much for taking the time out to give us a review! It was an absolute joy :))

Nothing but the best for you guys

Best, John

Dana K.

Married on 02/08/2020

Backyard Reception

From my first conversation with John I knew we had found the right person to cater our event. We love great food and had never had a caterer before as cooking is something I love to do. Our daughters wedding went from a 325 person event down to 23 during Covid19 and we had to make adjustments and have it at our house. John was very accommodating with specific requests, came over on a Saturday to get a "lay-of-the-land" of our backyard and house and worked so well with us to make our event special. Everyone loved the food, from the beautiful and delicious appetizers to the "bonus" amazing soup, salad, veggies, potatoes and duet main course. All I can say is that we were extremely happy we found Chowhound Gourmet and will be passing the word along to anyone that needs an event catered. John is your man!

Chowhound Gourmet's reply:

Thank you so much for all the kind words. It was a true joy serving you and the family !

Nothing but the best for you guys

John

Abby G.

Married on 01/03/2020

Delicious food, professional staff, great value

Chowhound gourmet delivered delicious food at a great value. I couldn't be more happy that we hired John to cater our wedding. I was hesitant to do a buffet, but it fit our venue the best. I normally associate buffet food to being overly salty, cold, and not very inventive. That was the opposite of what we had! Our food was very flavorful, hot, and inventive for all diets. The staff was very attentive to clearing plates and checking in with us as well. I could not recommend them enough, all our guests were complimenting on how great our food was!

Chowhound Gourmet's reply:

Hi, Abby!

Thank you so much! I am so fortunate to have an awesome team!

And yes, the premise of Chowhound is top notch restaurant food in a catering environment...

Nothing but the best for you and Eric!

Best, John

Msc I.

Married on 12/21/2019

Most memorable wedding food ever!!! Such a professional staff!5

Update to our tasting from earlier in the year. John's team catered our daughter's wedding ton 12/21/2019, and we agree with ALL the guests, the food was AMAZING!!! The service was outstanding, and no detail went unnoticed. We could not be happier with our choice of Chowhound Gourmet, because they contributed to making this very special day even more unforgettable. If you are looking for a delicious and creative menu for any occasion, do and yourself a favor and try Chowhound Gourmet. You will not be disappointed!!!


Chowhound Gourmet's reply:

Thank you so much for taking the time out to give us such an awesome review. I will be sure to share this with our team!!

May the force be with you

Best, John

Veronica

Married on 11/09/2019

Absolutely Amazing!!!!!

Our guests were absolutely blown away by the food Chef John did for our wedding. The staff was on top of everything and all we heard from our guests is how the food melted in your mouth!!! Beyond blessed and happy with everything!

Chowhound Gourmet's reply:

It was absolutely our pleasure! And thank you for taking the time to write a review. Truly grateful

And may the force be with you guys!!

John

Suzanne

Married on 10/19/2019

Chowhound Gourmet Best Ever!

Went for the tasting for my sons wedding and John was fabulous and his food was the most amazing! Definitely a "Chef" prepared meal vs. a "caterer" prepared meal!

Chowhound Gourmet's reply:

Hi, there!

SO thoughtful to give us an excellent review for a tasting. We had fun and we look forward to serving you and your family!!

Very best, John

Koco

Married on 09/28/2019

Best wedding caterer around!

I honestly do not have enough words to express how amazing John and his team from Chowhound Gourmet are. From our first meeting with John, we saw his passion for food, and the food he presented at our wedding was INCREDIBLE. We seriously had people tell us they were "licking" their plates. John came up with a great menu for our cocktail hour, and dinner service. He was easy to work with throughout the entire process, and made our wedding so special. We would recommend him to ANYONE. He's not only a great caterer, he's a fantastic human being. Do yourself a favor and book him immediately--- you will be so happy you did!

Jessie

Married on 09/28/2019

my experience was excellent.

I am so Happy we chose ChowHound we had some people who showed up that didnt RSVP but the staff and John improvised.

Chowhound Gourmet's reply:

Thank you so much for the review!

We are grateful for you and T.J. and may the force be with you guys :))

Rebecca

Married on 07/04/2019

Excellent Service and Food from Chowhound Gourmet

Chowhound Gourmet is an excellent company and I would recommend them to anyone. My wedding reception was held at a park pavilion and I was concerned that it might come across too much like a graduation party type event rather than a wedding. Chowhound Gourmet helped give my event that extra bit of class. The food was delicious and unique and the onsite servers did an excellent job of presenting it in a really classy way even though we were using fancy looking disposable flatware and plates. I was really impressed with the onsite servers too. They arrived about two hours early to set up, so there was no worrying about them. I figured they would only be responsible for setting the food out and making sure that the food stayed well stocked but they also went around cleaning up the little cups and glasses the food came in as people finished them. I told everyone that the food was the wedding detail that was most important to me and Chowhound Gourmet did not disappoint!

Molly

Married on 06/29/2019

Could not be happier!

My husband and I hired Chowhound Gourmet for our wedding this past weekend, and we are so glad we did! John Breeland, the chef/owner, was extremely kind and helpful leading up to the wedding. On the day of the wedding, we had a short turn-around time to get the dining area ready for the reception, and the Chowhound Gourmet staff got it done in no time! The food was absolutely delicious, and we never ran out of water at the tables. My husband and I received so many rave reviews from our guests about the food and the service! If you're in Southeast MI and need a catering service, look no further!

Chowhound Gourmet's reply:

Hi, Molly !

Thank you so much for the amazing review! It was an absolute honor to serve your first dinner as husband and wife!

Very best to you guys

John

Arianna

Married on 06/08/2019

Book with Chowhound NOW

John and his team at Chowhound Gourmet are an incredible crew of chefs, servers, and event staff. I recommend his services to anyone looking for brilliant food and professionalism at their wedding or other event. We were married on June 8th at the Belle Isle Boat House. Many things about our wedding made it a difficult event, but John honestly rocked it. First, my mom is a chef in the SF Bay Area with ridiculously high expectations -- John met every single one of her requests. I'm talking about minor things (i.e., creme instead of mousse, chopped dill instead of raw dill) that had I been in his shoes would've really put me over the edge. But he attended to these requests with ease, and was open to suggestions. We ended up having a second appetizer tasting to get everything just right, and John was gracious and warm. At the wedding, our parents and guests repeatedly said that the food at our wedding was the BEST WEDDING FOOD EVER. We had three stations - Middle Eastern, California Fresh Fare, and Italian. Every single dish was scrumptious. The second challenge with our wedding was the venue -- the Belle Isle Boat House is absolutely stunning, but it is a non-traditional venue. There is no kitchen. It is a historical building, so there are no open flames inside the building. And on the day of our wedding, the outside of the boat house flooded (yes, flooded) and the elevators were out of service. Unbeknownst to me, John and his team handled it. Hands down that was probably one of the most challenging weddings to date, and it went off without a hitch. So, if you are looking into a difficult venue, you need to book Chowhound now. If you just want delectable food that will knock your socks off, your need to book Chowhound now.


Chowhound Gourmet's reply:

Wow!

Your review made me so proud of my team. ! You guys were so cool to work with.... I am humbled by all of this

Thank you much and may the force be with you

Best, John & the Chowhounds!

Kathy

Married on 04/13/2019

Wonderful food chow hound !!

The wedding went off with out a hitch.
The food was fabulous. We had a buffet with a prime rib carving station. Everything was delicious , " My 91 year old mother-in-law" just raved to me. "Who knows better than the wise"
I would highly recommend, "John Breeland" does what ever you want., If it's not on his long list of food items he will work with you on whatever your wishes. Also his appetizers were the bomb.
The only thing that I can think of that was a little bit off might have been the little wrapped hotdogs at the end of the night. Puff pastry tends to shrink-up I think and not hold up real well. We asked for that, it wasn't on his list. I would not order that but there were no complaints so, there you go, thumbs up !! The price also included non-food items such as dinnerware,

Chowhound Gourmet's reply:

Hi, there!

thank you for the wonderful compliments!

It was a joy to serve you & yours

Very best, John

Kattie G.

Married on 03/23/2019

Excellent Good Tasting

The food that John prep for my Fiance and I exceeded our expectations! We can not wait for our guests to enjoy their meal as we celebrate our marriage in March of 2019!
Are you interested?
Send a message