Reviews
5.0 out of 5 rating
Quality of service

5 out of 5 rating

Average response time

5 out of 5 rating

Professionalism

5 out of 5 rating

Value

4.9 out of 5 rating

Flexibility

5 out of 5 rating
99%
Recommended by couples
2 User photos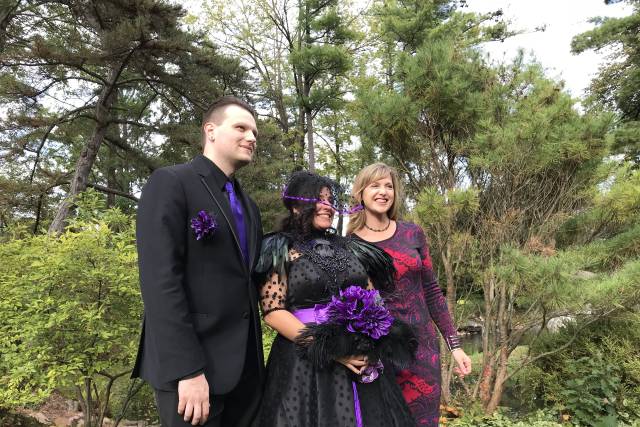 Melissa

Married on 05/25/2019

Wonderful to work with!

Bonnie was so easy to work with and she allowed us to make whatever adjustments to the ceremony that we felt suited us best. It was such a good experience throughout the whole process she's very professional and created a sense of calm through the whole process. On the wedding day the ceremony was perfect and people mentioned how much they enjoyed it!

Chosen with Bonnie's reply:

Thank you so much, Melissa! I loved creating the perfect ceremony for you and Richard. You are both lovely to partner with. I hope to having the honor of becoming your family Celebrant! xoxo

Patrick

Married on 10/12/2018

The experience with Bonnie was wonderful! The ceremony was us! We come from a Lao and Filipino heritage and we had the ceremony uniquely made for us. There were laughs and many tears (happy tears =)). Our love story was very thoughtful and everyone who attended loved our ceremony. Throughout the entire process Bonnie was kind, accommodating and prompt with her responses. I don't think I can find a better person to be our celebrant. We Highly recommend her to officiate your wedding!

Chosen with Bonnie's reply:

Patrick and Veronica,

Thank you for your kind words. You have gathered the most loving, celebratory group of friends and family to witness your love story. Blending your traditions and honoring your family was magical. Continue to love each other well. Your devotion shows. I am thrilled to have been chosen as your Celebrant! xoxo

Deborah

Married on 09/22/2018

I loved my wedding ceremony! Bonnie was very responsive from the start of planning and all the way through the end of the ceremony. She did a great job capturing our love story during the planning process and expressing it during our ceremony. She was a pleasure to work with and I would recommend her again and again!

Chosen with Bonnie's reply:

Thank you for your kind words, Deborah! Sharing your love story was my pleasure. Love your sweet family well, newlyweds!! xoxo

Are you interested?

Send a message

Dennis

Married on 08/25/2018

Bonnie was amazing to work with and we couldn't be any more grateful for the wonderful job she did celebrating our marriage. We knew almost immediately that the connection created with Bonnie was something special. Bonnie has an ability to take your relationship and tell your story. She takes the time to listen to your needs and helps create an amazing memory. Our ceremony was uniquely ours and Bonnie's advice and guidance made for precious memories that we will hold dear forever. We have had guests ask us if she was an old friend of ours or a family member because she knew our story so well.

Chosen with Bonnie's reply:

Dennis, thank you for your kind words. I knew from our initial meeting how dear you and Jessica were to each other. I could not wait to find out more about you and showcase your love story before friends and family. I count myself fortunate to have the honor of marrying people as precious to each other as the two of you. Love each other well! xoxo

Betty

Married on 05/19/2018

Bonnie gave our ceremony the respect it deserved from the very beginning. She was very professional, punctual, great presence, a warm heart and a passion for what she does.

Ryan

Married on 12/31/2017

HIGHLY RECOMMEND! Bonnie really took the time to get to know us and listened to our vision for our ceremony. The ceremony was exactly what we wanted -- heartfelt, sweet, and most importantly, true to us. We were just married two days ago and have already taken the time to write this review because we can't thank her enough. We've received so many compliments on the ceremony and this is an absolute credit to Bonnie. Hire her!!

Chosen with Bonnie's reply:

Ryan and Cindy,
Thank you so much for your kind words. Serving as your Life-Cycle Celebrant was an honor. The tender moments created during your ceremony are a testament to the love you share with one another. Enjoy each moment of your time together as newlyweds!

Katie

Married on 09/29/2017

Bonnie was absolutely amazing! She is a kind, thoughtful, and joyous individual, and that was obvious during our first meeting with her. We knew that she would be a perfect fit for our ceremony! She was extremely helpful during the entire planning process and we had no worries that the wedding ceremony would go off without a hitch. Bonnie was extremely thorough, professional, personable, and responsive. We didn't want an overly serious or formal ceremony, but we wanted it to be meaningful as well. Bonnie was very flexible and was able to design a custom ceremony and suggested rituals that would best suit what we wanted the feel to be. We received several compliments on how wonderful our ceremony was (and are still receiving them months later)! Seriously - choose Bonnie for your ceremony!

Chosen with Bonnie's reply:

Thank you so much, Katie! You are a love and I am absolutely over the moon about officiating for you and Rick. Your love is one of a kind.

Dana

Married on 08/26/2017

From the moment you meet Bonnie, she feels like an old friend. I think meeting an officiant can feel an awful lot like meeting a therapist for the first time - having to share your story, your history, your future plans. But with Bonnie, she made it all so easy, comfortable, enjoyable, and fun. Her ceremony was so beautifully written, taking our stories and weaving them into a larger story to share with our guests. We were so delighted with the whole process that we'd do it all over again in a heartbeat. Bonnie's just the tops - she made our day.

Chosen with Bonnie's reply:

Are you kidding me? Dana, my cup overflows. Thank you for your kind words. Marrying you and Alicia was such a thrill, I'd do it over again as well. xoxo

Alicia

Married on 08/26/2017

Our friends and family raved about our ceremony. It was an emotional experience for not only us, but our guests too. Bonnie asks for each person in the couple to submit a detailed questionnaire and meticulously uses them to put together a ceremony that is thorough and unique. She also recommended other vendors which we used (and LOVED). She was extremely fast to respond to all our emails along the way. Cannot thank Bonnie enough for all her hard work. The ceremony she provided us laid the framework for the rest of our amazing wedding. Would recommend Bonnie without second thought.

Chosen with Bonnie's reply:

Thank you, Alicia!! Creating your ceremony with you and Dana was such a pleasure. Seeing you both walk down the aisle looking radiant with the warmth and love of your family and friends around you in the ivy-lined garden at Firehouse Chicago created lasting memories. It was a joy to serve you and Dana!

Kelli

Married on 08/12/2017

Bonnie was the perfect choice for my August 2017 wedding! My husband and I did a lot of research to find our officiant and knew within the first minute that Bonnie was the one. Her personality is so warm and down-to-earth which is exactly what we were looking for. She wrote a personal ceremony for us and we received so many compliments from our guests that it was one of the best weddings they had been to. Plus, she was quick and prompt in sending in our marriage license. Thank you for everything, Bonnie!

Chosen with Bonnie's reply:

Kelli! You are the best! Thank you for your kind works. Working with you and your husband, Bret, was a dream.

Mark

Married on 08/06/2017

Working with Bonnie was a great experience. She helped guide us through the process and developed a service with which we were very happy. She was punctual, professional, and warm, and we couldn't be happier with our choice to go with her. Highly recommended.

Chosen with Bonnie's reply:

Thank you, Mark! Creating a ceremony for your sweet family was one of the highlights of my summer!

Dane

Married on 08/05/2017

Choosing Bonnie to officiate our wedding was one of the best decisions we could ever make! Bonnie starts off her process by getting to know both couples by meeting in person to discuss different ceremony options (sand ceremony, unity candles, ring warming, etc). After our initial meeting, we were both given a questionnaire that really helped Courtney and I dig into the nitty gritty about what we love about one another and Bonnie has an incredibly creative ability of weaving our answers into a beautiful story.

I would highly recommend Bonnie as an officiant to anyone getting married in the near future!


Chosen with Bonnie's reply:

There are moments I will remember forever. Dane, the depth of your emotion while you awaited your bride was so touching. Working with you and Courtney, along with your sweet family, was such a joy. Thank you for your review! Your words help other couples make their decision for a Life-Cycle Celebrant who will share their love story with dear friends and family. Keep showing up in love with one another. You're off to a great start!

Zach

Married on 07/03/2017

Bonnie was AMAZING during the entire experience working with her, from our first meeting to the couples classes she so graciously included us in to our wedding ceremony where everything came together. Having an interfaith marriage is difficult enough and the word's crafted by Bonnie made it a perfect mix of our Jewish and Catholic religion and most importantly what my wife and I meant to each other. Her calm voice and demeanor put us at ease leading up to our wedding and especially during our wedding. Everyone from both sides of our family and friends continue to tell us how genuine and thoughtful her words during the ceremony were and we couldn't agree more. Thank You, Thank You, THANK YOU!!

Anne

Married on 10/23/2016

Bonnie takes the time to get to know you and your significant other. She is so good at writing your ceremony. It's unique. She asks many questions to make sure it's perfect. We loved our ceremony especially being binded by a ribbon and love.

Chosen with Bonnie's reply:

Anne, officiating for you and Jon was a life-changing event. Your love touches so many. Keep it up! xoxo

Stephane

Married on 10/22/2016

Bonnie was a wonderful officiant! She was very professional and wrote an amazing ceremony for my wife and I. Bonnie takes the time to get to know you and makes sure every detail counts. She made our day very special and we highly recommend her service!

Chosen with Bonnie's reply:

Thank you, Stephane! It was a joy to work with you and Marit to create a very special day for the whole family.

Lynn

Married on 10/22/2016

If you don't want to worry one bit about whether the officiant will be lovely, warm, professional, on time and help guide you through a meaningful & personal ceremony book Bonnie!

Chosen with Bonnie's reply:

Thank you, Lynne! I really appreciate your kind words. Marit and Stephane's ceremony was one to remember. I enjoyed getting to know each person in your family along with Stephane's. Your mother, Jeanne is so dear. I am thrilled that we were able to honor her in the same chapel where she was married 66 years ago. If I can be of service in the future, please reach out!

Erin

Married on 10/15/2016

Bonnie was the officiant for the wedding of two of my closest friends. The ceremony was small and intimate with around 40 guests. After the wedding concluded, Bonnie felt like part of the family. I and the other guests were completely blown away by the ceremony! It was absolutely perfect. Knowing the couple as well as I do, I was very impressed with how well Bonnie encapsulated their love and relationship in her words. The couple has a favorite book that is very meaningful to their relationship. Bonnie incorporated words from the book into the wedding vows, which gave it such a special touch.

Beyond doing a phenomenal job personalizing the wedding ceremony, Bonnie is also a great person. I highly recommend her services to any couple looking to ensure their wedding ceremony is unique, personalized, and one you and your guests will never forget!

Amy

Married on 10/15/2016

Bonnie was an amazing officiant. She is warm, thoughtful, and was a very calming presence throughout the wedding planning process and on the wedding day itself. She was punctual, professional, and quick to respond with any questions we had. She created a ceremony that really embodied our relationship and what we wanted to express to our guests. We received many compliments from our friends and family about how much they enjoyed the ceremony. Bonnie truly made our wedding day special and we couldn't have asked for anything more.

Chosen with Bonnie's reply:

Thank you for your review, Amy! Officiating the ceremony for you and Ashley was so touching. Every detail reflected the warmth and commitment you have for each other. Thank you for including me in your day.

Bethany

Married on 10/08/2016

Finding an officiant was the hardest part of our wedding planning. We had to accommodate two families (and us) with very different social/ political/ religious views. After meeting with several duds, Bonnie was a breath of fresh air. Her outlook on marriage and a life journey was a great compliment to ours. She facilitated a special hand-fasting ceremony that our families found unique and personal. Many of our guests thought that we had known Bonnie for years and instantly felt her warm personality. She did a great job or reminding us of due dates, and was very receptive to our edits on our ceremony which made it very personal and exactly what we wanted.

Chosen with Bonnie's reply:

Thank you, Bethany! I really appreciate your kind words!

Nathan

Married on 10/08/2016

We loved Bonnie. She was genuine and warm, and we really felt like she cared about being a part of our union. Highly recommended.

Chosen with Bonnie's reply:

Thank you, Nathan! You're the best!

Jillian

Married on 09/17/2016

Bonnie was exceptional at our wedding! Many of our guests thought Bonnie had been a friend for years since she made our Ceremony so personable. She told our story so well and made our guests laugh, which was exactly what we wanted. Throughout the entire planning process, Bonnie was professional and extremely responsive. Anytime I had a question or request, Bonnie would jump to help. My husband and I truly feel lucky to have worked with Bonnie. Our wedding day is one we will remember forever, and Bonnie was the icing on the cake! Thank you Bonnie for being so great! :)



Chosen with Bonnie's reply:

Thank you, Jillian! You and Scott created such a memorable day. It was my pleasure to create a ceremony that resonated with you and your guests. Your mid-ceremony selfie says it all. You are both the best!

Kevin

Married on 09/09/2016

'Chosen with Bonnie' was a positive experience start to finish. Bonnie was professional, personable and a pleasure to work with. Friends and family remarked that they enjoyed the ceremony, personal stories and vows, etc., which all added some nice personal touches. A few wedding guests were surprised that Bonnie was not our friend from years ago... A big thanks to Bonnie for the extra help on short notice and from afar via FaceTime, etc. Full disclosure: we had picked another officiant early on in the wedding planning process, forfeited our deposit and we are very happy we made the change. The ceremony more or less sets the tone for the wedding and glad we made the Chosen choice. Sounds like a paid advertisement. Not. haha. Five Stars for Chosen with Bonnie.

Chosen with Bonnie's reply:

Kevin and Jennifer, you were wonderful to work with. Your kind words reflect your sweetness as a couple. You are the best!

Jessica

Married on 05/28/2016

So far, our experience with Bonnie has been wonderful! We haven't had our wedding yet, but everything she has done thus far has been so great and well received! She's extremely responsive, and has been very accommodating to all our wishes. She was extremely helpful from the get-go in offering suggestions to us newbies, and made us feel comfortable from the beginning. I left the meeting feeling relieved that we finally found someone who "got us", and my fiance couldn't agree more! We had met with a few other officiants, and Bonnie just seemed to "click" with us (anyone who mentions Beyonce in a sample ceremony outline gets my vote!). I'm so excited for our big day, and can't wait to see everything come together! Our ceremony outline looks wonderful on paper, and I can't wait to hear it in person! I would highly recommend to anyone who wants an easy going officiant who caters to you and your fiance, and who makes the wedding as unique and individualized as you both!

Stephanie

Married on 04/22/2016

Bonnie truly made our event special. Bonnie was the celebrant for my baby's naming ceremony. Her services were invaluable. I provided just a few thoughts on how I pictured the ceremony and she nailed it. Her words and elements brought to the ceremony were so spot on, I couldn't not have planned it better myself. She was quick to provide the outline for the ceremony and all communication was timely and clear. You cannot go wrong with using Bonnie as your service provider.

Chosen with Bonnie's reply:

Thank you, Stephanie! The day was a dream. What a precious way to welcome Drew to your beautiful family.

Annie

Married on 10/17/2015

At least 15 people have told us our wedding was the most personal, most enjoyable, most memorable wedding they have ever been to. And we attribute that entirely to Bonnie. Bonnie took the time to get to know us, asked us valuable questions about our relationship and hope for our marriage, and hand-crafted our ceremony to our exact specifications. It was truly incredible as a result. If you're looking for a non-traditional wedding that will satisfy even the most religious of your uncles, and leave your mothers crying their eyes out with joy, and will remind you that you're making the best decision ever - hire Bonnie. She will knock it out of the park and you'll never regret it. In fact, you'll remember it forever as money incredibly well spent.
Are you interested?
Send a message